With more wineries than any other country in the world, and more than 350 different types of grape available, Italian wine can be overwhelming. It's easy to get lost – with so much on offer, how do you choose a truly excellent red wine for yourself (or demanding dinner guests)?
As a technologist and WSET-qualified wine specialist, I know that there is no secret recipe. That said, I've developed a way to always choose high-quality wine that perfectly matches my personal taste. I'm happy to share it with you – and I hope it helps you to find your new favourite Italian red wine.
My method is based on answering four questions:
What flavours I think I will enjoy in my wine – raspberry, blackberry, red cherry?
What is the level of quality I am looking for in wine?
Is the wine from a premium denomination?
Is it from an award-winning winemaker?
By answering those questions, I can very reliably understand what kind of wine I want to drink, and is the bottle I am looking at likely to match my expectations!
Author: Oleg Dmitriev (Wine Geek), MBA, Co-founder of Independent Wine, Wine and Spirit Education Trust, Level 2 Award in Wines. 
Awards: Inventor of the Year 2017, Innovator of the Year 2018
Lives in Edinburgh, Scotland
Question 1. What flavours I think I will enjoy in my wine?
Before you start analysing wines, think about your preferred aromatic and flavour profiles, because it will help you to narrow down your choice.
To make this process simple, we developed a "Visual Guide to flavours of Italian red wines" – check it out.
There's no "black magic" about wine aroma. It's simple science. Wine gets its smell from a mixture of microscopic volatile chemicals, which are perceived by the 300 receptors in our nasal cavities. These are transmitted by olfactory neurons into the frontal lobes of our brains, via the higher olfactory cortex. If the smell matches your preferences, your brain will release dopamine and deliver the highest sensory pleasure.
What kind of aromas are there in wine?
All high-quality wines you choose will have been aged for an extended period of time in oak and in the bottle, and will come with a complex set of Primary, Secondary and Tertiary aromas.
"Primary" aromas come from the grape and its fermentation. They include aromas of fruits and berries, flowers, and herbs.
"Secondary" aromas come from ageing in oak (vanilla, cloves, coconut, smoke, and chocolate), and from the conversion of the more aggressive malic acid into the more gentle lactic acid (butter, cream, and cheese).
"Tertiary" aromas come from ageing in the bottle. That's where the tannins, which are typically more astringent in young wine, get softer and gain a rounded and velvety character. Tertiary aromas in red wine include leather, earth, meat, mushroom, and tobacco.
Flavour profiles of top wines
Everyone's tastes are different. You may prefer aromas of red fruits, such as red cherry or raspberry, while your partner prefers black fruits, such as blackberry or black plum. Red wines from key denominations will have a generally similar profile, so you can further narrow down your choice based on your personal preference.
We created a "Visual guide" with key generally recognised flavour profiles of main Italian reds (click the image to open it). We hope the Guide will make it really easy for anyone to navigate through the most famous Italian grape varietals, understand their flavours, and find a wine style they might like.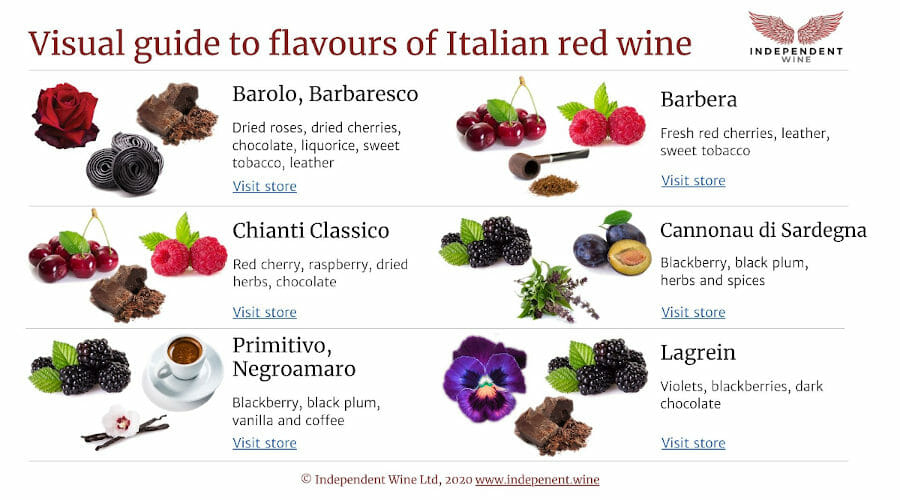 Question 2. What standard of quality is the wine produced to?
The "standard of quality" of Italian red wine is defined by the rules it is made to. There are four levels of wine qualityin Italy: Vino di Tavola, IGT, DOC, and DOCG. They all correspond to a set of regulations that a producer must follow if they want to display it on the label. As a rule of thumb is, the higher the level, the better the quality – and higher the price.
"Vino da Tavola", or "Vino Rosso"
This is the most basic level of red wine in Italy. This wine meets basic hygiene requirements and is very cheap. In the UK, major online retailers typically add a few bottles of Italian red Vino da Tavola into cases of 6 or 12 bottles. This helps them keep costs as low as possible. Needless to say, we won't be talking about this type of wine here.
IGT (Indicazione Geografica Tipica)
IGT sits one level above the most basic category. It was created in 1992 to provide a level of protection to "Super-Tuscans" (blends of Sangiovese with Merlot, Syrah and other "global" varietals). By itself, the rules of IGT give the winemaker a lot of flexibility, but don't give buyers as much protection as DOC or DOCG. Personally, I would only drink an IGT wine if it has an award, or comes from an award-winning vineyard. If the bottle is from an unknown vineyard, I'd say "no".
DOC (Denominazione di Origine Controllata)
DOC is a strict set of rules equivalent to the French AOC level. Italian DOC wines need to meet a defined quality standard. They must be produced and bottled in the region, from grapes grown locally. DOC rules control many factors, such as the maximum yield per hectare, alcohol content, and which grapes are allowed to be blended. They also state how many months the wine should age before release. It is a solid and high level of quality.
DOCG (Denominazione di Origine Controllata e Garantita)
This is the highest and most strict set of rules, and helps to produce the very best Italian red wines. Examples include Barolo DOCG, Chianti Classico DOCG and Amarone Della Valpolicella DOCG.
Quality of the DOCG wines is "guaranteed" by a government-licensed agency that analyses and tastes wine before it is bottled. Each guaranteed bottle of wine is labelled with a numbered governmental seal across neck of the bottle, to prevent fraud.
The DOCG is a much stricter set of regulations than DOC. It typically needs lower grape yields per hectare, and restricts blending of different grapes. DOCG wines have higher requirements for a minimum alcohol level, and a longer period of ageing in oak before release.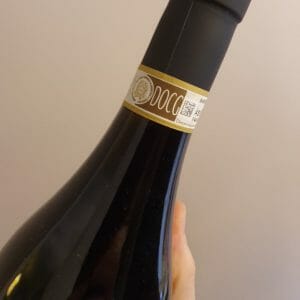 Always look for a government – certified "guaranteed" seal of quality on the neck of a DOCG wine
Question 3. Is the wine from a top "Denomination"?
To be sure about the quality of my Italian red wine, I would only pick a bottle from one of Italy's top red wine regions. Although there are 350 grape varietals in Italy, most of them are only important in their small domestic area. Ask yourself, does this wine come from a premium denomination such as Barolo DOCG in Piedmont, Chianti Classico DOCG or Brunello di Montalcino DOCG in Tuscany?
Why is denomination so important? The biggest influence on wine quality is the quality of the grapes. Those DOCG regions have a unique combination of natural conditions such as soil, warmth, humidity, and sunlight, which are very beneficial for the particular grapes grown there. As a result, their fruits have the most incredible aromas and flavours.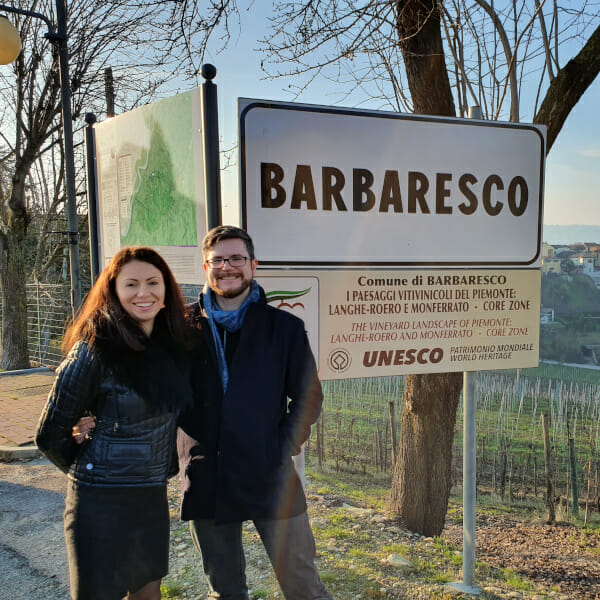 Team of Independent Wine visiting at Barbaresco DOCG
A shortlist of premium red wine denominations
In Italy, the following regions are known to produce the best red wines:
Barolo DOCG and Barbaresco DOCG are perhaps the best red wines of Italy. They can age and improve for twenty or thirty years, and are truly exquisite with aromas of dried red fruits, chocolate, sweet tobacco, and velvety tannins. (Example: Francone Barolo, Decanter Silver, Francone Barbaresco, Decanter Gold)
Barbera d'Asti DOCG and Barbera d'Alba DOC are the top level of Barbera wines. This wine has concentrated aromas of red cherries, strawberry and raspberry, as well as chocolate, earth and leather. Due to the lower level of tannins and fresh acidity it is enjoyable at a younger age.
Chianti Classico DOCG is a small area in the mountainous heart of Tuscany. Unlike inexpensive Chianti, which bears a similar name, wines of the "Classico" area have concentrated aroma of red cherry, raspberry and dried herb notes. Most often Chianti Classico is matured in oak to soften the tannins and gain complex aromas of cloves, chocolate and coffee.
Amarone della Valpolicella DOCG – wines from this area of Veneto are made by harvesting and drying the grapes to concentrate their aromas. These wines have a full body and pronounced flavours of fresh cherries and dried prunes.
Cannonau di Sardegna DOC – Cannonau is 3,200 years old and may be the oldest surviving grape of the Mediterranean. It is the wine at the core of the Sardinian diet. The island is home to more men aged over 100 years than anywhere else in the world. I can't make any health claims here, but feel free to draw any conclusions you like from it.
Brunello di Montalcino DOCG is the rarest, the most expensive, and longest ageing wine of Tuscany. Made from a clone of Sangiovese called Brunello, it has very high levels of tannin and acidity (freshness). This wine has to mature in oak for a long time.
Any wines from this list will be brilliant. If the other two "building blocks" are there as well, you might be holding something great.
Other notable Italian red wine denominations
There are certainly other denominations that produce excellent wines, but we want to narrow down our search to a shortlist of excellent reds. Regions that can be considered as well include:
Roero DOCG, which is located just across the river from Barolo. This part of Piedmont is not so well-known but produces excellent red wine from the Nebbiolo grape.
Alto Adige DOC is in the German-speaking part of Italy, home to Europe's highest vineyards sitting as high as 1,100 metres. High altitudes help to preserve high acidity in the grape, resulting in cold-climate Italian reds with an unmatched taste. This country produces award-winning red Lagrein red wine: dark, lean, crisp and sharp.
Apulia: this region is famous for two red wines which are getting a massive following in the UK: Primitivo (known as Zinfandel in the USA) and Negroamaro. Some winemakers produce award-winning wine from  these grapes, with aromas of blackberry, black plum, vanilla and coffee.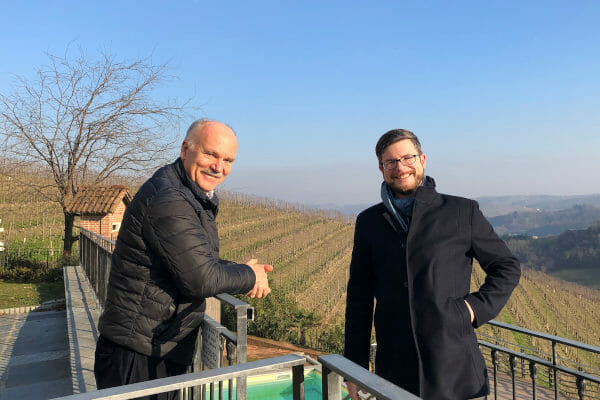 Author with Roberto Damonte, owner of "Malvira" – the largest winery in Roero DOCG
Question 4. Has the winemaker won any awards?
The third element is the winemaker's credibility and prominence. You can validate it by asking if they've received any prestigious awards, Or if their wines have been given high ranking by an independent wine expert.
Sending wines to an award ceremony can be expensive, and winemakers may only have a few wines with awards in their portfolio. To me, if a winemaker has managed to score a couple of awards, I would be happy to drink their other wines as well. Needless to say, it is very hard to receive a top award and 99% of wineries do not even come close.
It's worth mentioning that not all awards are created equal. Some wine retailers try to imitate the process by coming up with their own rankings, sticking "gold" and "platinum" labels on bottles of wine that don't deserve them. Needless to say, those awards aren't real. They're just marketing stickers: so don't fall for them!
That said, here are a few independent awards and rankings you should consider:
Decanter World Wine Awards (DWWA)
This is the largest and most influential wine competition in the world, and it has been running for seventeen years. Results of past years for each country can be found here. Decanter don't sell wines, which means they don't need to promote certain brands, and their verdict is impartial. Judges are invited from all over the world. They are Masters of Wine or Master Sommeliers, and many of them are the foremost experts in their field. Panels judge wines from each denomination separately: so one panel would only compare Barolos, the other Chianti, etc. Awards are organised as follows:
"Commended" : 83-85 points, an acceptable and simple wine
"Bronze": 86-89 points, a well-made straightforward and enjoyable wine
"Silver": 90-94 points, a very accomplished wine, with impressive complexity
"Gold": 95-96 points, an excellent wine of great complexity and character
"Platinum": 97-100 points. A panel of Co-Chairs and Regional Chairs re-test Gold wines to select the best ones
"Best in Show": 97-100 points. A panel of Co-Chairs re-tastes Platinum wines to select the best wine of the show.
The Decanter Awards are very well respected in the wine industry, and can always be relied upon as independent proof of quality.

Tre Bicchieri
In Italy, the most important and prestigious award is "Tre Bicchieri" (three glasses). It has been running for thirty-two years, and is managed by Gambero Rosso: publishers of the "Wines of Italy" catalogue (or the Italian wine bible). Experts decide which wines are good, very good or excellent and awards them with one, two or three Bicchieri. The judging parameters are not so strictly defined, and are based on"simultaneously hedonistic, humanistic and cultural criteria". For wines sold on the domestic Italian market, winning three glasses is the highest rank and opens doors of many top restaurants.
James Suckling
James (Jamessuckling.com) is an independent wine expert from the USA, who judges wines from Italy as well as from many other countries. With three decades of experience as a journalist and a wine critic, his ranking is trusted by many wine professionals.
James tastes many Italian red wines, and awards scores on the 100-point scale.  He publishes guidebooks including "Great Wines of Italy USA 2020: Official Guidebook".
The points are awarded in the following way:
"A wine that I rate 90 points or more is outstanding (A). It's a wine I want to drink a glass of and is an outstanding purchase.
If I rate a wine 95 points or more (A+), it is a must buy and a bottle that I want to drink in its entirety!
If I rate a wine less than 88 points, it might still be worth buying but proceed with caution. I certainly wouldn't recommend spending your money on anything rated lower.
Wines rated from barrel, or unfinished wines, are rated with two-point ranges such as 90-91 or 92-93."
An independent award or a score of over 90 points from James Suckling shows the wine's ultimate level of quality. If you can afford it, I would encourage you to only drink such wines.
As a practical example, here is a listing of award-winning wines.
I do enjoy drinking Italian red wine of excellent quality, and I hope that my guide will help you to make an informed choice and find your new favourite wine.  Please feel free to comment in the box below – or send me a message via the Contact form if you have a question about Italian red wines.
Ciao!