Guide to Nebbiolo Wine
Nebbiolo in the Official Registry
Registration Code: 160
Official name: Nebbiolo N.
Official permitted synonyms: Spanna, Chiavennasca, Prunent (only in Valli Ossolane DOC)
The grape has been registered in the official MiPAAF Registro Varietà since 1970. [1]

Where Nebbiolo wine is made
Nebbiolo is not only responsible for the two legendary wines of Piemonte – Barolo and Barbaresco – it's also used to create highly esteemed reds throughout Northern Piemonte. You'll also find it in "heroic" wines crafted on the steep Alpine slopes of Valle d'Aosta and Lombardia. 

Langhe hills
Without a doubt, Barolo DOCG is the most noble – and most productive – denomination for Nebbiolo (12.5 million bottles produced in 2019 [2]). Set on the rolling hills south of Alba, it offers landscapes of breathtaking beauty with an incredible diversity of terroir. Barolo deserves to be both studied and enjoyed. We invite you to read our Ultimate Guide to Barolo wine to learn more about this seriously special wine.
Barbaresco DOCG is the second-most prestigious 100% Nebbiolo wine appellation. Visit our page dedicated to Barbaresco wine for more information about this "Queen of wines".
Nebbiolo d'Alba DOC is a 100% Nebbiolo appellation covering a stretch of land between Barolo and Barbaresco – but not intersecting with either appellation. Instead, on the other side of the Tanaro river, Nebbiolo d'Alba DOC overlaps Roero DOCG. Practically speaking, most Roero wineries choose to use the more prestigious DOCG label.
The rules for Nebbiolo d'Alba are more flexible, requiring wine to be aged for "only" 18 months (including six months in oak). As a result, the wine can be released far quicker than Barolo or Barbaresco, and is much less expensive. From my experience, Nebbiolo d'Alba can be very complex and pleasant, with a firm structure and grippy tannins. Around 2.4 million bottles were produced in 2019 [2].
If Barolo and Barbaresco winemakers wish to produce more easy-drinking Nebbiolo wine, they have to use the Langhe DOC denomination. Such wines are labelled Langhe Nebbiolo DOC.

Roero hills
The Roero hills lie on the left bank of the Tanaro river. Roero DOCG red wines are based on 95% Nebbiolo, but practically all modern wineries use 100%. The soils here are sandy, and rich in marine fossils from the ancient sea which once covered the land. Roero wines are softer and more approachable than Barolo or Barbaresco. Read our guide to Roero DOCG to learn more about this fascinating area.
Novarra and Vercelli hills
In the historic area of the Novarra and Vercelli hills, around the Sesia river, Nebbiolo is called "Spanna". Here, Gattinara DOCG is the most important denomination. It's located on the western side of the Sesia river, and its soils are based on eroded volcanic porphyry rocks.
From the 16th to the 19th century, it was Gattinara (and not Barolo) that was considered the source of the best Nebbiolo wines. In present times, this stance has faded. Gattinara covers only 93 hectares, producing just half a million bottles of wine each year (2019, [2]).
Another historic DOCG appellation – Ghemme DOCG – can be found on the eastern side of Sesia. Because it's located further north, Ghemme produces wines with less body and more acidity than those from Langhe or Roero. Today, Ghemme is far from its former glory. Its area under vine is only 50 hectares, but this is gradually increasing.
Other minor Nebbiolo (Spanna) appellations are Bramaterra DOC and Lessona DOC, which surround Gattinara DOCG on Sesia's west bank, and Boca DOC which sits next to Ghemme DOCG on the east bank.

Carema
The denomination of Carema DOC is located in north-west Piemonte. It covers monte Maletto on the border with Valle d'Aosta – Italy's only French-speaking province. Carema produces its signature mountain wine – vino di montagna – from Nebbiolo. Vines are grown on narrow, steep terraces, at altitudes from 300 to 600 metres. Carema's soils are rocky moraines, formed by glaciers retreating up into the Alps at the end of the last ice age.
In this part of Piemonte, the forces of nature are really harsh. Ripening the grapes is a challenge. Growers build terraces from stones, which warm up during the day and release heat after dark, helping to mature the grapes.
Both in Carema and Valle d'Ossola the Nebbiolo vines are trained onto a special low-height pergola system called topia. This keeps the vines closer to the warm stones, as well as protecting them from the wind.

Val d'Ossola
Valli Ossolane DOC is located in the very north of Piemonte. It lies on the southern side of the mountain ranges that separate Italy from Switzerland. Vineyards are planted along the Toce river, leading to Lago Maggiore.
Today Val d'Ossola is small appellation with only 11 hectares under vine (2019, [2]). But its connection to Nebbiolo is rooted deep in mediaeval history. Prunent – the local biotype of Nebbiolo native to Val d'Ossola – was first mentioned in historic documents in 1309.
Here, Nebbiolo can be blended with Croatina and Merlot. Together they must make up at least 60% of the blend. This is bottled as Valli Ossolane Rosso. Or, it can be used to make Valli Ossolane Nebbiolo or Valli Ossolane Nebbiolo Superiore – both must be at least 85% Nebbiolo.

Valtellina
The Valtellina valley is located in the Lombardian Alps east of Lake Como. It produces wines from Nebbiolo – locally called "Chiavennasca"– planted on terraced vineyards at 700-800 metres.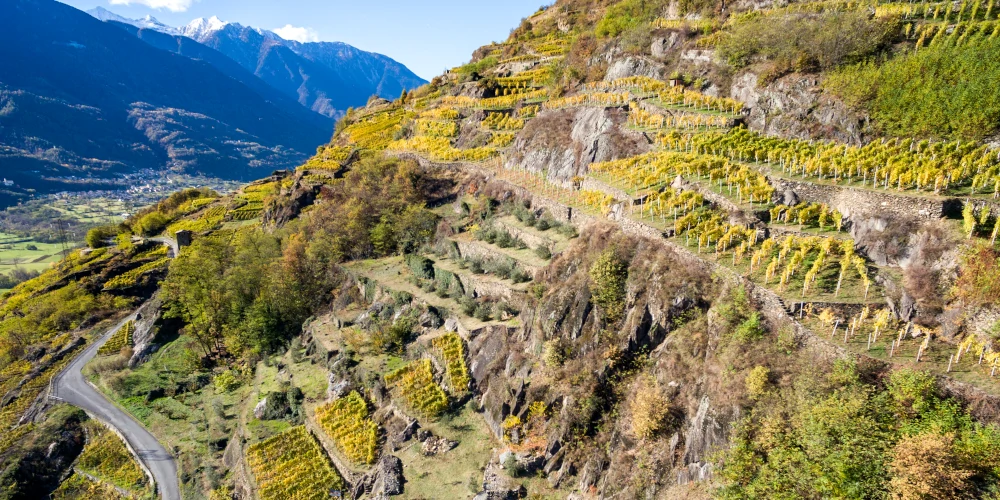 In the cold Alpine climate, the vineyards of Valtellina Superiore DOCG grow on the steepest slopes with thin soils that hardly hold any water. Nebbiolo is hellishly hard to grow at the best of times, so Valtellina is known for heroic viticulture. It's no surprise that one of the subzones of this denomination is called Inferno (hell).
Despite all the hardships, the winemakers of Valtellina Superiore produce a respectable 1.8 million bottles of wine per year (2019, [2]).
Rosso di Valtellina DOC is the second wine of Valtellina. Here, Nebbiolo can be blended with other local red grapes, and released to market after only six months of ageing.
Sforzato DOCG is the source of quite possibly the best expression of Valtellina Nebbiolo. The wine is dry, and it's made from grapes partially dried in the appasimento process. The method is quite similar to Amarone della Valpolicella.

Nebbiolo production statistics
Nebbiolo plantings in Italy have remained quite stable, at around 5-6 thousand hectares. This finicky grape is early-budding and late-ripening, and is relatively hard to grow. It only thrives in a few traditional denominations in the North, which have protected its high status.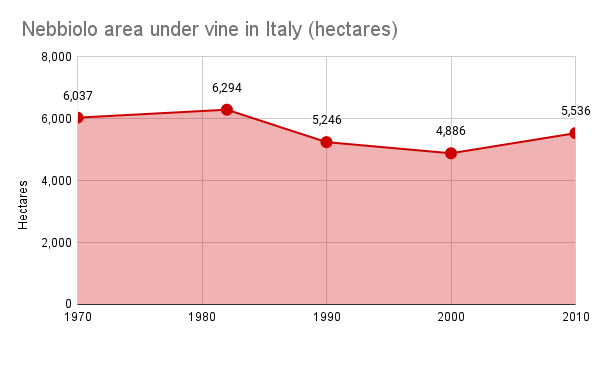 The stable demand for Nebbiolo wines is quite a reassuring contrast to Piemonte's other native grapes. Barbera, Dolcetto and Freisa, among others, have been losing ground to international varietals.

Sources
[1] MiPAAF (1970-2010)
[2] ISMEA (2019)