What Italian food is best to pair with Roero Arneis? Ask food bloggers!
Deliciously sharp and refreshing, the mouth-watering Arneis white wine from the Piedmontese region of Roero was made for warm evenings on the patio. We've spoken to our favourite food bloggers and asked them to share their authentic Italian recipes of food to pair with a cool glass of Roero Arneis.
While it's little known outside of Italy, Roero is in one of Italy's best grape-growing areas. In fact it's just on the other side of the Tanaro River from Langhe, where the iconic Barolo and Barbaresco are made. You can find Roero, with its breathtaking hilly countryside, on the map next to Barbaresco DOCG and Barolo DOCG areas. Recently I wrote "The Ultimate Guide to the best Italian Wine" – feel free to check it out to learn more about red and white wines of Piemonte.
Arneis loosely translates as "little rascal" because it is so hard to grow. After WWII, this grape almost became extinct. It was only saved because a few vineyards kept their plantings of this sweet grape to attract pests away from the more valuable Nebbiolo vines. It made an astounding recovery and today Arneis is the region's most valuable white grape, rivalled only by Gavi.
With its aromas of blossom, fresh pear, apricots and a hint of hazelnut, these white wines drink well on their own or alongside light summer dishes. They are the perfect partner for garlicky seafood spaghetti, platters of roasted vegetables and light summer salads.
Our bloggers sent us their authentic recipes of Italian dishes they think go best with Arneis. The best thing is you can cook them all at home!
Authentic Italian dishes to pair with Arneis
Frittelle di Zucchine | Zucchini Patties
By Katie Parla
"Summer in the Italian South is a time of grilled zucchini, fried zucchini, fried and marinated zucchini, stuffed zucchini, baked zucchini, zucchini parm, and more.
The point is, this New World import is abundant in the summer months, so cooks have invented all sorts of ways to use it up. These zucchini patties offer a super simple and delicious way to do that. I also love how similar this dish is to Turkey's mücver, a reminder of just how connected the foods of the Mediterranean basin are!"
Click here to see the full recipe
Sicilian stuffed eggplant: Melanzane ammuttunate
By Michele and Joe
"The dish is super simple and is true comfort in a bowl – perfect for a chilly winter's day or tucked on the couch with your best jammies. Simply make little incisions on the skin of the eggplant and stuff with the filling. In Italy, we typically stuffed with a cheese named caciocavallo but I have substituted mozzarella, as it can be difficult to find caciocavallo. (Use it if you can find it!)
I sometimes toss in raisins or pignoli (pine nuts), even chopped anchovies. After a quick fry in a pan, the eggplants are left to simmer in the tomato sauce until soft and tender. Then you simply serve in a bowl with plenty of crusty bread to use as a scarpetta – a small piece of bread used to mop up the delicious sauce. Heaven on a plate …."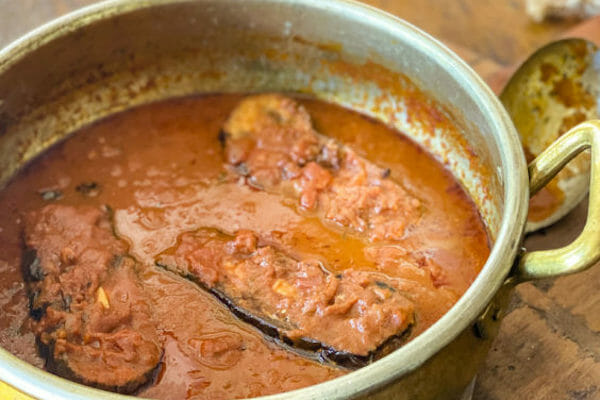 Click here to see the full recipe 
Asparagus and tomato dressing for pasta
By Maribel Agullo
"I would like to share with you one of those recipes that is SO easy, SO tasty and goes with either egg-pasta, or hard wheat pasta (only high quality brands please!). It should get you many compliments. Even my son who is not exactly keen on vegetables had seconds of this pasta.
The only secret is to search for the tastiest ingredients you can get your hands on. If necessary buy or try different tomatoes, you want them to be bursting with flavor and on the sweet side. If the only tasty tomatoes you find are larger than cherry tomatoes, then cut up the tomatoes to bite size!"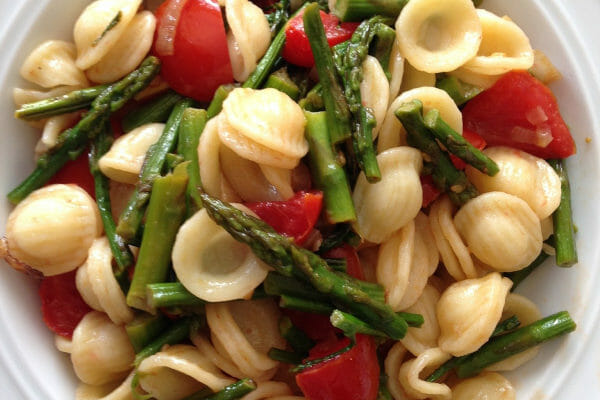 Click here to see the full recipe
Grilled Marinated Swordfish Italian Style
By Marisa Franca (All Our Way)
"We enjoy fish several times a week, and dining on Grilled Marinated Swordfish Italian Style is like eating at an expensive restaurant. Marinating then grilling is the perfect way to prepare swordfish. The steaks turn out so flavorful and moist."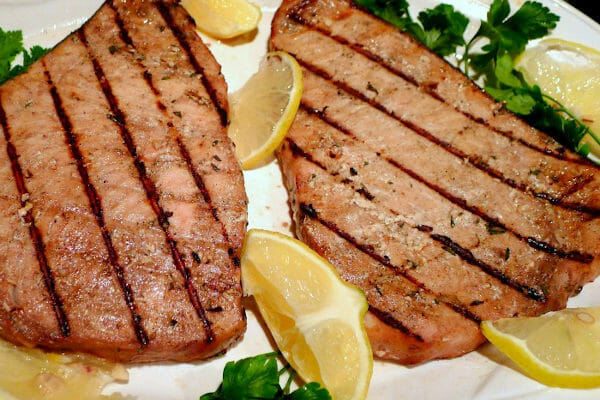 Click here to see the full recipe 
Chicory Risotto
By Matt O'Callaghan (MangiaMangia)
"We're in the gap; when all those root vegetables and brassicas of winter have finally run their course, but there's precious little on the allotment to take their place. This is the time of the larder and the freezer; lots of pulses, frozen beans, jars of last summer's passata. But, there is fresh vegetable relief in the form of chicory.
Italy loves chicory, just as it loves bitterness – think Campari, Cynar and Aperol…embrace the Latin, celebrate the bitter, accept that it is only March, and that the peas and radishes will have to wait. Make a risotto, a risotto that is breathtakingly good, with a punch of flavours that belies its simplicity."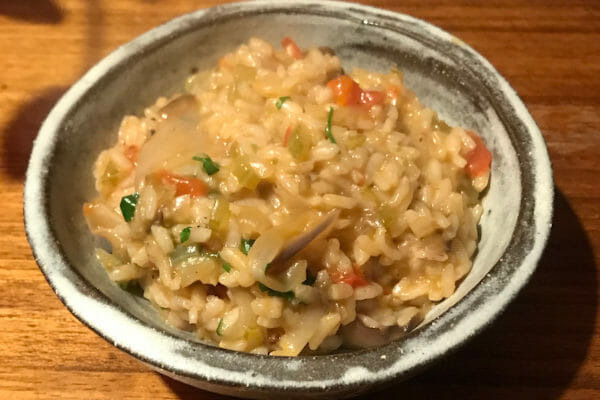 Click here to see the full recipe
Salmone al forno siciliana (Sicilian Baked Salmon)
By Matthew Luca
An Italian food lover, Matthew Luca takes inspiration from Italian food and Mediterranean flavours and is based in the Republic of Ireland. When we asked him "what food do you recommend to pair with Arneis?" he immediately suggested this lovely recipe!
"A Salmon dish born out of the Mediterranean Sea perfect for al fresco dining. This succulent baked salmon is perfect for those sunny days and BBQ's as its wrapped and cooked in aluminium foil."
Click here to see the full recipe
Faux-Bruschetta with Aubergine
By Fiorenza (My pinch of Italy)
"We're not gonna lie: these bruschettas are very different from your average freshly toasted bruschetta with tomatoes – but they're possibly even better. Just as tasty, but much lighter, and perfect for those dinner guests who are gluten intolerant. Isn't it all we can ask for?"
Click here to see the full recipe
Mediterranean Aubergine Rolls with Mozzarella, Capers & Olives
By Fiorenza (My pinch of Italy)
"When you cook these rolls, the smell of tomatoes, thyme and aubergines fills the kitchen… is there anything more Mediterranean?
Aubergines are so versatile, tasty and healthy that we love to use them for all sorts of preparations – savoury dishes, like the rolls we're cooking today or like our delicious Vegetarian Light Lasagna with Fresh Tomatoes and Aubergines… but also desserts! Check out these Sweet Aubergine Rolls with Chocolate and Fresh Cheese and this Neapolitan Aubergine Chocolate Cake!"
Click here to see the full recipe
We hope you liked these authentic recipes of Italian food to pair with your glass of refreshing Roero Arneis on a hot summer day! Feel free to check out our collection of premium wines from Piemonte.
How to order Roero Arneis?
Check our collection of award-winning Arneis wines sourced from boutique family-owned wineries in Piemonte. All listed wines are in stock in the UK, available for free next day delivery.