Choosing wine for dessert
The best wines to serve after dinner
Italian Food and Wine Pairing /  Choosing wine for dessert
Picking the right wine for dessert is the perfect way to round off a meal. After all, the final course is the last impression you leave the table with, and you want it to be a good one – especially if you're trying to impress certain dinner guests.
Of course, sweet and sparkling Moscato d'Asti wine is the classic dessert pairing. But – believe it or not – you don't always have to stick to unctuously sweet dessert wines. In fact, some dry wines work really well with sweet plates. It all depends on what you're serving. Like all wine and food pairing, choosing wine for dessert is all about matching flavours.
By looking at the ingredients, and thinking about what notes in the wine will complement them, it's quite easy to find the right bottle. Allow us to offer some inspiration.
The best Italian wine for dessert
Wine for cake: Moscato d'Asti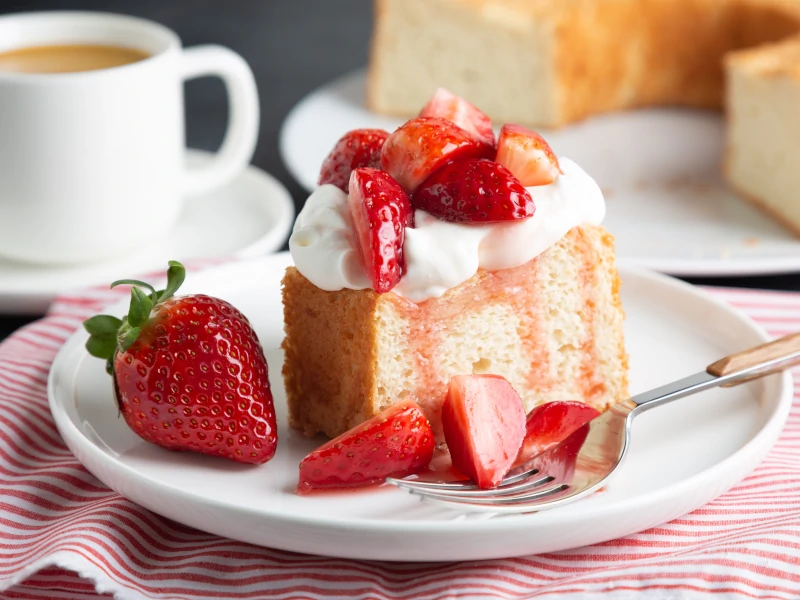 One of the most popular wines to pair with dessert is Moscato d'Asti. Because it's naturally sweet, the sugar in cakes and other treats doesn't make it feel bitter. It does reduce the perception of sweetness in the wine, but there's so much residual sugar you won't notice. You will, however, be more easily able to sense the other flavours and aromas that could be concealed by sweetness when sipping it alone as an aperitif.
Moscato d'Asti is one of the best all-round wines for dessert. It's especially good with birthday cake, which can be tricky to pair because of the almost aggressive sweetness of frosting, jam and buttercream. One of our favourite options is Francone Antichi Poderi dei Gallina 2020 Moscato d'Asti DOCG. This highly aromatic Italian sparkling wine has pronounced aromas of guava, pear, candy and white blossoms. As well as being sweet, it's also low in alcohol at just 5%. Perfect for popping open at a birthday party or during afternoon tea.
Wine for berry desserts: Pinot Noir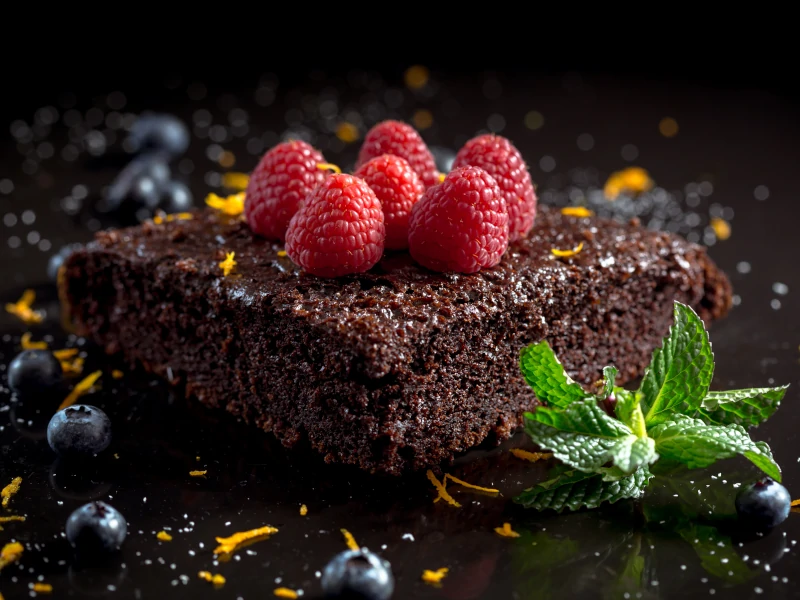 Whether they're fresh or made into a compote, berries are a popular addition to many desserts. Their flavours are also frequently found in red wines. While their deep and dark flavour could easily overpower a white wine, they're a match made in heaven with a light-bodied and fruit-forward red.
Dishes such as summer pudding, blackberry crumble or berry zabaglione work well with juicy wines such as Peter Zemmer "Rolhüt" Pinot Noir. This elegant red wine bursts with notes of fresh raspberry, red cherry, sweet blueberry muffin and dry cranberry. On the palate, it is dry with velvety flavours of fresh and dried red fruits, balanced with mouth-watering acidity.
Another excellent option for a berry-based pudding is Kurtatsch Mazon Pinot Noir Riserva 2016. Its notes of fresh mint, cinnamon and wild strawberry work especially well with light summery desserts like strawberry tart and raspberry sorbet.
Wine for citrus cheesecake: Vermentino and Grillo
Zesty white wines with plenty of acidity can stand up to tangy desserts like lemon posset, key lime pie and Amalfi lemon tart. Even better, the sourness of these desserts help to mute the wine's zinginess and increase the impression of sweetness – helping to draw out fruit and floral notes that you may not notice if sipping it on its own.
A fantastic wine to pair with lemon-based puds is Salvatore Tamburello 204N Grillo 2019 from Sicily. This pure, unfiltered wine has notes of elderflower, lemon zest and grapefruit.
For desserts rich in lime, a complementary choice is Siddùra Maìa Vermentino di Gallura DOCG Superiore. This vermentino has plenty of crisp acidity, along with concentrated flavours of lime, peach, honeysuckle and jasmine.
Wine for chocolate desserts: Amarone and Pinot Noir Riserva
Wine and chocolate pairings are popular, but they're still tricky to get right. One thing to remember is that cold desserts like chocolate mousse and chocolate torte tend to be more wine-friendly than warm dishes like molten lava cake. Likewise, milk and white chocolate are easier to find a match for than dark chocolate. This is because dark chocolate has a lot of its own tannins, which clash with those found in full-bodied red wines.
Wine for milk and dark chocolate desserts: Amarone
One of the best wines to team with chocolate-based desserts is Amarone della Valpolicella, a concentrated sweet red wine made from half-dried grapes. Our Rubinelli Amarone della Valpolicella Classico DOCG is a lovely example. Its pronounced and complex aromas hold their own against the richness of chocolate, with notes of fig, raspberry, leather and cranberry to complement the deep cocoa flavour. Because it has a lot of depth and power, it's an equal match to the chocolate's tannins and strong taste.
Wine for white chocolate desserts: Pinot Noir Riserva
White chocolate is very versatile when it comes to wine pairings. The subtle flavour makes it a surprisingly good partner for Pinot Noir Riserva, creating an impression of berries and cream with every mouthful. Try Peter Zemmer Vigna Kofl Pinot Noir 2017 from Alto Adige, with elegant taste of rose petals and dried strawberries.
Wine for creamy desserts: Lugana
Creamy desserts like gelato, tiramisu and panna cotta need a wine with plenty of acidity to cut through them. These desserts are often very sweet, which can reduce the impression of fruitiness and sweetness in a wine. For this reason it's best to avoid simple zingy whites and go for something with more body and complexity instead.
A good tip is to look for oak-aged white wines. These often have buttery notes that complement the dairy in creamy desserts. A great choice is Le Morette Benedictus Lugana DOC 2019 from Lake Garda. To develop more complex flavours, this wine is part fermented in French oak barrels and part in stainless steel tanks. Its delightful notes of almonds, yellow apple, peach compote and custard pie work especially well with cream.
Wine for caramel desserts: Moscato di Sardegna
Caramel is sumptuously sweet and gooey, so it needs an equally unctuous wine to stand up to it. When you're serving dishes like sticky toffee pudding, crème caramel and salted caramel semifreddo, it's worth reaching for a white dessert wine like Siddùra, Nùali Passito, Moscato di Sardegna DOC to complement the decadent sweetness. This luscious Moscato has plenty of zippy acidity to cut through the richness of the caramel. Because it's made from dried grapes, it has concentrated and intense flavours. As well as honey and caramel notes to harmonise with your dessert, you'll also find notes of mango, pineapple and peach to add a new element to your palate.
Wine for Christmas Cake and spiced desserts: Sweet Passito
Baking spices like cinnamon, cloves and ginger add another intriguing element to desserts like apple pie, poached pears and pannetone. Because these desserts are usually very sweet as well as spicy, the best pairing is with a lush red dessert wine that has spent a bit of time in barrel to pick up its own spicy notes. Sugar in food can reduce the sweet impression of wine, so it's a good time to break out your most syrupy bottles.
Wine for spiced desserts with dried fruit: Moscato Rosé
For spiced desserts that are rich in dark fruits, we recommend Kurtatsch Ushas 2017 – a Moscato Rosé crafted from dried grapes. It has concentrated flavours of pomegranate, violet and marmalade but it's the notes of mulled wine spice that will really complement spiced dessert. Serve with a warm mince pie during the run up to Christmas, or with gingery rhubarb crumble in summer.
Wine for other spiced desserts: Sweet Gewürztraminer
For lighter dishes, like honey cake and baked apple pie, reach for a late harvest Gewürztraminer dessert wine. Its natural floral notes of rose and ginger make it the perfect companion for a light, sweet and spicy dish. This Kurtatsch Aruna 2016 is a blend of Gewürztraminer and Moscato grapes. It has flavours of apple cake and cinnamon to complement your dessert, as well as elderflower and quince to elevate each mouthful to a new level.
Get adventurous with dessert wine pairings
As always, the best wine for dessert will differ from person to person. Some people adore big bold reds with chocolate, while others prefer their wine to be sweeter than the food. The best way to decide which wine to buy for dessert is to simply experiment. Use our tips as a jumping off point and find out what works for your palate.