Guide to Italian Cabernet Sauvignon Wine
Cabernet Sauvignon is loved and planted in all parts of Italy. It is the country's sixth most planted red grape, after Nero d'Avola. It is often used alongside Cabernet Franc, in which case together they are called "Cabernet".
Cabernet is most frequently used as a blending partner, adding tannins, body and deep black fruit flavours. Because of its very powerful flavour, Cabernet can easily overshadow indigenous Italian grapes.
The role of Cabernet Sauvignon
Crafty Italian winemakers produce artful blends, where Cabernet's dark power is balanced by the fresh, red fruit elegance of acidic Italian grapes. Each region has its own school of thought, and its own "tenor" that stands up to Cabernet's "baritone". In Toscana, this role is played by Sangiovese. In Veneto, the freshness and acidity is provided by Marzemino, while in Piemonte it's Barbera.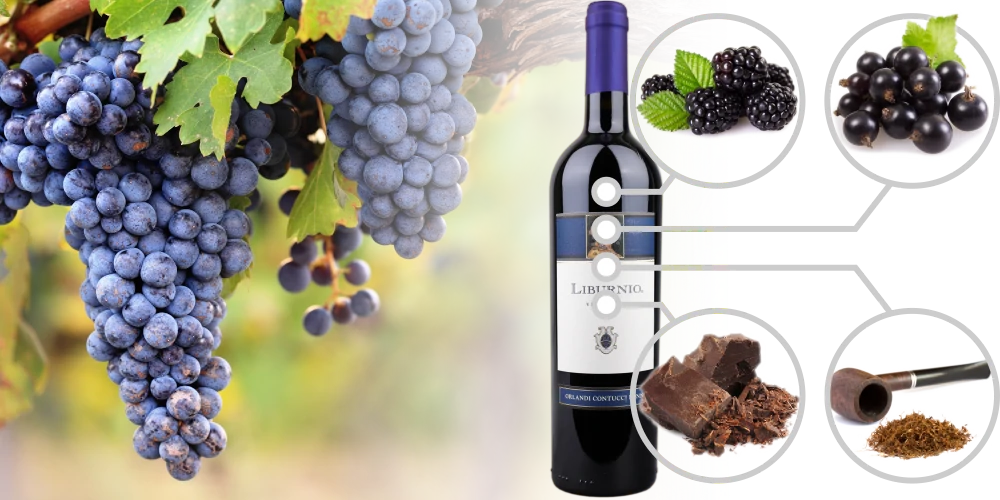 A few appellations produce single-varietal Cabernet wine. In terms of volume, the largest are Sicilia DOC, Veneto DOC and Alto Adige DOC.
Despite its growing popularity, Cabernet still tends to play a supporting role. It does not dominate production in any of Italy's provinces. Even in Toscana – the regione that made Cabernet fashionable – it accounts for only 6% of all plantings. In regions that were historically more open to international grapes, significant areas are planted with Cabernet: Veneto (4%), Sicilia (3%) and Friuli Venezia Giulia (3%).
Cabernet Sauvignon in the Official Registry
Registration Code: 043
Official name: Cabernet Sauvignon N.
Official permitted synonyms: Cabernet *,**
The grape has been registered in the official MiPAAF Registro Varietà since 1970. [1]
* This is officially used across Italy to name both Cabernet Sauvignon and Cabernet Franc (which has its own registration number, 042)
**The word "Sauvignon" is Italy's official name of the white grape, Sauvignon Blanc
Tuscan Cabernet wines
Toscana plants more Cabernet than any other Italian wine region. Here, it is the third most important grape, after Sangiovese and Merlot. The story of Cabernet in Toscana is often associated with Super Tuscan wines, but this grape also has a long history in the areas near Firenze and Prato.
Chianti Classico DOCG
Chianti Classico DOCG is not only about Sangiovese. While this Tuscan celebrity must play the leading role, and make up 80% of the blend, the remaining 20% is open to other "permitted red grapes". Cabernet – alongside Merlot, Pinot Noir and other famous varieties – is on this list.
Chianti Classico wines with added Cabernet develop smooth, dark and velvety notes of blueberry, back cherry and black frutti di bosco. One example is La Castellina "Tommaso Bojola" Chianti Classico DOCG 2015. It is crafted from 80% Sangiovese, 15% Cabernet and 5% Merlot grapes.
To learn more about this fascinating wine style, read our article about Chianti Classico.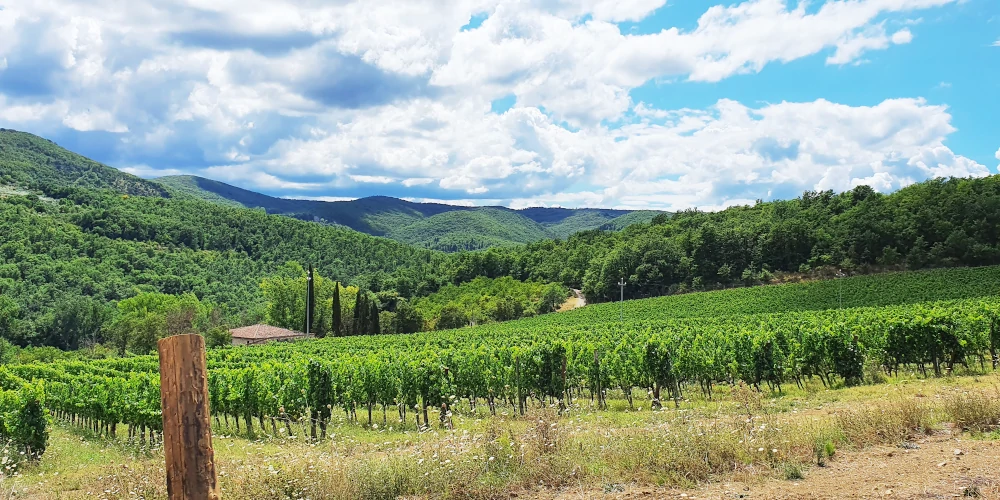 Chianti DOCG
Chianti DOCG also allows Cabernet in the blend, but no more than 15%. There's always a risk that Cabernet, with it powerful tannins and black fruit flavours, will overshadow Chianti's Sangiovese elegance. In fact, more premium examples of Chianti curb the use of Cabernet even further. Chianti Colli Senesi – the part of Chianti DOCG surrounding the city of Siena – only allows 10% of Cabernet in the blend.
Carmignano DOCG
Cabernet is considered a historic grape in Carmignano DOCG, grown here since the 1800's.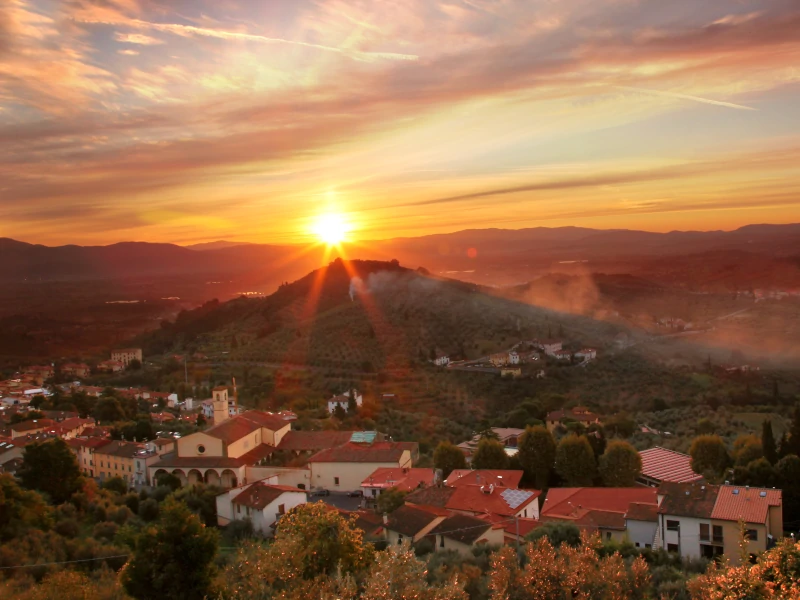 This appellation surrounds the Carmignano hill and medieval village to the west of Firenze. It's Toscana's most historic appellation. In the 1300's, Pietro Domenico Bartoloni wrote about "wines of Carmignano and Artimino that are excellent" in his chronicle. In 1716, the Grand Duke of Toscana – Cosimo III dei Medici – issued an edict delimiting the production zone of four high-quality red wines, including "Vino di Carmignano".
Carmignano DOCG should consist of at least 50% Sangiovese and 10-20% Cabernet. Winemakers have the option to add up to 10% white grapes – such as Trebbiano Toscano, Canaiolo bianco or Malvasia del Chianti – and 10% other Tuscan red grapes. Today, most Carmignano DOCG wines are made of Sangiovese, with a small touch of Cabernet and Merlot.
This wine must be aged for two years, until 1st June of the second year after harvest. Riserva must be aged for three years, until the day of Saint Michele (29th September) – the patron saint of Carmignano.
Barco Reale di Carmignano DOC has the same blending formula as Carmignano DOCG, but can be released with less ageing.
Val di Cornia DOCG
Val di Cornia Rosso DOCG is found on the banks of the Ligurian sea, bordering Bolgheri DOC and Suvereto DOCG. It produces a Val di Cornia Rosso blend based on 40% Sangiovese, and 60% Cabernet and Merlot (in any proportion). It's a tiny appellation of only 11 hectares, producing 22 thousand bottles of wine each year [2, 2019].
Suvereto DOCG
The medieval village of Suvereto stands as a reminder of Toscana's historic glory.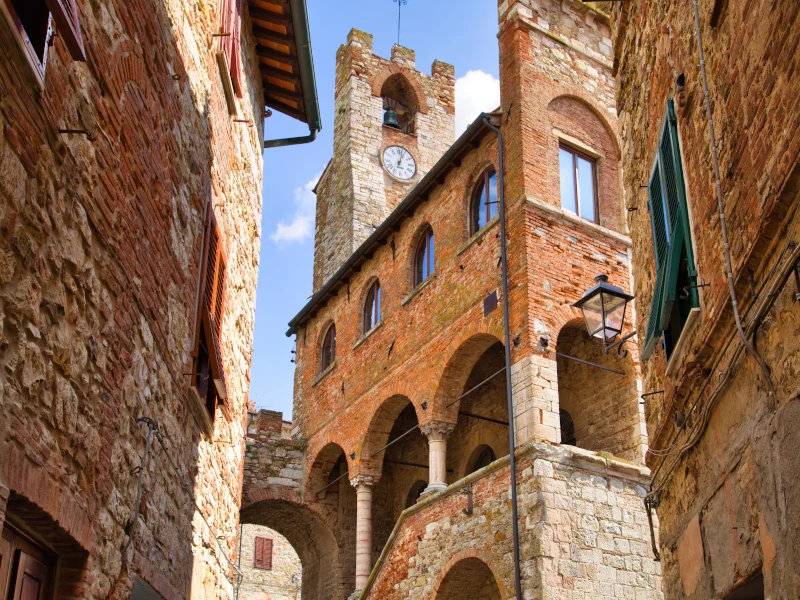 Suvereto produces the top-quality Super Tuscan wine Suvereto DOCG, which is crafted from up to 100% Cabernet and Merlot blended in any proportion. It also makes single-varietal wines like Suvereto Cabernet, Suvereto Sangiovese, and Suvereto Merlot which contain at least 85% of the named grape.
Wines are aged until 1st June of the second year after harvest, and Riserva until 1st January of the third year.
Maremma Toscana DOC
This scenic appellation is home to low hills, olive groves and ancient hilltop towns such as Grosseto and Pitigliano.
Located in south-west Toscana, on the border with Lazio, the area is large and diverse. The disciplinare permits a huge range of Italian and international grapes. As a result, it's possible to find a wide spectrum of wines, from premium to easy-drinking.
A fine example of a premium Cabernet Sauvignon blend is Villa Pinciana Terraria. The grapes are grown on terre rosse – reddish soils with a high content of iron oxides, on hills exposed to the sea. The 45% Cabernet Sauvignon is balanced by 45% Sangiovese, which adds a remarkable fresh acidity. Finally, the blend is completed with 10% Petit Verdot for complexity and elegance.
A fine example of a premium Cabernet Sauvignon blend is Villa Pinciana Terraria. The grapes are grown on terre rosse – reddish soils with a high content of iron oxides, on hills exposed to the sea. The 45% Cabernet Sauvignon is balanced by 45% Sangiovese, which adds a remarkable fresh acidity. Finally, the blend is completed with 10% Petit Verdot for complexity and elegance.
Villa Pinciana is a small winery supplying the court of the Vatican. It has one of the most loyal followings in the UK, making Terraria one of the best selling Tuscan wines in our range.
Bolgheri Sassicaia DOC
In 1978, Decanter Magazine published a tasting comparing international Cabernet wines. "Sassicaia" by Tenuta San Guido was named the world's best. This event started the incredible commercial success of Sassicaia, and put Tuscan Cabernet wines on the map.
The success of Bordeaux grapes in Bolgheri was, in fact, the result of 150 years of work and dedication quite specific to this part of Toscana. In the early 1800's, Count Guido Alberto della Gherardesca noticed a similarity between the stony soils near Bolgheri and those in Bordeaux. He went on to plant Cabernet Sauvignon vines in Le Capanne di Castiglioncello (3km south-east of Bolgheri). In 1944, Marquis Mario Incisa della Rocchetta also decided to plan Cabernet vines near the village of Bolgheri.
Initially, the vines were planted on the eastern side of the hill, to protect them from the influence of the Ligurian Sea. While these sea breezes were initially considered negative, it was later discovered that the sea had a beneficial, moderating impact. It helps to preserve higher acidity in the grapes, and encourages greater aromatic complexity. The higher clay content, specific to the Sassicaia zone, explains why the soil retains more water and has a lower risk of water stress during the hotter months.
Sassi means stones, hence the name "Sassicaia" – the wine that comes from a stony hill.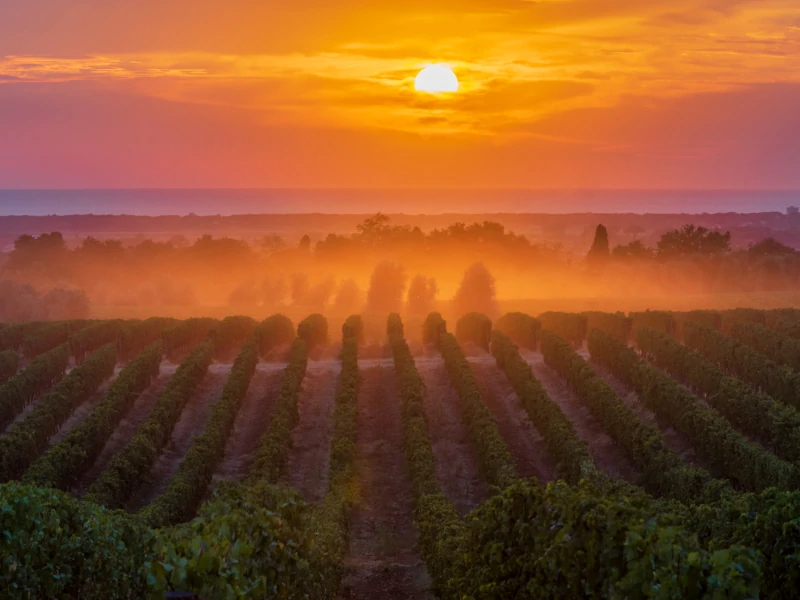 At that time, the Sassicaia area didn't have any associated red wine DOC, and the wine was sold as vino di tavola – the most basic wine classification. It wasn't until 1994, when the white wine appellation Bolgheri DOC was changed to include Sassicaia as a sub-zone. This was later promoted to its own Bolgheri Sassicaia DOC, which is effectively dedicated to one estate: Tenuta San Guido.
The wine laws of Bolgheri Sassicaia DOC state that the wine must be made from at least 80% Cabernet Sauvignon. The remaining 20% can be made up of other Tuscan red grapes. However, in practice Sassicaia is produced from 85% Cabernet Sauvignon and 15% Cabernet Franc.
Bolgheri DOC
Following the commercial success of Sassicaia, other local producers decided to venture into Bordeaux-style red wines. A cohort of new producers, such as Tenuta dell'Ornelaia, Grattamacco, Le Macchiole, Michele Satta, Ca' Marcanda, Guado al Tasso, earned recognition for the quality of their wines.
However, Bolgheri DOC – which was created in 1983 – didn't permit red wines. Its main production was a white blend of Vermentino, Sauvignon (Sauvignon Blanc) and Trebbiano Toscano [5]. In 1994, the disciplinare was expanded to include Bordeaux grapes. It allowed wines to be made of 0-100% Cabernet Sauvignon, 0-100% Cabernet Franc, 0-100% Merlot, 0-50% Syrah and 0-50% Sangiovese.
The DOC zone is quite small, stretching 15 km from Marina di Bibbona down via Aurelia to San Vincenzo, and 10 km from via Aurelia to the picturesque hills east of Bolgheri.
Super Tuscan wines: Toscana IGT and Colli della Toscana Centrale IGT
Super Tuscans emerged in the 1960's and 1970's, as wines of superior quality made outside of the existing rigid wine rules. It's an unofficial category, and today Super Tuscan wines are typically released under the Toscana IGT and Colli della Toscana Centrale IGT regulations.
At the time, Super Tuscans were considered innovative: using unusual blending formulae based on Bordeaux grapes – primarily Cabernet and Merlot – and ageing in new French oak barriques.
The Super Tuscan movement was started by Tenuta San Guido and Sassicaia. Other Bolgheri producers followed suit. But it is generally recognised that the Chianti Classico zone is the biggest source of excellent Super Tuscans.
Read our chapter dedicated to Super Tuscan wines.
Cabernet appellations in Veneto
Cabernet has been considered a traditional grape in north-eastern Veneto since the 1800's. It became much more important to the local economy after phylloxera decimated its vineyards during the early 1900's. For some reason, Cabernet proved to be more resilient to phylloxera, while many native Italian grapes perished.
It's therefore unsurprising that several DOCGs are based on Cabernet. In response to market demand, Cabernet wines became very popular with high-volume producers in the provinces of Venezia and Treviso.
Colli di Conegliano DOCG
The Conegliano-Valdobbiadene region stretches over the southern slope of the Venetian Prealps. It is world-famous for its excellent Prosecco frizzante wine: Conegliano-Valdobbiadene Prosecco Superiore DOCG. Colli di Conegliano is a red wine appellation, and most of the territory is shared between the two.
Colli di Conegliano DOCG vineyards are planted on steep hills, cooled by mountain breezes from the north and the river Piave from the west. Such conditions are very favourable for preserving the grapes' natural acidity, producing elegant red wines with good potential for ageing.
In Colli di Conegliano, it's tradition is to balance powerful Cabernet with Marzemino – a grape that, by itself, produces light wines with flavours of red fruits and spices.
Look for Colli di Conegliano Rosso DOC wine: a blend of Cabernet Franc, Cabernet Sauvignon, Marzemino and Merlot. Each grape may account for at least 10% of the blend, and Merlot should not exceed 40%. Wine must be aged for at least two years, with at least six months in wood. Riserva is aged for at least three years, with 12 months in wood.
Wines from this appellation are not produced in high volumes, with only about 100,000 bottles of wine made each year [2, 2019].
Montello Rosso DOCG
Montello is a hilly area covered with oak and chestnut forests and meadows. It sits on the right-hand side of the Piave river, which separates it from the Valdobbiadene region. The Montello zone is home to the another world-renowned sparkling wine: Asolo Prosecco. It also has a high-quality red wine appellation: Montello DOCG. This powerful red blend is dominated by Cabernet Sauvignon. With only 6 hectares planted [2], Montello Rosso wine is a local speciality.
Montello Rosso must include 40-70% Cabernet Sauvignon, with the rest made up of Merlot, Cabernet Franc or Carmenère. Regular Montello is aged for at least 18 months, including 9 months in oak. Montello Superiore must be matured for a minimum of 24 months, including 12 months in oak and 6 months in bottle.
Veneto's DOC appellations
North-east Veneto's appelations have a long history with Cabernet. This grape is used both in red blends, and to produce single varietal wines.
Piave DOC occupies a rather large area around the Piave river in north-west Veneto. The Piave Rosso blend is based on at least 50% Merlot, with an addition of Cabernet or other grapes, such as Carmenère or Raboso. Piave Cabernet DOC is also produced, from at least 85% Cabernet.
Venezia DOC is a large appellation, designated in 2010. It includes all of the provinces of Venezia and Treviso, producinhg single-varietal Venezia Cabernet Sauvignon DOC as well as blends. Cabernet can be added to Venezia Rosato, which is based on 70% Raboso, and Venezia Rosso (based on 50% Merlot).
Lison-Pramaggiore DOC sits in the easternmost part of Veneto. The appellation shares most of its territory with Friuli Venezia Guilia. Cabernet is considered a traditional grape here, and is used to produce the single-varietal Lison-Pramaggiore red wine.
Lison-Pramaggiore sits in the flat lowlands, and is well-irrigated by the Livenza and Tagliamento rivers. These have created rich alluvial soils. The climate is warm, Mediterranean and fully open to the nearby Adriatic sea. Sea breezes help to moderate the temperature all year round in this warm, humid area. This environment favours the production of rich, full-bodied wines.
Cabernet wine in Alto Adige
Alto Adige DOC is sandwiched between the Alpine mountain ranges, in the heart of Alto Adige. Also known as Südtirol (South Tyrol), this north-eastern region is the German-speaking part of Italy. Südtirol is known for its breathtaking views, ski tourism, and one of Italy's top annual wine fairs – the Merano Wine Festival.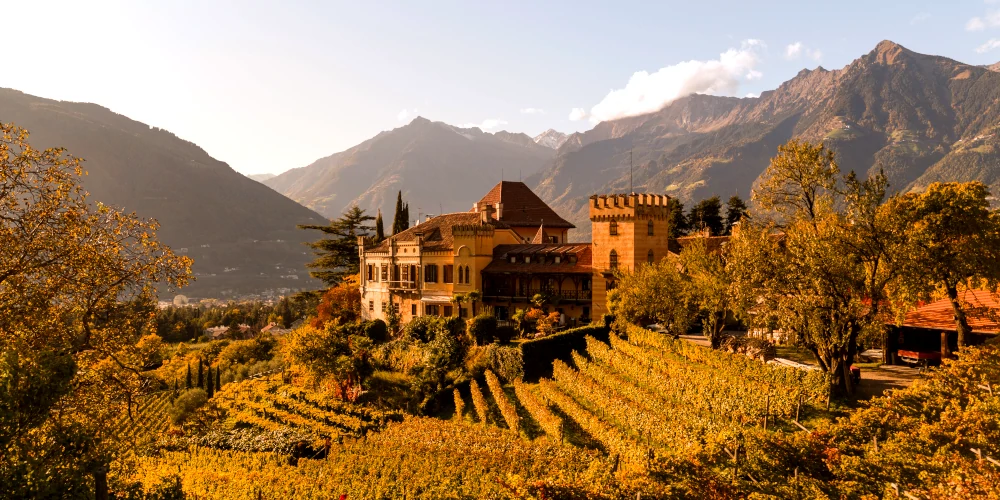 The winemaking area consists of three river valleys that meet up near the city of Bolzano. The left "arm" is Val Venosta (the upper flow of the Adige river), the right "arm" is Valle Isarco (the Isarco river). Here, you'll find Europe's highest vineyards – planted at altitudes above 1,000 metres.
The southern part, or the "foot", of the Alto Adige zone is where the Adige river widens as it flows south from Bolzano to Trentino. The valley is walled by the Alps, forming a heat trap that helps to mature even the most demanding grapes. The soils on the valley floor are alluvial, rich in minerals and well-suited to late-ripening red grapes.
Alto Adige produces high-quality single-varietal Cabernet wine from Cabernet Sauvignon and Cabernet Franc. Together they must account for at least 85% of the blend. With volumes slightly shy of 1 million bottles per year, Alto Adige is an important producer. Wines produced here typically are very high-quality, and command higher-than-average prices as a result.
Find out more in our comprehensive Guide to Alto Adige.
Piemonte
Piemonte produces some of Italy's most prestigious wines, such as the king and queen of wines – Barolo DOCG and Barbaresco DOCG. It's also well-known for sparkling Moscato d'Asti DOCG. While other regions, such as Veneto and Alto Adige, re-planted international grapes, Piemonte has always kept its focus on Italy's native grapes. Today, Piemonte's main wines are based on Barbera, Nebbiolo, and Moscato Bianco.
Langhe DOC
A few appellations allow wineries to release wines based on international grapes. One of them is Langhe DOC, which covers the whole of the Langhe and Roero areas. It overlaps the most prestigious appellations on the right side of the Tanaro river – Barolo, Barbaresco, and Diano d'Alba – as well as Roero on the left side of the river.
Langhe Cabernet Sauvignon DOC must include at least 85% of the named grape. Up to 15% of Cabernet can be used in the red blend, Langhe Rosso DOC, which is mostly based on Piemonte's traditional grapes: Barbera, Dolcetto and Nebbiolo.
Monferrato DOC
The scenic hills of Monferrato are located to the east of Langhe, in the provinces of Asti and Alessandria. This area is world-famous for its exceptional expressions of Barbera wine, as well as for Italy's most prized frizzante wine: Moscato d'Asti. Vineyards are planted on hillsides, at remarkable altitudes as high as 650 metres.
Monferrato DOC is a regional appellation, created to give winemakers a freedom to experiment with international grapes. Single-varietal wine must be crafted from 85% of the named grape. Alternatively, Cabernet can be blended with Barbera, Dolcetto or Freisa to add its signature flavours of dark fruit, body and tannins.
Browse our selection of Piedmontese wines or read our guide to Barolo.
Cabernet Production Statistics
Cabernet Sauvignon has been grown in Italy since 1820, though it didn't grab the public's attention until the mid-1970's when it was used to create a range of extremely successful Super Tuscan wines. Since then, its plantings have increased from less than a thousand hectares in the 1970's to 14 thousand in 2010 – more than Primitivo or Nebroamaro [2].
Sources
[1] MiPAAF
[2] ISMEA
[3] Consorzio Vino Chianti Classico
[4] Consorzio di Tutela Bolgheri e Bolgheri Sassicaia
[5] Consorzio Südtirol Wein / Vini Alto Adige