Guide to Italian Pinot Noir wine
Italian wine guides / Guide to Italian Pinot Noir wine
Famous for its mouth-watering flavours of strawberry and raspberry, Italy's best Pinot Noir wines come from regions with cooler climates: Lombardia, Trentino and Alto Adige. Throughout most of Italy, this grape is known as Pinot Nero. The exception is German-speaking Alto Adige, where it's known as Blau Burgunder or Spätburgunder.
As in Champagne, Pinot Noir is a key ingredient in some of Italy's best metodo classico sparkling wines: e.g. Franciacorta DOCG, Oltrepò Pavese Metodo Classico DOCG, Alta Langa DOCG, and Trento DOC.
It is generally accepted that the finest examples of still Pinot Noir wine hail from the Alpine vineyards of Alto Adige. There, Pinot Noir is often planted as high as 1,000 metres. The high altitude, combined with the character of the limestone and dolomite soils, creates a unique growing environment for this famously finicky grape.
Contents
Flavours of Italian Pinot Noir wine
Single-varietal Pinot Noir wine is beloved for its elegant flavours and lower levels of alcohol. Well-crafted still wine from the Italian Alps will offer fresh flavours of raspberry, strawberry and mint, complemented by of notes of forest floor, vanilla and white pepper.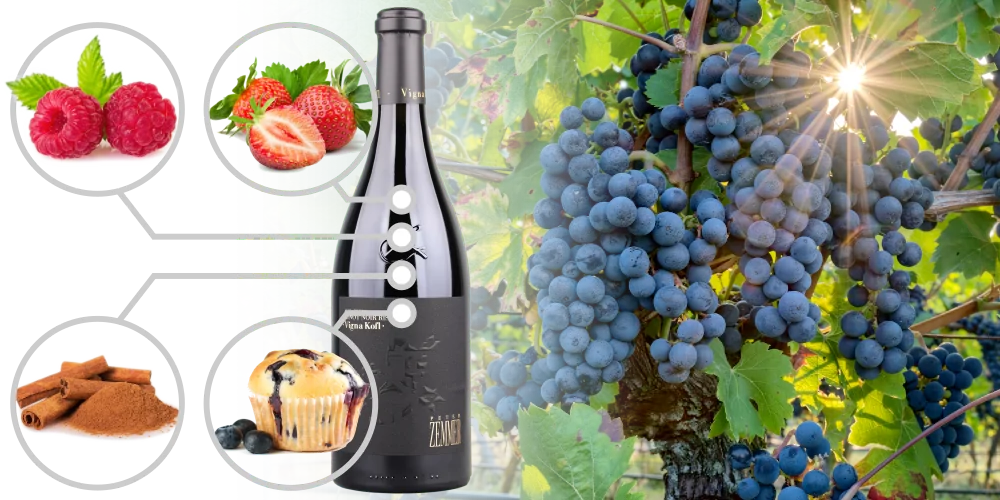 Pinot Noir is typically blended with Chardonnay to make Metodo classico sparkling wines, sometimes with a touch of Pinot Bianco and Pinot Grigio. This gives winemakers the freedom to develop a wide array of house styles. As part of a sparkling wine blend, Pinot Noir adds complexity with layers of red fruit flavour.
Pinot Noir in the official registry
Registration Code: 195
Official name: Pinot Nero N.
Official permitted synonyms: For grapes grown in Trentino and Alto Adige: Blau Burgunder and Spätburgunder; for grapes grown in other EU countries: Blauer Spätburgunder, Pinot Noir; for sparkling wine labelling: Pinot.
The grape has been registered in the official MiPAAF Registro Varietà since 1970. [1]
Sparkling wine appellations grow Champagne clones of Pinot Noir, whereas Burgundy clones can be found in still wine-producing regions. [4]
Where Italian Pinot Noir wine is made
Pinot Noir-based sparkling wine appellations
Pinot Noir is found in the most highly-prized metodo classico sparkling wines. It is usually blended with Chardonnay, and possibly other grapes such as Pinot Bianco, Pinot Grigio and Meunier. Each appellation has its own blending formula enshrined in wine law.
Lombardia, with its capital in Milan, is the leading producer of premium metodo classico fizz. The two legendary wines are Franciacorta and Oltrepò Pavese Metodo Classico.
Lombardia grows more Pinot Noir than anywhere else in Italy, producing 150 thousand hectolitres of wine. The second most-planted grape, Pinot Noir occupies 13% of all Lombardia's vineyard area.
In Franciacorta, the blend is dominated by Chardonnay. Pinot Noir plays second fiddle. But, in Oltrepò Pavese Metodo Classico, Pinot Noir is the leading grape, and in some cases is not blended with Chardonnay at all.
Other provinces of northern Italy's have their own claims to fame when it comes to metodo classico wine – and each of them includes Pinot Noir. In Trentino, it is Trento DOC, while in Piemonte it is Alta Langa DOC.
Franciacorta DOCG
Franciacorta is possibly Italy's most prestigious sparkling wine. It was the first of Italy's metodo classico appellations to receive DOCG status, in 1995. The roots of Franciacorta trace back to early medeival times. It was already an important wine-producing territory when the Venetian Doge, Francesco Foscari, mentioned Franciacorta in is his decree of 1429.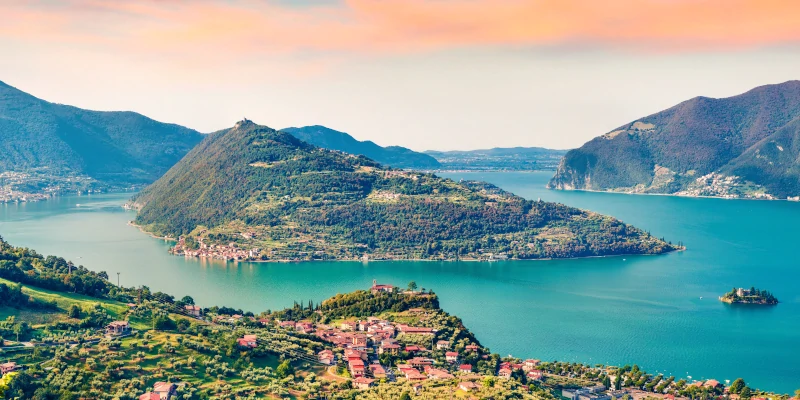 Franciacorta is located just south of the picturesque Lake Iseo, and west of the city of Brescia. This appellation has a particular growing environment: it is confined to an amphitheatre of 23 x 13km formed by a glacier. The eastern border is formed by the rolling slopes on the very edge of the Rhaetian Alps. The temperature is moderated by Lake Iseo and cool winds descending from the mountains.
Explore our selection of award-winning Franciacorta wines to try this stunning sparkler for yourself.
Franciacorta is famous for its tradition of developing wine on the lees for an extraordinary length of time. While Champagne is often released to the market after one year, the "standard" Franciacorta is aged for a minimum of 18 months. Millesimato (wine from a particular vintage) is aged for at least 30 months. Franciacorta Riserva spends an incredibly long time of 60 months sur lie.
The Franciacorta formula: wines can be made from Chardonnay and/or Pinot Noir, with Pinot Bianco contributing up to 50%. The local white grape Erbamat can add up to 10%. But, in practice, most Franciacorta blends are predominately Chardonnay.
Franciacorta Rosé should include at least 35% Pinot Noir, and no more than 65% Chardonnay.
The only type of Franciacorta that never includes Pinot Noir is Satèn. It is a smooth, dry "Blanc de Blancs" wine, with lower pressure in bottle (up to 5 atm) and a fine mousse. It's only produced from white grapes – Chardonnay and Pinot Bianco – without Pinot Noir. This delicious wine is aged sur lie for at least 24 months.
Oltrepò Pavese Metodo Classico DOCG
The Oltrepò Pavese Metodo Classico denomination is found in northen slopes of the Apennine mountains, in the southern part of Lombardia (Oltrepò Pavese means "the other side of the river Po"). Its hilly terrain and limestone soils mean it's considered as one of the best areas for Pinot Noir in Italy. The temperature is moderated by the high altitude of the vineyards, often planted at 400-600 metres above sea level.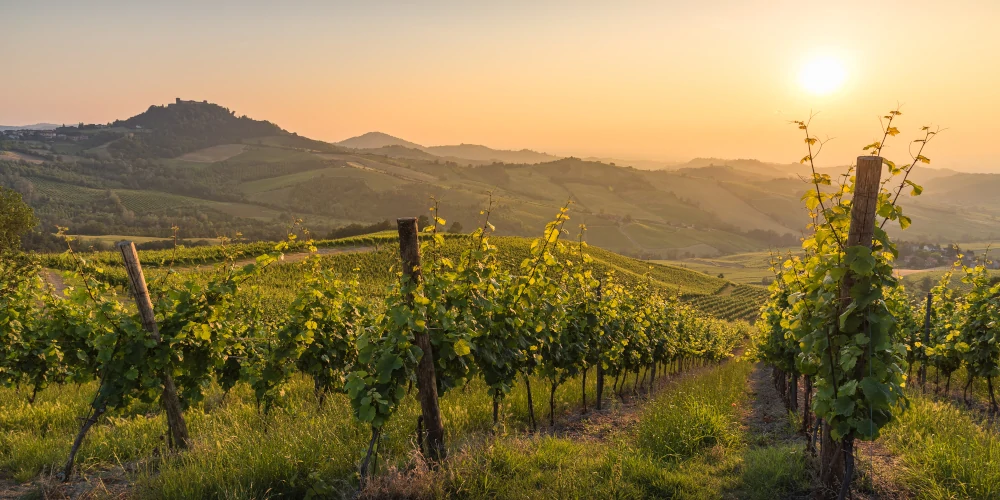 The unique style of the Oltrepò Pavese's sparkling blends is because they are dominated by Pinot Noir, with Chardonnay only playing a supporting role – the opposite of Franciacorta. The wine may be made in a rosé style as well. After crushing, the Pinot Noir grapes are kept in contact with their skins for a short time to impart light colour and body.
Oltrepò Pavese was Italy's second Metodo Classico appellation, after Franciacorta, to receive the prestigious DOCG status.
The Oltrepò Pavese Metodo Classico DOCG formula: wine must include at least 70% Pinot Noir. The remaining 30% can be made up of Chardonnay, Pinot Bianco or Pinot Grigio. The exact proportions vary depending on the winemaker's preferred style.
Wines with 75% Pinot Noir or more are allowed to use the term "Pinot Nero" on the label, as so: Oltrepò Pavese Metodo Classico Pinot Nero DOCG.
Oltrepò Pavese Metodo Classico Wine is matured on its lees for 15 months or more. Vintage bottlings should be aged for at least 24 months.
Trento DOC
This denomination is found in Trentino, sandwiched between the Alpine ranges along the rivers Adige, Sugana and Sarca. Vineyards are planted on the mountain slopes, as high as 800 metres above sea level. The drier, cooler environment of the Alps helps to preserve the grapes' natural acidity, ultimately producing wines with greater aromatic complexity.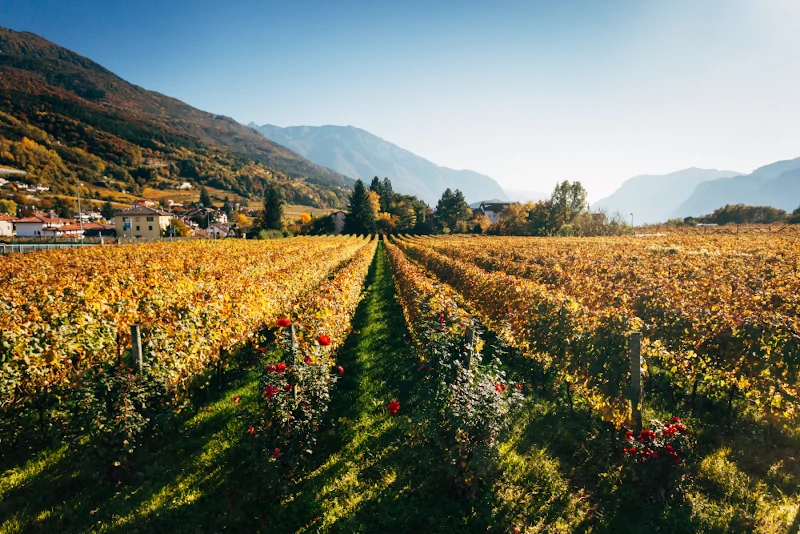 In 1874, the Agrarian Institute of San Michele all'Adige was formed. It identified that local conditions were favourable for the production of metodo classico sparkling wines. In 1902, Giulio Ferrari founded the first winery dedicated to this type of wine. The wines gained a fantastic reputation, leading to the creation of Trento DOC in 1993.
Trento DOC sparkling wines are made of Chardonnay, Pinot Noir, Pinot Bianco and Meunier. The exact proportion is not defined, which leaves it to each house to find its own perfect blending formula.
The minimum period of ageing for Trento DOC wines is 15 months. Vintage wines (millesimato) must be aged for longer – at least 24 months. Trento Riserva DOC has to be aged for 36 months.
Thanks to their mountain origins, wines of Trento DOC are considered among the most prestigious Italian sparkling wines.
Alta Langa DOC
Alta Langa DOC is Piemonte's most prized metodo classico sparkling wine. Only a small volume of this top-quality fizz is produced, but it enjoys an unprecedented demand – both in Italy and abroad.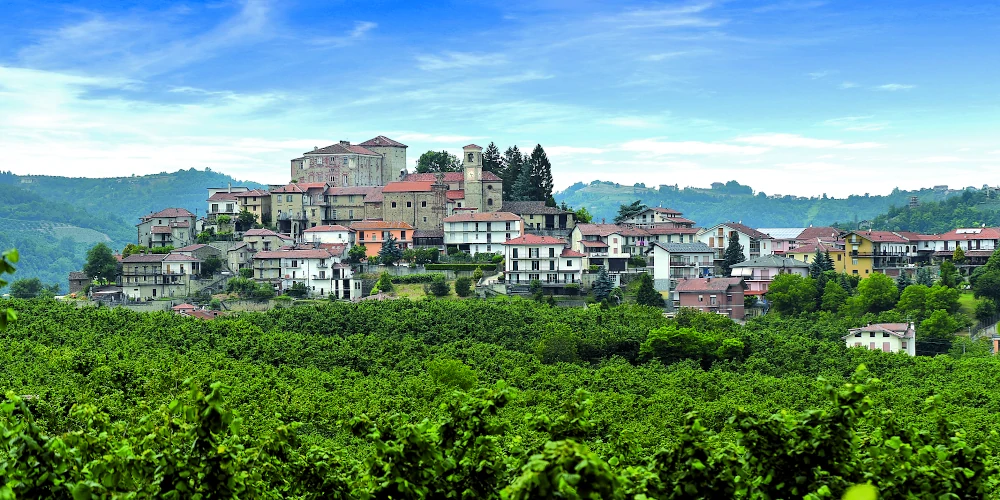 The denomination stretches across the hilly landscape of Lange, Asti and Alessandria. Its southern border lies in the foothills of the Ligurian Apennines.
Blending formula: both Pinot Noir and Chardonnay are permitted. They can form from 90 to 100% of the blend, with the possibility to add up to 10% of other Piedmontese grapes. Having said that, the Alta Langa blend is generally dominated by Pinot Noir, with Chardonnay playing second fiddle.
The "standard" Alta Langa DOC wine is matured sur lie for no less than 30 months. This is Italy's longest ageing period for "standard" metodo classico wine. This explains the superior quality of the wine and its fine flavours, but equally its higher price point and smaller production volumes. Alta Langa Riserva has to be aged even longer, for 36 months.
Still Pinot Noir wine appellations in Italy
While Lombardia is the leader in sparkling versions, Italy's best single-varietal Pinot Noir wines come from the country's north-east: Alto Adige and Friuli Venezia Giulia.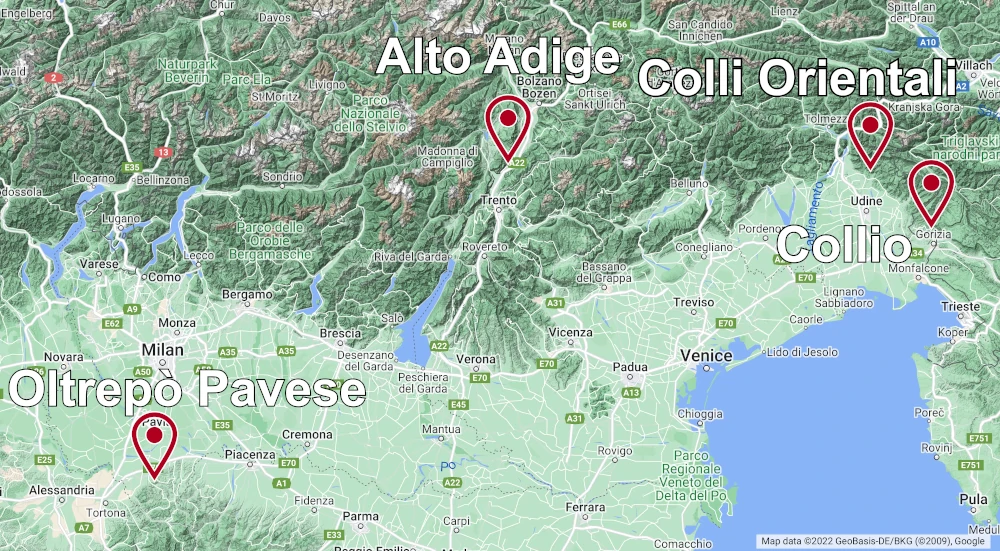 Alto Adige Blauburgunder wine
In German-speaking Alto Adige, Pinot Noir is known as Blauburgunder. The area that is most highly regarded for its Blauburgunder wines is Bassa Atesina (Unterland), in the southern part of the province. The most notable wine-producing villages are found along Strada del Vino/Weinstraße ("Wine Road"), on the stretch between Cortina/Kurtinig and Termeno/Tramin.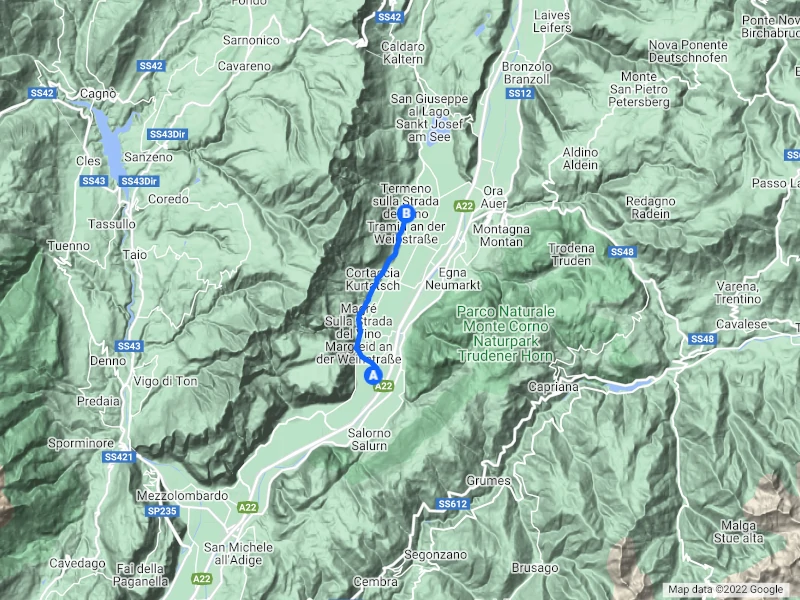 Pinot Noir/Blauburgunder prefers cooler sites. The best grapes are the product of mountain viticulture, grown at altitudes from 300 to over 1000 metres. Parcels on the western slopes of the valley are shaded from the morning sun by the Alps. This means that the grapes only see the afternoon sun.
Additionally, the vineyards are exposed to the cool breezes – especially the Ora del Garda. This breeze blows north from Lake Garda towards Bolzano, cooling the areas along its path.
The soil in the mountain vineyards of Bassa Atesina is rich in limestone and dolomite rocks. They produce some of Italy's finest examples of the Pinot Noir/Blauburgunder wine. They tend to age well, with rich flavours of dried wild strawberry and raspberry developing beautifully in bottle.
One excellent example of Blauburgunder wine is that produced by Cantina Kurtatsch in Cortaccia/Kurtatsch. Here, Pinot Noir is planted at altitudes from 350-450 metres (Mazon vineyard) and 450-650 metres (Glen vineyard).
Peter Zemmer produces Pinot Noir Riserva wine from grapes grown in the Vigna Kofl vineyard, planted at an altitude of 1,030 metres. This cru vineyard is located high above the comune of Ora/Auer.

Find out more in our comprehensive guide to Alto Adige and its wines.
Pinot Nero wines of Friuli Venezia Giulia
Single-varietal Pinot Noir wines from Friuli Venezia Giulia are labelled "Pinot Nero". This province is world-famous for its fine white wines such as Friulano, Ribolla Gialla and Sauvignon. It produces some outstanding red wines, too.
Although a few appellations in the province permit production of Pinot Noir wines, the most prestigious ones are Collio Goriziano (Collio) DOC and Friuli Colli Orientali DOC.
Friuli Colli Orientali DOC (or simply Colli Orientali) is one of the finest appellations in Italy for both white and red wines. It sits on the southern foothills of the Julian Alps, between the towns of Tarcento and Cividale. The first vineyards here were planted by the retired legionaries of Julius Caesar, and the area has a winemaking tradition going back to the Roman times.
Located on the slopes of the Alps facing south-west, and 30-50 km from the Adriatic coast, Colli Orientale is hardly affected by the warm breezes from the south. It has a cooler, continental meso-climate, which is perfect for wines with high levels of acidity and aromatic complexity.
Friuli Colli Orientali specialises in the finest white wines, mostly made from Friulano, Sauvignon, and Pinot Grigio. Red wines are produced as well, though at a smaller scale. For single-varietal bottlings, look for Friuli Colli Orientali Pinot Nero DOC. A "Rosso" blend is also produced – and may include native Italian grapes such as Refosco dal Peduncolo Rosso and Pignolo, as well as Pinot Noir, Merlot and Cabernet. Winemakers can blend them in any proportion to achieve the preferred house style.
Collio is located south-east of Friuli Colli Orientali, in the province of Gorizia.It liesin the foothills of the Alps separating Italy from Slovenia, only 20 miles off the Adriatic coast. This creates a unique climate characterised by the interplay of the cold air currents descending from the Alps, and the warm Mediterranean air from the sea.
The soil in the Collio hills is rich in calcareous marl and sandstone. Vineyards are often planted on the steep hillsides, which are called ronchi.
Collio is world-famous for its white wines, which are considered among the best not only in Friuli Venezia Giulia, but also in the whole of Italy. Red wines, in particular Pinot Nero, are less frequent – although excellent examples are produced, too. In the same fashion as in Friuli Colli Orientali, Pinot Noir can be released as a single-varietal wine (Collio Pinot Nero DOC), or included in the Collio Rosso DOC blend along with permitted Italian and French red grapes.
Pinot Nero wines of Lombardia
Without a doubt, Oltrepò Pavese enjoys the highest reputation for its metodo classico bubbly. Pinot Nero dell'Oltrepò Pavese DOC was created in 2010 to allow sparkling wine producers to release still wine and leverage their tradition and knowledge of this grape.
Pinot Nero dell'Oltrepò Pavese should include at least 95% Pinot Noir, possibly with a small addition of other red Lombardian grapes. A Riserva version is produced as well.
Today, this appellation is not large. Vineyards cover only 207 hectares [2, 2019]. But production volumes have slowly been growing, as the Pinot Nero dell'Oltrepò Pavese wine continues to gain a higher reputation on the market.
Italian Pinot Noir Production Statistics
Pinot Noir is one of the top-20 most planted red grapes in Italy. It doesn't sound very high, but in a country with over 600 permitted grapes, 20th is a very impressive position.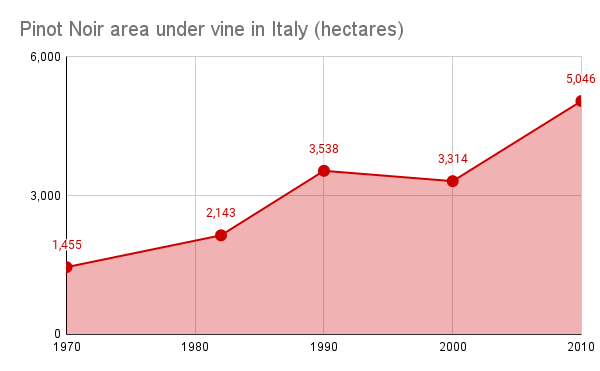 Most importantly, Pinot Noir's plantings have been increasing in size. The biggest driver is the growing popularity of Italian metodo classico sparkling wines, where Pinot Noir is a key element in the blend.
As for still red wines, Alto Adige has seen its plantings of Pinot Noir double since the mid-1990's. This Alpine region produces a respectable 3 million bottles of Pinot Noir annually [3, 2019]. It is now the third most-produced red wine.
Wineries are following the growing interest of consumers in lighter-bodied, more elegant red wines – and Pinot Noir fits the bill perfectly.
Sources
[1] MiPAAF
[2] ISMEA
[3] Consorzio Südtirol Wein / Vini Alto Adige
[4] Wine Scholar Guild