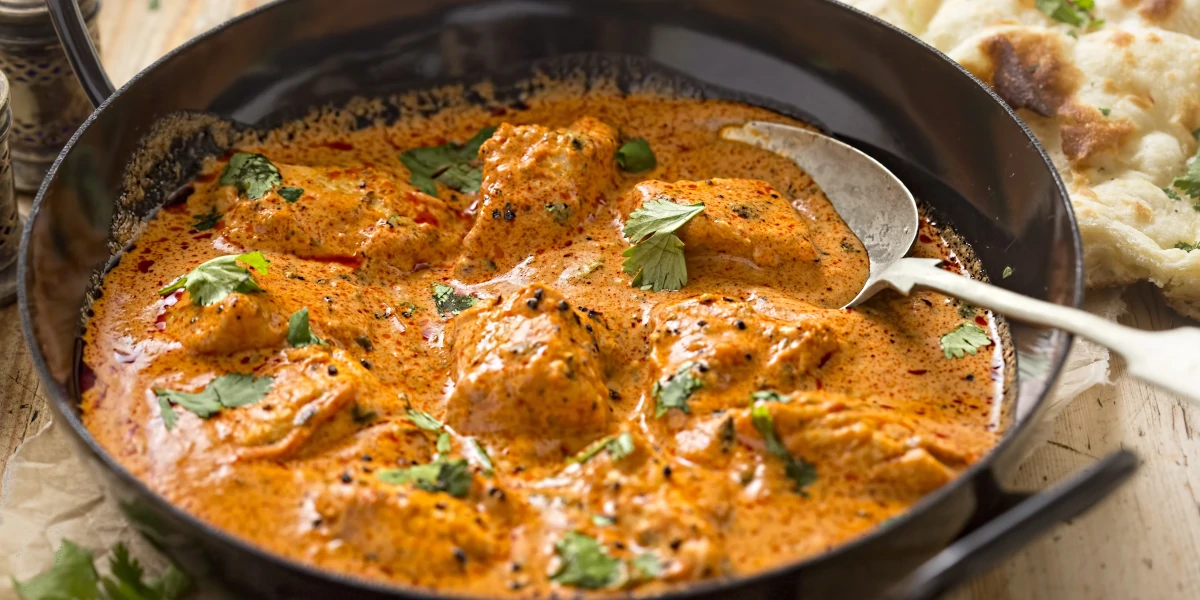 How to choose wine for curry: our 6 top tips
Italian Food and Wine Pairing / Wine for Curry
Finding wine for curry is one of the trickiest things to do properly. It's probably why most people choose to simply drink lager – a bottle of Cobra or Tiger beer is the classic accompaniment to spicy Indian and Thai dishes. However, wine lovers don't need to compromise. While finding wine that can stand up to spicy food is an art form, it's one that can easily be mastered.
As a UK-based company, we'll mainly be talking about wine for curries you'll encounter in British restaurants. Dishes like chicken tikka masala may be far from authentic, but they often form the backbone of many menus here in the UK. We'll be calling out a few British-Indian favourites, but our tips can be taken and applied to any sort of curry.
Next time you order a takeaway or go out for dinner at a BYOB restaurant, follow our tips on choosing wine for curry.
Choosing wine for curry tip 1: match your wine to the sauce
It doesn't matter whether you're choosing a chicken, lamb or vegetable curry. The key thing to consider is what type of sauce it comes in. Once you know that, you can implement the basics of wine and food matching.
For example, creamy and mild dishes like korma, passanda and butter sauce require an acidic wine to cut through the fat. Medium-bodied red wines, like Sangiovese and Barbera, can stand up to the rich texture of creamy curries. Look for oak-aged options with baking spice flavours to complement the fiery notes of the ginger, cumin and coriander. A great option is Castello di Radda 2017 Chianti Classico DOCG, which has velvety smooth tannins and smoky notes of vanilla and spice.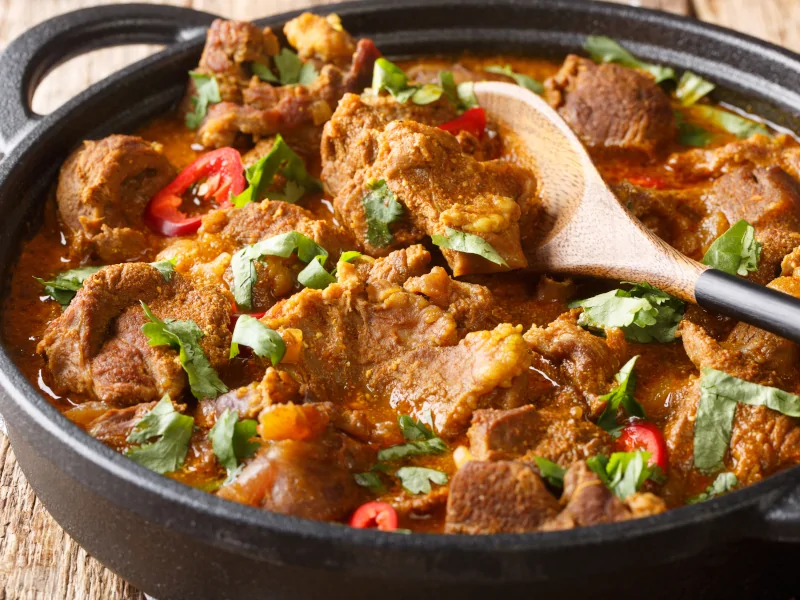 Acidic wines also work well with tomato-based dishes like bhuna and rogan josh, as the tart sauce will increase the impression of sweetness and fruitiness in the wine. Red or rosé wines are a great choice here, as they complement the juiciness of the tomatoes. Choose one that you can serve chilled, such as Pinot Noir. It has notes of raspberry and strawberry, which work well with the aromatic spices.
Choosing wine for curry tip 2: keep it sweet (or off-dry)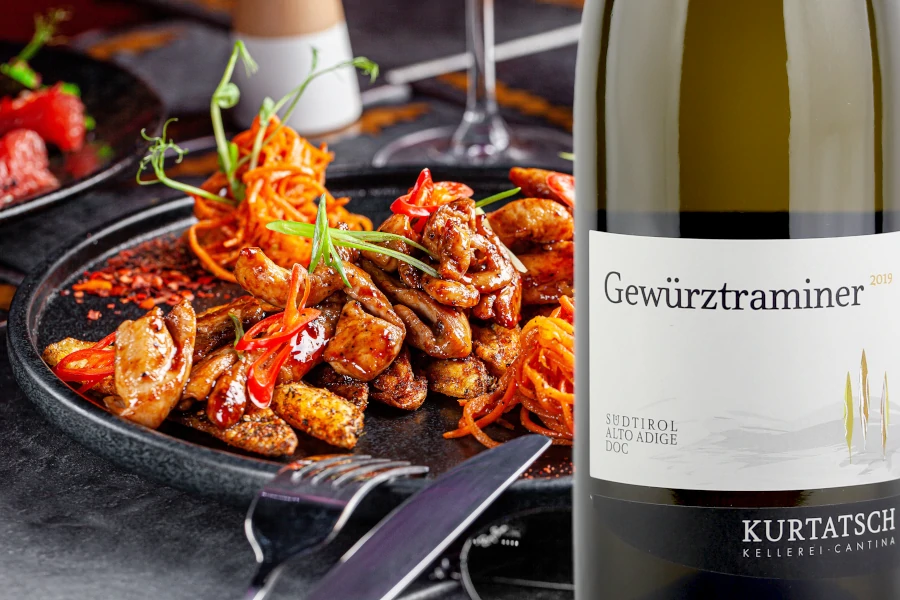 Sweetness can help to tame the burning heat of chilli, so some of the best wines for curry have a bit of residual sugar. Even if you're usually a fan of dry wines, it's worth choosing something a touch sweeter than you usually prefer. Gewürztraminer is a classic pairing for spicy food, and the Kurtatsch Brenntal Gewürztraminer Riserva 2017 from Alto Adige DOC shows why. This off-dry white wine has lush flavours of candied orange, honey and grapefruit to help soothe your burning tongue.
Choosing wine for curry tip 3: fizz is your friend
Curries are quite rich, and carbonation can help to cleanse your palate ready for the next bite. This is why lager is often a top choice for pairing with Indian food. It's probably best not to break out your best traditional method sparkling wine for curry, as the spicy aromatics in the dish can easily overpower the subtleties of a Franciacorta or Champagne.
Instead, go for a lighter option such as Ca' di Rajo Cuvée del Fondatore Brut Millesimato 2020 Prosecco. This light-bodied wine boasts simple but lovely aromas of acacia flowers, green apple, lime and pineapple. Its sweet undertones of pear drop candy also help to mute the effects of the heat in the curry.
For something a little bolder, try the rosé version: Ca' di Rajo Pink Prosecco DOC Rosé Millesimato Brut 2019. This blushing wine has a touch of Pinot Noir, which adds flavours of wild strawberry, raspberry and candy. Both of these Proseccos have fine, tiny bubbles which are ideal palate cleansers.
Choosing wine for curry tip 4: choose low alcohol wines
Alcohol enhances the impression of heat in food, so if you're going for a fiery curry like vindaloo or madras it's best to choose a low-alcohol (5-11% ABV) bottle to reduce the burn. You don't need to worry too much about this rule if you're going for a mild and creamy curry, as there's usually not much heat to begin with. However, if you're heading into the 'four chilli' territory of the menu, it's better to minimise the impact by opting for a light-bodied wine. Francone Antichi Poderi dei Gallina 2020 Sparkling Muscat is an excellent choice at just 5% ABV. As well as being low in alcohol, this wine also ticks two other boxes; it's fizzy, and it's sweet – so it is potentially the best wine for curry.
Choosing wine for curry tip 5: high acid wines can revive your palate
We've already discussed how high acid wines can complement both creamy and tomato-based dishes. They can also help to soothe your palate if you opt for a fiery dish. Acidic white or red wines are a good bet if you've chosen a dry dish, such as tandoori chicken, or if you've ordered a selection of starters. Acidic wines will pair well with spicy samosas and pakoras, and can also stand up to the zingy flavours in lime pickle. Look for wines with a hint of honeyed sweetness, like K.Martini & Sohn's Paladium Pinot Bianco 2018 from Alto Adige DOC, which boasts aromas of tropical fruits – a lovely complement to mango chutney.
Choosing wine for curry tip 6: go for earthy and spicy red wine, rather than fruity
Ripe fruit flavours can clash with the flavours in many Indian dishes. If you prefer red to white wine, it's best to opt for wines like Cannonau, with more savoury notes such as leather, autumn leaves and baking spice. For example I Garagisti di Sorgogno, Manca 2016 would be an excellent option with its spicy and herbal notes – perfect for pairing with a Thai green curry or a lamb saag.
Another excellent option would be younger, tannic Nebbiolo, such as Nebbiolo d'Alba or Nebbiolo Langhe. Try Demarie Nebbiolo d'Alba DOC 2017 which tastes of liquorice, coffee and dark chocolate with touches of rose petals and leather.
Find the perfect wine for your next curry
Have we convinced you to leave the lager in the fridge? Now that you know the key things to consider when pairing wine with curry, you can browse our Italian wine shop to find the best bottle for your next Indian meal. All of our Italian wines are available with free next day delivery throughout most of the mainland UK, so you can easily plan ahead.