Guide to Primitivo wine (Italian Zinfandel)
Denominations / Guide to Primitivo (Zinfandel) wine
This guide to Italian Primitivo wine (or Zinfandel as it's known in the USA) will lay out what high-quality Primitivo wine typically tastes like, where it's made, the production rules in the most important DOC, DOCG and IGT zones, and the fascinating history of this grape.
Primitivo is a black-skinned grape that produces powerful red wines. Typical high-quality Primitivo tastes like blackberry, dark chocolate and liquorice. The best examples come from Primitivo di Manduria DOC and Salento IGT in southern Puglia. Here, premium winemakers reduce their harvests to 7-9 tonnes per hectare, picking only the best grapes. Primitivo di Manduria DOC is located in the provinces of Taranto and Brindisi. With 4,532 hectares under vine, it produces 19 million bottles per year. Salento IGT covers the provinces of Taranto, Brindisi, and Lecce, and produces 16 million bottles of Primitivo wines, ranging from very inexpensive to top quality. Primitivo is also found in sweet wines, like Primitivo di Manduria Dolce Naturale DOCG, as well as elegant rosato (rosé) wines. If you're wondering "what does Primitivo mean?", it doesn't mean 'primitive' – it means 'early ripening'.
From tasting notes and region guides to history and recommended bottles, read on to find out everything you need to know about Primitivo.
What does Primitivo wine taste like?
Primitivo is a big, bold wine. It's usually full bodied and high in alcohol, with medium levels of tannins and acidity. Its flavours are pronounced, and are often reminiscent of very ripe dark berries – like blueberry and blackberry – as well as liquorice and black pepper. A lot of Italian Primitivo is now aged in American oak, to give it a flavour similar to the famous red Zinfandels from popular regions like Lodi in California. As such, you can usually expect flavours of dark chocolate, sweet tobacco and cinnamon spice.
After spending three to five years in the cellar, high-quality Primitivo wine will offer pleasant flavours from ageing and development. You will often find flavours of preserves, dried fruit, prunes, old leather and sweet pipe tobacco.
Where does the best Italian Primitivo come from?
DOC and DOCG winemaking areas
The southernmost part of Puglia – the heel of the Italy's boot – is the main source of Primitivo wines in Italy. The DOC area with the most significant production of Primitivo is Primitivo di Manduria DOC. This zone occupies the southern part of the province of Taranto, around the town of Manduria, from Avetrana to San Giorgio Jonico. It stretches a little bit into Brindisi, surrounding the comunes of Erchie, Oria and Torre Santa Susanna. In terms of production, Primitivo di Manduria turns out 19.6 million 75cl bottles per year (2018) [1].
Puglia also has a DOCG zone that makes a very rare, sweet version of Primitivo, bursting with natural sweetness: Primitivo di Manduria Dolce Naturale DOCG. This wine is produced in the passito method, from late-harvest grapes dried on the vines until they almost become raisins. This drying technique produces wines with very concentrated sugars and flavours. The resulting wine must contain not less than 50 g/l of sugar [6]. This delicious wine is very rare: every year only 25 thousand cases of this boutique wine are produced[1].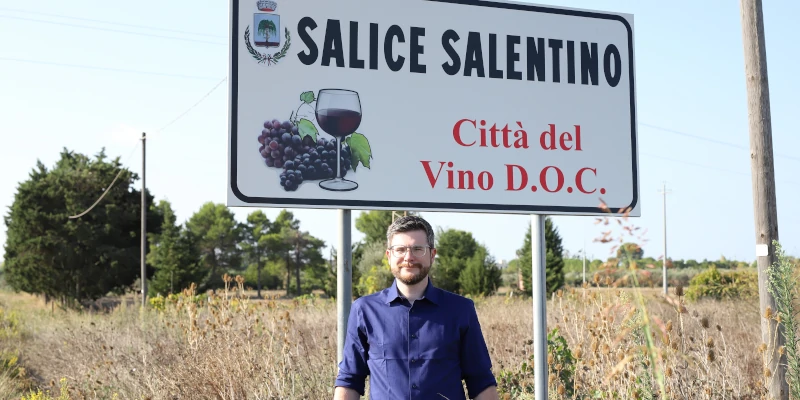 Salento IGT winemaking area
Primitivo from Salento IGT boomed in the late 90's, when careful grape selection and modern winemaking methods brought new life to the varietal. Many of the top award-winning Primitivo wines come from Salento IGT, which makes over 16 million 75cl bottles per year [2]. This production area stretches over three administrative provinces in Puglia – Brinidisi, Lecce and Taranto.
For prominent wineries located just outside of the Primitivo di Manduria DOC area the only option is to label their Primitivo wine as Salento IGT. For example, the vineyards of Carvinea are located around the Norman fortress of Carovigno, just 15 km north of the Manduria zone. Yet Carvinea makes one of the most highly recognised Primitivo red wines – it won Italy's most prestigious Tre Bicchieri award in 2018.
What does IGT mean?
IGT stands for "Indicazione Geografica Tipica". Although "IGP" is a more accurate legal term, "IGT" is more traditional in Italy. They can be both legally used on the labels. IGT (or IGP) means that under European law, the wine comes from a Protected Geographical Indication (PGI). These regulations emphasise the region that the wines come from, rather than focusing on a particular winemaking style, because it's the terroir that makes them special. As such, the IGT rules aren't as heavily regulated as DOC or DOCG, meaning winemakers have a lot more freedom to experiment.
Salento IGT's most important grapes and wine styles
Although Salento's winemakers are allowed to choose from 50 types of grape to make IGT wine, the most popular grapes are Negroamaro and Primitivo. Single varietal Negroamaro wine accounts for around 30% of the region's production, ahead of Primitivo wine that contributes 25% [3].
Most winemakers in Salento prefer to make single varietal wines. As long as they use a minimum of 85% Primitivo, they can label their wine as such. This means they're allowed to bolster the wine with up to 15% of any other permitted grape grown in the Salento IGT area [4]. While single varietal wines are popular, some of the best reds of the region are blends – labelled as Salento IGT Rosso. These are typically made from Negroamaro and Primitivo. These two grapes complement each other well, creating deep and complex wines that taste of ripe black fruits. Such blends are responsible for 14% of Salento IGT's total wine production [3].
Quality of Primitivo wine
The most important factor that defines the quality of the wine is the quality of the grapes. As winemakers say, "the quality is made in the vineyard". Depending on the target style of wine – inexpensive or premium – the winemaker will decide what quality of harvest they will accept.
The maximum permitted harvest of Primitivo grapes in Salento IGT is 17 tonnes per hectare[4]. That's much more than the maximum yields permitted in DOC or DOCG areas, where a consortium of winemakers sets a minimum standard of quality. In contrast, Primitivo di Manduria DOC has a permitted harvest of only 9 tonnes of grapes per hectare[5]. As for a more famous example, in Barolo DOCG, the yield is capped at 8 tonnes per hectare.
High yields mean that farmers harvest even grapes of lower levels of quality, which results in lower-quality wines. When the harvest is capped, wine-growers reject low-quality grapes, in the end producing better wines.
Limiting harvest size is key to achieving high-quality
The Primitivo grape can be quite productive. Salento IGT allows winemakers to harvest up to 17 tonnes per hectare. However, such abundant harvests don't produce grapes of high quality. That's why high-volume farming is geared toward bulk wines. To produce high-quality wines, winemakers have to discard poor grapes, which drastically reduces their volumes. That's why Primitivo di Manduria DOC sets the maximum harvest to nine tonnes per hectare.
Growers in Salento IGT who aim for top quality follow the same technique as those in the DOC zone. Coming back to our example of Carvinea, the owner and winemaker – Beppe di Maria – chooses to only pick seven tonnes of grapes per hectare. This is even less than even than the Primitivo di Manduria's nine-tonne maximum. Beppe performs "first selection" of grapes in the vineyard, discarding all berries that don't meet his standard. As a result, he only uses the best grapes to produce his signature Carvinea Primitivo – which explains why this wine is so successful.
Primitivo wine Information Card
Location and vineyard area:
Primitivo di Manduria DOC: the southern part of provinces of Taranto and Brindisi in the Puglia region [5]. Vineyards area: 4,532 hectares (2019) [2]

Salento IGT: Full area of the administrative provinces of Brinidisi, Lecce and Taranto in the Puglia region[4]. Vineyard area: 11,590 hectares (all grapes, 2018)[2].
Production:
Primitivo di Manduria DOC: 14,717,200 litres of wine (2018)[2] (equivalent to 19.6 million 75cl bottles).

Salento IGT: estimated production of Primitivo wine is equivalent to 16.3 million 75cl bottles (total Salento IGT wine production: 487,799 hectolitres (2018)[2], 25% of which is single varietal Primitivo wine, based on the 2013 data [3]).

Gioia del Colle DOC: 591,500 litres of wine (2018)[1] (equivalent to 0.79 million 75cl bottles).

Primitivo di Manduria Dolce Naturale DOCG: 111,100 litres of wine (2018)[1] (equivalent to 148 thousand 75cl bottles).
Permitted styles and grapes:
Primitivo di Manduria DOC: Primitivo and Primitivo Riserva. The wine must contain at least 85% Primitivo grapes, and up to 15% of non-aromatic black grapes from the Primitivo di Manduria DOC zone [5].

Salento IGT: Red (rosso) – still, sparkling, late harvest, passito, novello. White (bianco) – still, sparkling, late harvest, passito. Rosé (rosato) – still, sparkling, novello.Over 50 grapes are permitted, including Primitivo (r), Negroamaro (r), Mavlasia Bianca (w), Malvasia Nera (r), Sangiovese (r).In a blend, at least 85% must be made up of the main varietal, up to 15% of other varietals from the provinces of Brinidisi, Lecce and/or Taranto[4].
Maximum permitted harvest:
Salento IGT: 17 tonnes per hectare (for the Primitivo grape) [4].

Primitivo di Manduria DOC: 9 tonnes per hectare. In favourable years may be increased by up to 20% by the Consorzio. In unfavourable years may be reduced by the Consorzio [5].

Primitivo di Manduria Dolce Naturale DOCG: 7 tonnes per hectare. In favourable years may be increased by up to 20% by the Consorzio. In unfavourable years may be reduced by the Consorzio [6].
Climate:
Dry Mediterranean
Consortium:
Primitivo di Manduria DOC and Primitivo di Manduria Dolce Naturale DOCG: Consorzio Tutela del Primitivo di Manduria https://www.consorziotutelaprimitivo.com/

Salento IGT: n/a
A brief history of Primitivo
While Southern Italy is the spiritual home of Primitivo, it actually originates in Croatia – where it's known as Tribidrag and Crljenak Kaštelanski. Historians believe it was brought across the Adriatic Sea from Dalmatia in the 18th Century. The first Italian plantings were made in Gioia di Colli in Puglia, which is still a DOC today.
A century later, Primitivo was brought to America and rebranded as Zinfandel. It became extremely popular in California, where it is most often used to produce sweet and fruity rosé wine. Soon, Zinfandel was considered to be the USA's flagship red grape. Imagine the surprise (and shock) when a 1994 DNA analysis found that it was genetically the same as Italy's Primitivo!
This announcement was great news for the grape in Italy. Although Primitivo had been a popular blending grape for a long time, hundreds of hectares were destroyed under the EU vine-pulling scheme. Primitivo can be tricky to grow, as the bunches tend to ripen unevenly, so many farmers decided to pull theirs up rather than their more profitable grapes.
The news that Primitivo and Zinfandel are one and the same meant Primitivo was suddenly more marketable as a single varietal. Even better, from 1999 Italian exporters were allowed to label Primitivo as Zinfandel – although few choose to do this, it was still excellent publicity.
Top 3 Primitivo wines to try
If you're keen to try an award-winning example of this big and bold Southern Italian red wine, these bottles are well worth adding to your collection:
1. Pietrafinita, Primitivo di Manduria DOC
If you're looking for a benchmark of what Primitivo di Manduria wine tastes like, this is it. Bold aroma of blackberry, blackcurrant and liquorice, as well as a savoury balsamic undertone. Since it's made from passito grapes, this wine has a complex palette of dried raisins, dates and prunes, followed by notes of coconut and cinnamon.
2. Carvinea Primitivo, Salento IGT
This captivating and deep organic Primitivo has won the prestigious Tre Bicchieri award. Out of 40,000 wines that enter the competition, only 500 take home this accolade – so it's no mean feat. It's easy to see why it wowed the judges. Seriously complex, it tastes of mulberry, dark chocolate, pipe tobacco and vanilla.
3. Le Camarde, Primitivo and Negroamaro, Salento IGT
A blend of two signature southern Italian grapes, Le Camarde marries Primitivo with Negroamaro. This wine is made from grapes grown on old vines, so they have a deeper and more intense flavours. It's aged for three months in French oak and boasts rich flavours of blackberry, chocolate and juniper.
Deep, ripe and juicy: the joy of Primitivo
When it comes to warm climate reds, it's hard to beat a powerful Primitivo from Salento IGT. Fans of big blockbusting red wines are bound to enjoy it; whether they're sipping a single varietal bottle or trying it blended with other Southern Italian grapes. From its mysterious beginnings in Eastern Europe to global popularity as Californian Zinfandel, it certainly is a wine like no other.
Explore our full collection of Italian Primitivo wine, and reach out via our contact page if you need help picking out the perfect bottle.
References
[1] VQPRD d'Italia 2018, I Vini Italiani A Denominazione d'Origine, Confederazione Nazionale Dei Consorzi Volontari Per La Tutela Delle Denominazioni Dei Vini Italiani https://www.federdoc.com/en/vqprd/
[2] RETEVINO DOP-IGP, Dati di dettaglio, Salento IGP, ISMEA
[3] Report Vini a Denominazione di Origine 2014, ISMEA
[4] Disciplinare Di Produzione Dei Vini A Indicazione Geografica Tipica "Salento", Modificato con D.M. 28.11.2013, Ministero Delle Politiche Agriciole Alimentari E Forestali
[5] Disciplinare Di Produzione Della Denominazione Di Origine Controllata Dei Vini "Primitivo Di Manduria", Modificato con DM 07.03.2014, Ministero Delle Politiche Agriciole Alimentari E Forestali
[6] Disciplinare Di Produzione Della Denominazione Di Origine Controllata E Garantita Del Vino "Primitivo Di Manduria Dolce Naturale", Modificato con DM 07.03.2014, Ministero Delle Politiche Agriciole Alimentari E Forestali
[7] Consorzio Tutela del Primitivo di Manduria https://www.consorziotutelaprimitivo.com/