Guide to Amarone and Valpolicella
Valpolicella is an area in the north-east of Italy, where two of the country's most legendary wines come from: Amarone and Valpolicella. It lies between Lake Garda, the cities of Verona and Vicenza, and the Venetian Alps.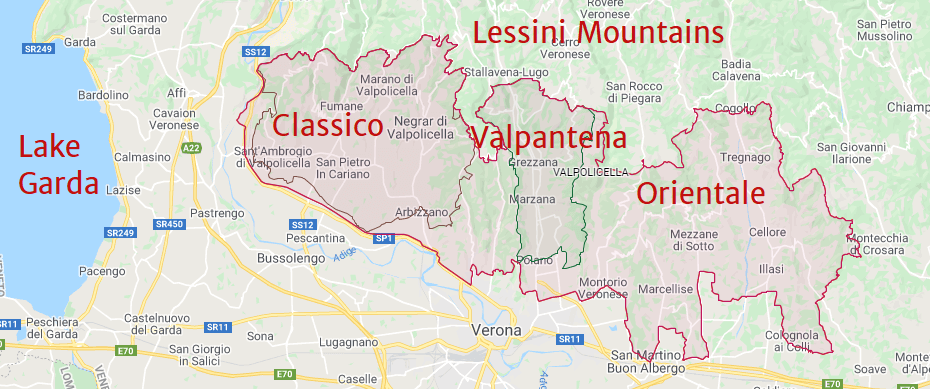 There are several styles of wine bearing the name Valpolicella. The unoaked and fresh Valpolicella bursts with flavours of fresh wild strawberry, raspberry and cinnamon. Valpolicella Superiore has the added complexity which comes from oak ageing. Finally, Valpolicella Ripasso is co-fermented with Amarone skins, and it's known for super complex notes of red fruit preserve, leather and sweet tobacco, as well as nutmeg and spices.
Amarone wine is unique because it's a dry wine made from grapes dried indoors in special lofts. It offers dense, intensely concentrated flavours of candied strawberry, prunes, raisins, cinnamon spice and dark chocolate.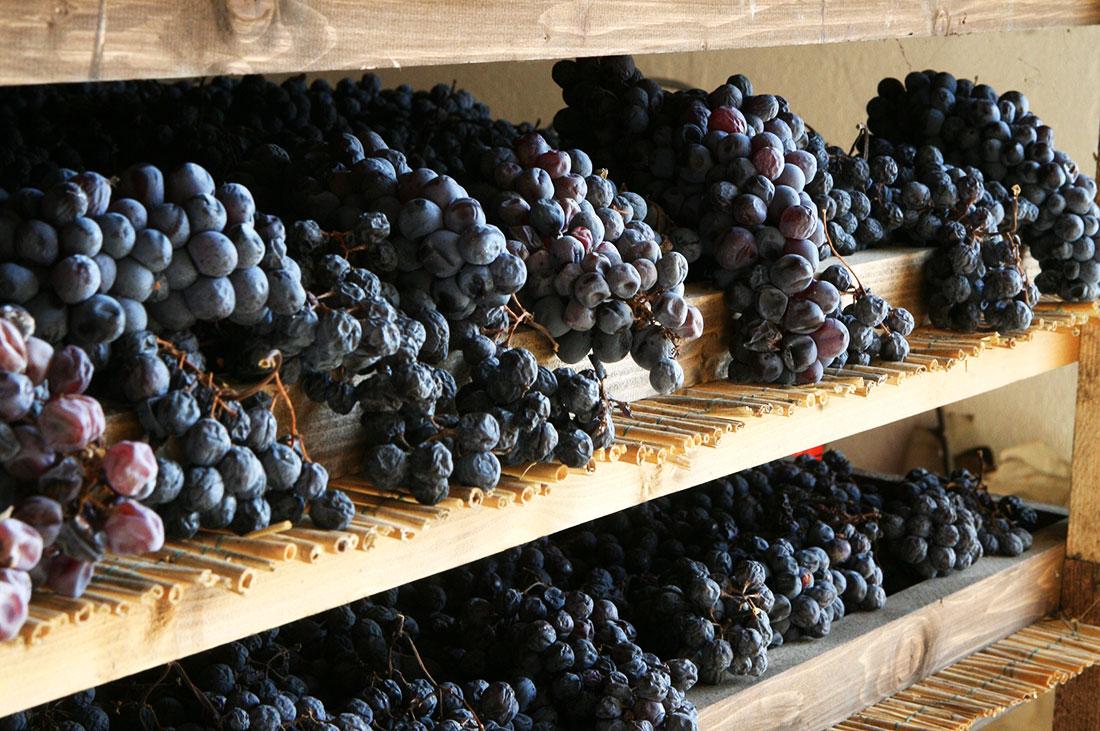 The Appasimento method: Corvina and Corvinone grapes drying in fruttaio to produce Amarone. Credit: Rubinelli Vajol
Winemaking in Valpolicella dates back to the period of the Etruscan civilisation, during the 7th– 5th century BCE, when these lands were populated by the Rhaeti. This area later became the Roman province of Raetia, and the wine became known as "retico" [7]. The name Valpolicella itself shows that winemaking was an important business here during that time, as it comes from the Latin phrase Vallis Poli Cellae – the valley of many cellars.
Chart of Valpolicella wine styles
Valpolicella offers a range of wine styles, all made from a combination of Corvina, Corvinone and Rondinella grapes. Some winemakers will add Molinara and Oseleta – we'll look at each of those varietals below. Each winery uses its own unique formula that matches the specific terroir – for example 45% Corvina, 45% Corvinone, 5% Rondinella and 5% Molinara. As each blend is based on the strengths of the local terroir, one combination is not necessarily better than any other.
This chart of Valpolicella wine styles should be helpful in understanding how these wines differ. The X axis indicates flavour profile, from "fruity and fresh" to "bold and concentrated", while the Y axis positions them by their alcoholic strength. This shows their different characters, rather than implying that some are "better" or "worse" than others. The one you like best will depend on your personal taste and the occasion.
How Valpolicella dry wines compare: from fruity to bold, and from low to high ABV
Valpolicella wine is made to be young, fresh and show the pure essence of the grape. It's not inferior to the bold Amarone made from dried grapes. Valpolicella is like an agile cheetah, while Amarone is like a powerful lion – they're just different animals.
Valpolicella wine types and denominations
Let's have a closer look at the different types of wine you can find Valpolicella.
In 1881, Stefano De Stefani – an archaeologist from Verona – made the first delimitation of the Valpolicella winemaking zone, and documented all the traditional methods that were in use there. Valpolicella was officially registered as a denomination in 1968, when the Italian government adopted its first set of winemaking rules and created the Valpolicella Denominazione di Origine Controlata (DOC).
Stefano De Stefani, 1884 [9]
But since Valpolicella produces wines in so many different styles, it proved impossible to keep them all in the same rulebook. While Valpolicella is a youthful dry red wine produced without ageing, Amarone is made by fermenting dried grapes and ageing them for two years. Ripasso calls for re-fermentation with added Amarone grape skins and then aging for one year. Because of that, in 2010 several new denominations were created to honour each specific style. So these are the types of wines you will find in Valpolicella today:
Valpolicella DOC (formed in 1968)
Valpolicella Ripasso DOC (formed in 2010)
Amarone della Valpolicella DOCG (formed in 2010)
Recioto della Valpolicella DOCG (formed in 2010)
DOC and DOCG: levels of quality of Valpolicella wines
Just a quick point about why some Valpolicella wines are labelled DOC and some are DOCG. Both designations mean that the wine is produced according to a rulebook called "disciplinare di produzione", and meets its quality criteria. The production rules for DOCG are stricter than for DOC.
To show that the wine has been tested and meets the DOC and DOCG standards, each bottle has a numbered label called fascette. To issue a fascette, the Conzorzio tests samples of wine from each vintage in a chemical laboratory. It also conducts expert tasting to ensure the wine's flavour follows the typical style.
Winemakers can test the whole vintage to obtain DOC fascette. But for DOCG, each batch is tested separately before bottling. That's why DOCG provides the highest level of quality available in Italy. Unfortunately, it also means that each fascette costs money, adding about €0.25 to the cost of each bottle.
Read more about the quality levels of Italian wines in our Ultimate Guide to Italian Wines.
Now, let's look closer at each of the wines from Valpolicella:
Amarone della Valpolicella DOCG
What type of wine is Amarone?
Amarone is dry red wine with concentrated flavours, made from half-raisined (passito) grapes. The best Amarone wines are famous for their intensely concentrated flavours of candied strawberry, dried cherries, cinnamon spice, chocolate and cocoa. Because it's made from raisined grapes, Amarone has a rather high alcohol level; typically 14.5-15.5% ABV.
Pamela Bicchi, AIS Master sommelier and wine journalist, says:
"According to legend, Amarone was discovered by accident in the 1930s. Adelino Lucchese, the cellar man at Villa Novare, forgot one barrel of sweet Recioto wine in the cellar. When he discovered it a few months later, he worried that the wine would have gone bad and that he would be fired. He called the winemaker and they tasted it together. Much to their surprise, the wine hadn't gone bad. In fact, it was even better!
Pamela explains:
"The slow barrel fermentation had given it more structure and body. Additionally, the remaining sugar in the Recioto was transformed into alcohol, so the wine gained more power as well. As it was no longer sweet, they decided to name it "bitter". But, to show that it's different from traditional bitter herbal liqueurs called "amaro" (such as "Amaro of Villa De Varda") they coined a new name – "big bitter" (Amarone in Italian)."
A bottle of Amarone della Valpolicella wine. Credit: Massimago.
How is Amarone made: the appasimento method
Amarone wine is made using the appasimento process. This means that grapes are picked at the end of September, while they still have a high level of natural acidity. Then, they are dried indoors for three to four months. During this time the berries practically become raisins and lose about 30% of their weight. The resulting grapes have highly concentrated levels of sugar, acid and flavour.
The dried grapes are then fermented, producing a deep, bold dry wine, with about 14–15.5% alcohol. The wine law (disciplinare di produzione) does not permit alcoholic strength lower than 14%.[1]
The drying of grapes for Amarone takes place in indoor lofts, called fruttaio. Utmost care is taken to avoid mould and fungus. Grape bunches are picked by hand, to avoid any skin damage which may occur in machine harvesting – as the damaged skins may be a breeding ground for parasites. The bunches are laid on wooden shelves covered by bamboo sticks, or in plastic crates.
What's better – plastic crates or bamboo – is a controversial topic in Valpolicella. Some winemakers prefer bamboo, while others prefer plastic because it can be easily cleaned and keeps good hygiene. Fruttatio may be equipped with large industrial fans to circulate the air. This also reduces the risk of disease, and helps to naturally reduce or completely eliminate the use of protective chemicals, especially important for organic winemaking.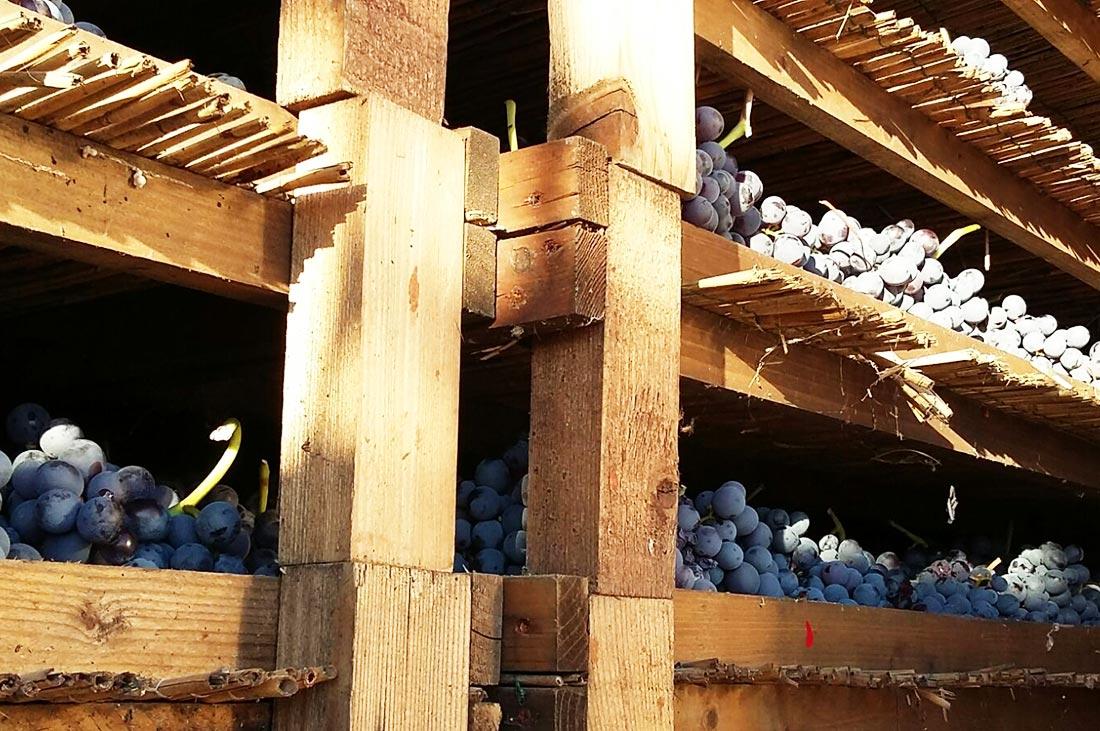 Valpolicella and Valpolicella Superiore DOC
What type of wine is Valpolicella?
Valpolicella DOC is a dry red wine. Standard Valpolicella wine doesn't have to be aged, and it's typically made in a fresh unoaked style to showcase the pure character of the grapes and the terroir. A well-made Valpolicella wine bursts with aromas of fresh strawberries, raspberries and red cherries, underpinned by notes of nutmeg, cinnamon and white pepper.
Try Valpolicella wine: Rubinelli | Valpolicella Classico DOC 2018 | £17.16 | Free UK Delivery
If you see the word "Superiore" next to Valpolicella (Valpolicella Superiore), this means that the wine has been aged for at least one year. Depending on the desired style, the winemaker can either use oak barrels, stainless steel vats or concrete tanks. As a result of the ageing process, the wine develops more complex notes of dried cranberries, dark chocolate and leather.
Some premium examples of Valpolicella Superiore are aged for a longer time. For example, Rubinelli Vajol age their wine for 24 months in large French oak barrels. There, the wine picks up desirable flavours of cinnamon, chocolate and prunes. After that, the wine is matured for eight more months in bottle, bringing the overall process to just over three years. This is longer than for "standard" Amarone wine.
Try Valpolicella Superiore wine: Rubinelli Valpolicella Classico Superiore DOC 2016 | £21.53
How is Valpolicella wine made?
The rules of Valpolicella require that the grapes are grown in a traditional way to preserve their authenticity. As a result, only traditional training systems are permitted: Spalliera (Guyot) or Pergola Veronese.
Harvest time usually takes place during the third and fourth weeks of September. The growers cannot exceed the maximum yield of 12 tonnes of grapes per hectare. The harvested grapes should be quite ripe and have enough sugar to produce wine with the minimum alcohol level of 11%. [2]
Fermentation takes place at a controlled temperature. For Valpolicella, this takes around two weeks – enough for a lively character and lighter colour. For Valpolicella Superiore it can take as long as three weeks to extract more colour and flavour. Winemakers usually choose stainless steel for this wine rather than oak barrels, in order to preserve the fresh aromas of red fruits.
Valpolicella Ripasso DOC
What type of wine is Valpolicella Ripasso?
Ripasso means re-pass, or second fermentation. This refers to the extra complexity which is brought by Amarone grape skins, which are added to the liquid for the fermentation process. This wine tastes of fresh cherries and strawberries, boosted by bold undertones of cherry preserve and dried cranberries.
How is Valpolicella Ripasso wine made?
The method of winemaking for Ripasso is quite different, and it received its own official DOC rulebook in 2010.
First, grapes for Valpolicella Ripasso are fermented as normal; typically in stainless steel tanks at a controlled temperature. After the initial fermentation process is finished, passito grape skins (which have already been fermented for Amarone) are drained and added to the tank with the Valpolicella wine. This effectively starts a second fermentation which lasts for 10–15 days. As well as increasing the level of alcohol, this adds structure and an intense fruity flavour to the wine.
Finally, up to 15% of finished Amarone wine may be added to the Valpolicella Ripasso, if the winemaker thinks it will benefit the taste (technically, the Amarone wine is reclassified as Ripasso) [3].
Valpolicella Ripasso wine has to be aged in oak and then in bottle for at least two years before it's ready for release. As it ages in oak barrels, small amounts of oxygen pass through the wood and into the wine. This oxidative ageing breaks down the tannins, giving them a softer and more velvety feel. At the same time, the flavours of fresh red berries – such as strawberry and raspberry – transform into tastes of dried or candied fruits. Oak also contributes its own tannins and flavous like vanilla, black pepper spice, espresso and dark chocolate. So overall, oak ageing adds a degree of complexity which many wine lovers find appealing.
Try a Valpolicella Ripasso wine: Massimago Marchesa MariaBella Valpolicella 2018 | £22.48 | Free Delivery
The terroirs of Valpolicella and how they influence taste
The river Adige forms the western border of Valpolicella, flowing about 6km east from Lake Garda. The eastern border is the province of Vicenza. The Lessini mountains, which form a part of the Venetian Prealps, are the northern boundary. In the south, Valpolicella touches the suburbs of the historical city of Verona.
The growing area of Valpolicella consists of three sub-zones. The Valpolicella Classico zone is in the west, near Lake Garda. This is the traditional zone for Valpolicella wines. In 1968, it was expanded to include two more zones: the valley of the Valpantena river, and Valpolicella Orientale – or Eastern Valpolicella. Each sub-zone is further divided into valleys.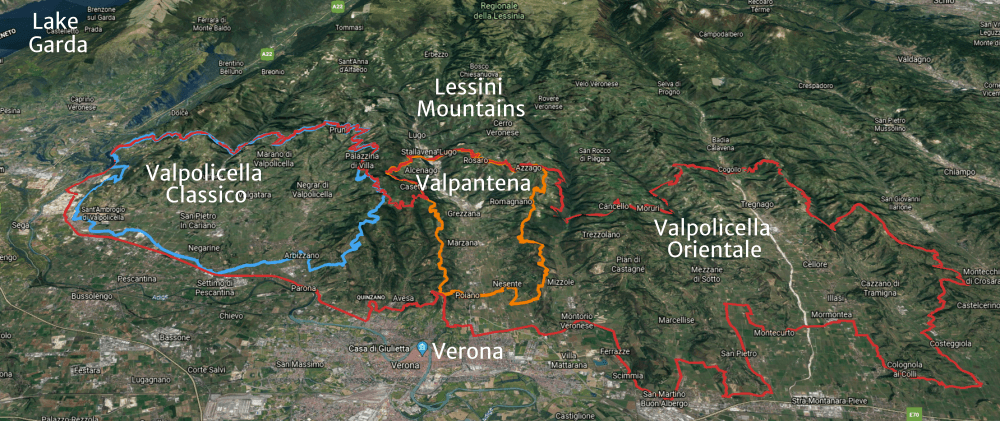 The terroirs of Valpolicella are very diverse, and each contributes a unique flavour to its wine. For example the foothills of the Lessini mountains are based on the limestone-dolomite formations. The soils here are mostly sedimentary in nature. They're rich in limestone and calcium carbonate, and produce bold wines with structure, body, and remarkable longevity. The area is known to have volcanic soils, which are associated with very complex flavours [5]. Soils in the flatlands of Valpolicella, closer to the city of Verona, contain mostly gravel, clay and sand. They produce wines of lighter colour with fruity fragrant flavours.
Valpolicella Classico and the influence of Lake Garda
Classico is the traditional area of Valpolicella, where this wine was born. The climate is cooled by the Adige river and Lake Garda in the west, as well as the Lessini mountains in the north.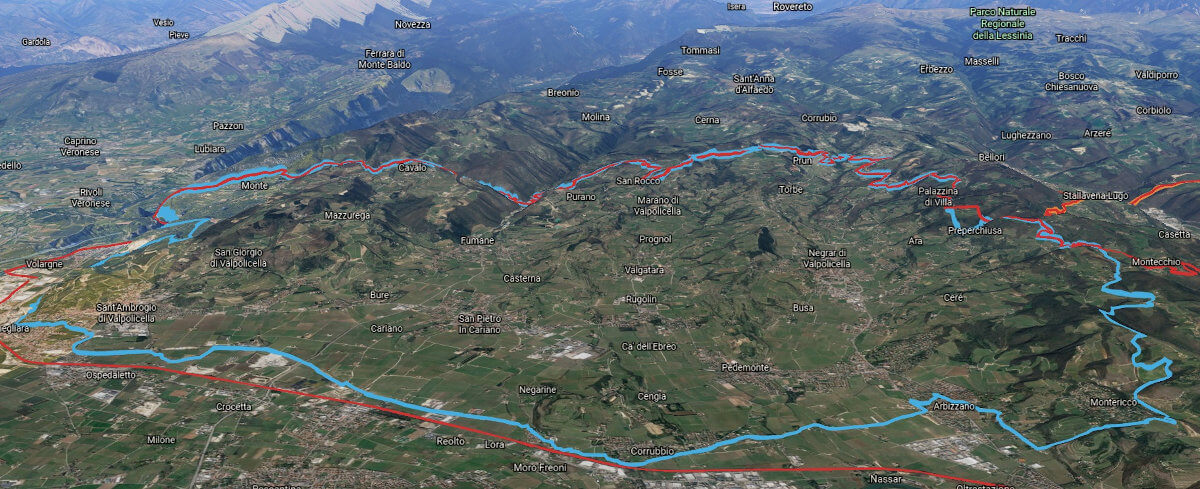 Because of the influence of Lake Garda, the climate in the Classico area is milder than in the rest of Valpolicella. In summer, Lake Garda produces cooling breezes. But in winter, the water remains warmer and thus keeps air in the vicinity warmer too.
The slopes of the Lessini mountains are south-facing, which helps the grapes to absorb more solar energy and ripen well. As a result of these influences, the wines in the Classico zone typically have a rich, bold, and supple style. They are more tannic, with a fuller body and higher alcohol levels.
Having said that, at higher altitudes the air is colder and ripening is slower. Vineyards planted in Sant'Ambrogio di Valpolicella (up to 650 metres), or Valle di Negrar (300-400 metres), show a more elegant and austere character.
Valpantena: the breezy valley
This valley occupies the central part of Valpolicella, following the Prodno di Valpantena stream. The climate here is colder than the rest of Valpolicella because it is cooled by chilly breezes from the Alps. Most of the vineyards are planted at lower altitudes than in the Classico area, near Romagnano and Santa Maria di Stelle.
Since the Valpantena stream runs from north to south, the vineyards have an eastern and western exposure. As a result, grapes take longer to ripen so the harvest in Valpantena takes place later than in the Classico area. The wines of Valpantena are more elegant and fresh, with higher acidity, and good longevity.
Valpolicella Orientale
Camilla Rossi-Chauvenet (the owner of Massimago) looking over her organic vineyards in Valpolicella Orientale
Valpolicella Orientale has some of the newest and most innovative wineries. Many vineyards are planted at altitudes ranging from 100 to 500 metres on the foothills of the Venetian Alps. Climate in the area is influenced by cooling winds from the mountains, which lengthens the ripening time at higher altitudes. Soils on the hillsides are rocky and less fertile.

The most important parts of Eastern Valpolicella are Valley di Mezzane and Valley d'Illasi. Wines from these zones are fruity and elegant, complicated by herbal notes.
Valpolicella and Amarone grapes
Which grapes are permitted in Valpolicella?
The wine laws of Amarone, Valpolicella and Recioto require them to be made from a blend of Corvina Veronese (45–90%) and Rondinella (5%–30%). Corvinone can replace up to 50% of Corvina – so it's not unusual to see equal quantities of Corvina and Corvinone.
In addition to that, up to 25% of the blend can be made up of other grapes permitted in the province of Verona. These should make up no more than 10% per grape variety [1, 2, 3, 4]. In practical terms, most wines are are produced from Corvina Veronese, Corvinone and Rondinella, with an addition of Molinara and Oseleta.
Corvina Veronese
Corvina Veronese – also known as Corvina or Cruina – is the most important grape that defines Valpolicella. It produces ruby-red wines with a translucent hue, and flavours of strawberry, raspberry and rose, as well as nutmeg, cinnamon and cloves. It's not a very tannic grape, and winemakers typically add other permitted grapes to build up the desired body of their wine.
Corvina N. Credit: MiPAAF [6]
The notable red fruit aromas of Corvina are produced by naturally occurring red-berry chemicals. The first one is furaneol (also known as strawberry furanone). It is also present in strawberries and pineapple, and is often used to make perfumes. Another notable chemical is β-damascenone, which is the main aroma of rose (and of Kentucky bourbon), and ethyl cinnamate (aroma of cinnamon).
Red fruit flavours have become the signature of Valpolicella, so it's no wonder regulations for Valpolicella DOC, Valpolicella Ripasso DOC and Amarone della Valpolicella DOCG allow it to make up to 90% of the blend. Though I am sure it's possible to find wines made mostly of Corvina, in practice you tend to see Amarone and Valpolicella wines made up of about 40-60% Corvina. Amarone seems to need more sugar, which is added by Rondinella, and more body, which is supplied by Corvinone.
Ian D'Agata writes that the most important feature of Corvina is that it responds well to drying [5]. After the harvest, grapes are stored in the wineries and lightly dried to concentrate the acids and flavours . This produces wines with a much richer taste. This characteristic sets it aside from other red grapes: dried Merlot and Cabernet Sauvignon tend to develop unpleasant aromas.
Corvina is a finicky grape, and can easily by affected by fungus. Because of that, Corvina vines are typically trained to the Pergola Veronese system. Traditional to this area (as the name suggests), the pergola system has vines growing on an overhead trellis (pictured). This allows as much air circulation as possible.
Corvina is grown not only in Valpolicella. Overall, it is planted on over 7.5 thousand hectares in Italy (mostly in Veneto), and this area has doubled since 1970 [6].
Corvinone
Both the berries and the bunches of Corvinone are larger than those of Corvina – that's why the name of this grape vaguely translates as "big raven".
Corvinone. Credit: MiPAAF [6]
Wine laws permit winemakers to use Corvinone to replace up to 50% of Corvina in a blend. Nicola Scienza, the winemaker at Rubinelli Vajol, says "Corvinone gives more finesse than Corvina. It has less alcohol and more marked acidity than Corvina, and a more intense and broad spectrum of olfactory sensations." So, each winemaker will choose how much Corvinone to add to the blend depending on the style they want to create.
The berries of Corvinone have thicker skin, and they're bigger than those of Corvina. But most importantly, this grape is even better adapted to appasimento – the process of drying and concentrating flavours.
By the way, despite the similar-sounding name, the grape Corvinone is shown to be a distinct varietal. It's not a DNA relative of Corvina. [5].
While Corvinone can replace up to 50% of Corvina, in reality it's a much less planted grape. Only one thousand hectares are grown, less than a seventh of the vineyard area dedicated to Corvina [6].
Rondinella
Rondinella is used to make up 5% to 30% of a Valpolicella blend. Rondinella adds complexity to the wine, as it has a fruity and complex bouquet with notes of ripe red fruits, cherries, tobacco, and spices. This grape also turns the colour of the wine a tone darker, developing a vivid ruby or purple undertone.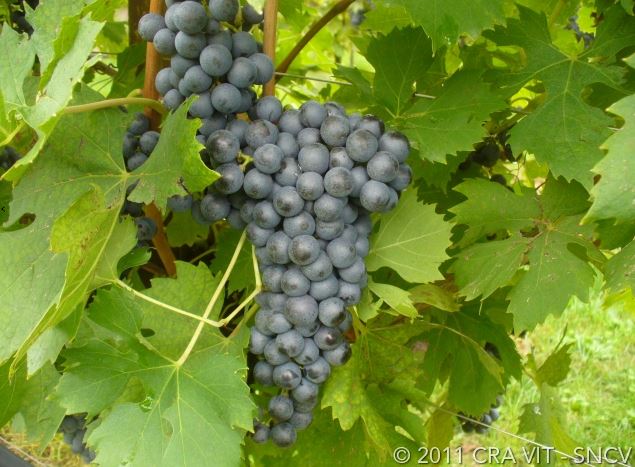 Rondinella. Credit: MiPAAF [6]
But perhaps the biggest reason for adding Rondinella to the mix is that it accumulates sugars better than Corvina and Corvinone. So this grape is very important for wines that need a higher alcoholic strength like Valpolicella Ripasso and Amarone, or in the sweet wine Ripasso della Valpolicella.
While Rondinella is an important player in Valpolicella, it's also widely used in Bardolino DOC and Bardolino Superiore DOCG which lie to the west, between the river Adige and Lake Garda. Over 2.5 thousand hectares of Rondinella are planted across Italy [6].
Molinara
This grape has big, juicy berries, which develop wines with elegant tastes of red berries, flowers and a hint of salt. Nicola Scienza says "In our province, it is also called "Ua Salà", which means "salted grapes" for its marked savoury notes."
On its own, Molinara produces light-coloured, low-alcohol wines with fragrant flavours of wild berries. It is thought to be even better suited to rosé wines. Unfortunately, possessing such a fragrant nature, Molinara is the opposite to the deep, dark style of Merlot and Cabernet that became so popular during the 1990's [5].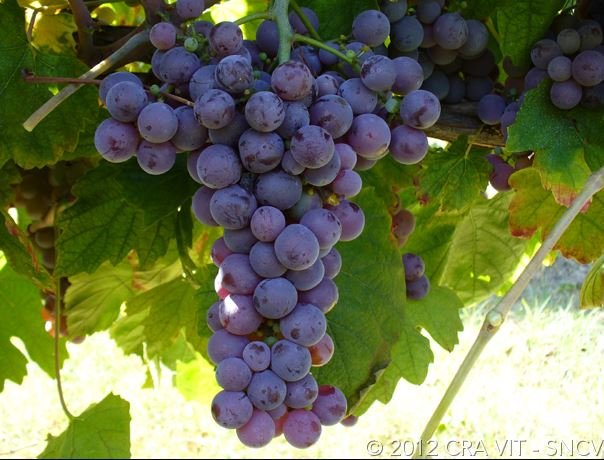 Molinara. Credit: MiPAAF [6]
So while Molinara can make up to 10% of the Valpolicella blend, it is not always added. For many wineries Molinara has become a thing of the past. The plantings of this grape have shrunk from over two thousand hectares in the 1970's to less than six hundred hectares today. Unfortunately, this trend shows no sign of reversing [6]. But some successful winemakers (such as Rubinelli Vajol) think it adds complexity to their wines, and use it as the special ingredient in their recipe.
Oseleta
Its name comes from "osei", a dialectal word from Verona which means "birds", as Oseleta is very popular with birds. This grape has dark skin. It's remarkably tannic and bursts with flavours of blueberries, black cherry, minerals and aromatic herbs.
Oseleta. Credit: MiPAAF [6]
Bunches are small, stocky, tight and have tiny berries, suitable for producing extraordinarily concentrated wine. Wines with Oseleta in the blend are deeper, darker, full-bodied, spicy and tannic.
This grape is optional and is only used if the winemaker wants to add these qualities to their wine. Adding only a small quantity of Oseleta berries makes the wine deeper and more tannic. Because of that, only a few winemakers use it. Even for them Oseleta makes up only 5-10% of the total blend. Only 15 hectares of this grape are planted in Valpolicella, so it's quite rare and tends to be found in premium wines.
Vine training: Pergola Veronese and Guyot
Our story about Valpolicella grapes would not be complete without explaining the traditional vine-growing techniques. The official wine-making standards (disciplinare di produzione) in Valpolicella strictly forbid using any other vine training methods than Pergola Veronese and Guyot (which is a French term; in Italy it's called Spalliera).
Pergola Veronese is a traditional system, where shoots are attached to trellises that run horizontally. The main advantage is that the canopy is lifted quite high, to about 1.7 metres above the ground. Here's a schematic picture of pergola from the Conzorzio's website, and also a photo I've taken in a vineyard in Valpolicella.
Pergola Veronese. Credit: Conzorzio Valpolicella [10]
Pergola Veronese in a vineyard in Valpolicella Classico.
The Guyot system means the vine's shoots are tied to trellises that run horizontally. So the vine grows upwards, making grape bunches easily accessible during harvest.
Guyot. Credit: Conzorzio Valpolicella [10]
Corvina Vines planted with Guyot training. Credit: Rubinelli Vajol
Nicola Scienza of Rubinelli Vajol explains the advantage of Pergola:
"when it rains during the harvest the grapes dry out much earlier. Pergola offers the advantage of protecting the grapes from direct solar radiation. This is one of the problems many winegrowers face in the frequent heat waves that have occurred over the latest years."
Both Pergola and Guyot have about the same leaf surface area per hectare. The most important thing to consider when choosing either Guyot or Pergola is they create growing environments with different microclimates.
Because of the rooftop position of the canopy, Pergola exposes its leaves to a greater level of solar radiation, which facilitates vine's growth. At the same time, berries are shaded. This protects them from damaging sunburn and also keeps their temperature cooler. But as a consequence, Pergola produces berries with thinner and less coloured skins – resulting in a lighter colour of the wine.
The Pergola results in slightly more fertile vines than Guyot, so it produces more grape bunches per unit area. It's more suited for vigorous vines, in areas with high availability of water.
Guyot exposes both the leaves and berries to the sun, which helps during ripening. This technique is perfectly suited to control the overgrowth of canopy to stop the leaves from taking up precious nutrients from the grapes. But it requires careful canopy management, as some leaf cover is required to protect the grapes from the sun.
Both systems – Pergola and Guyot – are used in Valpolicella quite extensively. One system is not "better" than the other, but they both have benefits and limitations. So, like the blend of grapes, winemakers have to pick and choose what's best for their particular site.
References
[1] Disciplinare di produzione dei vini a denominazione di origine controllata e garantita "Amarone Della Valpolicella" Modificato Con DM 07.03.2014, MiPAAF
[2] Disciplinare di produzione dei vini a denominazione di origine controllata "Valpolicella", Modificato Con DM 07.03.2014, MiPAAF
[3] Disciplinare di produzione dei vini a denominazione di origine controllata "Valpolicella Ripasso", Modificato Con DM 07.03.2014, MiPAAF
[4] Disciplinare di produzione dei vini a denominazione di origine controllata e garantita "Recioto Della Valpolicella" Modificato Con DM 07.03.2014, MiPAAF
[5] Ian D'Agata, Italys Native Wine Grape Terroirs, University of California Press, 2019
[6] Catalogo Nazionale delle Vatietà di Vite, MiPAAF
[7] https://www.quattrocalici.it/denominazioni/valpolicella-doc/
[8] Le ricerche di Stefano De Stefani sui Lessini. La vicenda umana dalle memorie famigliari. Annuario Storico della Valpolicella, V.18
[9] «Il vostro amico preistorico». La corrispondenza fra Gaetano Chierici e Stefano De Stefani, Annuario Storico della Valpolicella, V.18
[10] Conzorzio Valpolicella https://www.consorziovalpolicella.it/en/