Italian wine: Italy has a wider selection of wines than anywhere else in the world, with up to 2,000 unique grapes grown across the country. Italy is most famous for wines made from its indigenous grapes. Classic Italian red wines include Barolo and Barbaresco (both made from the Nebbiolo grape), Chianti and Chianti Classico (from the Sangiovese grape), and Nero d'Avola wine (the Nero d'Avola grape).  Italy is also famous for its sparkling wines: Prosecco (produced from the grape Glera) and Moscato (from Moscato Bianco). In terms of Italian white wines, the most famous is Pinot Grigio which is made from the grape of the same name. Italy also successfully makes wines from international grape varieties such Merlot, Chardonnay and Cabernet Sauvignon. Wines made in the mountains are often premium-priced with elegant flavours, while wines grown on flat terrain are easy-to-drink and affordable.
Famous across the world for its incredible gastronomy and lust for life, it's no surprise that Italy is home to more types of wine than any other country. It's believed that there are anywhere from 300 to 2,000 unique grapes thriving in Italy's vineyards.
As well as renowned international varieties like Merlot, Chardonnay and Cabernet Sauvignon, Italy takes a lot of pride in its indigenous varieties like Sangiovese, Pinot Grigio and Montepulciano. While this fantastic amount of variety gives Italian wines a unique flavour that's hard to match, it can make it difficult to pick one that you know you're going to enjoy.
I've already shared my tips on how to choose the best Italian red wine, and this article is a deeper dive into the best wines from each region of Italy, what they taste like and some recommendations for award-winning wines that you can buy from our catalogue.
There's a lot of ground to cover – as well as international celebrities like Chianti Classico and Primitivo, we're going to highlight some hidden gems like fresh and fruity Roero Arneis or rich and bold Cannonau di Sardegna.
Author: Oleg Dmitriev (Wine Geek), Co-founder of Independent Wine. MBA, Wine and Spirit Education Trust Level 2 Award in Wine
Awards: Inventor of the Year 2017, Innovator of the Year 2018
Lives in: Edinburgh, Scotland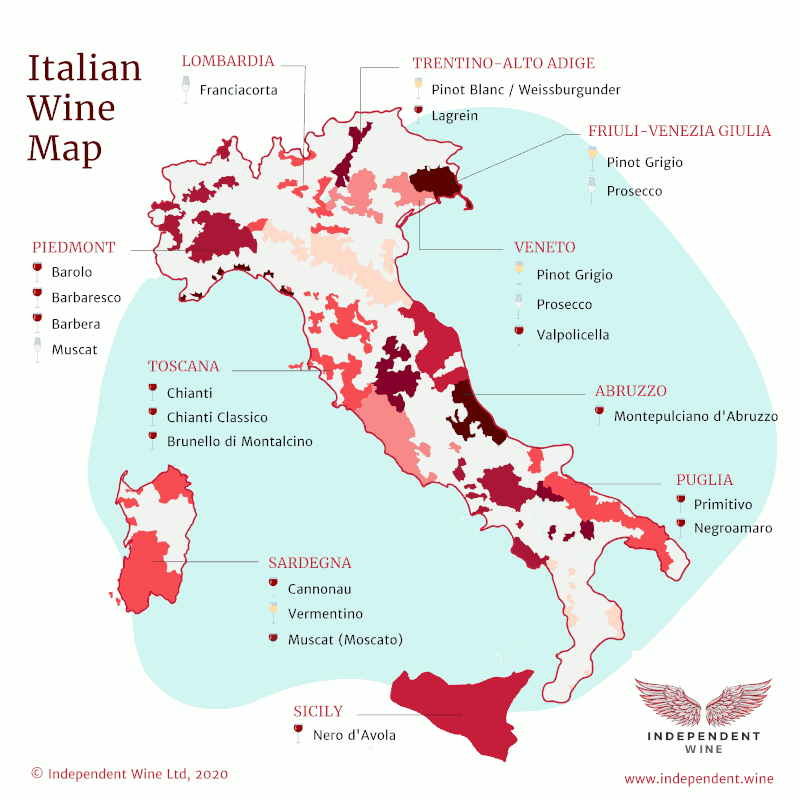 What is the best Italian wine?
There are two ways to find out which are the best Italian wines. First, you can look at league tables made by experts through wine competitions and tastings, and second you can check the best-sellers lists of actual wine shops.
Expert view
Decanter World Wine Awards is possibly the most important wine competition in the world. 2020 marks the 17th annual ceremony, and their experts assess around 16,500 wines from all over the world, including Italy. Currently, you can see all Decanter's results up to 2019 (search form), and the 2020 results are expected on 22 September 2020.
The WineHunter is a competition that only rates Italian wines. It's a part of the annual food and wine festival held each year in the Alpine spa resort Merano. They publish a Top 100 list of the best Italian wines. The next levels are "Gold" (90-94.99 points) and "Rosso" (88-89.99 points) medals – both are really high recognitions for wine in Italy (here's more information about the awards, and a list of "Gold" and "Rosso" wines you can buy in the UK).
Another very important wine rating is Gambero Rosso's "Tre Bicchieri" (three glasses). They evaluate about 40,000 wines from all over Italy, and award the "Three Glasses" trophy to only around 2,500. The next levels are "two red glasses" (made it to the final tasting), "two black glasses", and "one glass". Of course, Italy makes so much wine that winemakers fight tooth and nail to achieve even the "one glass" rating, and if you see this sign it's a solid indicator of quality. You can buy the Gambero Rosso "Tre Bicchieri" catalogue on Amazon.
The best Italian wines – consumer's view
While experts' picks are fabulous, they might be out of reach for some consumers.  So what do regular UK wine lovers consider to be the best Italian wine?
We could spend all day comparing Barolo to Amarone, but at the end of the day the top-sellers chart is the most accurate answer. Why? As well as showing which wines are trending this year, it also shows which wines people consider to be good value for money.
Our customers' vote for the best Italian white wine this year (so far) goes to Treuve ("three grapes") – a blend of Arneis, Sauvignon Blanc, and Chardonnay from Roero in Piedmont. It was featured in Decanter, and Martin Izark – a renown British wine critic – wrote "If you relish the taste of posh white Burgundy, but can't afford it, then this three grape blend is heaven sent. A case won't be enough."
Our best Italian red wine for everyday drinking is undoubtedly Le Camarde – a deep and enchanting blend of Negroamaro and Primitivo from Puglia. For special occasions, our top Italian red is Francone Barolo 2015 –  winner of the Decanter Silver Medal. This powerful wine is a blend of Nebbiolo from two vineyards in La Morra and Monforte – two of the five most prestigious villages in Barolo DOCG.
The Best Italian Wine of 2020: according to our customers
| | |
| --- | --- |
| Wine | Italian wine region |
| Le Camarde 2016, Negroamaro & Primitivo, Salento IGP by Feudi di Guagnano | Puglia |
| Uras 2016, Cannonau di Sardegna by I Garagisti di Sorgono (sold out) | Sardinia |
| 306 Biologico Nero d'Avola 2017, Sicilia DOC by Savlatore Tamburello | Sicily |
| Chianti Classico, 100% Sangiovese, Chianti Classico DOCG, by Castello Di Radda | Tuscany |
| Treuve 2015, Arnais, Sauvignon Blanc, Chardonnay, Langhe DOC by Malvirà | Piedmont |
| Vigna Saglietto Arneis 2016, Roero DOCG by Malvirà | Piedmont |
| Diecianni Primitivo (Zinfandel) 2017, Salento IGP by Feudi di Guagnano | Puglia |
| Spèra Vermentino 2018, Vermentino di Gallura DOCG by Siddùra | Sardinia |
| Prosecco Superiore Millesimato Extra Dry 2018, Conegliano Valdobbiadene Prosecco DOCG by Ca' di Rajo | Veneto |
| Francone Barolo 2015, Nebbiolo, Barolo DOCG by Francone | Piedmont |
| Francone Barbaresco Gallina 2016, Nebbiolo, Barbaresco DOCG by Francone | Piedmont |
| Fiero 2017, 60% Merlot, 40% Sangiovese, Super Tuscan IGT by Ridolfi | Tuscany |
| Palladium 2018 Gewurztraminer, Alto Adige DOC by K.Martini & Sohn | Alto Adige |
| La Regia Specula 2016, Montepulciano d'Abruzzo DOCG by Orlandi Contucci Ponno | Abruzzo |
| Pinot Grigio 2018, Venezia DOC by Ca' di Rajo | Veneto |
We update our customers' best sellers list every couple of months to give you a good idea of what's currently trending, and what Italian wines people just can't get enough of. Follow our blog to stay up to to date or feel free to contact me any time: I'm always happy to answer wine questions.
Italian wine types
Understanding Italian wine can be overwhelming if you're not familiar with the names: which wines are made from Sangiovese or Nebbiolo? What grapes is the best Amarone made from? Don't worry, we've put together the below tables to offer an at-a-glance look at the most popular Italian denominations and their grapes.
Top Italian red wine types
| | | |
| --- | --- | --- |
| Wine type | Main Grape(s) | Region |
| Amarone della Valpolicella DOCG | Corvina, Corvinone, Rondinella | Veneto |
| Valpolicella DOC | Corvina | Veneto |
| Barolo DOCG | Nebbiolo | Piemonte |
| Barbaresco DOCG | Nebbiolo | Piemonte |
| Barbera d'Asti DOCG | Barbera | Piemonte |
| Salento IGP | Primitivo (Zinfandel) | Puglia |
| Dolcetto d'Alba DOC | Dolcetto | Piemonte |
| Chianti DOCG | Sangiovese | Tuscany |
| Chianti Classico DOCG | Sangiovese | Tuscany |
| Super Tuscan IGT | Merlot, Sangiovese | Tuscany |
| Brunello di Montalcino DOCG | 100% Sangiovese | Tuscany |
| Vino Nobile di Montepulciano | Sangiovese | Tuscany |
| Montepulciano d'Abruzzo DOCG | Montepulciano | Abruzzo |
| Taurasi DOCG | Aglianico | Campania |
| Aglianico di Vulture DOC | Aglianico | Basilicata |
| Salice Salentino DOC | Negroamaro | Puglia |
| Sicilia DOC | Nero d'Avola | Sicily |
| Cannonau di Sardegna DOC | Cannonau | Sardinia |
Top Italian white wine types
Italian white wines tend to be fresh and zesty with fragrant floral and fruit flavours. Some Italian whites are best known under the name of their denomination, like Gavi or Soave. But in the North it's more typical to call wine by their main grape, which is also more common in Austria or Alsace. These are some of the best white Italian wines.
Wine type 
Main Grape(s)
Region
Soave DOC
Garganega
Veneto
Gewurztraminer
Gewurztraminer
Alto Adige
Pinot Grigio
Pinot Grigio
Alto Adige
Veneto
Weißburgunder
Pinot Bianco
Alto Adige
Riesling
Riesling
Alto Adige
Verdiccio dei Castellli di Jesi DOC
Verdicchio
Marche
Gavi DOCG
Cortese
Piedmont
Orvieto DOC
Grechetto
Umbria
Arneis, Roero DOCG
Arneis
Piedmont
Sauvignon, Roero DOCG
Sauvignon Blanc
Piedmont
Vermentino

di Gallura DOCG

Vermentino (Favorita)
Sardinia
Fiano di Avellino DOCG
Fiano
Campania
Greco di Tufo DOCG
Greco
Campania
Now that you have a better grasp of the grapes behind the best Italian wines, let's look at Italian wine-producing regions.
Piemonte
Sandwiched between the Alps in the north and the Apennine Mountains in the south, Piedmont (or Piemonte in Italian) is the home of Nebbiolo, Barbera and Arneis grapes, among others. The vineyard areas of Langhe-Roero and Monferrato are some of the few wine-growing regions to make it onto the UNESCO World Heritage list, alongside St Emilion in Bordeaux and Tokaj in Hungary.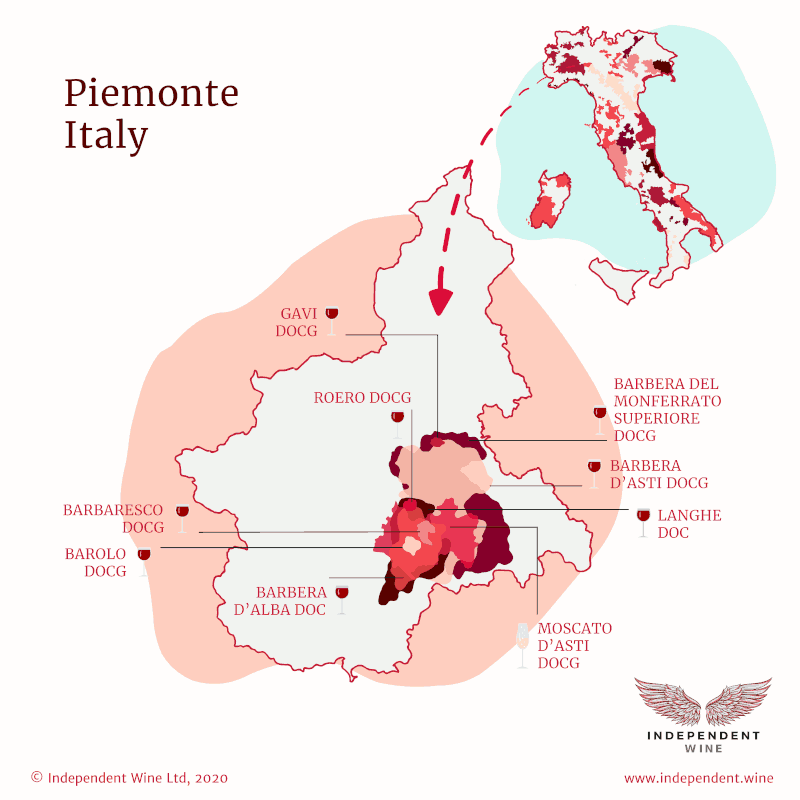 Barolo
The "king of wine and wine of kings", Barolo is considered one of the world's very best wines. It's made from pure Nebbiolo, a grape that's so tannin-packed that its wines need to spend years ageing in oak and bottle to be smooth enough to drink.
Barolo is only grown in a small DOCG (Denominazione di Origine Controllata e Garantita) and there are strict rules related to its production. Standard Barolo has to be aged for a minimum of three years, spending at least two years in oak or chestnut barrels, while Barolo Riserva needs to spend five years in barrel. It should then be left in the bottle for 7-10 years before drinking it.
The best winemakers only produce a few thousand bottles of this delicious wine each year. Demand always outstrips supply, which drives the prices up.
What does Barolo taste like? Barolo is a very complex wine, with a flavour described by some as "tar and roses". Dried black fruits (like cherries and prunes) are met with spices (liquorice, cinnamon and clove) as well as aromas of sweet tobacco, leather and chocolate.
Read our in-depth guide to Barolo wine
Award-winning wines from Barolo:
Barbaresco
If Barolo is the king of wines, Barbaresco is the queen. It's also made from Nebbiolo, but while Barolo is austere and muscular Barbaresco is more mellow. It's only grown 12 miles away, in a horseshoe-shaped area around the small town of Neive. The harsh tannins of Nebbiolo tend to soften quicker in Barbaresco, and so it's allowed to age for one year less than Barolo before bottling.
What does Barbaresco taste like? Its aroma is a powerful combination of dried flowers (particularly wild rose and violet), dried fruits (prunes, figs, and strawberry), herbs and spices (liquorice, pepper and cloves) surrounded by rich tobacco, vanilla, chocolate and leather.
Award-winning wines from Barbaresco:
Barbera
Barbera is another popular grape in Piedmont – and accounts for nearly half the amount of vines grown in the region. While it's often found blended into table wines throughout Italy, it shows its best side in the Monferrato region of Piedmont. The very best Barbera wines come from the Barbera d'Asti DOCG – Asti's Nizza sub-zone has recently been granted DOCG status, too. Another excellent example of the wine comes from the Barbera d'Alba DOC.
What does Barbera wine taste like? High in acid and low on tannin, Barbera is typically light and refreshing. Although it has a dark colour it tastes like wild cherries, raspberries and blueberries underpinned by warming vanilla and spice from oak ageing.
Award-winning wines from Barbera:
Arneis
The best examples of this aromatic white grape come from Roero – just on the other side of the Tanaro River from Barolo and Barbaresco. After WWII, Arneis almost became extinct. It was only saved because a few vineyards kept their plantings of this sweet grape to attract pests away from the more valuable Nebbiolo vines. It made an astounding recovery and today it is the region's most prestigious white grape.
What does Arneis taste like? Deliciously sharp and refreshing, it has delicate aromas of fresh pear, apricots and blossom. A hint of hazelnut adds complexity.
Award-winning Arneis wines:
Toscana
The birthplace of the Renaissance, Tuscany (or Toscana in Italian) holds an important role in Italian identity. It's also home to some of Italy's boldest and brightest red wines, which are intrinsically linked with the region's rich art and religious history. The vineyard-studded hills and valleys have been immortalised by famous artists throughout the ages.
Chianti and Chianti Classico
Both Chianti and Chianti Classico are made from the same grape, Sangiovese, but the similarities end there. The basic Chianti denomination covers a patchwork of wine-growing areas throughout Tuscany, and the resulting red wine is typically simple and inexpensive. On the other hand, Chianti Classico can only be made in a small area between Florence and Siena. These premium wines are far more complex, with concentrated aromas of red fruits, spices and herbs.
What does basic Chianti taste like? Basic Chianti is a savoury wine with a characteristic bitterness. Fruity aromas of sour cherries dominate, and are amplified by some dried herbs and earthiness.
What does Chianti Classico taste like? You can expect far more concentrated aromas than you'd find in a basic Chianti. Featuring notes of dried cherry, plum, cinnamon and spice, it's Italy in a glass.
Super Tuscans
Tuscany is also famous for the Super Tuscan wines – red wines made from international grapes like Merlot, Cabernet Sauvignon and Cabernet Franc. Sassicaia and Tignanello were two of the first Super Tuscans to grab global attention during the 1970's. Because they don't use the approved appellation grapes, they have to be labelled as IGT (Indicazione Geografica Tipica). We offer several Super Tuscans: Gagliole from Chianti Classico – a highly respected wine that has won the Decanter Platinum medal. Another example is Fiero – a Super Tuscan IGT wine from Ridolfi, a family-owned winery that also produces the award-winning Brunello di Montalcino.
What does Super Tuscan wine taste like? It depends on the grapes used. Generally speaking, they are fantastic quality, comforting wines. They often have rich aromas of black cherry, leather and cocoa.
Brunello di Montalcino
The youngest of Italy's prestigious wines – it was first made in 1865 – Brunello di Montalcino is grown in one of the country's most arid DOCG regions. It goes through a lengthy aging period of two years, and is often aged in small barriques which lend notes of spice and vanilla to the wine. For a less expensive version, look for Rosso di Montalcino – it's made in a similar way, but can be released a year earlier.
What does Brunello di Montalcino taste like? This wine ages well and has an interesting flavour profile. You can expect to find wild strawberry, espresso and violet flowers all in the same glass.
Award-winning wines from Tuscany:
Veneto
Veneto is Italy's most productive wine-growing region. Because the warm days are cooled by breezes from Lake Garda to the west and winds from the Alps to the north, grapes grown here often develop into fresh and enjoyable wines. The region is also influenced by social history, thanks to the city of Venice which has been a major trading port since antiquity.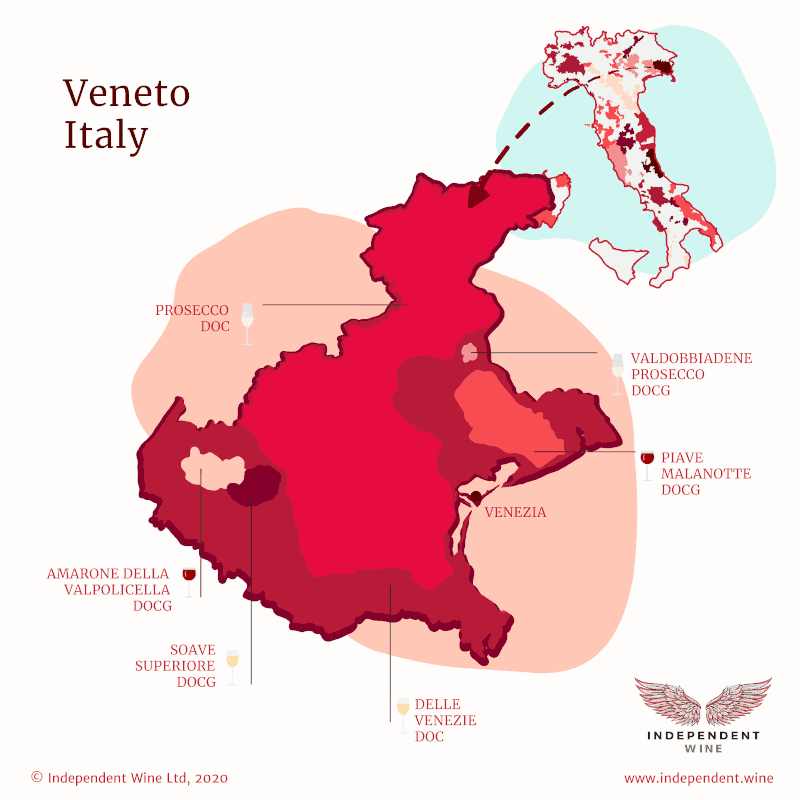 Pinot Grigio
Everyone knows Pinot Grigio. It's the quintessential fresh, dry and slightly aromatic white wine – and overtook Chardonnay as the world's most popular white grape in the early 21st Century. While Pinot Grigio is also produced in Friuli and Alto Adige, Veneto is its spiritual home.
What does Pinot Grigio taste like? Pinot Grigio is light and refreshing wine. Best examples will have expressive fruity aromas of grapefruit, lime, melon and pear.
Prosecco
Prosecco is Italy's most famous sparkling wine. It's boomed in popularity over the past ten years, especially in the UK where hundreds of millions of bottles are drank each year. Made mainly from the Glera grape, it can contain up to 15% of varieties like Pinot Grigio, Pinot Bianco and Chardonnay. The best Prosecco comes from the cru villages in the Conegliano-Valdobbiadene DOCG.
For something a little different, look for Prosecco Col Fondo. This expression is made using natural techniques and native grapes other than Glera. Bone-dry and full of minerality, these wines can be aged – unlike regular Prosecco, which should be drank young.
What does Prosecco taste like? Prosecco is a fresh and lightly floral sparkling wine, with a clean taste and frothy bubbles punctuated by notes of peaches, pear, honeysuckle and melon.
Amarone della Valpolicella
This powerful red wine is made from dried grapes – usually a blend of corvina and rondinella. Although it is made from raisins, a technique which usually results in a sweet wine, Amarone della Valpolicella is dry. It takes its name from its bitter (amaro) yet enjoyable finish. Traditionally it is aged in large oak barrels, although some producers prefer to use smaller barriques for that distinctive oak spice. This wine has serious aging power.
What does Amarone della Valpolicella taste like? This rich wine combines flavours of cherry, chocolate and spice. As it ages, notes of dried fig and brown sugar start to develop. It has high acidity, high alcohol and lots of velvety tannins.
Ripasso della Valpolicella
If you enjoy Amarone but can't justify the price tag, Ripasso della Valpolicella – sometimes nicknamed 'baby Amarone' – is a more wallet-friendly option. It's made by letting Valpolicella wine sit on the unpressed skins that were previously used during Amarone production. After this, the wine is usually aged in small barriques to add pleasant notes of vanilla and toast.
What does Ripasso della Valpolicella taste like? Ripasso has a lot of the same flavours as Amarone, but a little more muted.
Award-winning wines from Veneto:
Lombardia
Italy's richest region, Lombardy (or Lombardia in Italian), has the Alps in the north and the banks of Lake Garda in the west. These, as well as smaller lakes and hills, have a huge influence on the style of wine produced. The jewel in Lombardy's crown is the fashionable city of Milan. Although there are 22 DOC and five DOCG areas in Lombardy, most of the wine grown there is for local consumption and rarely reaches the export market.
Franciacorta
Franciacorta is a DOCG sparkling wine, made in the traditional method. This is why some people refer to it as Italy's answer to Champagne. It's also made from similar grapes: Chardonnay, Pinot Noir and Pinot Bianco (in place of Pinot Meunier). Franciacorta wines have to spend a minimum of 18 months on the lees – this rises to 30 months for vintage wines, and 5 years for Riserva wines.
Look out for Franciacorta Satèn – this is blancs de blancs Franciacorta, so it is only made from white grapes, and has spent at least two years aging on the lees.
What does Franciacorta taste like? Sophisticated and elegant, Franciacorta often has notes of light citrus like lemon combined with the flavours from its lees and bottle aging – toasted nuts, brioche and dried fruit.
Award-winning wines from Lombardy:
Puglia
The heel of Italy's boot is where much of the country's table grapes are grown. In wine terms, it's most famous for two bold reds which have a huge following in the UK. These are Primitivo, more famously known by its American name Zinfandel, and the native grape Negroamaro. Some winemakers can work wonders with these grapes, creating rich wines with aromas of blackberry, black plum, coffee and vanilla.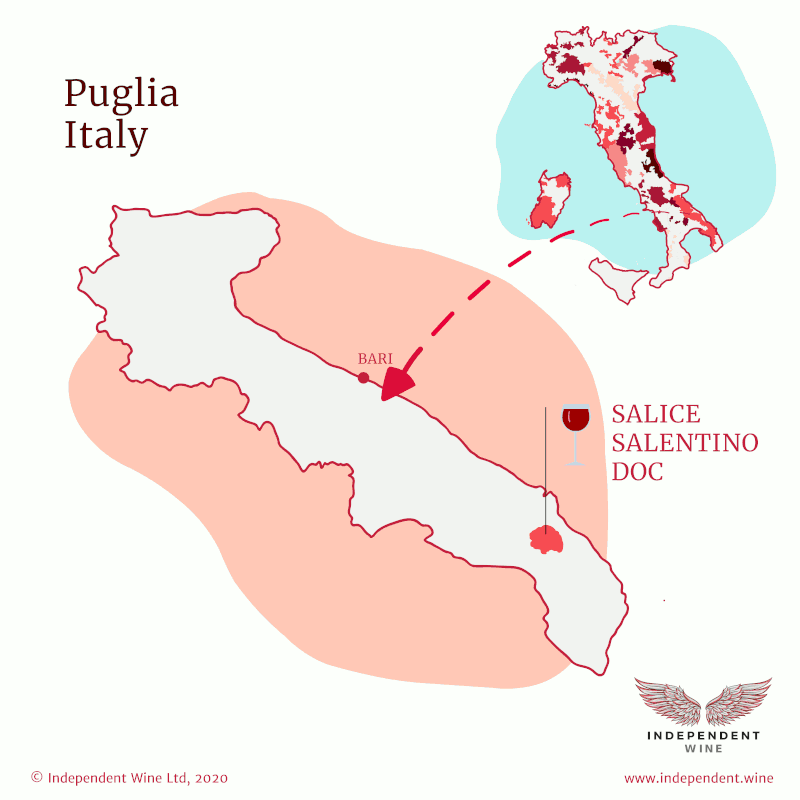 Primitivo
Dark and rich Primitivo wines are usually made from grapes grown in the centre of Puglia, between Bari and Matera. While many Primitivo wines are made and sold as basic, IGT wines there are a few notable exceptions – DOC Gioia del Colle, with its zingy acidity and DOC Primitivo di Maduria which is grown further south and tends to have a deeper flavour.
What does Primitivo taste like? These inky wines have a rich and ripe taste, packed with tannins and alcohol for a really powerful punch. Expect flavours of black fruit compote and aromas of leather, blueberries and fig.
Negroamaro
Negroamaro has been grown in Puglia for at least 1,500 years, and its name translates as "black and bitter". The best examples come from the Salento Peninsula, particularly the Salice Salentino DOC. Here, the warm Mediterranean climate ripens the grapes so they're juicy, sweet and flavoursome while the cooling effect of the Adriatic and Ionian Seas maintain the fruit's freshness. While Negroamaro is usually used to make exuberant red wines, it's sometimes used for rosé.
What does Negroamaro taste like? Dark and savoury, Negroamaro combines flavours of ripe black fruit with spicy and herbal notes of clove, cinnamon and thyme.
Award-winning wines from Puglia:
Sardinia
The Mediterranean island of Sardinia sits 124 miles off the coast of Italy, and has its own unique culture and heritage – it didn't officially become part of Italy until 1861. Sardinia is better known for its cheese and meat production, but it does have two regional grapes that it makes excellent wines from – the red Cannanau di Sardegna and white Vermentino.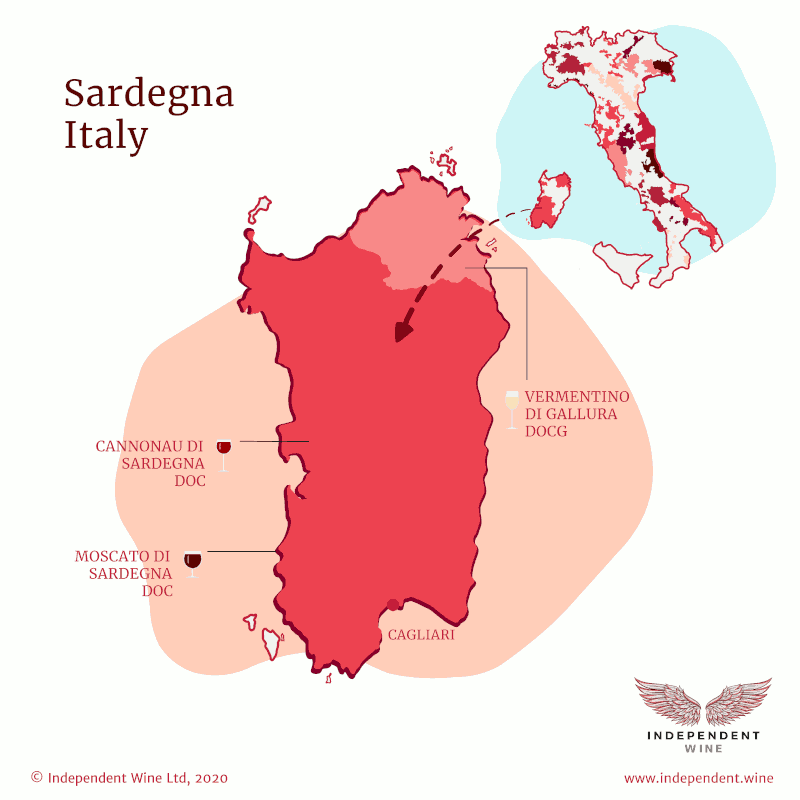 Cannonau di Sardegna DOC
Cannonau is rumoured to be the oldest surviving grape in the Mediterranean at 3,200 years old. The wine is at the heart of the Sardinian diet – which is rumoured to play a role in the long life span of the locals. Cannonau is mainly used to make powerful red wines. These need to be aged for at least two years and spend a minimum of six months in barrel to soften the tannins. It's also sometimes used to make rosé
What does Cannonau di Sardegna taste like? High in alcohol and tannin, Cannonau di Sardegna is a prime wine for aging. It has deliciously ripe flavours of cranberry, plum and tobacco underpinned by rich notes of coffee, chocolate and white spice from its time in barrel.
Vermentino
This is the signature white wine of Sardinia. Vermentino grapes are picked early to help them retain their fruity freshness. They are usually made into refreshing, aromatic wine that's perfect for sipping on hot days. Some areas – like the Vermentino di Gallura DOCG – create rounder and richer wines.
What does Vermentino taste like? Vermentino combines zingy flavours like green apple, grapefruit and lime. Its most distinctive characteristic is the slightly bitter finish, which is reminiscent of green almonds or citrus pith.
Award-winning wines from Sardina:
Sicily
The volcanic island that sits just off the tip of Italy, Sicily is the largest island in the Mediterranean and is characterised by its micro-climates. It's almost like a small country in its own right. Although ordinary bulk wines once dominated the region, today it's responsible for some of Italy's most unique and exciting wines.
Nero D'Avola
There's nothing subtle about Sicily's most loved red grape, Nero D'Avola. It's seriously fruit forward and full bodied with plenty of smooth tannins. In the past it was often used in table wine blends, but over the past two decades it's grown in popularity as a single varietal wine.
What does Nero D'Avola taste like? Every mouthful brings a bouquet of ripe fruits including blackberry, plum and sweet cherry. This is underpinned by richer notes of chocolate, coffee and peppery spice for a rich, rounded finish.
Award-winning wines from Sicily:
Alto Adige
The northernmost part of Italy, Alto Adige is home to Europe's highest vineyards – sitting as high as 1,100 metres. These high altitudes help to preserve acidity and freshness in the grapes, resulting in cold-climate Italian reds with a distinctive flavour. This German-speaking region tends to use a lot of international grape varieties, and there aren't as many DOC regulations as the rest of Italy.
Lagrein
Lagrein is a red grape indigenous to Alto Adige, and it's a real powerhouse with lots of acid and tannin. It's used to make the red Lagrein Scuro (also known by its German name, Lagrein Dunkel) and the fragrant rosé Lagrein Rosato (Lagrein Kretzer). One of the most surprising things about the red version is that it tastes fantastic when it's been slightly chilled.
What does Lagrein taste like? There's plenty of crunchy acidity to get your mouth watering, with notes of raspberry, red plum, freshly cracked pepper and coffee.
Gewürztraminer
Beautifully perfumed and aromatic, Gewürztraminer is one of Alto Adige's most distinctive wines. It has a deep golden colour, thanks to its natural pink tinge, and a fragrance that simply leaps out of the glass. The perfect antidote to Italy's crisp and dry white wines, Gewürztraminer is off-dry with a smooth, almost oily texture thanks to its low levels of acid.
What does Italian Gewürztraminer taste like? The slight sweetness of the wine is only enhanced by its natural aromas of juicy lychees, rose petals and a tongue-tingling hint of ginger.
Pinot Blanc (Weißburgunder)
Weißburgunder – or Pinot Blanc – is a grape that thrives in the high altitude vineyards of Alto Adige. As it has relatively low acidity, it produces wines with a rounded texture. It's subtly flavoured, and a fantastic everyday option.
What does Italian Weißburgunder taste like? light and delicate, Weißburgunder from Alto Adige tastes like crisp green apple, juicy pear and zingy lemon. With some aging, notes of hay and toasted nuts can develop.
Pinot Noir
The classic grape of Burgundy, Pinot Noir has a new home in the high vineyards of Alto Adige. This light-bodied red wine is renowned across the world for its delicate, red-fruit flavours.
What does Italian Pinot Noir taste like? Pinot Noir from Alto Adige is packed with aromas of purple and red berries, offset by a hint of Christmas spice and floral notes of violet.
Award-winning wines from Alto Adige:
Sweet Wines of Italy
There's no better way to finish than with a glass of sweet wine – and so we're ending our article with a discussion of two of the best Italian sweet wines.
Moscato d'Asti
Low in alcohol and enlivened with subtle sparkle, Moscato d'Asti is a gorgeous wine for a summer afternoon. It was originally made by winemakers so that they could drink at lunchtime without becoming tipsy. It is made from Moscato Bianco grapes – one of the oldest varieties grown in Piedmont.
What does Moscato d'Asti taste like? Ripe peaches, honey and orange blossom add to this wine's summery flavour. It's also one of the few wines that smells and tastes like grapes.
Vin Santo
This unctuous dessert wine has a name that translates as "Holy Wine". It's made from the white grapes Trebbiano and Malvasia, which are left to dry in the sun to concentrate the sugar as they slowly transform into raisins. The resulting wine is aged for up to a decade in small barrels, with a little bit of air at the top so that the wine gently oxidises. It's usually paired with biscotti.
What does Vin Santo taste like? Deep golden in colour, Vin Santo has a heady flavour combination of dried apricot and tropical fruits complemented by classic oxidised aromas of caramel and nuts.
Award-winning sweet wines from Italy:
Continue your passion for Italian wines
We hope you found this article interesting and informative – and now feel a little closer to being an expert in Italian wines. We're always happy to chat about all things wine, so if you have any questions about our Italian wine please feel free to get in touch.
Or, if you want to know more about Italian wines, we have plenty of in-depth articles:
Ciao!