Italian wine: Italy has a wider selection of wines than anywhere else in the world, with up to 2,000 unique grapes grown across the country. Italy is most famous for wines made from its indigenous grapes. Classic Italian red wines include Barolo and Barbaresco (both made from the Nebbiolo grape), Chianti and Chianti Classico (from the Sangiovese grape), and Nero d'Avola wine (the Nero d'Avola grape).  Italy is also famous for its sparkling wines: Prosecco (produced from the grape Glera) and Moscato (from Moscato Bianco). In terms of Italian white wines, the most famous is Pinot Grigio which is made from the grape of the same name. Italy also successfully makes wines from international grape varieties such Merlot, Chardonnay and Cabernet Sauvignon. Wines made in the mountains are often premium-priced with elegant flavours, while wines grown on flat terrain are easy-to-drink and affordable.
Famous across the world for its incredible gastronomy and lust for life, it's no surprise that Italy is home to more types of wine than any other country. It's believed that there are anywhere from 300 to 2,000 unique grapes thriving in Italy's vineyards.
As well as renowned international varieties like Merlot, Chardonnay and Cabernet Sauvignon, Italy takes a lot of pride in its indigenous varieties like Sangiovese, Pinot Grigio and Montepulciano. While this fantastic amount of variety gives Italian wines a unique flavour that's hard to match, it can make it difficult to pick one that you know you're going to enjoy.
I've already shared my tips on how to choose the best Italian red wine, and this article is a deeper dive into the best wines from each region of Italy, what they taste like and some recommendations for award-winning wines that you can buy from our catalogue.
There's a lot of ground to cover – as well as international celebrities like Chianti Classico and Primitivo, we're going to highlight some hidden gems like fresh and fruity Roero Arneis or rich and bold Cannonau di Sardegna.
Author: Oleg Dmitriev (Wine Geek), Wine Portfolio Director Independent Wine. MBA, WSET Level 3 Award in Wine
Awards: Inventor of the Year 2017, Innovator of the Year 2018
Lives in: Edinburgh, Scotland
Map of Italy's most important wines and wine producing regions
What is the best Italian wine?
There are two ways to find out which are the best Italian wines. First, you can look at league tables made by experts through wine competitions and tastings, and second you can check the best-sellers lists of actual wine shops.
Expert view
Decanter World Wine Awards is possibly the most important wine competition in the world. 2020 marks the 17th annual ceremony, and their experts assess around 16,500 wines from all over the world, including Italy. Currently, you can see all Decanter's results up to 2019 (search form), and the 2020 results are expected on 22 September 2020.
The WineHunter is a competition that only rates Italian wines. It's a part of the annual food and wine festival held each year in the Alpine spa resort Merano. They publish a Top 100 list of the best Italian wines. The next levels are "Gold" (90-94.99 points) and "Rosso" (88-89.99 points) medals – both are really high recognitions for wine in Italy (here's more information about the awards, and a list of "Gold" and "Rosso" wines you can buy in the UK).
Another very important wine rating is Gambero Rosso's "Tre Bicchieri" (three glasses). They evaluate about 40,000 wines from all over Italy, and award the "Three Glasses" trophy to only around 2,500. The next levels are "two red glasses" (made it to the final tasting), "two black glasses", and "one glass". Of course, Italy makes so much wine that winemakers fight tooth and nail to achieve even the "one glass" rating, and if you see this sign it's a solid indicator of quality. You can buy the Gambero Rosso "Tre Bicchieri" catalogue on Amazon.
The best Italian wines – consumer's view
While experts' picks are fabulous, they might be out of reach for some consumers.  So what do regular UK wine lovers consider to be the best Italian wine?
We could spend all day comparing Barolo to Amarone, but at the end of the day the top-sellers chart is the most accurate answer. Why? As well as showing which wines are trending this year, it also shows which wines people consider to be good value for money.
Our customers' vote for the best Italian white wine this year (so far) goes to Treuve ("three grapes") – a blend of Arneis, Sauvignon Blanc, and Chardonnay from Roero in Piedmont. It was featured in Decanter, and Martin Izark – a renown British wine critic – wrote "If you relish the taste of posh white Burgundy, but can't afford it, then this three grape blend is heaven sent. A case won't be enough."
Our best Italian red wine for everyday drinking is undoubtedly Le Camarde – a deep and enchanting blend of Negroamaro and Primitivo from Puglia. For special occasions, our top Italian red is Francone Barolo 2015 –  winner of the Decanter Silver Medal. This powerful wine is a blend of Nebbiolo from two vineyards in La Morra and Monforte – two of the five most prestigious villages in Barolo DOCG.
The Best Italian Wine of 2020: according to our customers
| | |
| --- | --- |
| Wine | Italian wine region |
| Le Camarde 2016, Negroamaro & Primitivo, Salento IGP by Feudi di Guagnano | Puglia |
| Uras 2016, Cannonau di Sardegna by I Garagisti di Sorgono (sold out) | Sardinia |
| 306 Biologico Nero d'Avola 2017, Sicilia DOC by Savlatore Tamburello | Sicily |
| Chianti Classico, 100% Sangiovese, Chianti Classico DOCG, by Castello Di Radda | Tuscany |
| Treuve 2015, Arneis, Sauvignon Blanc, Chardonnay, Langhe DOC by Malvirà | Piedmont |
| Vigna Saglietto Arneis 2016, Roero DOCG by Malvirà | Piedmont |
| Diecianni Primitivo (Zinfandel) 2017, Salento IGP by Feudi di Guagnano | Puglia |
| Spèra Vermentino 2018, Vermentino di Gallura DOCG by Siddùra | Sardinia |
| Prosecco Superiore Millesimato Extra Dry 2018, Conegliano Valdobbiadene Prosecco DOCG by Ca' di Rajo | Veneto |
| Francone Barolo 2015, Nebbiolo, Barolo DOCG by Francone | Piedmont |
| Francone Barbaresco Gallina 2016, Nebbiolo, Barbaresco DOCG by Francone | Piedmont |
| Fiero 2017, 60% Merlot, 40% Sangiovese, Super Tuscan IGT by Ridolfi | Tuscany |
| Palladium 2018 Gewurztraminer, Alto Adige DOC by K.Martini & Sohn | Alto Adige |
| La Regia Specula 2016, Montepulciano d'Abruzzo DOCG by Orlandi Contucci Ponno | Abruzzo |
| Pinot Grigio 2018, Venezia DOC by Ca' di Rajo | Veneto |
We update our customers' best sellers list every couple of months to give you a good idea of what's currently trending, and what Italian wines people just can't get enough of. Follow our blog to stay up to to date or feel free to contact me any time: I'm always happy to answer wine questions.
Italian wine types
Understanding Italian wine can be overwhelming if you're not familiar with the names: which wines are made from Sangiovese or Nebbiolo? What grapes is the best Amarone made from? Don't worry, we've put together the below tables to offer an at-a-glance look at the most popular Italian denominations and their grapes.
Top Italian red wine types
| | | |
| --- | --- | --- |
| Wine type | Main Grape(s) | Region |
| Amarone della Valpolicella DOCG | Corvina, Corvinone, Rondinella | Veneto |
| Valpolicella DOC | Corvina | Veneto |
| Barolo DOCG | Nebbiolo | Piemonte |
| Barbaresco DOCG | Nebbiolo | Piemonte |
| Barbera d'Asti DOCG | Barbera | Piemonte |
| Salento IGP | Primitivo (Zinfandel) | Puglia |
| Dolcetto d'Alba DOC | Dolcetto | Piemonte |
| Chianti DOCG | Sangiovese | Tuscany |
| Chianti Classico DOCG | Sangiovese | Tuscany |
| Super Tuscan IGT | Merlot, Sangiovese | Tuscany |
| Brunello di Montalcino DOCG | 100% Sangiovese | Tuscany |
| Vino Nobile di Montepulciano | Sangiovese | Tuscany |
| Montepulciano d'Abruzzo DOCG | Montepulciano | Abruzzo |
| Taurasi DOCG | Aglianico | Campania |
| Aglianico di Vulture DOC | Aglianico | Basilicata |
| Salice Salentino DOC | Negroamaro | Puglia |
| Sicilia DOC | Nero d'Avola | Sicily |
| Cannonau di Sardegna DOC | Cannonau | Sardinia |
Top Italian white wine types
Italian white wines tend to be fresh and zesty with fragrant floral and fruit flavours. Some Italian whites are best known under the name of their denomination, like Gavi or Soave. But in the North it's more typical to call wine by their main grape, which is also more common in Austria or Alsace. These are some of the best white Italian wines.
Wine type 
Main Grape(s)
Region
Soave DOC
Garganega
Veneto
Gewurztraminer
Gewurztraminer
Alto Adige
Pinot Grigio
Pinot Grigio
Alto Adige
Veneto
Weißburgunder
Pinot Bianco
Alto Adige
Riesling
Riesling
Alto Adige
Verdiccio dei Castellli di Jesi DOC
Verdicchio
Marche
Gavi DOCG
Cortese
Piedmont
Orvieto DOC
Grechetto
Umbria
Arneis, Roero DOCG
Arneis
Piedmont
Sauvignon, Roero DOCG
Sauvignon Blanc
Piedmont
Vermentino

di Gallura DOCG

Vermentino (Favorita)
Sardinia
Fiano di Avellino DOCG
Fiano
Campania
Greco di Tufo DOCG
Greco
Campania
Now that you have a better grasp of the grapes behind the best Italian wines, let's look how at the quality levels and how they're displayed on the label.
Introduction to quality levels of Italian wine
Can the letters DOC, DOCG or IGT on the label help you pick a good bottle of Italian wine? The short answer is yes. If that's the only information you have, they could be a great help, as they identify what level of quality this bottle is made to. Let's see how it works.
From 01 August 2009, the European Commission divided all Italian wine denominations – as well as wines of all other EU countries – into two categories (EU Regulation No 479/2008[1]). Broadly speaking, these are wines with indication of origin and generic wines without. Each category is divided further, with additional criteria to show quality.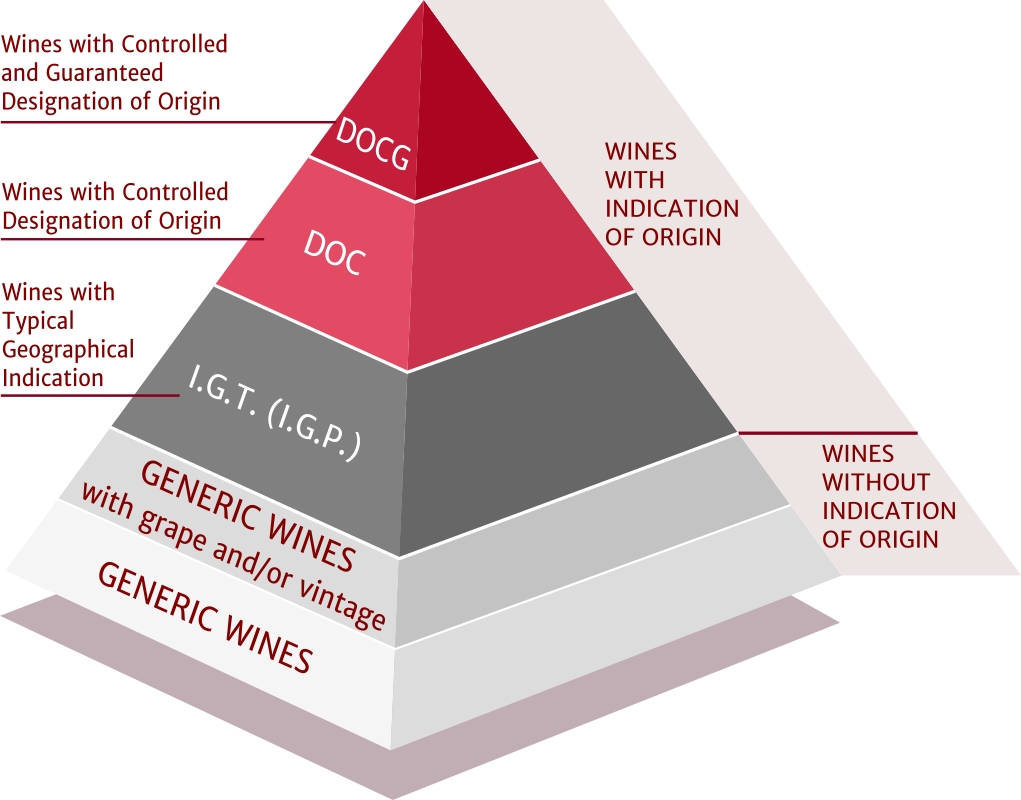 The pyramid of Italian wines: how new (EU 479/2008) and traditional categories are related. (Credit: FEDERDOC[2], Independent Wine Ltd)
Wines with Indication of Origin
Wines with Protected Designation of Origin (IGT, DOC and DOCG wines) are high-quality wines, which are made in accordance with rules of winemaking, called Disciplinare. They are sometimes called "wine laws".
Those rules are recorded by the Italian Ministry of the Agricultural, Food and Forestry Policy[3]. All of Italy's most famous wines including Barolo DOCG, Alto Adige DOC, or Salento IGT are made according to an official set of rules.
Such wines offer the consumer a greater degree of protection, because they know how the wine is made. The wine's Protected Designation is shown on the label to display that the wine has a certain level of quality. By law, any winemaker who wishes to put a certain DOC, DOCG or IGT name on the label must comply with the relevant Disciplinare.
Let's look at the sub-categories of wines with Protected Designation of Origin in more detail:
Wines with Protected Denomination of Origin (DOP, including DOC and DOCG)
DOP, DOC and DOCG wines are in effect wines with Protected Denomination of Origin (or Denominazione di Origine Protetta, or DOP in Italian).
Italy's winemakers are legally allowed to put on the label either the new term DOP, or the traditional terms: Denominazione di Origine Controllata (DOC) or Denominazione di Origine Controllata e Garantita (DOCG).
In practice, however, the most important winemaking areas to this day stick to the traditional DOC and DOCG names. Examples include Barolo DOCG, Brunello di Montalcino DOCG, or Valpolicella DOC.
For each DOC and DOCG winemaking area, the winemaking rules are developed and enforced by an organisation of winemakers called Consorzio. For example, the production of Barolo DOCG is regulated by "Consorzio di Tutela Barolo Barbaresco Alba Langhe e Dogliani"[4].
The difference between DOC and DOCG is that the quality of DOCG wine is guaranteed by the Italian Government. It appoints a specialist agency, which tests the wines which want to bear the DOCG label, and issues numbered stickers. The name of the agency can be found both in the Disciplinare document, and on the website of the winemakers' consortium (Consorzio) for the DOC or DOCG area.
All bottles of DOC and DOCG wines must be marked with a special government-issued numbered label. Its purpose is to guarantee the quality and the authenticity of the wine. In case there's any issue with quality, each bottle can be traced back.
Wines with Protected Geographic Indication (IGP or IGT)
IGP stands for "Indicazione Geografica Protetta" in Italian. Same as above, Italian winemakers are allowed to use either the new term IGP or the traditional term "Indicazione Geografica Tipica" (IGT) on the label. Both legally mean the same thing. So you often find either IGP or IGT on the labels, but they're made to the same standards.
The IGT regulations emphasise the region that the wines come from, rather than focusing on a particular winemaking style, because it's the terroir that makes them special. As a rule, the IGT rules aren't as heavily regulated as DOC or DOCG, meaning winemakers have a lot more freedom to experiment. For example, Roero DOCG only allows one red grape (Nebbiolo) and one white grape (Arneis). But Salento IGT gives the winemaker a freedom to use fifty grapes, as long as they're grown in Salento.
Another famous example is wines labelled Toscana IGT or Toscana IGP, made to the regulation: "Disciplinare Toscano o Toscana". They were developed in the 1970-s when the Tuscany's winemakers wanted to experiment and go beyond the limitations of Chianti. Working under Toscana IGT, they came up with fabulous blends of Sangiovese with Merlot and Cabernet, which became famous internationally as Super Tuscan wines.
Generic wines or Vini di Tavola
Generic wines can be of two types: generic wines with grape and/or vintage and generic wines without grape and/or vintage. Practically, "generic wines" mean Vino di Tavola – or table wine. In most cases, those wines are very simple and inexpensive.
There are a few rebel winemakers in Italy who are keen to experiment, and refuse to accept the limitations of the traditional DOC or DOCG rules. Some of them do make extraordinary premium-quality wine (like Uras by "I Garagisti di Sorgono"), one of Italy's top-100), which has to be labelled as generic. But this is a rare exception rather than a rule: a Vino di Tavola without any awards will most likely be a simple wine.
We have learned that the letters DOC, DOCG and IGT on the Italian wine labels stand for certain production regulations, or "wine laws". DOC, DOCG and IGT wines all have a Protected Designation of Origin, so they're high-quality wines. The DOC and DOCG rules prescribe the style of winemaking in great detail. The IGT (or IGP) rules focus on the terroir, and give the winemaker more freedom.
Now we're ready to look at Italy's most important provinces, and see which famous DOC, DOCG and IGT wines are produced there.
Piemonte
Sandwiched between the Alps in the north and the Apennine Mountains in the south, Piedmont (or Piemonte in Italian) is the home of Nebbiolo, Barbera and Arneis grapes, among others. The vineyard areas of Langhe-Roero and Monferrato are some of the few wine-growing regions to make it onto the UNESCO World Heritage list, alongside St Emilion in Bordeaux and Tokaj in Hungary.