Italian wine is the world's most popular, occupying 19% of the global market. Italy has a wider selection of wines than anywhere else in the world, and uses 605 unique grapes to produce them. The most famous Italian wines are made from its indigenous grapes. Classic Italian red wines include Barolo and Barbaresco (both made from the Nebbiolo grape), Chianti and Chianti Classico (from the Sangiovese grape), Amarone and Valpolicella (from the Corvina, Corvinone and Rondinella grapes), and Nero d'Avola wine (from the Nero d'Avola grape). Italy is also famous for its sparkling wines, such as prestigious Franciacorta (produced from the Chardonnay grape), fruity dry Prosecco (from Glera) or sweet Asti (from Moscato Bianco). In terms of Italian white wines, everyone in the UK knows Pinot Grigio, made from the grape of the same name. However, the most widely planted white grapes are Sicilia's Catarratto and Trebbiano Toscano. That latter shouldn't be confused with Trebbiano di Soave (Verdicchio) that produces Verdicchio dei Castelli di Jesi, one of Italy's most noble white wines.
Italy also successfully makes varietal wines from international grapes such Merlot, Chardonnay and Cabernet Sauvignon. Wines made in the mountains are often premium-priced with elegant flavours, while wines grown on flat terrain tend to be easy-to-drink and affordable.
Updated: 12 December 2022
Italian grapes
How many Italian grapes are there?
While various sources claim that Italy has anywhere from 300 to 2,000 grapes, there are officially 605 grapes used to produce wines across Italy. They are recorded in Registro Nazionale delle Varietà di Vite – the registry of the Ministry of Agricultural, Food and Forestry Policies (MiPAAF). But on all counts, Italy boasts the largest number of grapes in the world. With 77% of its territory covered by hills and mountains, Italy is influenced by three seas: Tyrrhenian, Adriatic, and Ionian. This explains the great level of natural diversity, and why so many unique grapes have developed over time.
The list of Italian grapes starts with Abbuoto, a red grape from around Rome, which was possibly used to make Caecubum – the famous Roman wine praised by Pliny the Elder and Horace. The final grape on the list is Zweigelt, cultivated to make elegant reds near the Austrian border in Alto Adige.
But the number of grapes is not fixed. MiPAAF continues to evaluate grapes and clones planted in vineyards across Italy. If a grape's uniqueness is confirmed by DNA analysis, it will be added to the Registro Nazionale. If the assessed varietal is a close relative of another grape, it will be added as clone, or biotype. For example, in 2020 the list grew by over 20 new grapes, including Uva Giulia and Cabernet Blanc. In 2021, Rabosa Bianca and Moretto Grosso were added to the list [3].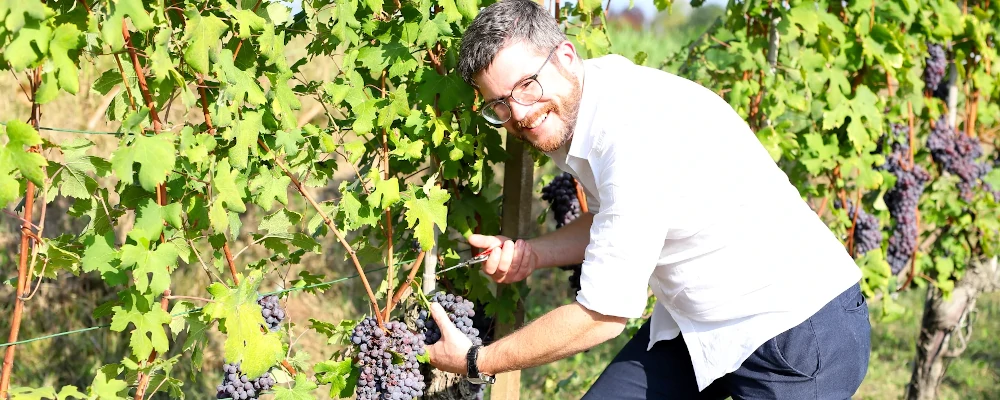 Which are the most important Italian grapes?
Without doubt, the lion's share of Italian wine is produced using Italy's native grapes. Sangiovese is the most widely planted varietal (71,500 hectares). It is responsible for some of Italy's best wines: Chianti Classico, Vino Noble di Montepulciano, and Brunello di Montalcino. The Montepulciano grape comes second, covering 86,000 hectares. Most of it is used to produce Montepulciano d'Abruzzo wine. Catarratto Bianco is the most widely planted white grape at 85,900 hectares.
The most important international grape in Italy is Chardonnay (48,600 hectares). While it can be found in still white wines, Chardonnay is the source of Italy's best Metodo Classico sparkling wines: Franciacorta and Oltrepò Pavese. Merlot used to be very popular in Italy. But, as consumer tastes shifted, wineries reduced their plantings from over 50 thousand hectares in the 1970's to 28 thousand in 2010 (MiPAAF).
This article provides a deeper dive into the best wines from each region of Italy, and what they taste like. We also offer some recommendations for award-winning wines that you can buy from our catalogue.
There's a lot of ground to cover. As well as international celebrities like Chianti Classico and Primitivo, we're going to highlight some lesser known wines like elegant Roero Arneis and powerful Cannonau di Sardegna.
What is the best Italian wine?
There are two ways to find out which are the best Italian wines. First, you can look at league tables made by experts through wine competitions and tastings. Another way is to check the best-seller lists from wine shops to see which wines are most popular with regular consumers.
Expert view
Decanter World Wine Awards
The Decanter World Wine Awards (DWWA) is possibly the most important wine competition in the world. Several judging panels blind-taste and rate wines from almost every wine-producing country, including Italy. At the end the best wines are awarded Bronze, Silver or Gold medals. The most outstanding wine in each category is crowned with the title "Best In Show".
Decanter's process is very well respected. It is impartial, based on a blind-tasting process. Candidates for Silver medals are re-tasted twice, and Gold winners three times, to confirm the score. The best wines are then promoted to Platinum, and re-tasted again by a panel of regional Chairs and Co-chairs.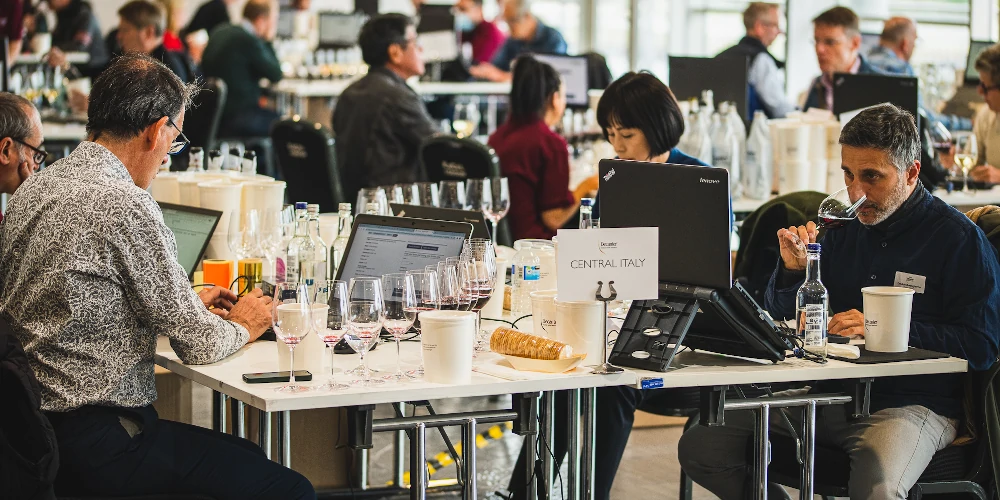 Thousands of wines are judged each year: for example in 2022,Decanter's experts assessed 18,244 wines [7].
You can use the search form on Decanter's website to find out if a wine you're interested in has won any medals. Results are pretty technical, but for each wine there's a short tasting note which can be very helpful.
Website: https://enter.decanter.com/a/
Judging: April – May
Results announced: June
DWWA results search: https://awards.decanter.com/DWWA/2022/search/wines?competitionType=DWWA
Independent Wine is proud to stock the UK's grandest collection of Decanter award-winning Italian wine. Here's what Decanter Magazine said about us:
"Since launching in 2020, Independent Wine have built a specialised portfolio featuring the UK's record number of Decanter medal-winning wines from all over Italy.
As one might expect, they boast a selection of premium bottles from Italy's most famous denominations, such as Barolo, Barbaresco, Amarone della Valpolicella and Brunello di Montalcino, but they also offer a wide range of premium wines from lesser-known regions such as Lombardy's Franciacorta, Alto Adige's Lagrein, and Sardinia's Cannonau and Vermentino."
Olivia Mason, Decanter, 01.09.2021
Click here to explore our "Decanter Grand Collection".
Merano WineFestival / The WineHunter
The Merano WineFestival is a highly respected competition that only rates Italian wines. It is part of the annual food and wine festival held each November in the Alpine spa resort of Merano in Alto Adige.
The WineFestival has an outstanding reputation for impartiality. Many Italian winemakers have confided in us that judges at Merano cannot be influenced. Results are purely based on blind tasting.
The organisation behind the competition is called The WineHunter. They publish a "Top 100 list" of the best Italian wines, as well as a catalogue of wines that won this year's medals.
There are three medals available: "Rosso" (88-89.99 points), "Gold" (90-94.99 points), and "Platinum" (95-100 points).
Website: https://meranowinefestival.com/en/
Dates: November
Results Search Form: https://award.winehunter.it/vino
Vini d'Italia (Italian Wines) by Gambero Rosso
Vini d'Italia is possibly Italt's most highly respected annual guide. Available in the convenient pocketbook format, it is published by Gambero Rosso. Each year, they evaluate about 40-45 thousand wines from 2,500-2,600 producers across Italy. Around 25 thousand wines make it into the guide.
The most prestigious trophy is called "Three Glasses" (Tre Bicchieri) – it is awarded to 500 wines. The next level is "two red glasses", given to all the wines that were included in the final tasting. The following levels are "two black glasses" and "one glass".
Of course, Italy makes so much wine that winemakers fight tooth and nail to achieve even a "one glass" rating. If you see this sign it's a solid indicator of quality.
Gambero Rosso's Vini d'Italia catalogue in English ("Italian Wines") can be bought on Amazon UK.
In addition to these three competitions, there are a number of wine awards which are also well-respected in the Italian wine community, such as:
I Vini Veronelli (paper catalogue)
The best Italian wines – consumer's view
While expert picks are fabulous, they might be out of reach for some consumers. So what do regular UK wine lovers consider to be the best Italian wine?
One way to figure this out is looking at best-seller lists, such as our annual ranking: "Independent Wine's Top 10 Most Popular Italian Wines". As well as showing which wines are trending this year, it also shows which wines people consider to be good value for money.
Our 2022 best Italian red wine was undoubtedly Villa Pinciana "Terraria", Maremma Toscana DOC 2013. This Platinum medal-winning blend of Sangiovese, Cabernet Sauvignon and Petit Verdot tastes of blueberry muffin, rosemary and sea salt.
Independent Wine's Top 10 Italian wines 2022 according to our customers
Italian wine types
Italy boasts a number of noble red and white wines. In some cases, the name of the main grape is included in the name of the wine. For example: Primitivo di Manduria DOC (the main grape is Primitivo) or Verdicchio dei Castelli di Jesi DOC (Verdicchio Bianco). But in other cases, the name of the wine is based on other things. For example, the name "Barolo" (made exclusively from the Nebbiolo grape) is derived from the area in Piemonte. "Franciacorta" (sparkling wine typically made from Chardonnay, Pinot Bianco, Erbamat and Pinot Nero) is a historic name based on the Latin curtis francae – monasteric lands that were tax-free in the middle ages.
To help you connect your favourite Italian wines with their grapes and their regions, we have created three "top 10" lists for red, white and sparkling wines.
Top 10 Italian red wines
Grapes: Corvina, Corvinone, Rondinella. Region: Veneto
Typical flavours: dried strawberry and raspberry supported by notes of espresso, dark chocolate, cinnamon and raspberry jam as well as balsamic vinegar and sour dark cherry.
Grape: 100% Nebbiolo. Region: Piemonte
Typical flavours: rich and concentrated notes of dried violet flowers and rose petals, dried raspberry, cherry and blackberry. Hints of cinnamon, clove, and dark chocolate.
Grape: 100% Nebbiolo. Region: Piemonte Typical flavours: vivid aromas of cranberry, blueberry and violet flower, underpinned by notes of dark chocolate.
Typical flavours: bramble fruit, black plum, liquorice, redcurrant, nutmeg, coconut, dark chocolate, liquorice, dried blackberries, prune, forest floor, tobacco and leather.
Grape: 100% Sangiovese Region: Tuscany
Typical flavours: raspberry, strawberry, red cherry, cinnamon, prune, dry cranberry, tobacco and leather.
Main grape: Sangiovese Region: Tuscany
Typical flavours: over-ripe, concentrated red cherry, raspberry and black plum, complemented by notes of dry fruits and herbs – dry cranberry, mint and rosemary – as well as hints of white pepper, espresso and leather.
Grape: Sagrantino Region: Umbria
Typical flavours: violet flower, blackberry, black cherry and plum, underpinned by hints of cinnamon and cocoa, as well as scents of cooked prunes and meat.
Main grape: Montepulciano Region: Abruzzo
Typical flavours: blackberry, bramble fruit and black cherry, as well as Christmas pudding, soft milk chocolate, cocoa and prune.
Grape: Primitivo Region: Puglia
Typical flavours: blackberry, blackcurrant and liquorice, with a savoury balsamic undertone, dried raisins, dates and prune, followed by notes of coconut and cinnamon.
Main grapes: Sangiovese, Cabernet Sauvignon. Region: Tuscany
Typical flavours: fresh strawberry, redcurrant, black plum, mint and herbs, layered with savoury coconut, vanilla, chocolate and dried fruits.
Grapes: Corvina, Corvinone, Rondinella. Region: Veneto
Typical flavours: notes of kirsch and cranberry, enriched by aromas of eucalyptus, nutmeg and fruit jam.
Top 10 Italian white wines
Grape: Arneis. Region: Piemonte.
Typical flavours: white flower – such as orange blossom, jasmine and honeysuckle – as well as fresh pear, apricot and a hint of hazelnut.
Grape: Verdicchio Bianco. Region: Marche
Typical flavours: orange blossom, yellow apple and lemon rind. Complemented by spicy notes of white pepper and ginger, as well as almond and caramelised grapefruit zest.
Fiano di Avellino
Grape: Greco. Region: Campania
Typical flavours: white flower, tangerine, lime, marjoram, mint, lemongrass, pear drop candy.
Gavi
Grape: Cortese. Region: Piemonte.
Typical flavours: lime peel, green bell pepper, green apple, green tea and chamomile.
Greco di Tufo
Grape: Greco. Region: Campania
Typical flavours: white flower, basil, citrus fruit, melon, honeysuckle. Riserva wines will have added notes of baked yellow apple, honey and caramel.
Grape: Turbiana (Trebbiano di Lugana). Regions: Lombardia, Veneto
Typical flavours: elderflower, guava, peach, and honeysuckle with a touch of bitterness from ginger and yellow grapefruit.
Grape: Pinot Grigio. Regions: Veneto, Alto Adige
Typical flavours: high-quality Pinot Grigio from high-altitude vineyards offers elegant flavours of passion fruit, guava, pear and elderflower, as well as notes of ginger and hazelnut.
Soave
Grape: Garganega. Region: Veneto
Typical flavours: orange blossom, jasmine, cucumber and cantaloupe melon, supported by a fresh and bitter savour of yellow grapefruit. Complemented by notes of biscotti, dried herbs and baked apple. Mineral finish.
Grape: Verdicchio Bianco. Region: Marche
Typical flavours: elegant aromas of white flower, such as orange blossom and acacia, as well tangy notes of lemon rind and lime. A touch of pleasant bitterness from the green bell pepper flavour. Notes of sage and rosemary add a herbaceous touch.
Grape: Vermentino. Regions: Sardinia, Liguria
Typical flavours: lime, guava and yellow apple, complemented by notes of honeysuckle and jasmine, with a salty mineral finish.
Top 10 Italian sparkling wines
Alta Langa DOCG
Grape: 70-90% Pinot Nero supported by Chardonnay. Region: Piemonte.
Made using the Champagne method, Alta Langa sparkling wine is fermented in bottle and matured sur lie for 30 months. This very successful wine is produced in small quantities, around Acqui Terme in the north Apennines. Typical flavours include acacia, jasmine, stone fruit and brioche.
Asolo Prosecco DOCG
This high-quality version of Prosecco enjoys a prestigious DOCG status. Produced on the west side of the Piave river, Asolo Prosecco is fruitier and sweeter. This denomination, together with Conegliano-Valdobbiadene Prosecco DOCG, produces some of Italy's best metodo Martinotti (tank method) wine.
Grape: Moscato Bianco. Region: Piemonte.
Typical flavours: floral and fruity notes of orange blossom, rose, acacia flower, elderflower and yellow apple supported by notes of cinnamon spice, pear drop candy and honey.
This wine comes from the Venetian pre-alps on the east side of the Piave river. Conegliano Valdobbiadene – Prosecco is generally considered the most complex – and expensive – version of Prosecco. Typical flavours include: white flowers, green apple, ruby grapefruit peel and pineapple, with sweet undertones of pear drop candy.
Grapes: Chardonnay, Pinot Nero. Region: Lombardia.
Typical flavours: elegant aromas of ripe peach and lemon zest with hints of honey, lemon whipped cream and almonds.
Lambrusco
Grape: Lambrusco (Grasparossa, Sorbara, Salamino). Region: Emilia-Romagna
Typical flavours: red fruit, such as sour red cherry, raspberry and cranberry, with a note of balsamic vinegar.
Grape: Moscato Bianco. Region: Piemonte.
Moscato d'Asti is always made from the best grapes. It's made with less pressure (2.5 atm) than Asti DOCG and has a mousse of tiny bubbles. Typical flavours: orange blossom, jasmine, guava, pear and apricot.
Oltrepò Pavese Metodo Classico
Grape: Pinot Nero. Region: Lombardia
This wine comes from the limestone slopes of the Apennines in Lombardia's southern corner, south of the river Po. This highly-respected appellation is dedicated to metodo classico wine made primarily from Pinot Nero (at least 70%). This may be supported by white grapes: Chardonnay, Pinot Bianco and Pinot Grigio. It's also known for the most elegant Pinot Nero rosé sparkling wine, labelled Cruasé.
The Prosecco denomination covers a large area in northern Veneto, and all of Friuli Venezia Giulia. These wines are typically easy-drinking and approachable. Typical flavours: light, refreshing and fruity, with notes of white flower, peach, pear and melon.
Trento DOC
Grape: Pinot Nero, Pinot Nero, Pinot Bianco and Meunier: Region: Trentino
Trento DOC is a highly successful sparkling wine from high-elevation (up to 800m) Alpine vineyards. It can only be produced in the traditional method using Chardonnay. Other grapes may play a supporting role. Trento DOC wine must spend at least 15 month ageing on the lees. Single-vintage (millesimato) wine is aged for 24 months, and riserva for 36 months.
Introduction to quality levels of Italian wine
Can the letters DOC, DOCG or IGT on the label help you pick a good bottle of Italian wine? The short answer is yes. If that's the only information you have, they could be a great help, as they identify what level of quality this bottle is made to.
On 01 August 2009, the European Commission introduced new wine quality levels in Italy (as well as other EU countries): wines with indication of origin (DOP and IGP) and generic wines without[1]. However, countries were allowed to use traditional designations of quality as well. In Italy this includes DOCG, DOC and IGT.
We know this may sound confusing, but don't worry! First, let's see how Italian wineries define the quality level on their wine labels. Then, we'll look under the bonnet and learn why those quality levels are different.
Wines with Indication of Origin
Wines with Indication of Origin are higher-quality wines. This umbrella term includes wines with Protected Denomination of Origin (DOC and DOCG), and wines with Protected Geographic Indication (IGP or IGT). In general, DOCG wines have the highest level of quality, followed by DOC, and then IGT. But in practice, some IGT wines are very valuable.
All wines with Indication of Origin are made in accordance with rules of winemaking, called Disciplinare di Produzione. They are sometimes referred to as "wine laws". For example, the winemaking rules for Chianti DOCG are laid out in Disciplinare Di Produzione della Denominazione di Origine Controllata e Garantita dei vini "Chianti".
Such wines offer the consumer a greater degree of protection, because they know how the wine is made. The wine's Protected Designation is shown on the label to display that the wine has achieved a certain level of quality. By law, any winemaker who wishes to put a certain DOC, DOCG or IGT name on the label must comply with the relevant Disciplinare di Produzione.
The Italian Ministry of Agricultural, Food and Forestry Policies (MiPAAF)[3] manages the Italian wine industry. It registers and supervises each and every denomination (DOCG, DOC, IGT) and its disciplinare. All of Italy's most famous wines including Barolo, Chianti Classico, or Amarone della Valpolicella are made according to an official disciplinare.
Let's look at the sub-categories of wines with Indication of Origin in more detail:
Wines with Protected Denomination of Origin (DOP, including DOC and DOCG)
Denominazione di Origine Protetta (DOP) is the highest quality level, and it translates as Protected Denomination of Origin.
To identify wine's quality on the label, Italy's winemakers can put either DOP, or the traditional terms: Denominazione di Origine Controllata (DOC) or Denominazione di Origine Controllata e Garantita (DOCG). In practice, the most important winemaking areas tend to stick to the traditional DOC and DOCG names. Examples include Barolo DOCG, Brunello di Montalcino DOCG, Valpolicella DOC and many others.
Disciplinare (winemaking rules) for both DOC and DOCG determines where the wine is from and how it's made. This involves a rather high level of detail. First, each disciplinare lists permitted grapes and outlines the most important rules for growing them. It also sets the maximum harvest in tonnes per hectare.
Disciplinare also enumerates the permitted winemaking styles, for example: still, sparkling, passito, or riserva. For each style, it defines which combination of grapes may be used, and the minimum time of ageing required (for example: two years for riserva). Disciplinare draws the boundaries of the wine's territory of origin. It also defines a wine's specific chemical characteristics, such as levels of acid, sugar and alcohol. Finally, disciplinare describes a wine's colour, aroma and taste characteristics.
As we know, the Government ministry MiPAAF manages all Italy's denominations and their wine laws on a high-level. But it delegates the responsibility to protect, supervise and enforce the wine laws for each denomination to local Consorzi (literally: consortiums). These are voluntary organisations of winemakers. For example, the production of Barolo DOCG is supervised by the Consorzio di Tutela Barolo Barbaresco Alba Langhe e Dogliani[4].
DOC and DOCG wines are tested for compliance against quality criteria laid out by the respective disciplinare. If a wine meets the parameters, the winemaker is allowed to label each bottle with fascette – a numbered sticker for the appropriate DOC or DOCG (pictured). Fascette is typically applied on the neck of the bottle. In the vast majority of denominations, the government appoints independent organisations, such as Valoritalia or TCA, to do the testing. However, there are a few exceptions where the testing is managed by consorzio itself.
What's the difference between DOC and DOCG?
The first difference is that winemaking rules – disciplinare di produzoine – for DOCG are more stringent than for DOC. For example, the maximum harvest for DOCG can be from 7 to 10 tonnes of grapes per hectare (depending on the DOCG). On the other hand, for DOC it's can be as high as 12-13 tonnes per hectare. Because of this, DOCG winemakers have to select the best grapes and ultimately produce wines of better quality.
Another important difference is that DOCG provides a "guarantee" that the wine is authentic and meets the quality parameters defined in its disciplinare. While DOC is tested once for the whole vintage, for DOCG the process is different. Before bottling, each batch of DOCG wine is tested separately. First, the wine's chemical parameters are measured. Second, the wine is tasted by an expert panel. It concludes whether the wine offers the expected aromas and flavours, and therefore accurately represents the authentic style of the DOCG. Only if both tests are passed successfully is the winery allowed to print Denominazione di Origine Controllata e Garantita on the label. In "bad" years, winemakers may opt to downgrade their wine to the DOC level.
It's worth mentioning that the DOCG testing process is quite expensive, which pushes the price-per-bottle up relative to DOC or IGT.
Wines with Protected Geographic Indication (IGP or IGT)
IGP stands for "Indicazione Geografica Protetta" in Italian. As above, Italian winemakers are allowed to either use the new term IGP or the traditional term "Indicazione Geografica Tipica" (IGT) on the label. Both legally mean the same thing. So you often find either IGP or IGT on the labels, but they're made to the same standards.
IGT regulations emphasise the region that the wines come from, rather than focusing on a particular winemaking style, because it's the terroir that makes them special. In most cases, the IGT rules aren't as heavily regulated as DOC or DOCG, so winemakers have a lot more freedom to experiment. For example, Roero DOCG only allows one red grape (Nebbiolo) and one white grape (Arneis). But Salento IGT gives the winemaker freedom to use 50 grapes, as long as they're grown in Salento.
One famous example is wines labelled Toscana IGT or Toscana IGP, made to the regulation: "Toscano o Toscana". This IGT was developed in the 1970's when Tuscany's winemakers wanted to experiment and go beyond the limitations of Chianti. Working under Toscana IGT, they came up with fabulous blends of Sangiovese with Merlot and Cabernet, which became famous internationally as "Super Tuscan" wines.
Generic wines, Vini or Vini di Tavola
As often happens in the wine world, this category is more complex than it looks. The lion's share is made up of inexpensive table wines, that sit at the very bottom of the quality pyramid. 54% of all Italy's wine production is simple vino, consumed locally in vast quantities.
But this category also includes a small percentage of high-quality experimental wines. These are produced by reputable winemakers outside of established DOCG / DOC regulations. Often novel wines are crafted as IGT, but that's not always possible. One well-known precedent is the "Super Tuscans", which emerged as vini di tavola in the 1970's before IGT were introduced. Another example is Piemonte, which is home to many fascinating top-quality vini. This province only permits tightly-defined DOCGs and DOCs, and doesn't have a single IGT. Examples of novel Piemontese wines include a sparkling Nebbiolo rosé made with methode champenoise, and an orange wine made from Piemonte's indigenous white grape Arneis.
Key wine-producing provinces and wines of Italy
Now that we understand the difference between DOC, DOCG and IGT wines, it's time to look at Italy's most important provinces. As well as describing the features and landscapes of each region, we'll also discuss the most important wines produced there. This will be a mix of DOC and DOCG – e.g. wines with a proscribed style of winemaking – and IGT, which is based on terroir.
Piedmont | Piemonte
Sandwiched between the Alps in the north and the Apennine Mountains in the south, Piedmont (or Piemonte in Italian) is the home of Nebbiolo, Barbera and Arneis grapes, among others. The vineyard areas of Langhe-Roero and Monferrato are some of the few wine-growing regions to make it onto the UNESCO World Heritage list, alongside St Emilion in Bordeaux and Tokaj in Hungary.
Barolo
The "king of wine and wine of kings", Barolo is considered one of the world's very best wines. It's made from pure Nebbiolo, a grape that's so tannin-packed that its wines need to spend years ageing in oak and bottle to be smooth enough to drink.
Barolo is only grown in a small DOCG (Denominazione di Origine Controllata e Garantita) and there are strict rules related to its production. Standard Barolo has to be aged for a minimum of three years, spending at least two years in oak or chestnut barrels, while Barolo Riserva needs to spend five years in barrel. It should then be left in the bottle for 7-10 years before drinking it.
The best winemakers only produce a few thousand bottles of this delicious wine each year. Demand always outstrips supply, which drives the prices up.
What does Barolo taste like? Barolo is a very complex wine, with a flavour described by some as "tar and roses". Dried black fruits (like cherries and prunes) are met with spices (liquorice, cinnamon and clove) as well as aromas of sweet tobacco, leather and chocolate.
Further reading: In-depth guide to Barolo wine
Award-winning wines from Barolo:
Barbaresco
If Barolo is the king of wines, Barbaresco is the queen. It's also made from Nebbiolo, but while Barolo is austere and muscular Barbaresco is more mellow. It's only grown 12 miles away, in a horseshoe-shaped area around the small town of Neive. The harsh tannins of Nebbiolo tend to soften quicker in Barbaresco, and so it's allowed to age for one year less than Barolo before bottling.
What does Barbaresco taste like? Its aroma is a powerful combination of dried flowers (particularly wild rose and violet), dried fruits (prunes, figs, and strawberry), herbs and spices (liquorice, pepper and cloves) surrounded by rich tobacco, vanilla, chocolate and leather.
Award-winning wines from Barbaresco:
Barbera
Barbera is another popular grape in Piedmont – and accounts for nearly half the amount of vines grown in the region. While it's often found blended into table wines throughout Italy, it shows its best side in the Monferrato region of Piedmont. The very best Barbera wines come from the Barbera d'Asti DOCG – Asti's Nizza sub-zone has recently been granted DOCG status, too. Another excellent example of the wine comes from the Barbera d'Alba DOC.
What does Barbera wine taste like? High in acid and low on tannin, Barbera is typically light and refreshing. Although it has a dark colour it tastes like wild cherries, raspberries and blueberries underpinned by warming vanilla and spice from oak ageing.
Award-winning wines from Barbera:
Arneis
The best examples of this aromatic white grape come from Roero – just on the other side of the Tanaro River from Barolo and Barbaresco. After WWII, Arneis almost became extinct. It was only saved because a few vineyards kept their plantings of this sweet grape to attract pests away from the more valuable Nebbiolo vines. It made an astounding recovery and today it is the region's most prestigious white grape.
What does Arneis taste like? Deliciously sharp and refreshing, it has delicate aromas of fresh pear, apricots and blossom. A hint of hazelnut adds complexity.
Award-winning Arneis wines:
Further reading: In-depth guide to Roero DOCG Arneis and Nebbiolo
Tuscany | Toscana
The birthplace of the Renaissance, Tuscany (or Toscana in Italian) holds an important role in Italian identity. It's also home to some of Italy's boldest and brightest red wines, which are intrinsically linked with the region's rich art and religious history. The vineyard-studded hills and valleys have been immortalised by famous artists throughout the ages.
Chianti and Chianti Classico
Both Chianti and Chianti Classico are made from the same grape, Sangiovese, but the similarities end there. The Chianti DOCG denomination covers a patchwork of wine-growing areas throughout Tuscany, which means you'll find wines of different styles and quality levels. While some winemakers produce excellent Chianti, others turn out huge volumes of inexpensive wine. Ninety million bottles of Chianti is produced every year.
On the other hand, Chianti Classico can only be made in a small area in the mountains between Florence and Siena. In general, Chianti Classico offers a more consistent taste and quality, and the annual production is over thirty million bottles. Premium examples of Chianti Classico are very complex, with concentrated aromas of red cherry, vanilla, cloves, dark chocolate, tobacco and leather.
What does basic Chianti taste like? Chianti is a savoury wine with a characteristic bitterness. Fruity aromas of sour cherries dominate, and are amplified by some dried herbs and earthiness.
What does Chianti Classico taste like? You can expect concentrated flavours of dried cherry, plum, cinnamon and spice. It's Italy in a glass.
Super Tuscans
Tuscany is also famous for the Super Tuscan wines – red wines made from international grapes like Merlot, Cabernet Sauvignon and Cabernet Franc, often blended with Tuscany's Sangiovese. Sassicaia and Tignanello were two of the first Super Tuscans to grab global attention during the 1970's. Because they don't use the approved appellation grapes, they have to be labelled as IGT (Indicazione Geografica Tipica). We offer several Super Tuscans: Gagliole from Chianti Classico – a highly respected wine that has won the Decanter Platinum medal. Another example is Fiero – a Toscana IGT wine from Ridolfi, a family-owned winery that also produces the award-winning Brunello di Montalcino.
What does Super Tuscan wine taste like? It depends on the grapes used. Generally speaking, they are fantastic quality, comforting wines. They often have rich aromas of black cherry, leather and cocoa.
Brunello di Montalcino
The youngest of Italy's prestigious wines – it was first made in 1865 – Brunello di Montalcino is grown in one of the country's most arid DOCG regions. It goes through a lengthy aging period of two years, and is often aged in small barriques which lend notes of spice and vanilla to the wine. For a less expensive version, look for Rosso di Montalcino – it's made in a similar way, but can be released a year earlier.
What does Brunello di Montalcino taste like? This wine ages well and has an interesting flavour profile. You can expect to find wild strawberry, espresso and violet flowers all in the same glass.
Award-winning wines from Tuscany:
Veneto | Vèneto
Veneto is Italy's most productive wine-growing region. Because the warm days are cooled by breezes from Lake Garda to the west and winds from the Alps to the north, grapes grown here often develop into fresh and enjoyable wines.
Veneto produces over 1 billion bottles of wine with protected designation of origin every year (2018). That's more than the next three wine-making provinces combined, and almost four times as much as the whole of Tuscany. Prosecco DOC, Asolo Prosecco DOCG and Conegliano Valdobbiadene – Prosecco DOCG together are responsible for more than 511 million bottles annually [8, 2020].
The zone of Valpolicella lies to the east of Lake Garda and north of Verona. It is home to world-famous wines made from indigenous grapes: Corvina Veronese, Corvinone and Rondinella. Denominations of Valpolicella include: Valpolicella DOC (dry red wine), Recioto della Valpolicella DOCG (dry red or sparkling wine), Amarone della Valpolicella DOCG (dry red wine with concentrated flavours made from half-raisined grapes), Valpolicella Ripasso DOC (Valpolicella wine co-fermented with grape skins from Amarone, and up to 15% Amarone wine).
Valpolicella DOC produces about 18 million bottles annually (2018). As for the highly prestigious Amarone della Valpolicella DOCG, "only" about fifteen million bottles are made ever year. It's a lot, but it seems tiny in comparison with the gigantic volumes of Italy's no.1 bubbly, Prosecco, which is made nearby.
Venezia DOC produces 8.5 million bottles of mostly inexpensive wines for easy drinking. Although this DOC makes many wines for the domestic Italian market, such as red Raboso, white Verduzzo and sparkling "spumante" Glera, internationally it's best known for inexpensive Pinot Grigio.
Prosecco
Prosecco is Italy's most famous sparkling wine. It's boomed in popularity over the past decade, especially in the UK where hundreds of millions of bottles are drank each year.
The denomination of Prosecco DOC occupies the flat area north of Venice. It produces a whopping 400 million bottles every year, which is mostly inexpensive wine for easy drinking [8, 2020].
The best Prosecco wine comes from a small hilly area between towns of Conegliano and Valdobiaddene. The denomination of Conegliano Valdobbiadene – Prosecco DOCG produced 92 million bottles of high-quality fizz annually. The cream of the cream of Prosecco comes from Cartizze, which makes wine labelled Valdobbiadene Prosecco Superiore di Cartizze DOCG.
Prosecco is mainly made from the Glera grape, though it can contain up to 15% of varieties like Pinot Grigio, Pinot Bianco and Chardonnay.
Prosecco is made in the tank method (known as metodo Matrinotti in Italy or Charmat method in France). This process helps to preserve the fresh fruity flavours of the grape, which has become so popular with many wine-drinkers in Italy and abroad. First, the base wine is made from Glera (and possibly other permitted white) grapes in stainless steel tanks. Then, sugar and yeast are added to the tank, and the second fermentation takes place. This increases the level of alcohol, and produces CO2 bubbles which dissolve in the wine.
What does Prosecco taste like? Prosecco is a fresh and lightly floral sparkling wine, with a clean flavour and frothy bubbles punctuated by notes of peaches, pear, honeysuckle and melon.
Amarone della Valpolicella
This powerful red wine is made from dried grapes – usually a blend of Corvina and Rondinella.
After harvesting, the grapes spend around three months in fruttaio – drying lofts in the winery. Here, the grapes are dried – usually with large industrial fans – until they almost become raisins. As the water evaporates, the flavours and natural sugars in the grapes become very concentrated. Then the half-dried grapes are fermented, to produce one of the most delicious red wines of the world – Amarone.
The process of producing wine from half-dried grapes is called appasimento. Only a small number of Amarone wineries are certified organic. Camilla Rossi Chauvenet (owner of Massimago winery), the female producer of organic Amarone, explains: "It's very challenging to produce organic Amarone, and it requires very precise process, dedication and skills. Traditional wineries often use chemicals to protect the grapes from the parasites during the drying process."
Although it is made from raisins – a technique which usually results in a sweet wine – Amarone della Valpolicella is dry. It takes its name from its bitter (amaro) yet enjoyable finish. Traditionally it is aged in large oak barrels, although some producers prefer to use smaller barriques for that distinctive oak spice. This wine has serious aging power.
What does Amarone della Valpolicella taste like? This rich wine combines flavours of cherry, chocolate and spice. As it ages, notes of dried fig and brown sugar start to develop. It has high acidity, high alcohol and lots of velvety tannins.
Further reading: Guide to Amarone and Valpolicella
Pinot Grigio
Everyone knows Pinot Grigio. It's the quintessential fresh, dry and slightly aromatic white wine – and overtook Chardonnay as the world's most popular white grape in the early 21st Century.
Veneto is the spiritual home of Pinot Grigio. Here, easy-drinking and inexpensive Pinot Grigio is is produced in Venezia DOC, in the large plains to the north of Venice, and around the city of Treviso.
What does Pinot Grigio taste like? Pinot Grigio is light and refreshing wine. Best examples will have expressive fruity aromas of grapefruit, lime, melon and pear.
To develop into a premium style of wine, the Pinot Grigio grapes need higher acidity. As such, refreshing Pinot Grigios with tropical flavours are produced in the hills of Friuli-Venezia to the north-east, or in the Alps in Alto Adige DOC to the north from Veneto.
Try these award-winning wines from Veneto:
Lombardy | Lombardia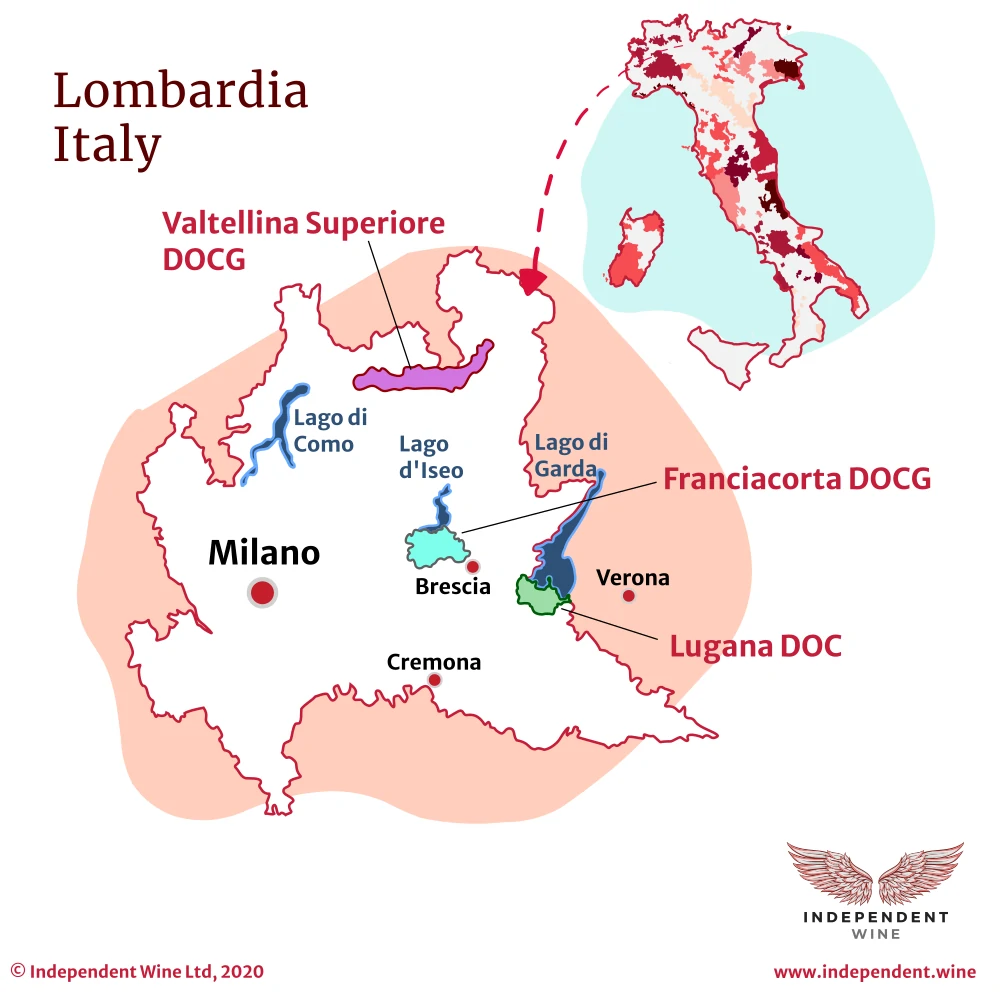 Italy's richest region, Lombardy, has the Alps in the north and the banks of Lake Garda in the west. These, as well as smaller lakes and hills, have a huge influence on the style of wine produced. The jewel in Lombardy's crown is the fashionable city of Milan.
The biggest DOCG wine of Lombardia is Franciacorta DOCG – almost 18 million bottles of this wine is produced each year. Lately it's been gaining international popularity, and we'll speak about it in more detail below.
Although there are 22 DOC and five DOCG areas in Lombardy, most other wine grown there is for local consumption and rarely reaches the export market. The most important DOC of Lombardia is Bonarda – 19 million bottles are produced each year. This red wine is made in still and sparkling styles, and comprised of at least 85% Croatina (a grape locally known as Bonarda). The rest is made up of Barbera, Ughetta and Uva Rara. Situated on the south side of Lake Garda, Lugana DOC (producing nearly nine million bottles annually) is another important wine of Lombardia. It's made from the Trebbiano di Soave grape in a variety of styles, from still dry wine to sparkling "spumante". Lombardia also has its own Nebbiolo wine (here, this grape is called Chiavennasca) produced in Valtellina Superiore DOCG, in the very north of Lombardia. But with only 1.5-2 million bottles produced each year, it's a much lesser-known name than the big Nebbiolo reds from Piemonte.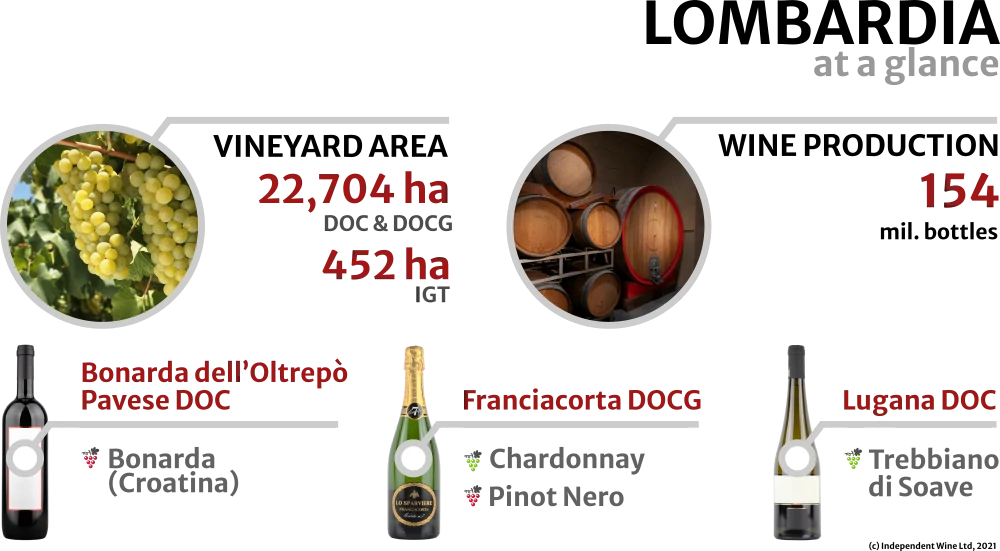 Franciacorta
Franciacorta is a DOCG sparkling wine, made in the traditional method. This is why some people refer to it as Italy's answer to Champagne. It's also made from similar grapes: Chardonnay, Pinot Noir and Pinot Bianco (in place of Pinot Meunier). Franciacorta wines have to spend a minimum of 18 months on the lees – this rises to 30 months for vintage wines, and 5 years for Riserva wines.
Look out for Franciacorta Satèn – this is blancs de blancs Franciacorta, so it is only made from white grapes, and has spent at least two years aging on the lees.
What does Franciacorta taste like? Sophisticated and elegant, Franciacorta often has notes of light citrus like lemon combined with the flavours from its lees and bottle aging – toasted nuts, brioche and dried fruit.
Award-winning wines from Lombardy:
Apulia | Puglia
The heel of Italy's boot is where most of the country's table grapes are grown. In wine terms, it's most famous for two bold reds which have a huge following in the UK. These are Primitivo, more famously known by its American name Zinfandel, and the native grape Negroamaro. Some winemakers can work wonders with these grapes, creating rich wines with aromas of blackberry, black plum, coffee and vanilla.
Primitivo
Dark and rich Primitivo wines are usually made from grapes grown in the centre of Puglia, between Bari and Matera. Primitivo di Manduria DOC, located just east of Taranto, produces around 20 million bottles per year (2018). Many of the top award-winning Primitivo wines come from Salento IGT, which makes over 16 million 75cl bottles per year (2018).
What does Primitivo taste like? Primitivo is a big, bold wine. It's usually full bodied and high in alcohol, with medium levels of tannins and acidity. Its flavours are pronounced, and are often reminiscent of very ripe dark berries – like blueberry and blackberry – as well as liquorice and black pepper. A lot of Italian Primitivo is now aged in American oak, to give it a flavour similar to the famous red Zinfandels from popular regions like Lodi in California. As such, you can usually expect flavours of dark chocolate, sweet tobacco and cinnamon spice.
Further reading: In-depth guide to Primitivo (Italian Zinfandel) wine and Salento IGT
Negroamaro
Negroamaro has been grown in Puglia for at least 1,500 years, and its name translates as "black and bitter". The best examples come from the Salento Peninsula, particularly the Salice Salentino DOC. Here, the warm Mediterranean climate ripens the grapes so they're juicy, sweet and flavoursome while the cooling effect of the Adriatic and Ionian Seas maintain the fruit's freshness. While Negroamaro is usually used to make exuberant red wines, it's sometimes used for rosé.
What does Negroamaro taste like? Dark and savoury, Negroamaro combines flavours of ripe black fruit with spicy and herbal notes of clove, cinnamon and thyme.
Award-winning wines from Puglia:
Sardinia | Sardegna
The island of Sardinia has its own distinct culture and lifestyle, different from the Italian mainland. One thing that makes Sardinia unique is that it's home to more people who live to over 100 than anywhere else in the world. Another is its wines.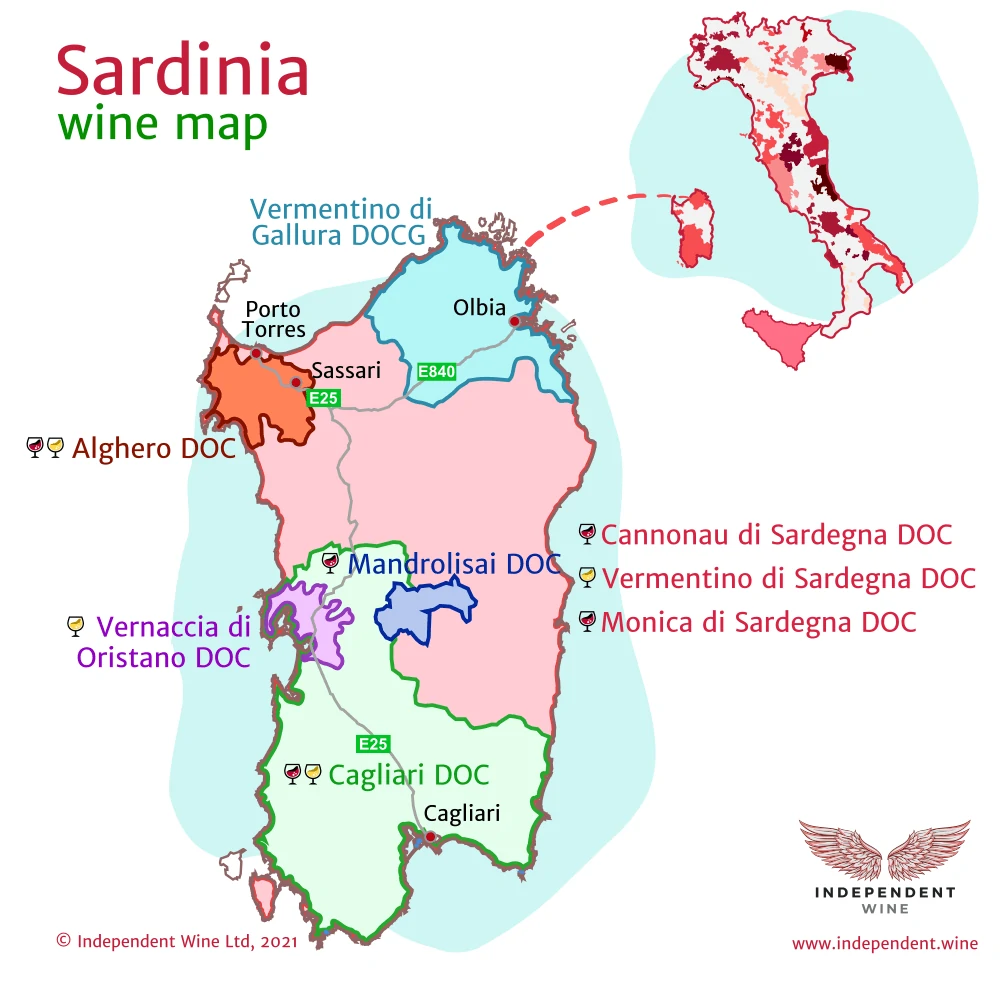 The island's wine industry only turns out 44 million bottles of wine per year[6] – five times fewer than Sicily. Although Alghero DOC produces around 1.5 million bottles of red and white wines from international grapes like Cabernet Sauvignon and Chardonnay, Sardinia is most famous for its one-of-a-kind wines crafted from the island's local grapes. These are exclusive to Sardinia, and can't be found anywhere else in the world.
The most important red grape from Sardinia is Cannonau, which is used to produce rich, deep and smooth red wine of the same name. The prevailing theory is that it's a clone of Garnacha Tinta brought from Spain following Peter IV of Aragon's conquest in 1354[5]. However, some scientists claim that Cannonau is indigenous to Sardinia, and is actually 3,200 years old – which would make it the oldest red grape of the Mediterranean.
One way or another, Cannonau is deeply rooted in Sardinian life. Its main production zone is Cannonau di Sardegna DOC, which covers the whole island, but it is also allowed in other DOCs. For example it makes a powerful blend with Sardinia's native grape Monica in Madrolisai DOC.
Sardinia's signature white wine is Vermentino. Very refreshing, it's know for its taste of pear, melon and lime – ideal for enjoying chilled on a summer afternoon. Although this grape is permitted in several DOCs, the main one is Vermentino di Sardegna DOC. This zone covers the whole island, and wine is made in a range of different quality levels. For the highest-quality examples of Vermentino, look for Vermentino di Gallura DOCG from the island's north-east.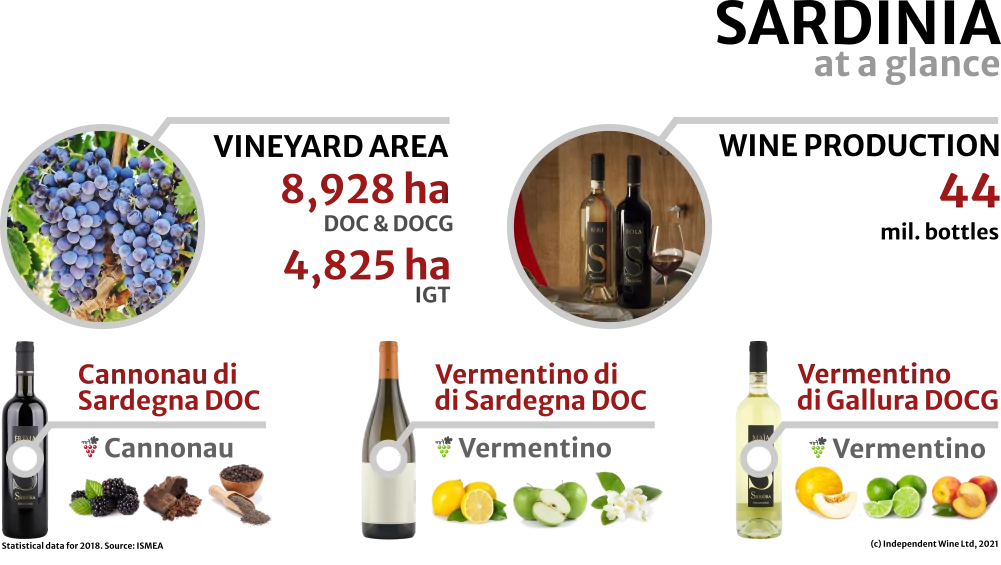 Vernaccia di Oristano DOC is known for fortified white wine, made near the town of Oristano on Sardinia's west coast. This wine is made in a similar way to Amontillado sherry. The base white wine is aged in barriques connected to a solera system. The first ageing happens under a thick layer of flor, and after that the wine is fortified and aged in contact with air. A well-made Vernaccia di Oristano offers enchanting aromas of marmalade, hazelnut, almond, and dried apricot – a flavour locally known as murrai.
Monica DOC and the highland zone of Mandrolisai DOC produce elegant red wines made from the Monica grape, which can only be found in Sardinia. This wine bursts with flavours of red berries and mountain herbs, and is best enjoyed young.
What does Cannonau di Sardegna taste like?
High in alcohol and tannin, Cannonau di Sardegna is a prime wine for aging. It has deliciously ripe flavours of cranberry, plum and tobacco underpinned by rich notes of coffee, chocolate and white spice from its time in barrel.
What does Vermentino taste like?
Vermentino combines zingy flavours like green apple, grapefruit and lime. Its most distinctive characteristic is the slightly bitter finish, which is reminiscent of green almonds or citrus pith.
Try those award-winning wines from Sardina:
Sicily | Sicilia
Sicily is the largest island in the Mediterranean, and has some of the oldest wine traditions in Italy dating back to the Phoenician outposts founded in 800-600 BC, including Palermo and Marsala. Today, Sicily has 75 thousand hectares of IGT, DOC and DOCG vineyards, producing more than 250 million bottles of wine per year – about the same volume as Tuscany. There's a great difference, however – seventy percent of Sicily's vines are planted on challenging landscapes, with most sitting on the steep slopes of hills and volcanic mountains.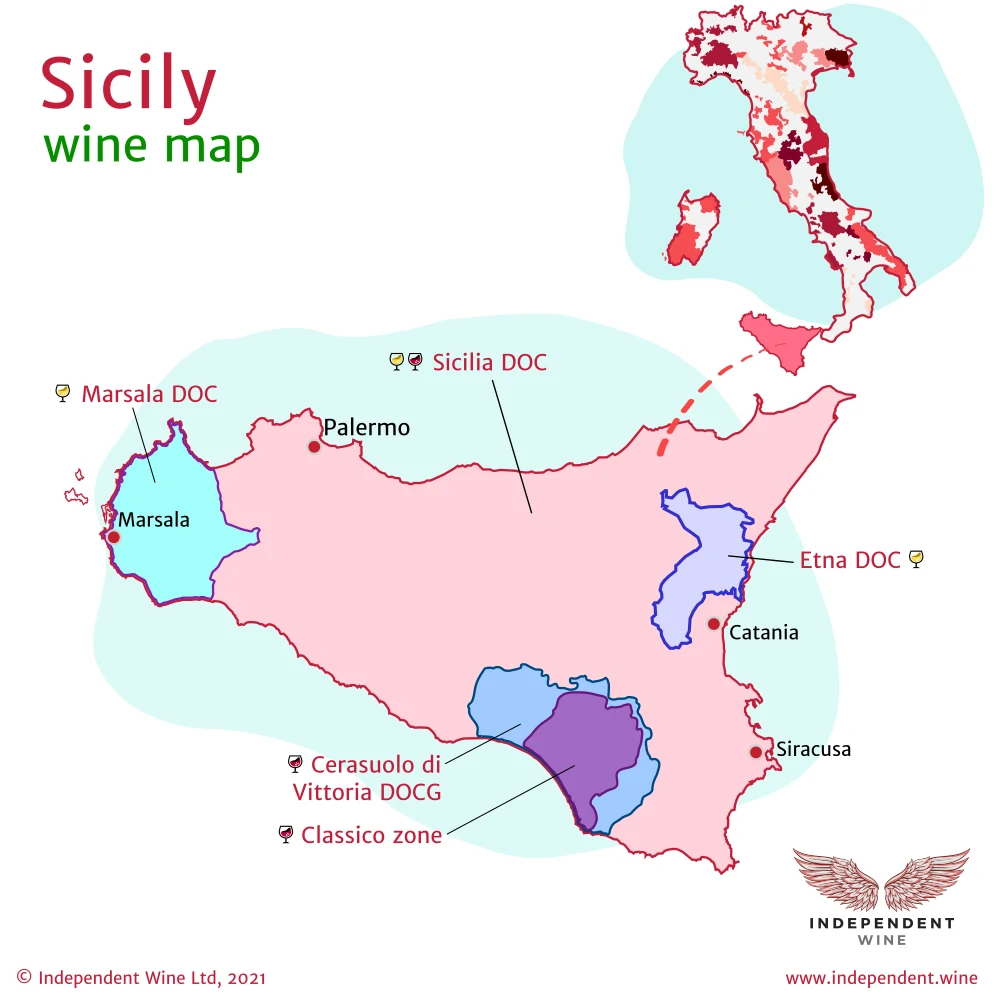 Sicily has 23 DOC areas. The biggest of them, Sicilia DOC, covers the whole island and produces 77 million bottles of wine each year. These are mostly made from grapes indigenous to Sicily. Red wines are mainly made from Nero d'Avola and Frappato, while zesty whites are crafted from Carricante, Catarratto and Grillo.
Marsala is the signature fortified white wine of Sicily, and the island produces 6.7 million bottles of Marsala DOC every year.
Etna DOC makes refreshing whites – Etna Bianco and Etna Bianco Superiore – using Sicily's native white grape Carricante. Though the DOC regulations allow winemakers to add a small quantity of another white grape, Catarrato. You can also find Etna DOC rosé (Etna Rosato) and dry red (Etna Rosso) made from the red grapes Nerello Mascalese and Nerello Mantellato. You can even find sparkling Etna Spumante produced from Nerello Mascalese, sometimes blended with other grapes from Sicily.
Cerasuolo di Vittoria DOCG is the only DOCG area on Sicily. It produces top-quality red wines from Nero d'Avola and Frappato grapes. Under these rules, vine-growers are allowed to harvest no more than 8 tonnes of top-quality grapes per hectare. This means the winemakers are forced to use only the best grapes. The wines typically have a deep ruby or garnet colour, and a smooth taste of black fruits and spices. The DOCG area covers the neighbouring provinces of Ragusa, Caltanissetta and Catania in the south-east of Sicily. In this large area, only 150 hectares of vineyards are planted on the slopes of the mountains, and only 800 thousand bottles of this wine are produced every year.
Nero D'Avola
There's nothing subtle about Sicily's most loved red grape, Nero D'Avola. It's seriously fruit forward and full bodied with plenty of smooth tannins. In the past it was often used in table wine blends, but over the past two decades it's grown in popularity as a single varietal wine.
What does Nero D'Avola taste like? Every mouthful brings a bouquet of ripe fruits including blackberry, plum and sweet cherry. This is underpinned by richer notes of chocolate, coffee and peppery spice for a rich, rounded finish.
Marsala
Marsala is an aromatic and spicy fortified white wine. It offers flavours of marmalade, caramel, honey and spices. It is made in a range of styles, from dry to sweet. It's also available in different quality levels, from the basic Marsala Fine that must be aged for one year, to Marsala Vergine Stravecchio that stays in the cellar until its tenth anniversary – more or less like Scotch whisky.
In the 1700's, Sicily's winemakers developed a non-stop method of producing fortified wine in a series of connected barrels. This method is called in perpetuum – very similar to the way Spanish Sherry-makers use the solera system. Fortified wine was important in those days, because it could survive long sea voyages. Ideal for the vast British Empire. But, since Britain was constantly at war with Spain and France, an alternative to the Spanish Jerez was highly desired. In 1796, John Woodhouse, an English merchant, was the first to start a venture in the port of Marsala to mass-produce fortified wine. In the 20th century the market for fortified wine reduced, but to this day Marsala remains a signature wine of Sicily.
Award-winning wines from Sicily to try:
Alto Adige
The northernmost part of Italy, Alto Adige is home to Europe's highest vineyards – sitting as high as 1,100 metres. These high altitudes help to preserve acidity and freshness in the grapes, resulting in cold-climate Italian reds with a distinctive flavour. This German-speaking region tends to use a lot of international grape varieties, and there aren't as many DOC regulations as the rest of Italy.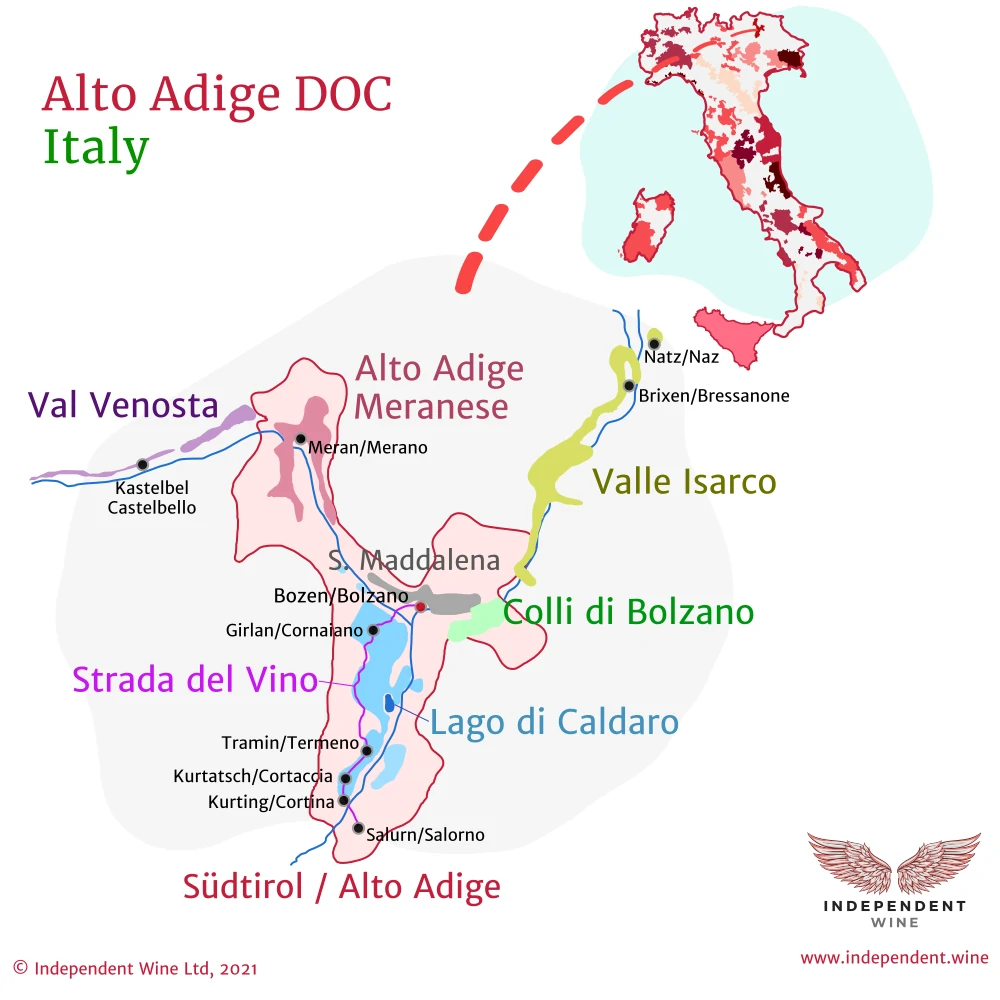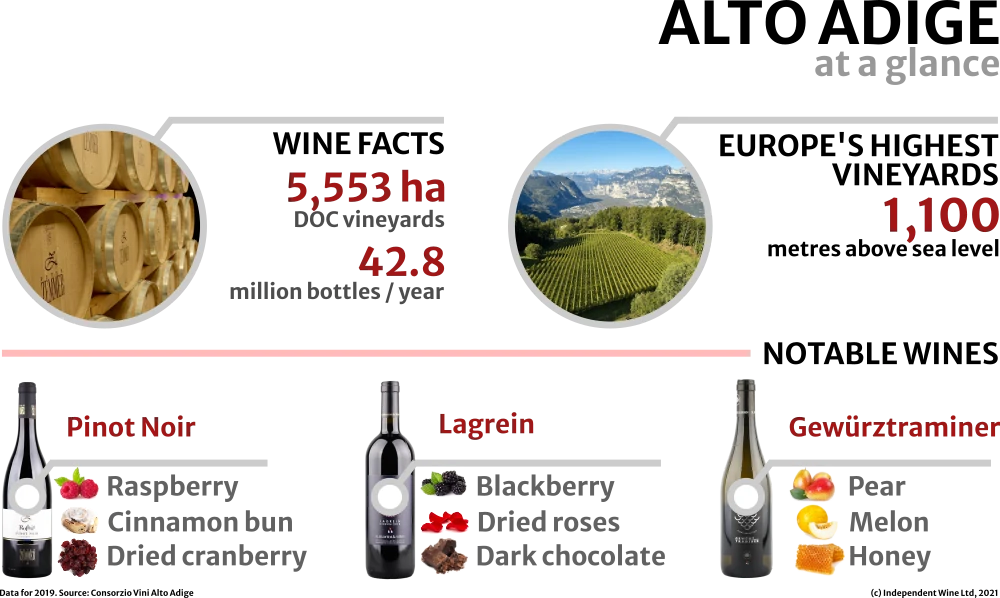 Lagrein
Lagrein is a red grape indigenous to Alto Adige, and it's a real powerhouse with lots of acid and tannin. It's used to make the red Lagrein Scuro (also known by its German name, Lagrein Dunkel) and the fragrant rosé Lagrein Rosato (Lagrein Kretzer). One of the most surprising things about the red version is that it tastes fantastic when it's been slightly chilled.
What does Lagrein taste like? There's plenty of crunchy acidity to get your mouth watering, with notes of raspberry, red plum, freshly cracked pepper and coffee.
Gewürztraminer
Beautifully perfumed and aromatic, Gewürztraminer is one of Alto Adige's most distinctive wines. It has a deep golden colour, thanks to its natural pink tinge, and a fragrance that simply leaps out of the glass. The perfect antidote to Italy's crisp and dry white wines, Gewürztraminer is off-dry with a smooth, almost oily texture thanks to its low levels of acid.
What does Italian Gewürztraminer taste like? The slight sweetness of the wine is only enhanced by its natural aromas of juicy lychees, rose petals and a tongue-tingling hint of ginger.
Pinot Blanc (Weißburgunder)
Weißburgunder – or Pinot Blanc – is a grape that thrives in the high altitude vineyards of Alto Adige. As it has relatively low acidity, it produces wines with a rounded texture. It's subtly flavoured, and a fantastic everyday option.
What does Italian Weißburgunder taste like? light and delicate, Weißburgunder from Alto Adige tastes like crisp green apple, juicy pear and zingy lemon. With some aging, notes of hay and toasted nuts can develop.
Pinot Noir
The classic grape of Burgundy, Pinot Noir has a new home in the high vineyards of Alto Adige. This light-bodied red wine is renowned across the world for its delicate, red-fruit flavours.
What does Italian Pinot Noir taste like? Pinot Noir from Alto Adige is packed with aromas of purple and red berries, offset by a hint of Christmas spice and floral notes of violet.
Award-winning wines from Alto Adige:
Further reading: Guide to Alto Adige DOC
Sweet Wines of Italy
There's no better way to finish than with a glass of sweet wine – and so we're ending our article with a discussion of two of the best Italian sweet wines.
Passito wines
Italian Passito wines are made from "late harvest" Moscato or Gewurztraminer grapes, which have been dried until they are practically raisins. In southern regions, winemakers dry their grapes on the vines. The ripe berries slowly dry and shrivel in the sun. As the water evaporates, the juice inside the grapes becomes much more concentrated.
In the Alpine region of Alto Adige, Gewurztraminer grapes are also dried on the vine, and harvested as late as mid-December. Moscato, with its thin skin, cannot last outside that late into winter. So, after harvesting in November, Moscato grapes are dried until December in the winery's warm and airy lofts.
The passito method of winemaking results in lower yields, as you get less liquid from a raisin than a grape. The wines are usually high in alcohol, lusciously sweet and full of flavour. They're usually sold in a half-sized bottle because they're so rich, and often come with a higher price tag due to the small yields.
Alto Adige also makes one of the most exclusive and beautiful sweet wines – Moscato Rosé. The plantings are of this grape are tiny, as it doesn't self-pollinate and is a tough one to grow. But the resulting wines are out of this world.
Vin Santo
This unctuous dessert wine has a name that translates as "Holy Wine". It's made from the white grapes Trebbiano and Malvasia, which are left to dry in the sun to concentrate the sugar as they slowly transform into raisins. The resulting wine is aged for up to a decade in small barrels, with a little bit of air at the top so that the wine gently oxidises. It's usually paired with biscotti.
What does Vin Santo taste like? Deep golden in colour, Vin Santo has a heady flavour combination of dried apricot and tropical fruits complemented by classic oxidised aromas of caramel and nuts.
Exceptional Italian sweet wines to try:
Moscato d'Asti
Low in alcohol and enlivened with subtle sparkle, Moscato d'Asti is a gorgeous wine for a summer afternoon. It was originally made by winemakers so that they could drink at lunchtime without becoming tipsy. It is made from Moscato Bianco grapes – one of the oldest varieties grown in Piedmont.
What does Moscato d'Asti taste like? Ripe peaches, honey and orange blossom add to this wine's summery flavour. It's also one of the few wines that smells and tastes like grapes.
Sweet Moscato to try:
Continue your passion for Italian wines
We hope you found this article interesting and informative – and now feel a little closer to being an expert in Italian wines. We're always happy to chat about all things wine, so if you have any questions about our Italian wine please feel free to get in touch.
Or, if you want to know more about Italian wines, we have plenty of in-depth articles:
Read our food and wine pairing guides:
Read our wine tourism guides:
Read our guides to the most popular wines:
Arrivederci!
References and further reading
[1] COUNCIL REGULATION (EC) No 479/2008 https://eur-lex.europa.eu/legal-content/EN/TXT/?uri=CELEX%3A32008R0479
[2] Confederazione Nazionale dei Consorzi Volontari, FEDERDOC https://www.federdoc.com/en/the-pyramid-of-italian-wines/
[3] The Italian Ministry of Adrigultural, Food and Forestry Policies
[4] Consorzio di Tutela Barolo Barbaresco Alba Langhe e Dogliani https://www.langhevini.it/
[5] Native Wine Grapes of Italy, Ian D'Agata, University of California Press, 2014
[6] Istituto di Servizi per il Mercato Agricolo Alimentare (ISMEA) http://www.ismea.it/
[7] https://www.decanter.com/decanter-world-wine-awards/platinum-the-97-point-wines-of-dwwa-2022-481634/
[8] ISMEA Mercati https://www.ismeamercati.it/