White Wine for Risotto
Italian Food and Wine Pairing / White Wine for Risotto
Choosing which white wine for risotto means picking a bottle that works equally well in the dish as well as in the glass beside it. White wine is one of the signature ingredients of risotto, but most recipes only call for a small glassful. Rather than opening a whole bottle for the sake of cooking, it's important to choose a wine that you'll be able to enjoy alongside your meal. This means avoiding cheap, bottom-shelf supermarket wines.
After all, you want the entire process to feel special. Risotto is one of the most relaxing things to cook at home. Slowly stirring wine and broth into rice almost feels like a ritual, giving you a mindful half hour as the dry arborio takes on a creamy and lush texture. Depending on the ingredients you use, risotto can be a comforting midweek meal or something seriously special to impress dinner party guests.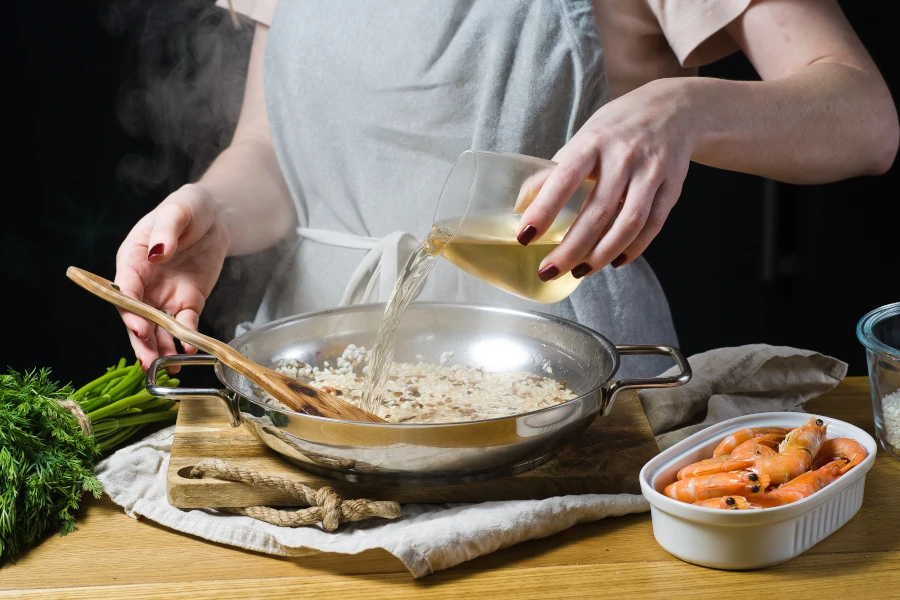 So, which white wine is best for risotto? As usual, it all depends on the other ingredients of the dish. The main thing is to remember the wine's role of adding acidity. Therefore, it's best to choose a dry, crisp white wine. Creamy, oaky wines like a Californian Chardonnay may overpower the other flavours, while low acidity wines like Viognier won't create the same pleasant tang.
As always, "what grows together goes together" and we think these Italian white wines are best for risotto:
Contents: The Best White Wines for Risotto
Best for mushroom risotto: Pinot Grigio
Pinot Grigio is known for its clean flavour, with crisp notes of citrus and green fruit underpinned by a touch of minerality. This zingy wine is light and super versatile, and will taste equally as good in a mushroom risotto as it does with seafood platters.
To make a great mushroom risotto, stir a half a cup of Peter Zemmer Pinot Grigio Riserva and five cups of chicken broth into your rice. The subtle almond flavour of the wine works well with the nuttiness of the mushrooms. Before cooking your rice, gently sweat sliced mushrooms in butter until they're brown to unleash their flavoursome juices. Put them to the side, sauté chopped shallots in the pan until they turn translucent, and then toss in your arborio rice. Once it's slightly golden, it's time to add the wine before slowly stirring in the hot stock; one ladle at a time.
Best for seafood risotto: Arneis
Delightfully sharp and refreshing, Roero Arneis has plenty of mouth-watering zing to elevate your risotto. This delicately flavoured wine tends to taste of blossom, fresh pear and apricots with just a hint of hazelnut. An excellent example for seafood risotto is the award-winning Demarie Roero Arneis DOCG. You just need a small glass (120ml) for the recipe, and you can sip the rest of the bottle – with its light notes of honeysuckle, elderflower and apricot stone – as you enjoy dinner.
Use a selection of seafood. Shell-on prawns, mussels, juicy chunks of monkfish and tender slices of squid are a classic mix. Start by gently cooking chopped shallots and garlic in butter before adding the rice, stirring until it's coated with butter. The Arneis is the next ingredient and, once all of it has been absorbed, it's time to slowly ladle in your fish stock. The shellfish should be cooked separately, and used to top the rice once it's creamy, tender and ready to eat.
Best for risotto Sardo: Vermentino
Sardinia's signature white wine, Vermentino, is fruity and fresh with tangy notes of grapefruit, green apple and lime. It has a pleasantly bitter finish, often compared to green apples and citrus pith. This makes it the perfect addition to any risotto, but why not go traditional and try a Sardinian recipe like Risotto Sardo alla Zafferano (saffron risotto)?
You'll need a small glass (about 100ml) of Siddùra Spèra Vermentino di Gallura DOCG and about two and a half pints of pork stock. First, soak a pinch of saffron in water and set it aside. Next, render out the fat from some pancetta or pork belly, and use it to fry your onions until soft. Add 300g of cubed pork shoulder, slowly splashing in the wine to deglaze the pan and infuse the pork with its bright and fresh lemony flavour. Add a tin of tomatoes and the saffron with its soaking water. Once the pork becomes fall-apart soft, add the rice. Stir until coated, and then add your hot pork stock one ladleful at a time.
Best for vegetable risotto: Trebbiano Spoletino
Not to be confused with the neutral Trebbiano Toscano, Trebbiano Spoletino has a crisp and delightfully fresh taste with zingy notes of lemongrass, lime and grapefruit with just a touch of bitter rosemary. This sharp wine will lend the required acidity to any risotto. For something a little left-field, try it in an Asian-style risotto. The notes of lemongrass will complement the eastern flavours in this fusion dish.
Plant-based food blog Bosh! has a fantastic Asian-inspired vegetable risotto recipe. It's packed with veggies like spring onions, shiitake mushrooms, pak choi, tenderstem broccoli, coriander leaf and edamame beans. Aromatics like garlic, ginger, sesame oil, green chilli, miso paste, coriander stems and soy sauce add plenty of flavour to the base. While their super-healthy recipe doesn't include wine, we reckon adding a small glass of Fratelli Pardi Trebbiano Spoletino DOC just before the stock will add even more depth. Top with coriander, spring onions and a drizzle of soy sauce and sesame oil to serve.
Best for a dinner party risotto: Franciacorta
Our final pick is quite decadent, but when you want to break out a dinner party show-stopper this is the one. Franciacorta is essentially Italy's answer to Champagne. It's made using the same method, and from similar grapes – Chardonnay and Pinot Noir, with Pinot Bianco instead of Champagne's Pinot Meunier. Of course you won't use the whole bottle in the risotto, and the benefit is you can enjoy the rest of the fizz as you eat.
Restaurant Dispensa Pani e Vini in the Franciacorta region makes a delicious risotto, where the bubbly is the star of the show. First, the rice is toasted in extra virgin olive oil before 150ml (about one champagne flute) of Franciacorta wine is added – we recommend Lo Sparviere Brut Cuvée N.7. Next, hot meat broth is slowly stirred in followed by butter, cream and Fatuli – a type of smoked goat cheese local to the region. Finally, the restaurant tops the dish with spherified Franciacorta, but – unless you're Heston Blumenthal – a scattering of fresh parsley and a splash of oyster water will do the trick when serving at home.
Find white wine for risotto with next day delivery
As you start to experiment with risotto recipes, you'll soon figure out which flavour combinations work best for your own taste. The main thing to remember is that, if you enjoy drinking the wine on its own, it's likely that you'll enjoy it when it's cooked into your risotto. Just be considerate of how the flavours in the wine might work with your other ingredients, and remember that cooking concentrates the sweetness, acidity and flavour profile of the wine.
Our collection of award-winning Italian white wines features plenty of bottles that will add extra "oomph" to your risotto. Take a browse, and enjoy free next day delivery to the Mainland UK.