This August, Elvira and I hopped in our car and drove 1,500 miles from Edinburgh to Alto Adige to meet our winemakers. This denomination is home to Europe's highest vineyards, planted on the slopes of the Dolomite Alps, and it's stunningly beautiful. We had such a wonderful experience, and couldn't wait to share it with our fellow wine enthusiasts. So, we've put together this travel guide to explain what makes Alto Adige and its wines so special. If you decide to visit, here are some practical tips on what wineries to visit and where to stay.
Alto Adige DOC: the home of zingy white and red wines
Alto Adige DOC is an Italian wine-growing region that produces high-quality aromatic white wines like Riesling, Gewürztraminer, and Pinot Bianco. These are dominated by aromas of tropical fruits like passion fruit, guava and lychee. It's also known for Pinot Noir, which is packed with crisp and juicy red fruit aromas like fresh raspberry and cranberry, or fresh black fruits like blackberry and mulberry.
The terroir of Alto Adige is what makes its wines so unique. The region is a wide glen, sandwiched between two ridges of the Dolomite Alps, and stretches from north to south. The hot Italian sun ripens the grapes to perfection, but is moderated by the winds. Every afternoon after 2PM, a cold breeze blows up from Lake Garda while at night, cold air rolls down from the Alpine glaciers that encircle the valley.
The very best vineyards are located high on the steep Alpine slopes. Many sit 300-500 metres above sea level, while some are planted as far up as 1,000 metres. This makes Alto Adige the highest wine-growing region in Europe. The high altitude and cooling winds help the grapes to retain their acidity, which ensures the wines are refreshing and zingy as well as fruity and flavoursome.
In the past few years, small wineries from this Alpine region have won a number of Decanter Platinum, Gold, and Silver medals for their wines, confirming their exceptional quality.
Where is Alto Adige located?
Alto Adige DOC is in the Trentino-Alto Adige region, also known as South Tyrol, which islocated in the Dolomite Alps in the north-eastern corner of Italy. Its capital city is Bolzano, which has an intriguing Medieval centre and an excellent archaeological museum (it's home to the famous Ötzi the Iceman). Alto Adige only became part of Italy under the Treaty of Saint-Germain. It was part of Austro-Hungarian empire until 1919 – which is why German is still the main language spoken here today.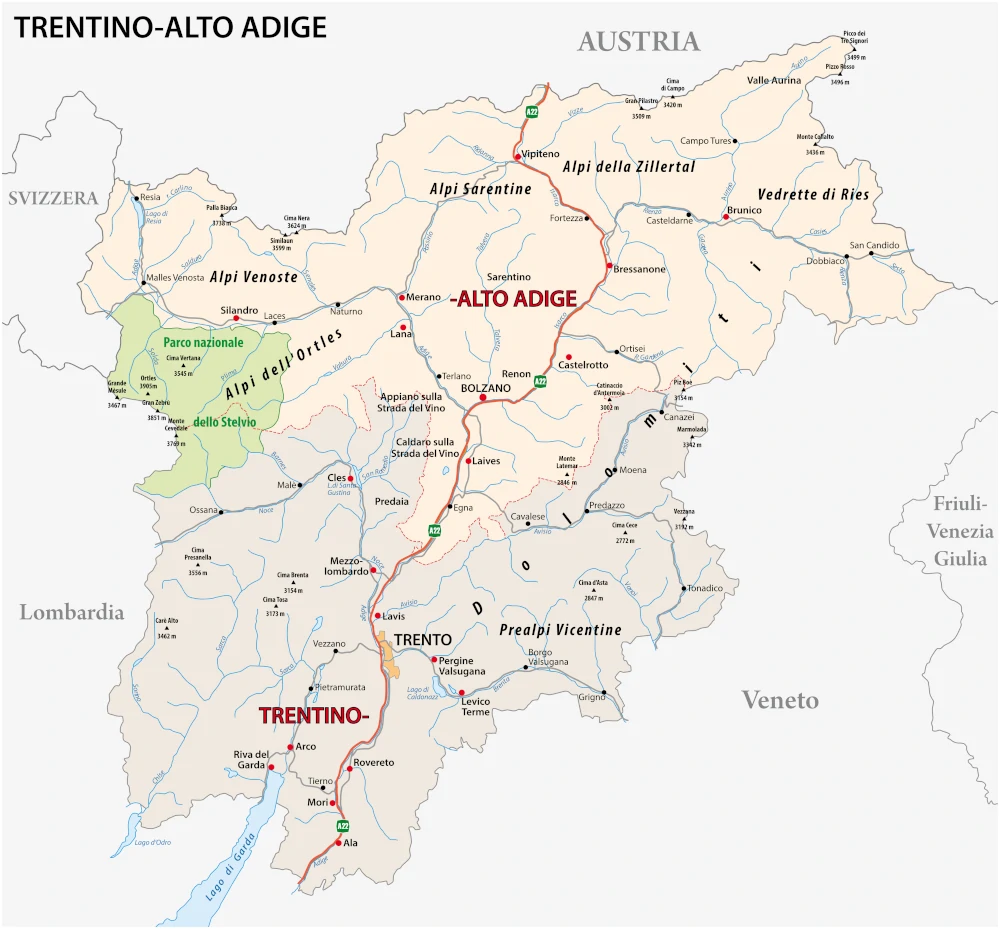 It is around one and a half hour's drive north of Verona. From the Milano-Verona motorway, take Autostrade del Brennero E45/A22 towards Brennero and get ready to enjoy some serious mountain views – and some refreshing Alpine wine.
Wineries to visit in Alto Adige, and which wines to taste
The best place to start exploring the vineyards of Alto Adige is "wine street" – known locally as Weinstraße (in German) or Strada del Vino (in Italian). This road starts in the southern end of the village of Salorno, and stretches for 40 kilometres to Bolzano, the capital city of Alto Adige. There are many wineries along the road, but we highly recommend the following.
Peter Zemmer
Peter Zemmer is a third-generation winemaker, who produces wines of remarkable quality. His Pinot Grigio Giatl received the Decanter Silver Medal in 2019, and his Pinot Noir Rolhut lifted the Decanter Bronze medal and the coveted Gambero Rosso "Two Glasses" award.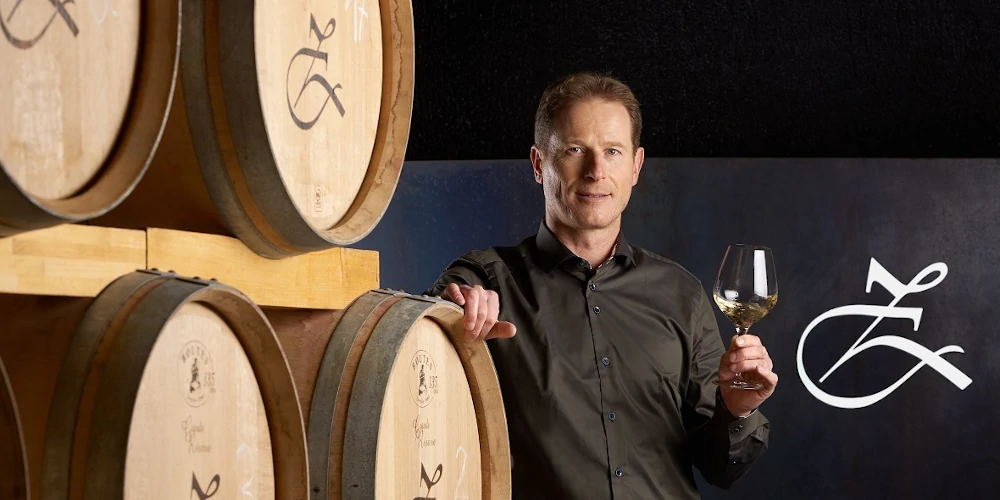 Peter's cellar is in Cortina, at the southern end of Weinstraße. His most important vineyard is Giatl, situated just 250 metres above sea level. This is where he cultivates his Gewurztraminer and Pinot Grigio grapes, which are then used to produce the award-winning Giatl Pinot Grigio Riserva wine.
Peter also grows Pinot Noir grapes across two sites – Rolhut at 500 metres above sea level, and Vigna Kofl at 1000 metres. At such high elevation, acidity in the grapes keeps the red wine sharp and refreshing. Peter uses these grapes to make his premium Pinot Noir Riserva.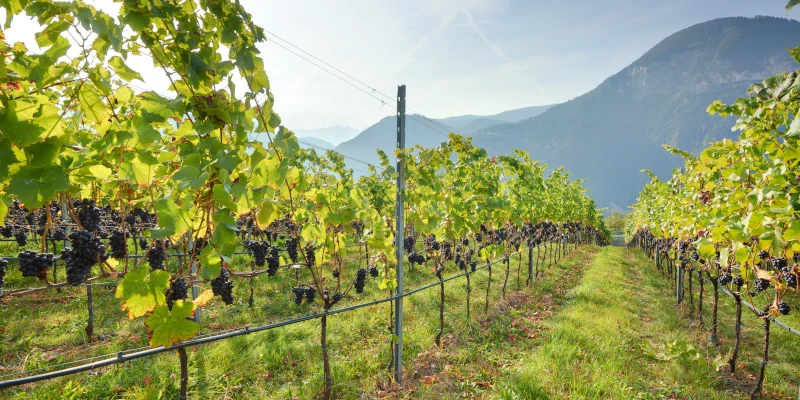 Wines to taste:
Address: Weingut Tenuta Peter Zemmer, Via del Vino, 24, 39040 Cortina Sulla Strada del Vino BZ, Italy.
Kurtatsch
Formed in 1900, Cantina Kurtatsch is one of the oldest winemakers' cooperatives in Italy. It unites 190 winegrowers, each of whom owns a small farm on the slopes of the Alps. Together, they built an underground cellar – effectively an artificial cave dug right into the rocks of the Dolomite mountains. The stone that was excavated was used to build a totally spectacular wine tasting hall up on the surface. If you visit Kurtatsch, that's where you will taste your wine.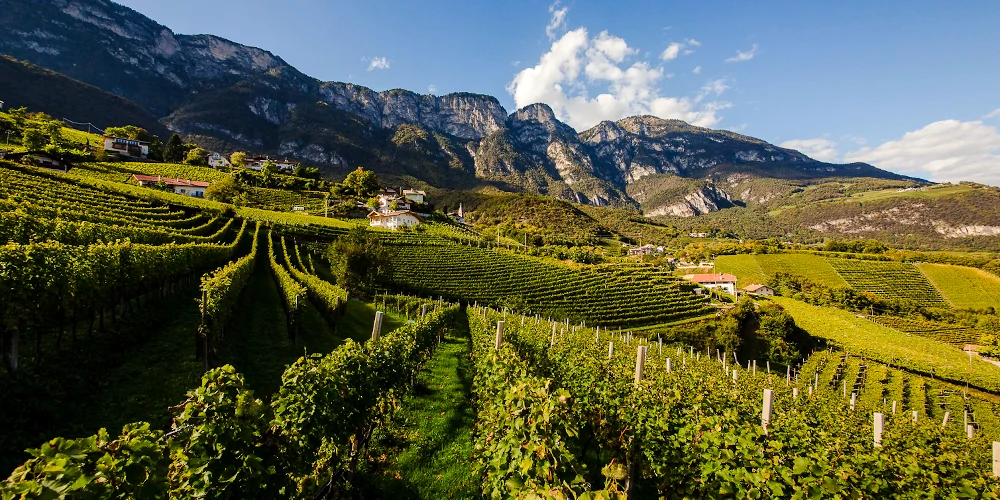 Wines to taste at Kurtatsch:
Address: Cantina Kurtatsch, Via del Vino, 23, 39040 Cortaccia sulla strada del vino BZ, Italy
Cantina Tramin in the village of Tramin
If you're a wine enthusiast, Kellerei Tramin is an interesting place to visit. Obviously, it's much more than the signature Gewürztraminer. It produces excellent red wines from the Pinot Noir and Schaiva grapes. Its premium range of "Selezioni" white wines includes Pinot Bianco, Pinot Grigio, late-harvest Gewürztraminer.
Address: Cantina Tramin, Str. del Vino, 144, 39040 Termeno sulla Strada del Vino BZ, Italy
Cantina K. Martini & Sohn
Take the SS42 road and drive 16km north from Tramin to reach K.Martini & Sohn. This winery is famous because their wines have won so many Decanter Gold, Silver and Bronze Medals. The tasting hall has incredible views, overlooking the vineyards with a backdrop of the Dolomite Alps. Lucas Martini, the son of the founder, is the current winemaker.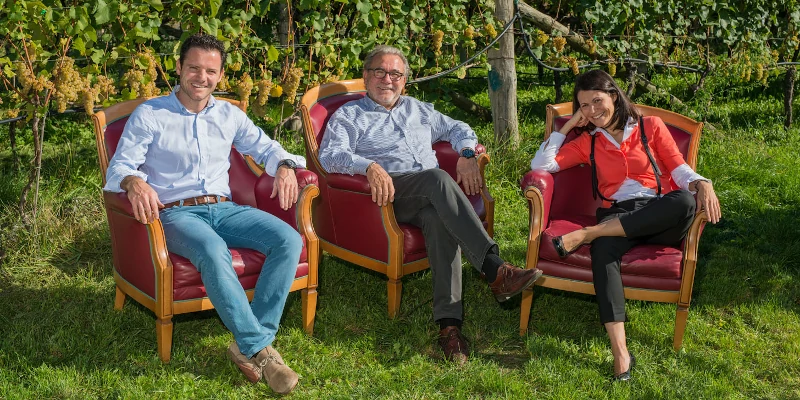 Wines to taste K. Martini & Sohn:
Address: Via Lamm, 28, 39057 Cornaiano BZ, Italy
Where to stay in Alto Adige
There are lots of places to stay along the wine road, ranging from agriturismo options nestled among the vineyards to private apartments in the heart of the villages. These three accommodation options are always our top picks whenever we visit Alto Adige.
Schwarz Adler Turmhotel
Tis is our favourite hotel in the area. Located in the heart of Kurtatsch village, it has a quiet summer restaurant on the small plaza. There's an outdoor swimming pool with a jacuzzi overlooking the glen. Sit in the tub and enjoy the endless views of vineyards and apple orchards framed by the high wall of the Dolomites. The rooms are very large, clean and comfortable, and not pricey at all. Oh, and they serve an utterly delicious five course dinner for only €16 per person. What more could one ask?
Website: http://www.turmhotel.it/it/
Address: Schwarz Adler Turmhotel, Vicolo Kirchgasse, 2, 39040 Cortaccia BZ, Italy
Goldener Adler
If you want a room with a view, this hotel has lots to offer. It sits high on the mountain, and although it's a bit off the beaten track it's worth it for the truly breathtaking scenery. It has an outdoor swimming pool where you can chill out and enjoy the view of the Alps while you get your morning workout. The rooms are very spacious, and there's also an on-site restaurant if you don't want to head back down towards sea level.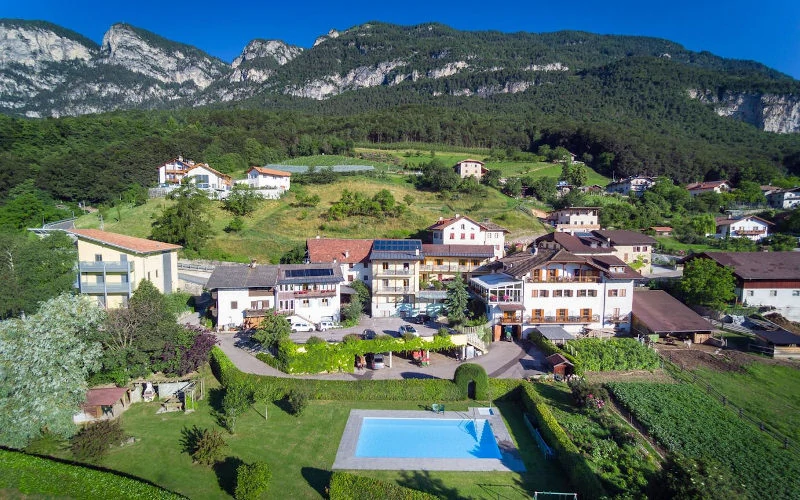 Website: http://www.goldeneradler.net/en/index.php
Address: Via Indermauer, 10, 39040 Corona BZ, Italy
Gasthof Hotel Terzer
This modern boutique hotel has an on-site pizza restaurant (after all, this is Italy: pizza is serious business here!). The rooms are very clean and decorated in a modern, minimalist style. The hotel has a sauna and an outdoor jacuzzi which overlooks the Alps and the vineyards. There's also a sunbathing terrace, so you can get a tan during your wine tasting holiday.
Website: https://www.gasthof-terzer.it/en/guesthouse-hotel.html
Address: Gasthof Hotel Terzer, Via Obergasse, Cortaccia, South Tyrol, Italy
Explore Alto Adige and experience a new style of Italian wine with a German twist
Overall, we think that Alto Adige offers incredible value for money in terms of wine tourism.
It may not be as famous as Tuscany or Piedmont, but it's breathtakingly beautiful, has an interesting culture and its wineries are producing some truly outstanding wines. After all, grapes grown here are shielded from the effects of global warming by the cold afternoon breeze from Lake Garda and the night winds from the Alps. Because of that, Alto Adige is still able to produce refreshing wines with high acidity while other regions struggle.
The quality of the wines from Alto Adige is very high, as you can see by the number of Gold, Silver and Bronze awards they've won. Because it's a lesser-known area, you don't pay a premium for the name like you would with Bordeaux or Barolo.
We are proud to sell several award-winning wines from family-owned wineries in Alto-Adige. You'll find a variety of Riesling, Pinot Grigio Riserva, Pinot Noir Riserva and Lagrein in our cellars. These wines are exclusively sold in the UK by Independent Wine, so for a taste of Alto Adige, browse our collection here.