How to Choose Italian Wine for Wedding
Great wine is part of the wedding experience. With more grape varieties than any other country in the world, Italy offers the widest range of top-quality wines. As Italian wine specialists, we have put together this guide to help you choose the best Italian wine for your wedding.
To help ensure you don't mar the big day with substandard wine, we're here to offer some tips – as well as a list of truly superb Italian wines that won't break the bank.
Top tips for buying wedding wine
We've attended quite a few weddings in our time, and when it comes to picking the right wine we always think it's important to keep these four top tips in mind.
Wedding wine tip #1: Figure out how much wine you really need
This is the most important part. You've probably already set aside a budget for your wedding drinks, but do you definitely know how much wine you need? Using a wedding alcohol calculator can make this easier to figure out.
If you need less wine than you'd initially planned for, you can afford to splash out on better bottles. On the other hand, if you need more wine than you'd originally thought, you might need to allocate funds from another part of your budget to help ensure your guests glasses don't run dry.
You could go for cheaper bottles, but as we've already said, your wedding should be the best day of your life. Why risk a bad experience? If that's not enough to convince you, see tip number 5 for a few more reasons why it's best to stick to premium wine for a wedding.
Personally, we don't use a fancy wedding wine calculator – just our brains. We go by the principle that each guest should get half a bottle, on the bride and groom. Of course this is just the rule of thumb. How much wine you buy will depend on how generous you want to be, and what the drinking culture is like among your social circle.
Wedding wine tip #2: Try before you buy
Reading tasting notes is all well and good, but until you've tasted the wine for yourself it's hard to say whether you actually like it or not. Make a shortlist of wines you're considering, and order a bottle of each to sample.
You can make the experience even better by asking a few close members of your wedding party to come round and try them with you. After all, it's always good to get opinions from the people who will actually be drinking these wines. It's also another way to bond with your bridesmaids and groomsmen.
Ask everyone to keep detailed notes on each wine. This way, when you wake up in the morning, you'll have something concrete to refer to rather than a fuzzy memory.
Wedding wine tip #3: Branch out with a different type of fizz
Who said the toast has to be Champagne? Buying bottles of this prestigious French fizz will quickly eat through your alcohol budget, especially if guests get a glass both on arrival and during the speeches. We still think it's important not to skimp, however you can get far more for your money if you opt for premium Italian bubblies. They cost a little less than Champagne, but are still exceptional.
Sparkling wedding wine – our recommendations
Ca' di Rajo "Extra Dry" Valdobbiadene Prosecco Superiore DOCG Millesimato 2020 –with refreshing acidity, slight sweetness and aromas of white flowers, this excellent value Prosecco is ideal for wedding toasts.
Ca' di Rajo "Rosé Brut" Prosecco Treviso DOC Millesimato 2019 – romantic and elegant, this blushing bubbly has been called "springtime in a glass" by Forbes, with notes of strawberries and rose petals.
Valsellera Sparkling Nebbiolo Rosé Brut NV – Truly unique, this pink fizz is crafted from the powerful Nebbiolo grape (usually reserved for the king and queen of wines, Barolo and Barbaresco). Thanks to three years of lees aging, it has a creamy backbone of toasted bread complementing lighter notes of wild strawberry and vanilla.
Lo Sparviere "Cuvée n.7" Brut Franciacorta DOCG NV – This delicious fizz is aged on its lees for twice as long as most non-vintage Champagnes and tastes like ripe peach, honey, toasted bread and almond.
Wedding wine tip #4:Don't skimp on cost
Don't be tempted to serve your guests cheap wine to save money. Not only could it ruin your wedding day, it could also make the next morning a lot more painful too. Good wines tend to have less sulphites compared to cheap ones. In my own tried-and-tested experience, fine wines are far less likely to leave you nursing a sore head.
While cheap wines are often marketed as dry, in reality they're usually off-dry. Like sulphites, this additional sweetness can also contribute to the next day's hangover. You don't want a pounding headache to be the lasting impression of your nuptials.
Wedding wine tip #5: Don't be put off by corkage fees
Many venues have their own house wines. They want you to pay for these, so will often charge a corkage fee if you want to bring your own. While this additional cost might make some people reconsider sourcing their own wedding wine, we recommend crunching the numbers before jumping to any conclusions.
You might be able to get a much higher quality of wine for a similar – or even lower – price if you decide to buy your own and pay the corkage fee. Remember that some wine merchants can offer deals if you're buying in bulk. This could easily offset the corkage cost.
Best wines for your wedding meal
Unless all of your friends and family are gourmands, don't worry too much about matching your wine to your menu. Most wedding guests probably won't care if you've found a Grillo that matches perfectly with your starter of smoked salmon. Some people only drink white, and others only drink red – despite what's on their plates.
For this reason, the safest option is to go for a 50/50 split of red and white wine. During the height of summer you might want to adjust this to 60/40 in favour of white, as people will probably want a chilled drink. And vice versa – if you're marrying in winter, people are likely to prefer the warming spice of red wine over a cool, crisp white.
Red wedding wine – our recommendations
Chianti Classico and Valpolicella are both crowd-pleasing, high-quality reds. Each category offers a range of different styles, so you can vary your choices based on your – and your guests' – taste. For example if you want rich flavours, go for a Chianti Classico Riserva. For a truly complex wine that will get people talking, opt for a Valpolicella Ripasso. This goes through a second fermentation with Amarone skins, lending it a unique flavour.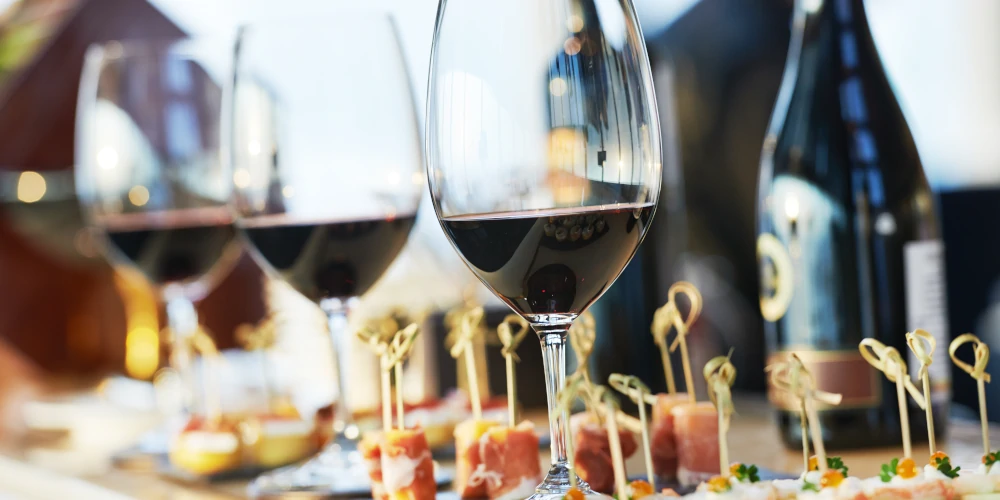 For inspiration, here are a few red wines I'd recommend for a wedding:
Francone "I Patriarchi" Barbera d'Alba Superiore 2018 – this elegant and complex Barbera tastes like fresh raspberry and tangy cherry, with subtle vanilla and cinnamon spice from a year spent in old French oak barrels.
La Castellina "Squarcialupi" Chianti Classico 2018 – fresh and powerful, this is the quintessential Chianti Classico. Expect crisp red fruit flavours with a gentle touch of oak. Just between us, I find it more enjoyable than some of the more expensive Riservas.
Peter Zemmer Rolhüt 2019 – hailing from the hills of Alto Adige, this smooth Pinot Noir is another fresh red wine; this time with complex flavours of blueberry muffin and dried cranberry.
Rubinelli Amarone della Valpolicella DOCG 2013 – if you really want to push the boat out and treat your guests to something special, this is the wine to choose. It's refined and complex, with powerful notes of tobacco, dark chocolate and leather.
White wedding wine – our recommendations
Some of the best white wines for weddings are Lugana, Vermentino and Verdicchio. These complex white wines are bound to be loved by everyone – even your uncle who swears he only drinks red. They're in the "Goldilocks" zone of wines, with a flavour that's "just right". They're not too far to the aromatic extreme like overly-tropical New Zealand Sauvignon Blanc, and they're not too far to the creamy extreme of a Californian Chardonnay.
The following wines definitely deserve to grace your wedding table.
Montecappone "La Breccia" Sauvignon Blanc 2020 – boasting aromas of guava, lime, gooseberry, daffodil and lemongrass, this skin-macerated white wine from Jesi combines complexity and freshness.
Francone Magia 2019 – we're big fans of Roero Arneis, which is still quite under-the-radar here in the UK. Impress your guests with your wine knowledge by serving this delightfully ripe one, boasting flavours of pear drop, jasmine and almond.
Le Morette Mandolara 2020 – this award-winning wine from the shores of Lake Garda offers tropical and floral flavours like elderflower, ripe white peach and honeydew melon. It's definitely worthy of a place on the top table.
Siddùra Spèra 2019 Vermentino di Gallura DOCG – fresh and fragrant, this award-winning Vermentino comes from Sardinia's best white wine producing area. It's nice and subtle, with flavours of sliced lemon, pear and minerality for a lively flavour.
Best wines to team with wedding cake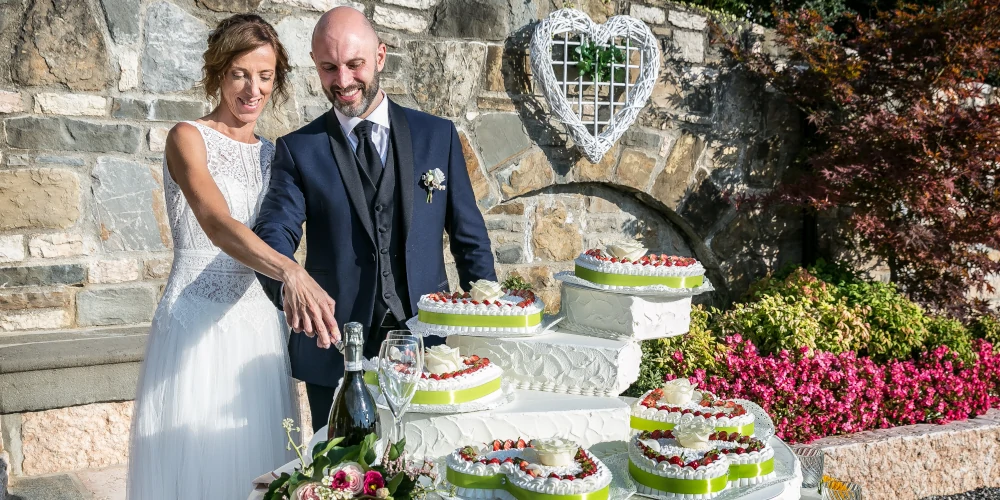 If you want to offer your guests a glass of wine to go with the wedding cake, it's best to look towards sweeter options. Moscato d'Asti is a great one to whisk out here. Its fizziness makes it feel just as celebratory as Champagne, while its fruity sweetness can stand up to the sugary icing on the cake.
Alternatively, you might want to invest in a few bottles of Italian dessert wine. Vin Santo is a classic option to serve with fruit cake, if you're going down the traditional route. We have a La Castellina Vin Santo del Chianti Classico that tastes of caramelised lemon zest, apricots, almonds and ginger which we think would be perfect here.
Another interesting option is the award-winning Kurtatsh Aruna 2017. Made from half-raisined Gewürztraminer and Moscato grapes, it has intense flavours of melon, cinnamon and apple cake. It's lusciously sweet and utterly out of this world.
Planning an Italian Vineyard wedding
Take your love of Italian wine one step further by hosting your celebration in a vineyard. After all, everyone loves a destination wedding – especially after being stuck at home for most of 2020 and 2021. Many vineyards have wedding villas and event spaces to supplement their income. And what could be more romantic than saying "I do" surrounded by row upon row of vines?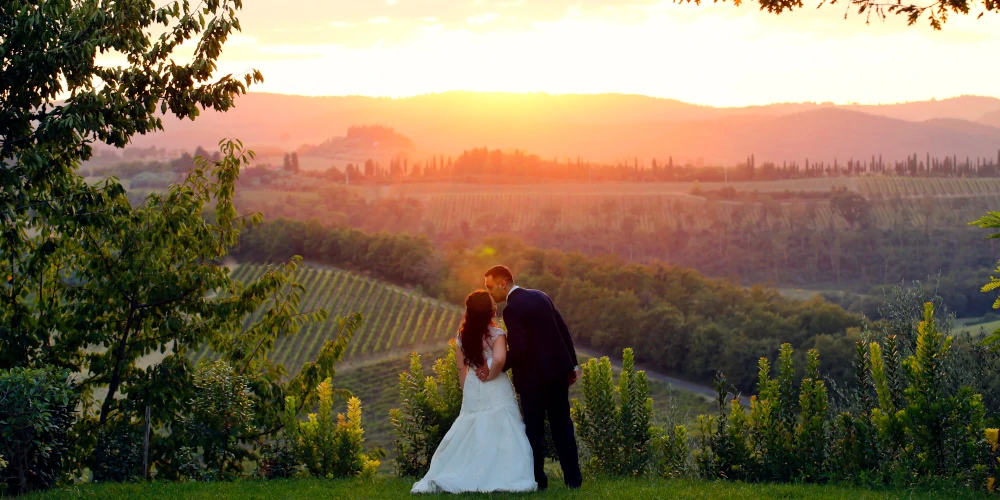 Massimago, for example, has a beautiful wine relais located in the rolling green hills of Valpolicella. It boasts seven rooms and three apartments, so you and your wedding party can all stay together and enjoy the outdoor pool and romantic on-site spa. Their atmospheric restaurant, inside an old stone building, is the perfect place to enjoy a fine dining wedding meal.
Another winery we work with, Gagliole, also runs a luxury bed and breakfast called La Valletta in Tuscany. It sits right on the edge of the famous "Conca d'Oro" in Panzono. Step outside and enjoy sweeping views of rolling hills, blanketed by vineyards, olive groves and swaying cypresses. A lovely romantic backdrop for an intimate wedding celebration.
Wedding wine gift ideas
If your wine-loving friends are getting married, and you're looking for the perfect present, we've got you covered. Our wine in wooden gift boxes range is filled with incredible wines, presented in beautiful boxes to mark any special occasion. We also offer a free gift-wrapping service, as well as the option to include a personalised postcard. So, if you can't make it along to the celebration itself, you can still be there in spirit with a thoughtful gift.
From 2015 Barolos (a fabulous vintage) to artisan grappa (wonderful in cocktails), you can find wedding gift ideas to suit every type of couple.
Are you ready to choose Italian wedding wine?
Hopefully you now have a bit more confidence to pick the best red, white and sparkling wine for your big day. If you have any questions, or need some inspiration, we're always happy to talk you through what we have in our cellar. Simply visit our Contact Us page to get in touch. We might not be wedding planners, but we can definitely help you pick the right vino for any occasion and budget.