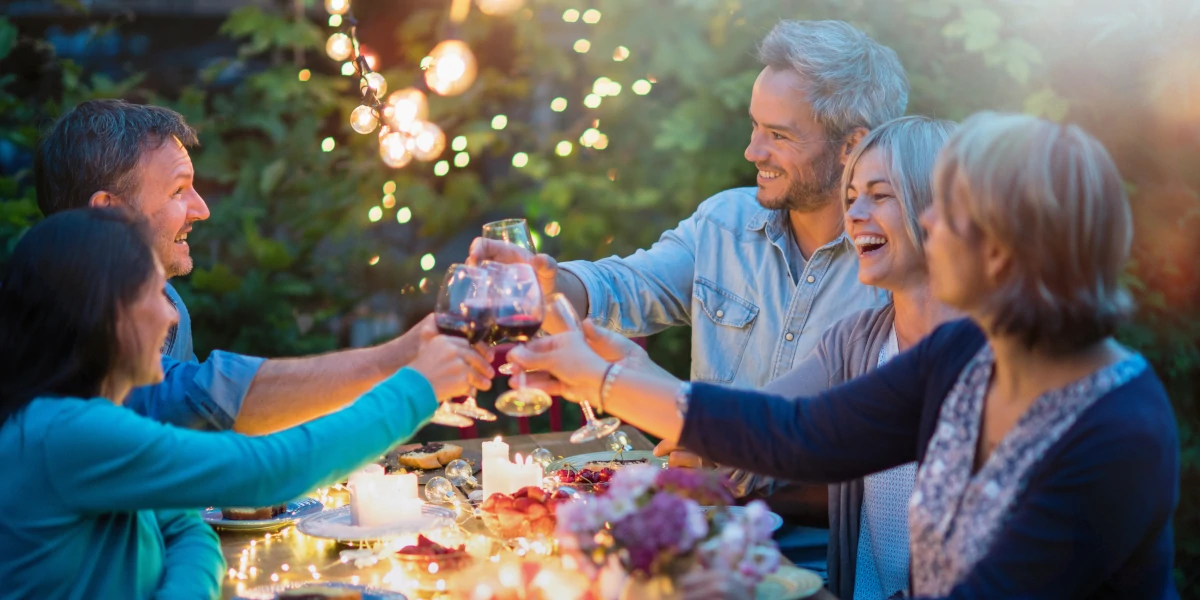 The best Italian Wines for your Picnic or Garden Party
Italian Food and Wine Pairing / The best Italian Wines for your Picnic or Garden Party
The best wines for picnics and garden parties are light, bright and refreshing. Luckily, Italy produces plenty of great wines which fit the bill.
Now that summer is here, and we're allowed to mingle again, it's time to plan the perfect outdoor get-together. Having some lovely bottles of wine and matching nibbles on hand will certainly help. Whether you're having people round to your back garden for a light lunch or heading out for a picnic, you'll find plenty of inspiration in our round-up of the best Italian wines for sipping in the sunshine.
Prosecco
Ca' di Rajo Prosecco Valdobbiadene Superiore DOCG extra dry Prosecco comes from the hills of Conegliano-Valdobbiadene, one of the best regions for the popular Italian sparkling wine. It has aromas of white flowers, pear drop candy and red grapefruit peel which make it taste "like summer in a bottle". It's also low in alcohol, at just 11%.
We asked food blogger Sandy Cadiz-Smith of Eating Covent Garden to offer some suggestions of what to eat with this fresh, fruity and floral fizz:
Russian salad – often served in Spanish beach bars, this rich salad features potato, carrots and peas mixed with mayonnaise. Sandy adds hardboiled egg and tuna to hers to make it a little more filling.
Devilled eggs – this bite-size American snack takes hardboiled eggs, removes the yolks, and mashes them with paprika, chilli and mayonnaise. The mashed yolks are then placed back into the white for presentation.
Prawn and crab stick cocktail – this twist on a dinner party favourite combines chopped crab stick and prawns with Marie Rose sauce. The mix is served on romaine lettuce leaves and topped with mint.
Or, if you prefer a bit of blush, Ca' di Rajo also make a delicious rosé Prosecco which is perfect for summer sipping. This one has a touch of Pinot Noir as well as the traditional Glera, which adds a juicy taste of ripe summer berries to this light and elegant bubbly. Think wild strawberry, fresh raspberry and zingy cranberry along with a touch of candy. It's also low in alcohol, at just 11.5%, making it a good choice for afternoon and early evening.
Moscato d'Asti
In our opinion, it's just not summer until someone pops a bottle of Moscato d'Asti. This one is highly aromatic and light-bodied. It tastes like guava, pear and white blossom, with the characteristic sweetness that this sparkling wine is known for. It's also very low alcohol, at just 5%, so it's perfect for afternoon gatherings when you need something less heady.
Irene Caswell of Hashtag Travelling suggests serving it with avocado and prawns, dressed with vinaigrette. This salad is easy to make and utterly delicious. Toss some chopped avocado and prawns with vinaigrette and serve with wholemeal bread and butter. For easy picnic transportation, pop it in a glass screw-top jar.
Rosato
Rosé – or rosato in Italian – is a summer staple for a reason. This delightful blush, made from Sangiovese grapes, is the perfect example of why. Fresh, fruity and elegant, it's made by top winemakers Castello di Radda. This leading producer of Chianti Classico uses grapes plucked from young vines on the valley floor to make this pale pink wine. It's delightfully elegant with hints of jasmine, grapefruit and raspberry. It also has a pleasant touch of toast which comes from ageing on the lees – a process used to make biscuity wines like Champagne and Franciacorta.
Arneis
If you're bringing white wine to your summer get-together, this Roero Arneis is bound to be a conversation starter. This grape isn't super well-known in the UK (yet) but it's simply delicious. This version from Paolo Demarie is a great introduction for those who haven't tried it before. Light and refined, it's fabulously floral with notes of honeysuckle, elderflower and jasmine. It has plenty of mouth-watering acidity, too.
I personally love this wine with light food because it doesn't overpower delicate flavours. If I were to take it to a picnic, I'd team it with a cold chicken salad or some freshly-shucked oysters.
Pinot Noir
For those who prefer red wine, we recommend choosing a high-altitude Pinot Noir from Alto Adige. This one from Peter Zemmer is fresh and bright – exactly what you want on a sunny day. It has a fruity flavour with aromas of blueberry muffin, raspberry and dried cranberry. It's got lovely velvety tannins and plenty of mouth-watering acidity, so certainly deserves a place at the picnic table among the whites, bubblies and rosés!
Get ready for summertime sipping
So whether you're into fizz, fruity whites or light reds, there's an Italian wine to suit every summer occasion. All of our wines are available with next day delivery to Mainland UK, with no minimum purchase, so you can afford to be spontaneous depending on the weather forecast. Although it is a good idea to plan ahead! Remember to drink responsibly, and have plenty of water (as well as snacks) on-hand to curb the dehydrating effect of alcohol and sunshine.