Wine delivery and returns
Doing our best for you…and for the environment too!
Free next day delivery
…to Mainland UK on orders over £75

Free wine gift wrapping
Let us know in the "Order notes" box when you order. Click to see examples.
Tree planted with every order
Working together to fight the climate emergency.
Delivery Updates
Currently all deliveries are working as normal.
Summary of our Delivery Terms
Free next business day delivery to Mainland UK on orders over £75
We deliver from the UK (Edinburgh) – no surprise customs charges
Please allow an extra few days in busy periods like Christmas or Easter or in severe weather
Orders placed by 3PM on Monday-Friday will be dispatched same day. Orders made after that time will be sent next business day
Edinburgh orders (please pay online) can be collected from our warehouse at 12 Miller Row from 2 till 5 pm (yes, that tower under the bridge 🙂
You need to be over 18 years of age to buy or receive wine
We are passionate about premium wine, and it's an honour to serve customers like you. Check what other customers from London and Edinburgh say about us.
UK wine delivery map
| Area | Price / How Fast | Postcodes |
| --- | --- | --- |
| Mainland UK: England, Wales, Scotland | £10.50 next business day delivery, free delivery on orders over $75 | See map |
| Scottish Highlands | £35, two business days | IV3-11, IV14-28, IV40, IV51-54, IV63, KW1-3, KW5-KW14, PH33-41 |
| Scottish Islands | £35, three business days | HS, IV41-49, IV51, 55 & 56, KA27-28, KW15-17, PA20, PA41-49, PA60-78, PH42-44, ZE |
| Northern Ireland | £9.98, two business days | BT |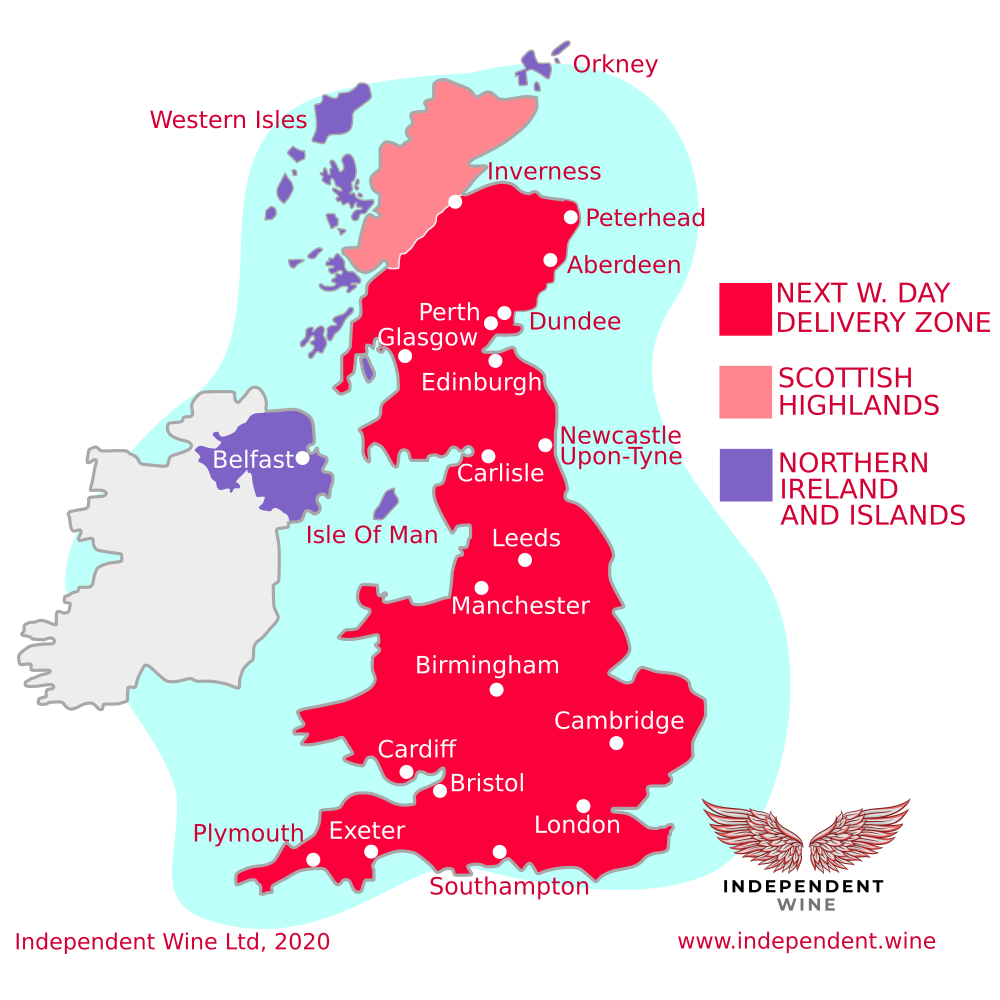 Create the Perfect Wine Gift with Free Gift Wrapping
If you are buying wine as a gift for your loved ones or for a business partner, we are here to help.
Tick "Gift Wrapping" in the Checkout form, and we'll wrap it for you. If you want to add a card we can do that too!
We understand that your wine gift is much more than just a bottle of wine. That's why we add a personal touch. The bottles come wrapped in black paper, sealed with a gold foil sticker and then nestled in a custom fabric gift bag.
If you're asking yourself "What gift should I get a wine lover?" check our article "Wine Gifts: The Essential Guide"
Add a Gift Card with your Personal Message
With us, you can add a personal "best wishes" message to your wine gift. This is another free service which we provide to our customers, because we understand how important it is to create the perfect gift.
At the Checkout, after clicking "Gift Wrapping", write your sort message below. It will be printed on a bespoke postcard with an Italian landscape, creating a truly unique, personalised wine gift, rather than an off-the-shelf product.
…and we are certain they will enjoy the wine too!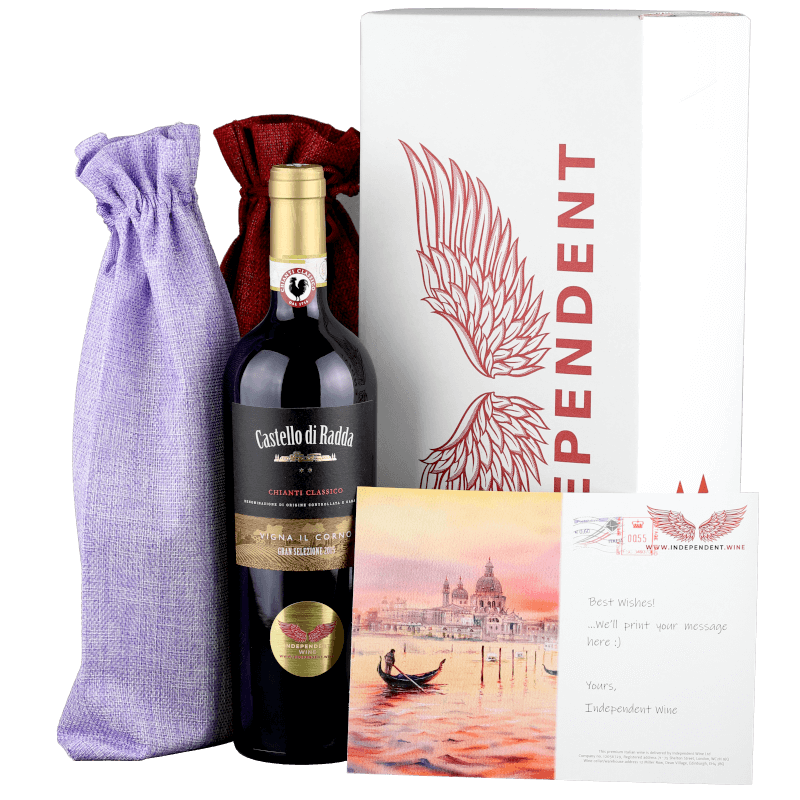 Tough and sustainable packaging
We've got lots of experience in wine packaging. We know how important it is to protect your premium wine during transit.
In 2020 we decided to stop using plastic packaging for all UK deliveries, because of the irreparable harm that the plastic waste does to our planet. We now use 100% recyclable materials.
For one-, two- and three-bottle deliveries, we use patented Nakpack wine boxes. For six bottles we use the toughest double 3-layer cardboard box-in-box solution, as shown on the photo – to provide the maximum protection.
General Delivery Terms
a. You need to be over 18 years of age to buy and receive wine. Our couriers may ask for ID upon delivery if there is any suspicion about the recipient's age.
b. Our cut-off time for next day delivery is 4PM. Orders received after that will be dispatched next working day.
c. Orders placed after 4PM on Friday and over the weekend will be dispatched the following Monday.
d. We do our best to deliver your products as advertised, and we use highly reputable couriers (FedEx, UPS or similar) with very high standards of service. Please understand that on very rare occasions deliveries may be delayed due to circumstances beyond our control, such as severe weather, road works, blocked access, pandemic, etc. and we will not accept responsibility for reasonable delays. Should your delivery be delayed, please contact us at orders@independent.wine and we will track and recover it.
e. For the majority of Mainland UK postcodes, standard delivery is next business day, Monday to Friday. For Scottish Highlands (except UK Islands), delivery may take up to three business days. If you want us to deliver to UK Islands, Northern Ireland, to Europe, to the USA or to another international address, please contact us for a personalised quote at orders@independent.wine.
f. Please note that at certain busy times (such as Christmas or Easter) all couriers are overloaded and deliveries may take longer than normal.
g. If you order 2 or more cases, they may not be delivered at the same time. The delivery charge will stay the same.
Refunds and replacements
a. If any of the products in your order are damaged in transit, you may choose to receive either a refund or free replacement.
b. In case of any damage in transit, take photos of the damaged packaging and products with your phone as soon as you receive the package, and email those photos to us at orders@independent.wine. Retain the damaged packaging and products. The courier's representative will visit you and confirm the damage. They will then report to us, and we will issue a refund or replacement, as requested.
c. If your order goes missing, contact us as quickly as possible at orders@independent.wine. We will track the delivery. If the order is lost, we will send you a replacement order as soon as possible. We will offer you a full refund if we are unable to send a replacement within 7 working days.
d. If any of the products in your order are incorrect (wrong title) or missing from the delivery, please let us know by email at orders@independent.wine as quickly as possible. We will send a replacement as soon as possible, using the same method of delivery.
e. Wine is a natural perishable food product. It continues a complex and delicate chemical transformations and integration of its components for a long time. We do not offer returns or refunds for wine that's not damaged or not faulty.
f. Non-perishable products (for example: goblets, bottle stoppers, etc.) can be returned within 30 days for a full refund.
g. After receiving the wine, store the bottles in a cool dark place horizontally, at a constant temperature between 10 and 20°C. Avoid exposing it to heat or cold, artificial light or sunlight.
h. If after opening a bottle of wine within 30 days from purchase (which you stored as explained above) you found the wine to be faulty (e.g. bad smell), we will give you a free replacement (including return costs) or a full refund. To claim the fault, take a photo of the full bottle and its cork, and email it to us at orders@independent.wine. We need to investigate the source of the fault with the winemaker, and to confirm the fault was not caused by an accident or misuse. Off flavours in wine can sometimes be caused by "cork taint" (2,4,6-Trichloroanisole), and could indicate that a whole batch of wine is faulty. Because of that you may be asked to send us the cork.
i. You may cancel your order until it has been shipped, and we will issue a full refund. If you want to cancel, please email us at orders@independent.wine. We will send a refund as quickly as possible, usually within 5 working days.
j. Nothing in these Terms and Conditions will reduce your statutory rights relating to faulty or inaccurately described goods.
Any further questions? Get in touch
Thank you for reading our terms of Wine Delivery and Returns. If you have any questions, or if something goes wrong with your order, please email us at orders@independent.wine or use the Contact form (click here to open). We will do our best to help.