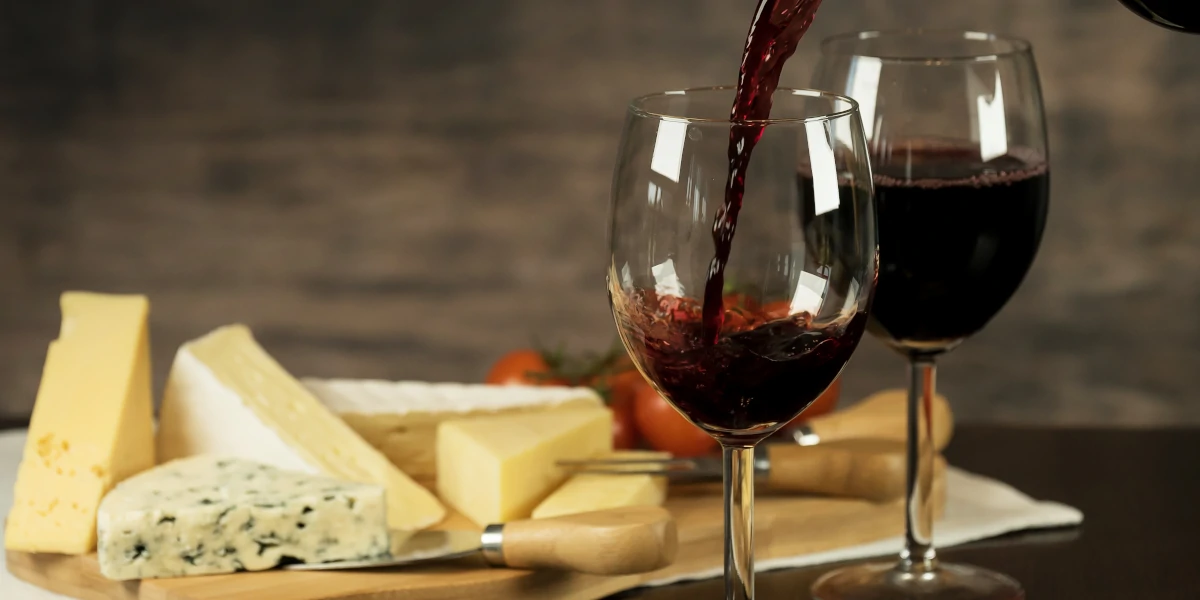 How to Pair Wine and Cheese
Italian Food and Wine Pairing / How to Pair Wine and Cheese
Is there anything better than pairing wine and cheese? A truly iconic duo, they complement each other marvellously and are the ultimate indulgence after a long day. Dessert wines and big bold reds are often the go-to wine for cheese, but you can make the pairing even better by carefully choosing the wine for each cheese you're planning to serve.
The UK is a country of cheese lovers, with statistics showing that more than half of us eat it every day. We've looked at Britain's most popular cheeses to offer some suggestions on the best Italian wines to pair with them.
The most popular cheeses in the UK, and wines to pair with them:
Wine for Cheddar: Cannonau or Primitivo
Good cheddar is tangy, umami and salty – making it the perfect partner for most red wines. In fact, it would be harder to find a red wine that doesn't go well with cheddar than one that does! The saltiness of the cheese will help to soften the tannins in even the most full-bodied bottles. Cannonau and Primitivo are some of the best wines to team with cheddar.
Wine for aged cheddar: Cannonau di Sardegna.
If you've got a really special vintage cheddar to eat, it deserves a truly great wine – such as our limited edition Siddùra Fòla Riserva. This wine made from pure Cannonau is very full-bodied, with flavours of ripe black plum, and aromatic herbs that will work well with the salty and creamy notes of your cheese.
Wine for everyday cheddar: Primitivo
For basic snacking, reach for a great value wine like Feudi di Guagnano "Le Camarde" – a delicious blend of Negroamaro and Primitivo grapes from Guagnano in the heart of Puglia. This full-bodied wine has plenty of velvety tannins that are further smoothed by the saltiness of the cheese. Its flavours of juicy prunes, Amsterdam pipe tobacco and dried rosemary can make even the most staple supermarket cheese feel special.
Wine for Mozzarella: Pinot Grigio or Pinot Bianco
Mozzarella, and its fancier cousin burrata, have a soft flavour that can easily be overpowered by big wines. That's why it's best to stick to a lighter option – white wines are a fantastic choice here. Go for cool climate whites such as Alto Adige Pinot Grigio or Pinot Bianco.
These grapes have delicate flavours of passion fruit, guava, pear and elderflower that gently work with the subtleties of the mozzarella. The medium level of acidity helps to cut through the creaminess, without completely destroying it. Pour a glass on a warm evening and sip alongside a simple burrata and heritage tomato salad. It's the perfect way to to enjoy wine and cheese on a summer evening.
Wine for Stilton:
Moscato d'Asti and Passito Wines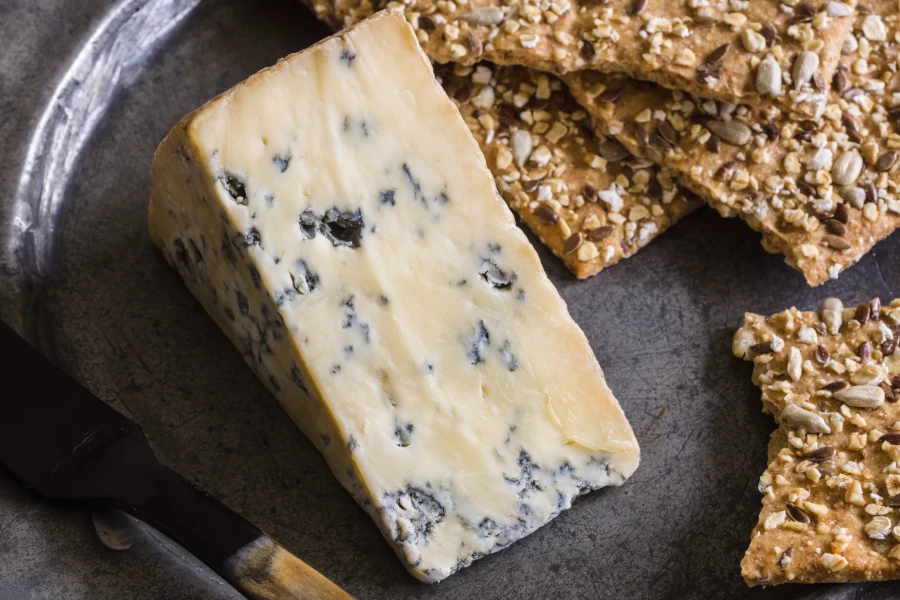 When it comes to wine and cheese, Port is the classic partner for Stilton. But why not try something a little different – such as a Moscato d'Asti? Light-bodied, fizzy and delicately sweet, it's the perfect counterpoint to the salty, crumbly cheese. Our Francone's "Antichi Poderi dei Gallina" Moscato d'Asti DOCG is an ideal option. The acidic freshness of the wine helps to cleanse your palate, while its subtle aromas of white blossom and guava will provide a playful counterpoint to the strength of the Stilton.
An Italian alternative to Port and Stilton
If you prefer to stick to the classic wine and cheese combination of blue cheese and dessert wine, swap your Port for a bottle of sweet passito wine, such as Kurtatsch Ushas, Moscato Rosé, Mitterberg IGT (Alto Adige). This limited edition passito rosé has similar ripe red fruit flavours like pomegranate and strawberry jam, enhanced with a touch of mulled wine spice and violet flowers. Its lush, sweet flavour contrasts extremely well with the umami saltiness of the Stilton to create an exciting sensation.
Wine for Brie and Camembert: Pinot Noir or Franciacorta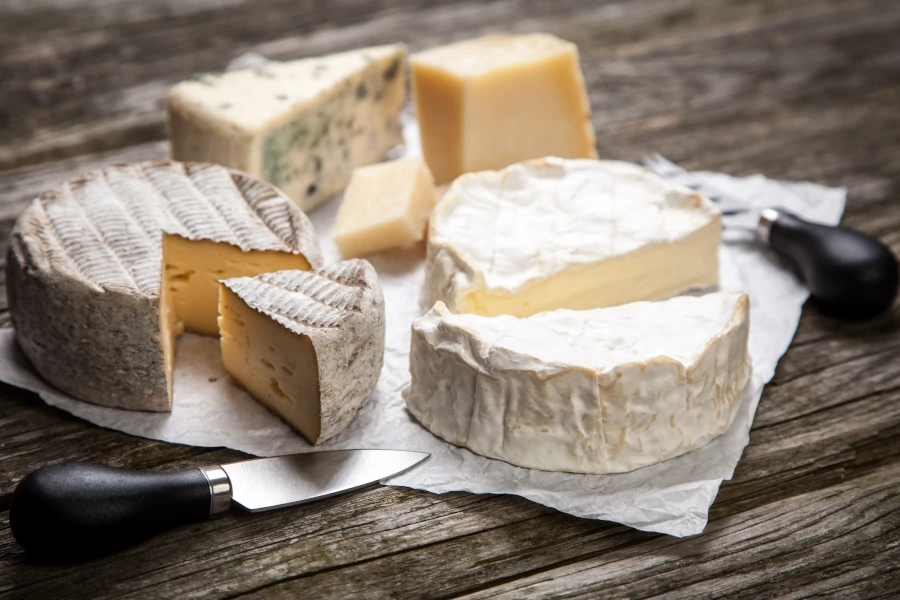 Brie and Camembert are both soft and gooey cow's milk cheeses, and have a similar flavour profile. Depending on the quality of the cheese, you can expect them to taste earthy, fruity, nutty, and grassy with a hint of mushroom. Camembert is often the stronger of the two, although it will depend on the quality of the cheese. For example, a basic supermarket Camembert won't have as much flavour as a luxury Brie de Meaux.
Red wine for Brie and Camembert
Light and fruity red wines, like Pinot Noir, make the best partner for these soft cheeses. Try them with Kurtatsch "Glen" single vineyard Pinot Noir Riserva, Alto Adige DOC, a high-altitude wine from Alto Adige – the top Italian region for Pinot Noir. Its crisp red flavours of hibiscus, cranberry and dried strawberry cut straight through the buttery and creamy texture of the cheese.
White wine for Brie and Camembert
Brie and Champagne are a classic pairing, so go Italian by reaching for a bottle of Franciacorta. Made in a similar method to Champagne, and using some of the same grapes, this elegant fizz is an ideal partner for a platter of brie and grapes. Try Lo Sparviere Brut Cuvée n.7 NV Franciacorta DOCG. Its flavours of honey, toasted bread and almonds could easily rival Champagne, pairing perfectly with the flavours of Camembert and Brie.
Wine for goats cheese and Feta: Grillo or Trebbiano Spoletino
Goats cheese and feta both have strong and tangy flavours that are quite unlike anything else. Young and white, they have a soft and crumbly texture that quickly coats the tongue. It's best to stick to zippy white wines with plenty of acidity to help cleanse the palate, such as Sicilian Grillo, or Umbria's Trebbiano Spoletino.
One of the best wines to team with goats cheese or Feta is Fratelli Pardi, Trebbiano Spoletino, Spoleto DOC. This crisp and refreshing wine has lots of minerality, and sings with citric flavours of lemongrass, lime and sweet grapefruit. These complement and intertwine with the somewhat bitter flavours of the cheese to leave a pleasant taste in the mouth. Consider reaching for it the next time you have a Greek salad or goat cheese soufflé.
Wine for Parmesan…and other Italian hard cheeses: Gewürztraminer or Chianti Classico
While many Brits simply grate hard cheeses like Parmigiano-Reggiano, Pecorino Romano and Grana Padano onto pasta, in Italy its customary to eat it as it is. A little like how we eat cheddar. If you've never added a wedge to your cheeseboard, we recommend trying it. You'll discover it's actually got a nuanced nutty and fruity flavour, with plenty of umami saltiness. An alternative, but delicious, option for a wine and cheese evening.
White wines for Parmesan
Italian hard cheese is super versatile, and goes well with fizz such as Prosecco as well as crisp whites like Pinot Grigio. It's fun to experiment, and we especially like it with Kurtatsch Gewürztraminer, Alto Adige DOC. The off-dry sweetness is a lovely contrast to the strong saltiness of the cheese. The wine's tropical flavours like lychee, passion fruit and guava also bring out the natural fruitiness of the cheese.
Red wines for Parmesan
When you're pairing red wine with Italian hard cheese, it's best to stick to ones with fruity – rather than Earthy – flavours. This will help to bring out the best in the cheese. Sangiovese – not the Chianti version but the more concentrated Chianti Classico – is great for this. So Castello di Radda, Chianti Classico Riserva DOCG is an ideal choice. This richly flavoured wine combines tastes of dried red cherry, Tuscan aromatic herbs, vanilla and black pepper with sweet pipe tobacco and leather. An added benefit is that the saltiness of the cheese help to soften the austere tannins.
Wine for Halloumi: Orange wine or Primitivo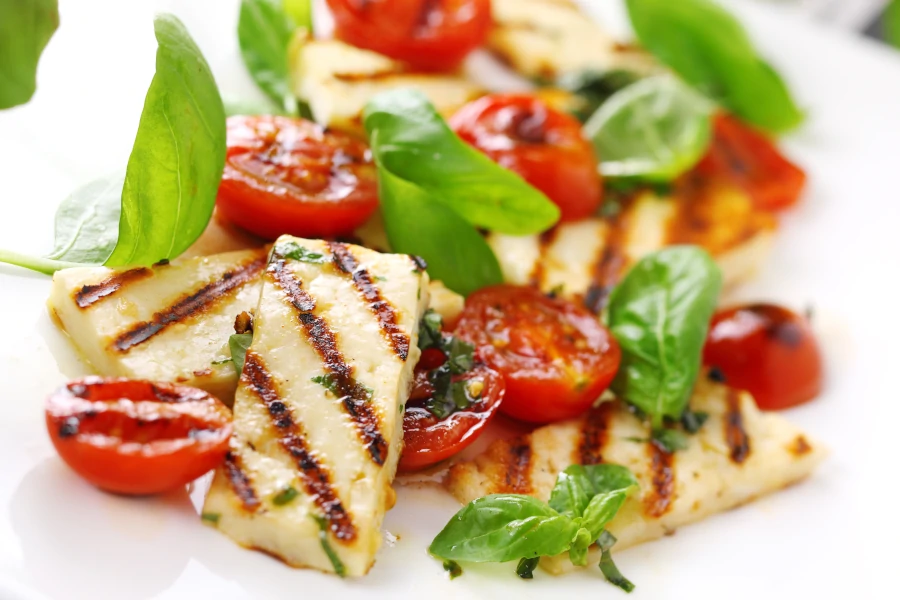 Cypriot cheese Halloumi has become extremely popular in the UK over the past few years, and often takes a central role in vegetarian dishes. It has a mild salty flavour and pleasantly squeaky texture. It's best served hot, and makes a great alternative to meat during summer barbecues.
It works especially well with oak-aged orange wine Demarie "Sabbia" produced from the fragrant Arneis grapes in Piemonte. The grape juice remains in contact with skins and seeds during fermentation, and ages in French oak barriques. This medium-bodied wine is bold enough to stand up to the cheese's dense structure, boasting flavours of almonds, apricots and green tea.
If you prefer red, opt for a Primitivo (Italian Zinfandel). Feudi di Guagnano "Diecianni" Primitivo from Salento IGP plays off the saltiness of the cheese with its plush flavours of cinnamon, vanilla and fresh blackberries.
Buy your favourite wine for cheese with next day delivery
Whether you're putting together the ultimate board for a dinner party, or are simply indulging in some wine and cheese as an evening snack, there's an Italian wine out there to suit every occasion. With Independent Wine you can enjoy free next day delivery across the mainland UK, so even your most spontaneous cheese feasts will be catered for.
P.S. Read our guides on Italian Food and Wine Pairing