Guide to Alto Adige DOC
The source of elegant Pinot Noir, Gewürztraminer and Merlot
Alto Adige – aka Südtirol – is the German speaking part of Italy, nestled in the foothills of the Dolomite Alps. Thanks to the cooling influence of the Alps, the region's wines are famous for their freshness, elegance and finesse. Here, the grapes are planted on Europe's highest vineyards, some sitting at a whopping 1,100m above sea level. With 5,553 hectares under vine, Alto Adige DOC produces 43 million bottles of wine per year.
Alto Adige DOC is still fairly under the radar, but the wines are bound to impress any aficionado looking for something new. In this article we'll profile three of the best wine types to try, recommend bottles to buy and talk about what makes the region so special.
Introduction to Alto Adige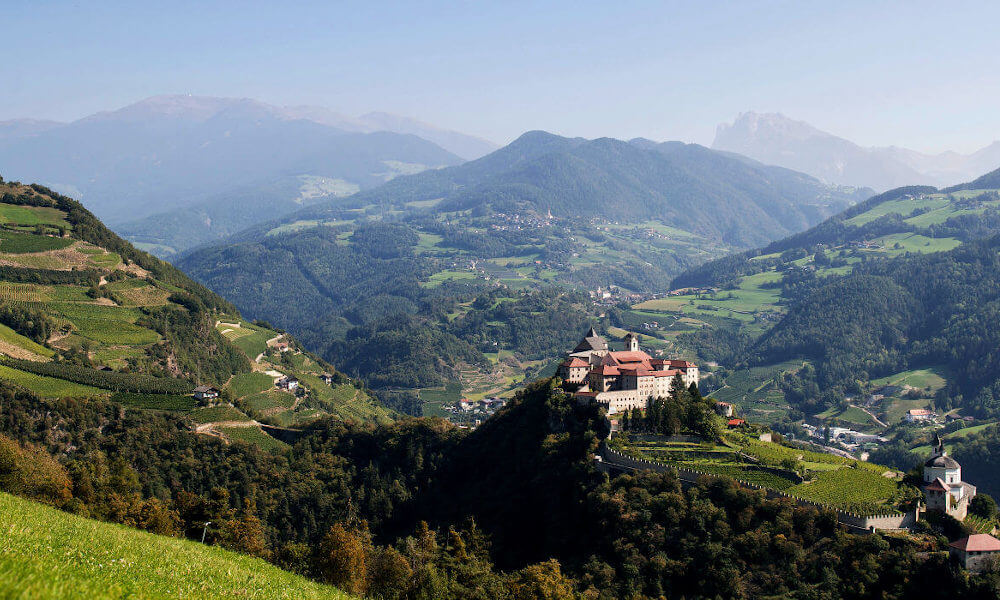 Alto Adige DOC (Credit: Südtirol Wein)
Alto Adige achieved its DOC (Denominazione di Origine Controllata) status in 1975. It's part of the wider Trentino-Alto Adige region in northern Italy, which is famous for cool-climate wines; usually labelled by varietal. While white wines are the best-known, there are some notable reds including Pinot Noir, Merlot and the local variety Lagrein.
The vineyards of Alto Adige are planted in the foothills of the Dolomite Alps, mainly on terraces facing south-east and south-west. This ensures the grapes get plenty of bright sunshine and heat during the day, helping the sugars in the grapes to fully develop. By night, the high altitude and cold mountain breezes keep the grapes cool so they retain a crisp, acidic flavour. The result is highly aromatic white wines and elegant, light-bodied reds.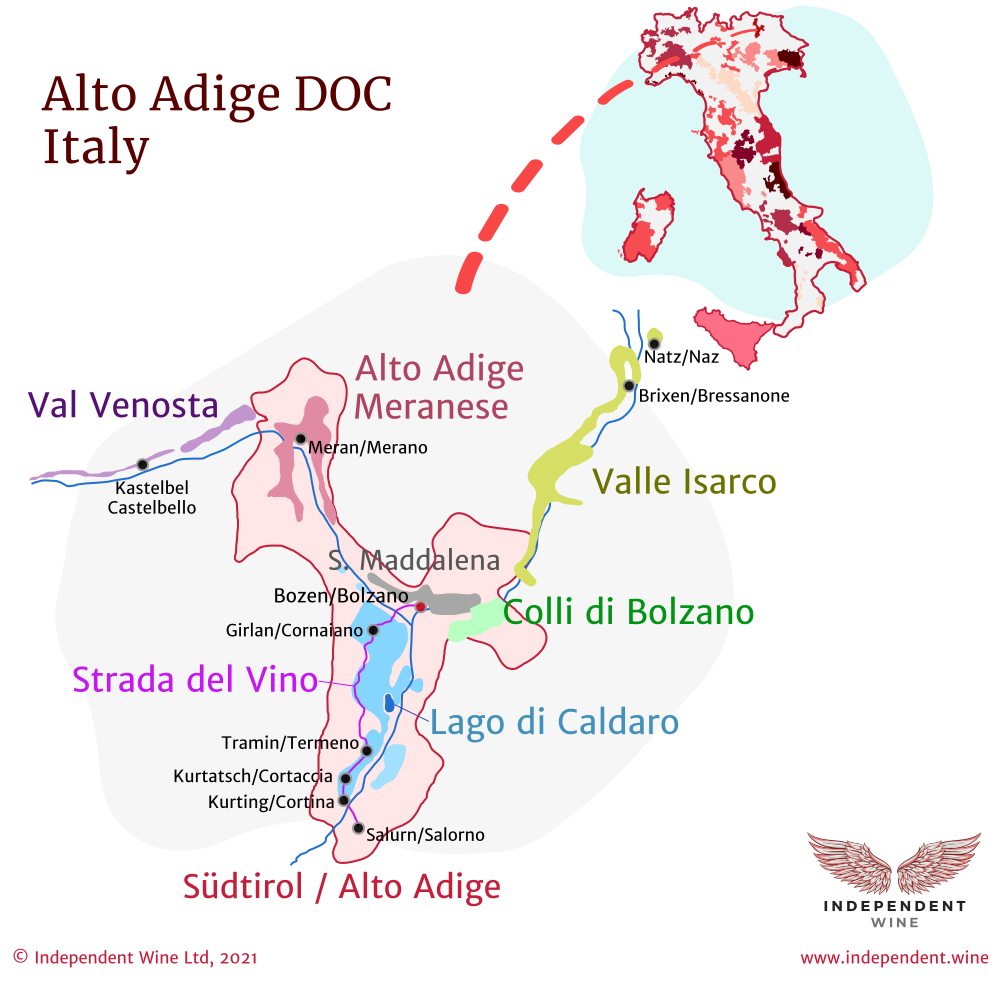 Soil of Alto Adige
Soil in Alto Adige is extremely diverse. It's not uncommon to find ancient seabeds with clay-enriched soils bordering areas with chalk deposits and volcanic rock. The southern part of the region is rich in calcareous and dolomite rock, while the Isarco Valley and Val Venosta boasts primitive rock soils studded with mica, slate and quartz. Over at the provincial capital, Bolzano, there's plenty of volcanic porphyry. This massive variation in soil helps to give each vineyard its own mineral characteristics.[2]
Key white and red grapes of Alto Adige
Major white grapes of Alto Adige DOC: Chardonnay, Gewürztraminer, Kerner, Moscato, Müller-Thurgau, Pinot Bianco, Pinot Grigio, Riesling, Sauvignon Blanc, Sylvaner Verde, Welschriesling (Riesling Italico)
Gewürztraminer grapes, Cantina Kurtatsch (credit: Independent Wine)
Major red grapes of Alto Adige DOC: Cabernet Franc, Cabernet Sauvignon, Lagrein, Malvasia Nera, Merlot, Moscato Rosa, Pinot Nero (Pinot Noir), Schiava
Merlot grapes, Cantina Kurtatsch (credit: Independent Wine)
Wine to try #1: Alto Adige DOC Pinot Noir
Alto Adige is known for producing the best Pinot Noir, which is also called here Blauburgunder or Pinot Nero south of the Alps. It accounts for 8.9% of the region's cultivation, covering 494 hectares. Every year, the region produces just over 2.9 million bottles of Pinot Noir wine.
Pinot Noir grows best on medium-elevation terraced slopes, starting at 400m above sea level. The grapes do exceptionally well at lofty elevations, developing even more elegant flavours. There are some truly excellent high altitude Pinot Noirs to be found in the region – some grown more than a kilometre above sea level. Calcareous gravel is the most sought after soil for growing Pinot Noir in Alto Adige.
Pinot Noir grapes develop more elegant flavours at higher altitude. Glen cru vineyard at 450-650 metres above sea level  (credit: Kurtatsch winery)
What does Pinot Noir from Alto Adige taste like?
Pinot Noir from Alto Adige usually has an intense taste of red and purple berries, mint and sweet pastry. Expect tangy dried cranberry, juicy wild strawberry and zingy notes of woodland raspberry. It pairs well with gamey meat; especially venison, rabbit and spring lamb. It's also the perfect accompaniment to aged cheese.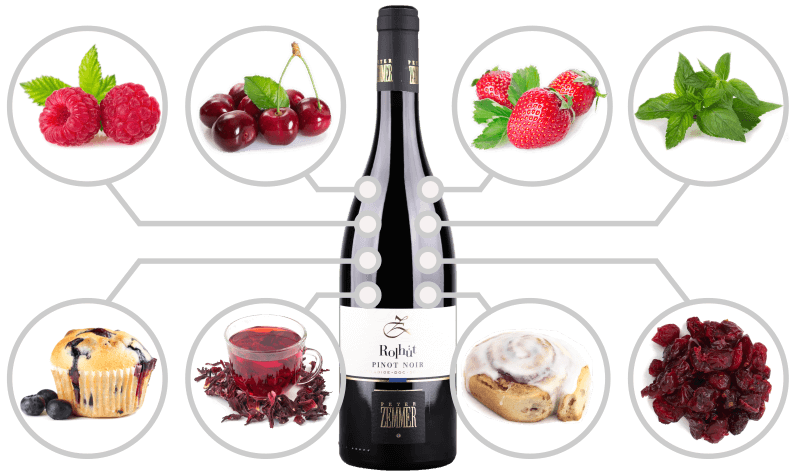 Five of the best Alto Adige DOC Pinot Noir wines
Kurtatsch Mazon Pinot Noir Riserva 2016 – With wild strawberry, mint and a hint of forest floor, this riserva wine tastes of Alpine woodlands. It has a distinct mineral character, as the maturation takes place inside a mountain cave.
Kurtatsch Glen Pinot Noir Riserva 2017 – This award-winning wine has the added bragging point of being named one of the ten best Pinot Noirs in Italy by the "Concorso Pinot Nero". Highly complex, it boasts flavours of hibiscus tea, rosemary, cloves and cranberry.
K.Martini & Sohn, Paladium Pinot Noir 2017 – This award-winning Pinot Noir is exclusively available from Independent Wine in the UK. It's delicately aged in large second-use oak barrels, which add a hint of spice without overpowering the natural perfume of the wine.
Peter Zemmer Pinot Noir Riserva Vigna Kofl 2017 – Another UK-exclusive, this Pinot Noir comes from a single vineyard set 1,030 metres above sea level. It tastes of rose petals, cloves and dried strawberry.
Peter Zemmer Pinot Noir Rolhüt 2018 – Fresh, bright and velvety, this is another elegant Pinot Noir from Peter Zemmer's family-owned winery. It's truly captivating, with flavours of fresh and dried red fruits.
Wine to try #2: Alto Adige DOC Gewürztraminer
Although it's now grown around the world, Gewürztraminer actually originates in Alto Adige – it takes its name from the village of Tramin (Termeno in Italian). According to the Alto Adige wine board, Gewürztraminer is planted on 605 hectares. It's usually grown in the southern part of Alto Adige, Bassa Atesina, where Lake Garda moderates the climate. Warm, well-ventilated vineyards are best – especially those with loamy lime-rich soils. In 2019, Alto Adige's winemakers produced around four million bottles of this gold-coloured wine.
What does Gewürztraminer from Alto Adige taste like?
Off-dry and highly aromatic, Alto Adige Gewürztraminer has a distinct aroma of rose petals, cloves, lychees and tropical fruits. It also has a silky and sumptuous medium-bodied texture. It's ideal as an aperitif or a digestif – it's sweet enough to stand up to dessert, and contrasts pleasantly with blue cheese. For the main course, it goes well with vegetarian dishes and freshwater fish.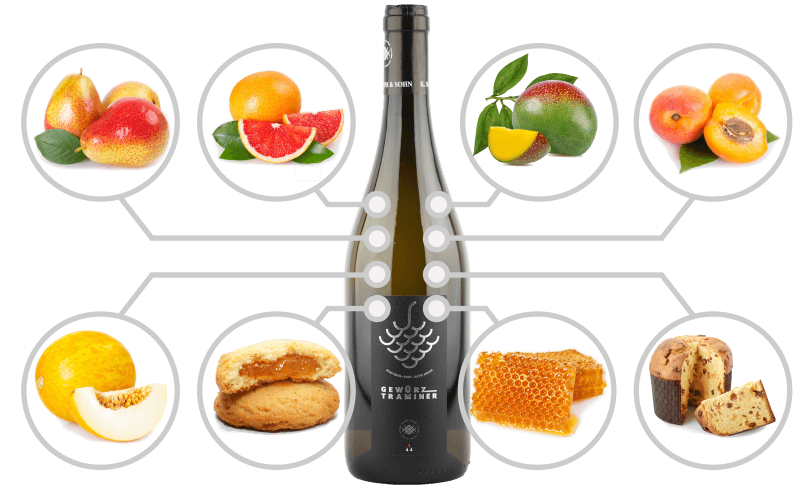 Wine to try #3: Alto Adige DOC Merlot
This famous Bordeaux grape was first brought to Alto Adige more than 130 years ago. Although Merlot is one of the world's most popular varieties, in Alto Adige it's only planted on 190 hectares. Here, Merlot is usually grown on chalky soils on the lower slopes of the mountains. It's unlikely that you'll find any higher than 350m above sea level. Alto Adige produces 1.4 million bottles of single-varietal Merlot wine per year.
What does Merlot from Alto Adige taste like?
Merlot from Alto Adige is fruit-forward, velvety and full-bodied. It typically tastes like blackberries, blackcurrants, plum compote and spice. There's usually some green herbal notes in there, too. Team it with veal, beef, game or aged cheeses.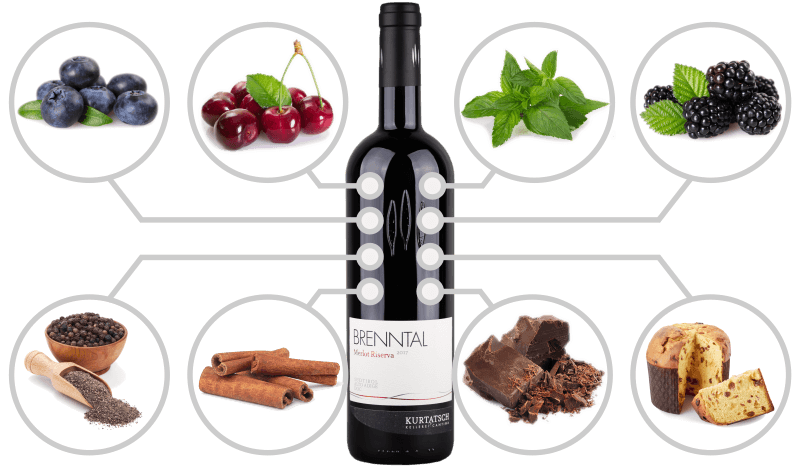 Three of the best Alto Adige DOC Merlot wines
Kurtatsch Brenntal Merlot Riserva 2017 – this complex and rich riserva wine comes from one of Alto Adige's best cru vineyards, Brenntal. It tastes like black plums, dark chocolate, black pepper and cinnamon.
Kurtatsch Curtis 2018 Merlot Cabernet – a Saint-Émilion-style blend from the Dolomite Alps, this fully rounded red wine ticks all the boxes. It tastes of blackcurrant, blueberry and black pepper.
Kurtatsch Soma 2017 Merlot Cabernet – a blend of 60% Merlot, 30% Cabernet Franc and 10% Cabernet Sauvignon, grown on the south-facing slopes of the Dolomite Alps. It tastes like blueberry, kirsch, mint, white pepper and sweet pannetone.
Alto Adige DOC Information Card
Designation of origin:

Alto Adige DOC (Denominazione di Origine Controllata)
DOC since 1975

Production:

320,825 hl, approx. 42.8 million x 75cl. bottles (2019)[2]

Top single-varietal wines (million bottles): Pinot Grigio – 5.9; Schiava – 5.5; Gewürztraminer – 3.9; Weißburgunder/Pinot Blanc – 4.6; Chardonnay – 4.4; Lagrein – 3.6.

Vineyard area:

5,553.44 hectares[2]

Location:

Trentino-Alto Adige/Südtirol, Italy

Permitted styles and grapes:

Red

Schiava (Schiava Grossa or Schiava Gentile), Shciava Grigia
Cabernet (Cabernet Sauvignon or Cabernet Franc): min 85% + 15% of permitted red grapes
Lagrein, Merlot, Blauburgunder/Pinot Noir/Pinot Nero

White

Chardonnay and/or Pinot Bianco and/or Pinot Grigio: min 75% + 25% of permitted white grapes
Müller-Thurgau and/or Sauvignon Blanc and/or Riesling and/or Silvaner, Moscato Giallo, Malvasia

Rosé

Lagrein, Merlot, Moscato Rosa: min 85% + 15% of permitted red grapes

Source[3]

Climate:

Warm continental climate

Consortium:

Südtirol Wein (Vini Alto Adige) https://www.altoadigewines.com/
Are you ready to discover Alto Adige DOC wines?
Ready to discover Alto Adige DOC wine?
Pinot Noir, Gewürztraminer and Merlot are the perfect introduction to Alto Adige DOC wines. Of course, that's just scratching the surface: there are lots of incredible wines to try from the region. Whether you're looking for a surprisingly aromatic Pinot Grigio that tastes of tropical fruit, or a lush dessert wine made from rare Moscato rosé, you can discover a wide range of Alto Adige DOC wines at Independent Wine.
And if you ever need a recommendation, please feel free to reach out via phone or email. You can find all the details on our contact page.
Wine tourism in Alto Adige
Backed by the white peaks of the Alps and studded with quaint villages, vineyards and tasting rooms, Alto Adige is a fantastic place for a holiday. If you're planning a trip, our guide to visiting Alto Adige is packed with tips on which wineries to visit and where to stay. We've also got some advice on where to taste the best wines while you're there.
Alto Adige Wine Statistics
Alto Adige DOC – wine production data, 20192
Grape Variety
Vineyard area,
hectares
Wine production,
75 cl bottles
Pinot Grigio
662.57
5,910,941
Vernatsch / Schiava
635.46
5,548,532
Gewürztraminer
604.79
3,998,431
Weißburgunder / Pinot Blanc
573.61
4,457,877
Chardonnay
569.8
4,381,273
Blauburgunder / Pinot Noir / Pinot Nero
494.17
2,908,316
Lagrein
486.66
3,588,628
Sauvignon
442.95
3,031,464
Müller Thurgau
198.69
1,626,120
Merlot
190.12
1,386,885
Cabernet (Franc/Sauvignon)
159.47
923,327
Kerner
111.21
800,736
Goldmuskateller / Moscato Giallo
94.97
877,649
Riesling
91.38
585,356
Sylvaner
69.34
515,311
Zweigelt
27
66,981
Veltliner
26.73
218,613
Solaris
14.6
24,877
Bronner
14.26
48,288
Rosenmuskateller / Moscato Rosa
7.95
21,977
Others
77.77
1,855,083
Total
5,553.44
42,776,667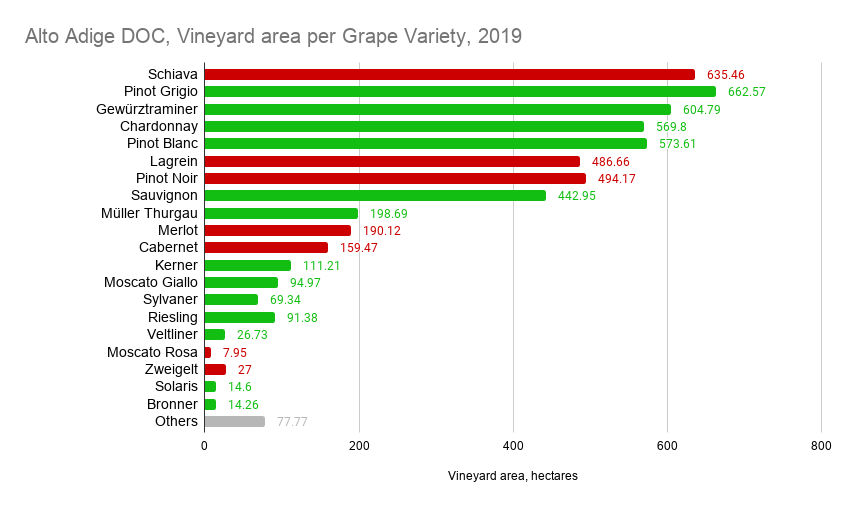 Alto Adige DOC, wine production data, 2019. Source: Consorzio Vini Alto Adige / Suedtirol Wein2