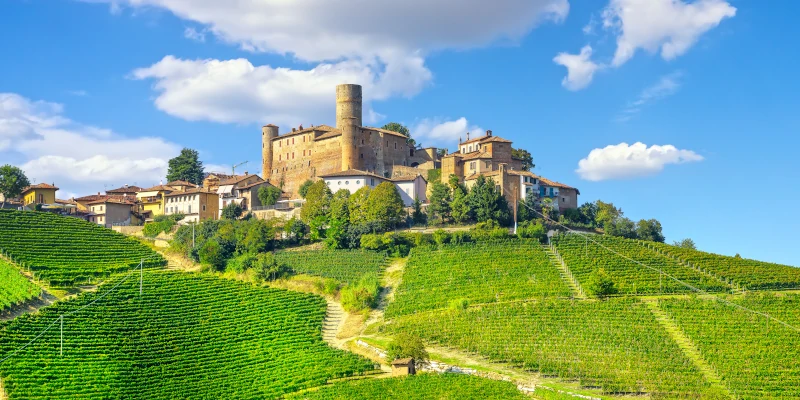 The Perfect One Week Getaway to Barolo, Barbaresco and Roero
Where to Eat, Stay and Taste Wine
Bordering France and Switzerland at the base of the Alps, Piemonte (Piedmont) is one of the best regions in northern Italy for wine tourism. It's home to some of the country's finest wines, especially those made from the red Nebbiolo grape like Barolo and Barbaresco.
Outside of the bustling capital, Turin, you'll find rolling countryside peppered with award-winning vineyards, rustic trattorias and luxurious country hotels. We work with numerous wineries in the region and visit regularly. These are some of our favourite places to eat, stay and taste wine in Piedmont.
Visiting Barolo
Where to stay in Barolo
Agroturismo La Torricella (S. Anna, Monforte)
98 Località S. Anna, 12065 Monforte d'Alba | Tel: +39 0173 78327 | http://www.latorricella.eu/
Rooms in this luxurious farm resort have balconies and terraces with views over the hills of the Langhe. Inside you'll find luxurious touches like four-poster beds and romantic floral décor. The on-site spa, Ampelo, uses products made from grapes. It's possible to book a wellness and wine tasting package. The on-site restaurant is excellent too, with a seasonal menu paired with Diego Pressenda wines.
Hotel Villa Beccaris
1 Via Bava Beccaris, 12065 Monforte d'Alba | Tel: +39 0173 78158 | https://www.villabeccaris.com/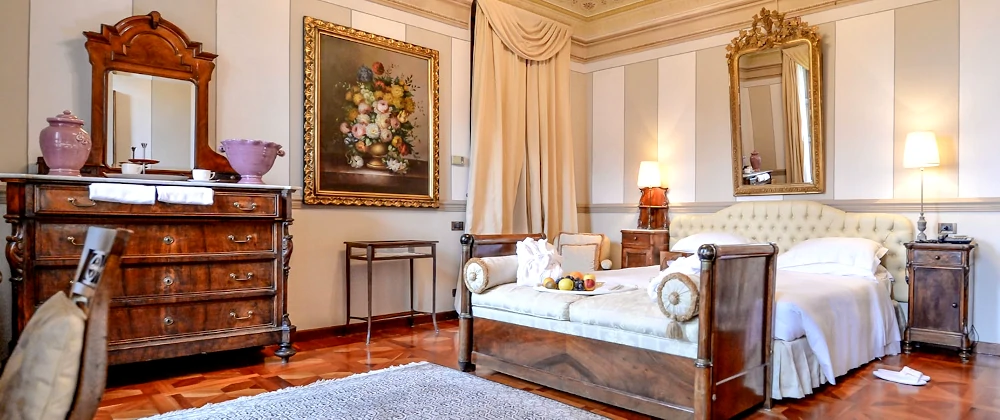 This charming hotel, set inside an 18th Century mansion, boasts sweeping vineyard views and is just a short stroll from the centre of the town of Monforte d'Alba. The rooms have lots of historic charm, with frescoed ceilings and antique furniture. In the grounds of the hotel you'll find peaceful paths for walking, a pool for cooling off and an outdoor gym with spinning bikes.
Corte Gondina Boutique Hotel
100 Via Roma, 12064 La Morra | Tel: +39 0173 509781 | http://www.cortegondina.it/
Set inside a beautifully restored manor house in La Morra, this boutique hotel is the perfect spot to rest after a day of wine tasting. Its exposed-brick cellar is home to some exceptional bottles of Barolo and Barbaresco wine and also doubles up as the hotel bar. There's a private spa which can be booked for a two-hour block, and a small outdoor garden with a swimming pool.
Best restaurants to visit in Barolo
Felicin
18 Via D.Vallada, 12065 Monforte d'Alba | Tel: +39 0173 78225 | http://www.felicin.it/
For something truly special, book a table at this Michelin-star restaurant in Monforte d'Alba. The menu offers a modern twist on traditional Langhe dishes passed down through Chef Nino's family. Expect dishes like Barolo-braised veal shank and liver paté doused in marsala. Locally sourced produce is the main focus, with beef and lamb sourced from Piedmontese breeds.
La Repubblica di Perno
12065 Perno, 5 Via Cavour 12065 Monforte d'Alba | Tel: +39 0173 78492 | http://www.repubblicadiperno.it/
Small and rustic, this trattoria focuses on good, traditional Piedmontese food. It also has an extensive list of fine wines – both local and from further afield. Expect hearty dishes like Cotechino (slow-cooked pork sausage) and capunet (cabbage rolls), all whipped up in the restaurant's open kitchen.
Ristorante Battaglino
18 Piazza Roma, 12042 Bra | Tel: +39 0172 412509 | http://www.ristorantebattaglino.it/
This charming family-run restaurant has been serving traditional Piedmontese fare since 1919. It's been awarded a Michelin Bib Gourmand award for its simple but perfectly executed menu. Specialties include vitello tonnato (Veal with tuna sauce) and agnolotti del plin (tiny pasta parcels filled with roast meat and vegetables).
Locanda Fontanazza
4 Strada Fontanazza, 12064 La Morra| Tel: +39 0173 50718 | http://www.locandafontanazza.it/
This osteria has a wide outdoor terrace so diners can enjoy sweeping views over the vineyards. The menu is simple but diverse, featuring hearty dishes like pasta e fagioli con sanguinaccio (pasta and bean soup with black pudding) and lumache polenta (snails with polenta). The wine list has a local focus, with most bottles sourced from La Morra.
Where to go wine tasting in Barolo
ForteMasso
Loc, Castelletto, 21, 12065 Monforte D'alba CN, Italy | https://www.fortemasso.it/en/ | Winery tour and tasting: +39 0173 328 148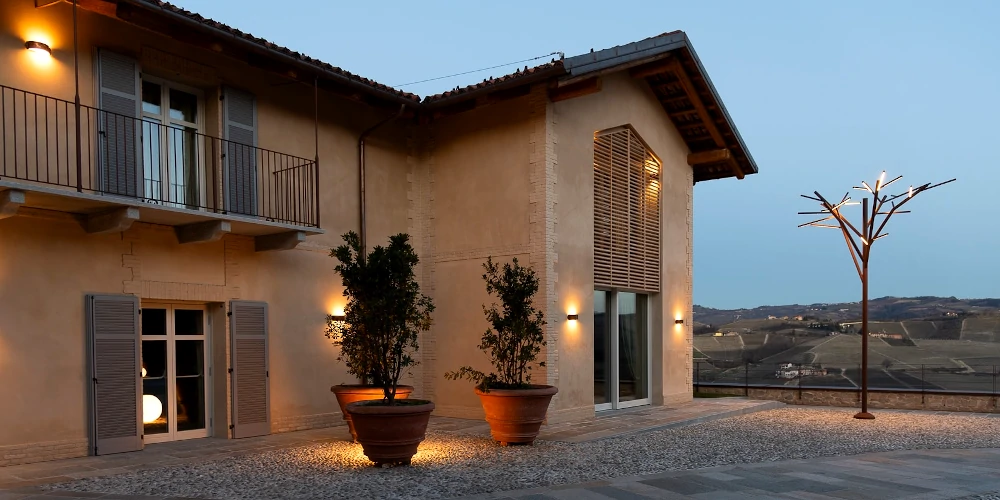 The ForteMasso winery is located in Castelletto Cru, an area renowned for powerful and austere Barolo wines. You'll find it on the eastern side of Monforte d'Alba, facing towards Serralunga. In 2013 the property was acquired by the renowned Gussalli Beretta winemaking family. They hired a top team of winemakers and modernised the winery, and have won numerous awards including Decanter Silver, Gambero Rosso "Three Glasses" and The Wine Hunter Gold.
Winery tour and tasting packages (per person):
Langhe Nebbiolo – Barbera d'Alba – Barolo Castelletto – €15
Langhe Nebbiolo – Barbera d'Alba – Barolo Castelletto – Barolo Castelletto Riserva – €25
Langhe Nebbiolo – Barbera d'Alba – Verticale di Barolo Castelletto – €35
You can book a winery tour by contacting ForteMasso directly on +39 0173 328 148 or prenotazioni@fortemasso.com.
Visiting Barbaresco
Where to stay in Barbaresco
Casa Scaparone Azienda Agricola
45 Strada Scaparoni, 12051 Alba | Tel: +39 0173 33946
You'll feel like you're stepping into history with a visit to this lovingly restored farmhouse. Stone and brick walls meet hardwood floors and exposed timber beams for a rustic feel. Free-standing tubs lend luxury to the nine vintage-inspired rooms. The property has its own vineyards, so you can really stay among the vines.
Borgese Camere e Suites
1 Via Circonvallazione, 12052 Neive | Tel: +39 0173 195 0170 | http://www.hotelborgeseneive.com/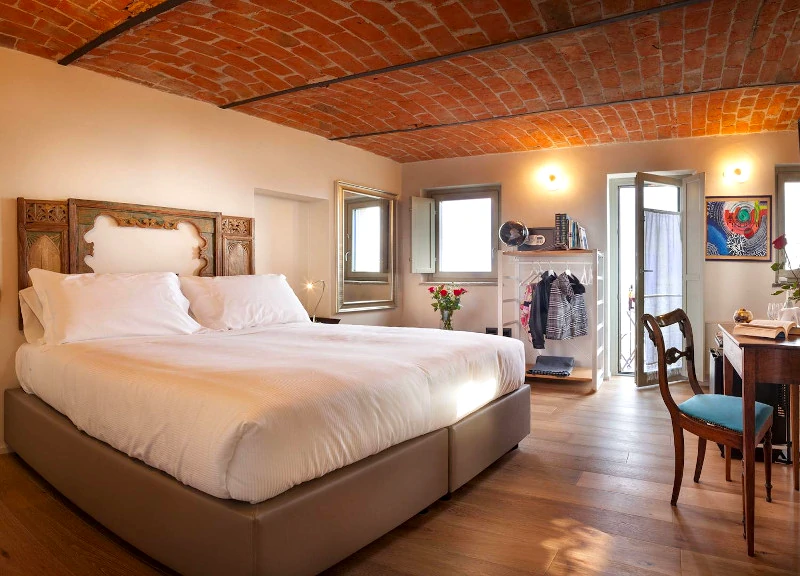 Set on the edge of Neive, this carefully renovated hotel has a mix of studios and suites. It's the perfect blend of old and new, with centuries-old walls playing the backdrop to modern minimalist furniture and colourful modern art. A cosy library and wine bar offer the perfect place to unwind after a day of exploring.
Langhe Country House
15 Via Pallareto, 12052 Neive | Tel: +39 348 835 9862
This romantic bed and breakfast has brick-vaulted suites with their own fireplaces and terraces boasting beautiful views of the surrounding countryside. The outdoor swimming pool is surrounded by loungers for basking in the sun, and an on-site spa where you can indulge in a 90 minute wellness programme.
Best restaurants to visit in Barbaresco
La Donna Selvatica
13 Via Rocca, 12052 Neive | Tel: +39 335 800 8282 | Menu
With its panoramic terrace and menu inspired by local ingredients, La Donna Selvatica ("Wild Woman" in English) makes for an exceptional dining experience. One of the best things about the restaurant is its wine cellar, featuring a collection of more than 300 bottles.
Campamac Osteria
1 Str. Giro della Valle, 12050 Barbaresco | Tel: +39 0173 635051 | http://www.campamac.com/
This gourmet inn has received a Michelin Plate award for its traditional dishes. Top-quality ingredients are the real hero here, including 30-day matured Piedmontese Fassona steaks cooked on the barbecue grill.
Where to go wine tasting
Cantina Francone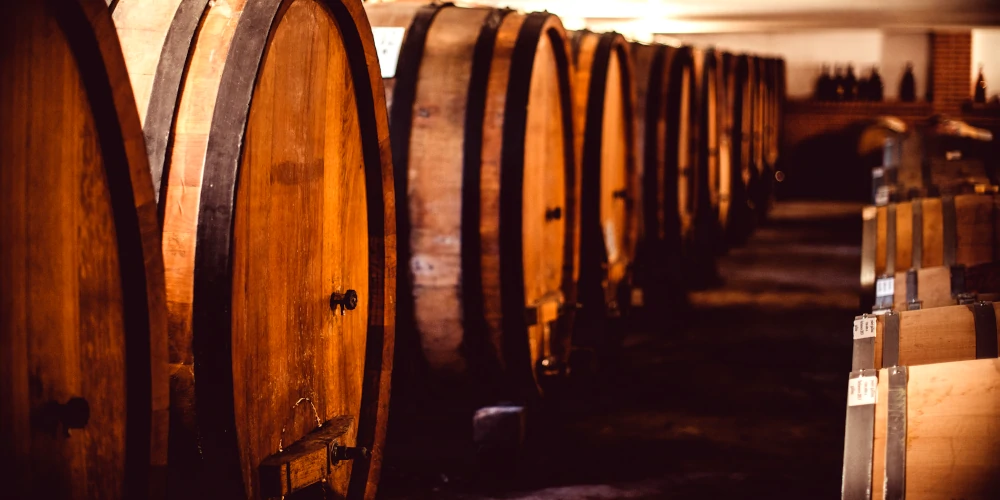 SP3, 45, 12052 Neive CN, Italy | https://visit.franconevini.com/en/ | +39017367068
This family-run winery is owned by brothers Marco and Fabrizio Francone, along with their father Marco. They follow the traditional production methods of the Langhe while constantly innovating, using sustainable methods and techniques. They own a number of vineyards carefully selected for the perfect position, altitude and terrain for each grape.
Cantina Francone offer a number of tasting experiences.
Book online using their website.
Visiting Roero
Where to stay and dine in Roero
Villa Tiboldi
127 Località Tiboldi, 12043 Canale | Tel: +39 0173 970388 | http://www.villatiboldi.com/
This intimate country hotel is surrounded by hillside vineyards. Most rooms have their own balconies, where you can soak up the views while sipping a glass of local wine. Exposed stone walls and wooden beams add rustic charm, while an outdoor pool and landscaped garden provide plenty of space to enjoy the Italian sunshine.
The Villa Tiboldi restaurant is our favourite place to eat in Roero. During summer, meals are served in the garden where the fragrance of flowers and the flicker of candles create a romantic atmosphere. The fine dining menu includes upscale twists on rustic dishes, accompanied by wines from Malvirà.
Where to go wine tasting in Roero
Malvirà
Via Case Sparse, 144 Località Canova, 12043 Canale d'Alba CN, Italy | +390173978145 | http://www.malvira.com/
Set in the vineyards below Villa Tiboldi, the family-run Malvirà winery has been producing fine Roero wines for three generations. They have 42 hectares of vineyard, mostly set on calcaire-sandy soil. This is perfect for growing the Arneis grapes which are used to make elegant white wines. Fans of red will also enjoy Malvirà's delicious Nebbiolos.
Wine tasting is available by appointment, every day from 8am to 12pm and 2pm until 6pm. Make an appointment by emailing malvira@malvira.com or calling +39 0173 978145.
Demarie
Via Castellinaldo 16, 12040 Vezza d'Alba | +39 0173 65454 | https://demarie.com/en/
The main vineyard of the Demarie Giovanni family is in Vezza d'Alba in Roero, although they also have properties in La Morra (Barolo) and Barbaresco. All of the wine is made in a sustainable manner in a modern cellar built in 2013. They've recently attained organic certification, and are proud to create wines that truly represent the terroir.
There are three different wine tasting packages available:
3 LABELS – 12 € Tasting of 3 wines (Roero Arneis, Barbera d'Alba Superiore and Nebbiolo d'Alba) + snacks of local products
5 LABELS – 22 € Tasting of 5 wines of your choice (excluding Barolo Riserva and BarbarescoRiserva) + snacks of local products
GRANDI RISERVE – 25 € Taste of Roero Riserva, Barbaresco Riserva and Barolo Riserva + snacks of local products.
It's also possible to organise a custom tasting. You can book your tasting on the Demarie website.
Try Piedmont wines at home
If you can't travel to Italy, you can still enjoy some of the fine wines of Piedmont at home. We stock a wide variety of wines from Paolo Demarie, Malvirà, Cantina Francone, ForteMasso and other producers. Discover our favourite wines from Piedmont, and you'll be ready to plan the perfect trip.