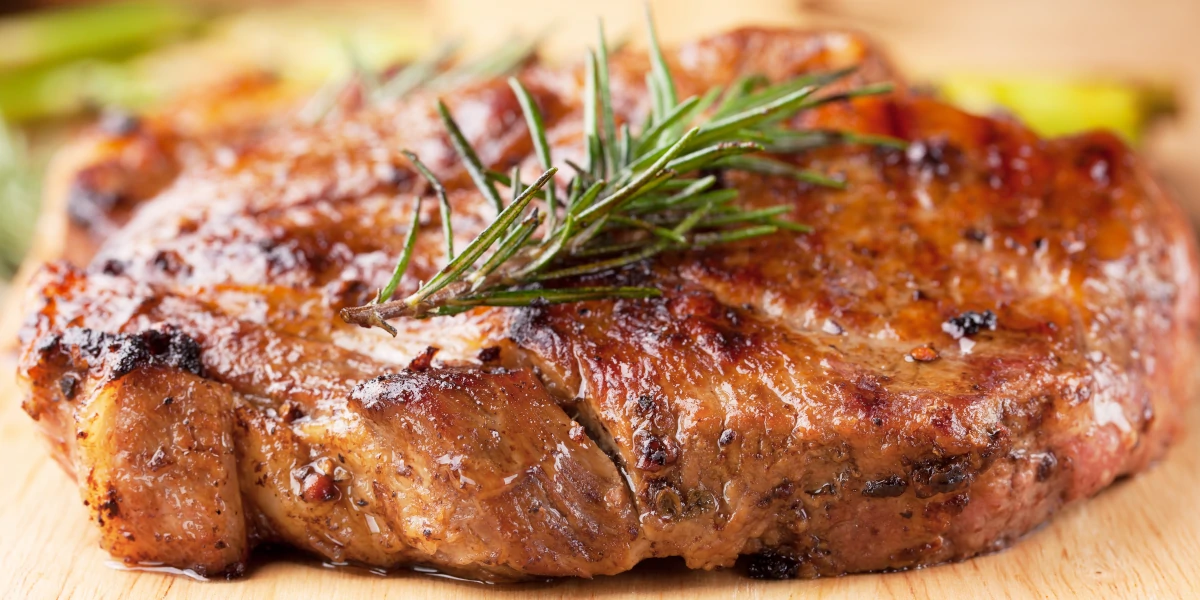 Italian red wines for steak, venison, pork or lamb
Top tips for your summer barbecue and more
Italian Food and Wine Pairing / Italian red wine for steak, pork, venison or lamb
A bottle of juicy red wine for steak may be a classic pairing, but finding the right wine for the type of meat you're cooking can be an art form. As well as thinking about the texture and taste of the meat itself, it's also important to consider the sauce or marinade you're serving it with.
Whether you're firing up your barbecue for a summer get-together or gathering indoors over a classic Sunday roast, we've spoken to some leading food bloggers for some tips on which Italian wines work best with steak, lamb, pork and game.
Contents: Best Italian wines for meat
Wine for Steak: Montefalco Sagrantino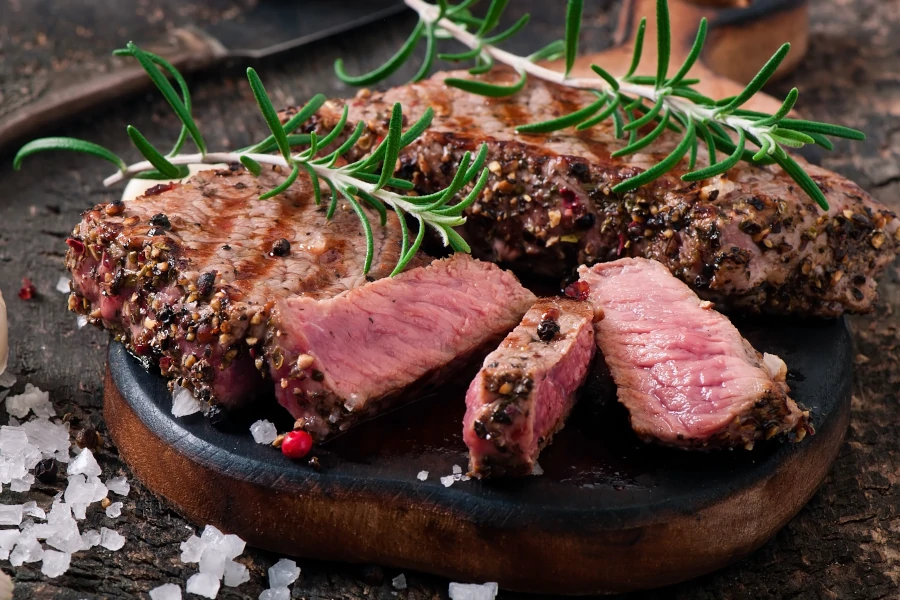 The best wine for steak is usually a big bold red with a full-body and lots of tannins. The complex flavours of the wine work alongside the deep taste of the meat. If you salt your steak well, it can help to soften the tannins and create the impression of an even fuller body. So, whether you're serving it with chips, or throwing it on the barbecue, a steak dinner is the perfect opportunity to break out your most tannic reds.
The most tannic wine in Italy is Sagrantino – we have a couple of award-winning examples from Montefalco, in the heart of Umbria. For centuries this wine was made in the sweet style and used by Vatican as the "sacred" wine for the Mass (hence the name "Sagrantino"). Now, a modern generation of winemakers educated in Verona or Alba started to make perfectly dry Sagrantino, drifting away from the old ways of sweet wine.
This wine is not so well-known in the UK (as all Umbrian wines, to be fair). Well-made Sagrantino is really delicious, so if you haven't tried it yet we definitely suggest you check it out.
Best wine for roast beef: Barolo and Amarone
There are lots of flavours going on in a Sunday roast, so you want a wine that can easily hold its own and earn its place at the table. Chianti Classico is a great everyday choice, but if you're planning a special occasion spend a little more and pick up a Barolo or Amarone. A particularly excellent wine for roast beef is Demarie Barolo Riserva DOCG, which is very complex with a silky texture. It also has juicy flavours of blueberries, cherries and spice along with tobacco and leather.
Another opulent red wine for roast beef is Amarone. This wine is made from partially dried grapes, and has concentrated flavours and acids. Because of that, Amarone has rich flavours of dried red fruits like strawberries and raspberries, and a lot of freshness – so it will balance the strong flavours and spiciness of roast beef. Our recommendation is Rubinelli Vajol Amarone della Valpolicella from San Pietro in Cariano in the Valpolicella Classico zone.
Wine for barbecues – burgers and sausages: Primitivo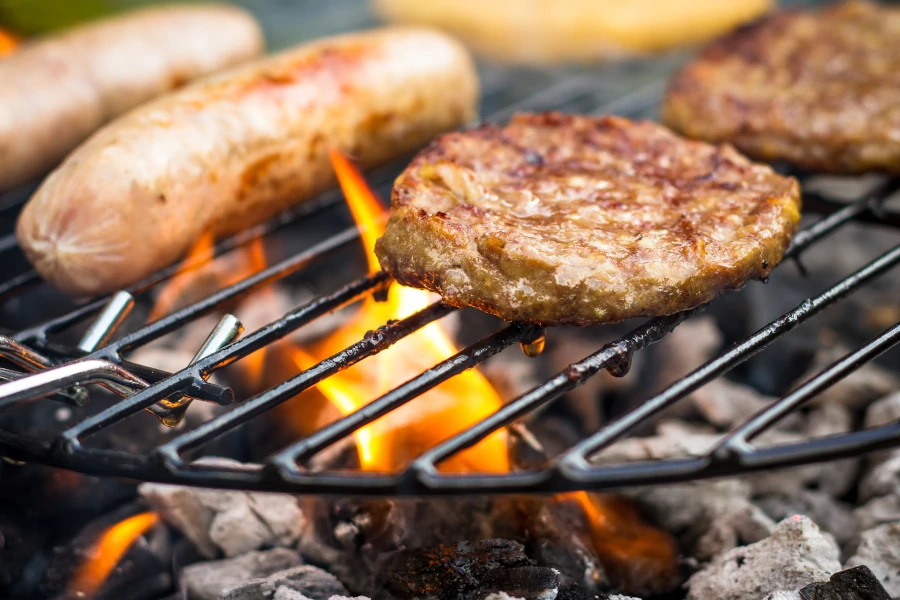 When choosing your wine for burgers and sausages cooked on a barbecue, it's worth taking into account the other flavours and seasonings. For example, do your sausages have added aromatics like fennel and sage? Are you topping your burger with spicy relish? As a rule of thumb, it's best to go for classic meat-friendly red wines. Choose one with high levels of acidity to cut through the fattiness.
The food served at a barbecue might be basic, but that doesn't mean your wine should be an oak-aged wine with a smoky flavour, like Carvinea Organic Primitivo, Salento IGT, will also complement the flavours imparted by grilling over an open flame.
Wine for lamb: Super Tuscan
Choosing wine for lamb means reaching for big bold reds that can easily stand up to the rich, sweet and unique flavour of the meat. Roasting a whole leg of lamb is a lovely way to create a sense of occasion when having friends around for Sunday lunch. But even midweek lamb chops deserve a good red wine. When selecting wine for lamb, aim for a fruit-forward red with lots of berry flavours – this will complement the lamb's sweet and succulent flavour. Also check that it has plenty of crisp acidity to cut through the fattiness of the meat.
Lamb and wine pairings to try
If you're throwing some marinated lamb steaks on the barbecue, Fiona MacLean from London Unattached recommends Super Tuscan wines. Theirs smoothly integrated flavours of blackberry and smoke complement the grilled meat taste, and it's powerful enough to work well with strong flavours such as garlic and Italian herbs too. Fiona says:
"the sweet, full-flavoured lamb pairs beautifully with this berry-rich and delicious wine. It's the kind of wine which really exemplifies 'Super Tuscan' and for me demonstrates why we should not necessarily pass the IGT denomination by."
For something spicier, such as leg of lamb with Moroccan spices, Sandy Cadiz-Smith of Eating Covent Garden recommends Kurtatsch Curtis 2018 – a Merlot Cabernet from Alto Adige.
"it's a beautifully rounded wine with aromas of blackcurrant and blackberry, plenty of body and a lovely long finish. A wonderful companion to my spiced, tender lamb." She serves it with a fresh crunchy salad filled with cucumber, radish and yellow pepper. Perfect for sunny days in the garden.
Wine for pork (or wild boar): Chianti Classico
When you're choosing wine for pork, the most important thing to think about is the cut. Fattier cuts, like belly or pork chops, go really well with acidic red wines and zingy whites that can cut through the fat. If you're cooking a lean cut, such as the tenderloin, it's best to avoid wines with a lot of tannins as the meat doesn't have enough fat to counteract the structure. Aim for light-bodied red or white wines that won't overpower the subtle natural flavours of the pork.
Pork and wine pairings to try with pork
Grilled wild boar is very traditional in Tuscany, so there are lots of pork and wine pairing using this type of meat. Simply use regular pork if you can't find wild boar in your local butchers.
Fiona MacLean of London Unattached has fond memories of dining on wild boar tenderloin stuffed with mushroom during a trip to Chianti, and suggests making something similar. Rather than stuffing, pop your pork loin on the barbecue (or on a griddle) and serve with a red wine and cream sauce. The wine pairing is, naturally, Castello di Radda Chianti Classico DOCG. Decanter describes this wine as having
"a suave floral and smoky nose, sweet black fruit flavours, smooth tannins, lively acidity and integrated alcohol."
Here's a few award-winning Chianti Classico wines to pair with pork chops:
Another way to eat pork or wild boar is in a traditional ragu. Served over pappardelle pasta, it's perfect for al-fresco suppers.
This rich and deep sauce is simmered slowly, and is worth making a day ahead so that all of the flavours can combine. That way you can simply reheat it, and spend your evening enjoying company rather than in the kitchen. Such a bold dish deserves a big wine, and Fiona MacLean's top wine for pork pick is Orlandi Contucci Ponno, La Regia Specula – a Colline Teramane Montepulciano d'Abruzzo DOCG wine. Filled with juicy berry, white pepper and smoky notes, it's a lovely companion to such a rich meal.
Wine for Venison: Cannonau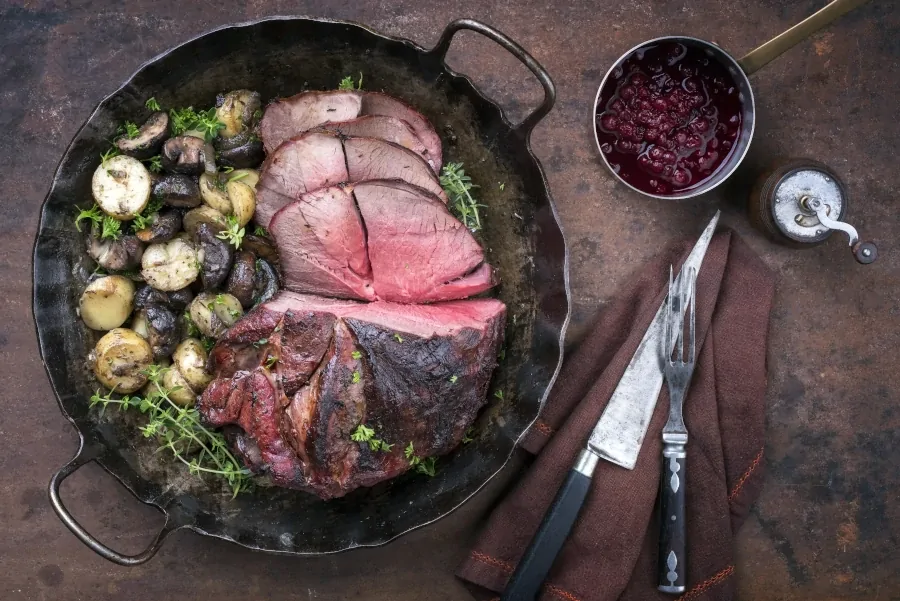 Wine for game meat should be bold and full of character. This is because game meats, like venison and rabbit, are strongly flavoured and often very lean. Although you want a wine with depth, it's important to avoid anything too full-bodied. Lean meat can't quite handle the structure the way that fattier cuts can, so reach for fruit-forward reds on the lighter end of the scale.
If you're planning to spend your day outside exploring the great outdoors, nothing beats coming home to a hearty venison stew that's been simmering in the slow cooker. As well as garlic, red wine and woody herbs like rosemary and thyme, this stew is also spiced with juniper berries. We recommend bold and spicy wines from Sardinia made from Cannonau.
Wine for Rabbit: Nero d'Avola
Our final summer wine and meat pairing will instantly transport you to the sun-soaked island of Sicily. Coniglio Alla Stimpirata is a flavoursome rabbit stew filled with fresh Mediterranean vegetables and mint. It has a sweet and sour taste which works really with Nero d'Avola. The signature red grape of Sicily, it's full-bodied with plenty of tannins that can handle dishes with lots going on. Fiona MacLean's recommendation is the 306 Biologico Nero d'Avola from Salvatore Tamburello. Fiona speaks why she though this wine would be the perfect match:
Coniglio Alla Stimpirata as a pairing for a rather special bottle of Nero d'Avola that I've been sent. Very much the grape of Sicily, it's named after the town of Avola on the south-east coast of the island, though the grape is planted across the island these days. Sicily has a hot Mediterranean climate – I was there in November and could swim in the sea and easily get sunburnt. A little like Syrah, the wine has high tannins and lots of body.
This particular wine was also featured in The Independent newspaper, who described it as having
"concentrated but lush and silky black-fruit flavours and real poise and elegance on the palate."
Choose the right wine with next day delivery
There are some basic rules to remember when you're pairing wine with meat. For example more tannic wines work well with salty dishes. Another rule to remember is that if there's a lot going on in your sauce or marinade, you'll need a more complex wine. After all, you don't want to risk the food overpowering the drink – or vice versa!
Of course it's all down to personal taste, and it's well worth experimenting. You might just discover a new ideal match.