Guide to Roero DOCG
The home of Nebbiolo and Arneis wines
Roero DOCG is the source of elegant and less tannic Nebbiolo reds. It's also the home to delicate Arneis whites with flavours of apricots and white flowers, and delightfully spritzy Arneis spumante. There are 1158 hectares of vineyards in Roero DOCG, producing 6.6 million bottles of wine per annum. To meet the DOCG rules, wines have to be made with the region's two most famous grapes. Roero DOCG red wine must consist of 95% Nebbiolo, while Roero Arneis DOCG ought to include a minimum of 95% Arneis. Located north of Alba in Piemonte, Roero is often overlooked in favour of its more famous neighbours, Barolo and Barbaresco. This is a shame. Roero's landscape – with its rolling hills, steep vineyards and unique sandy soils – produces some of Italy's most intriguing wines. If Roero isn't on your radar yet, here's everything you need to know about the land and its wines.
Roero at a glance
Roero is famous for two types of wine: bold and tannic Nebbiolo reds and delightfully fresh Arneis whites. This wine-producing region is located north of the city of Alba in Piedmont, on the left bank of the Tanaro river. It's just three miles from the legendary denominations of Barolo and Barbaresco, which sit on the right bank. Interest in Roero has risen over the past few years, thanks in part to its excellent Nebbiolo wines – which sell at a very attractive price when compared with neighbouring Barolo.
Roero is qualified for the DOCG (Denominazione d'Origine Controllata e Garantita) status – the highest standard of wine in Italy. By law, the Italian Government tests and certifies that the quality of each bottle meets the standards, and each bottle is marked with a numbered label. For Roero, the quality control is done by a government-appointed agency – Valoritalia S.r.l. (Via Piave, 24, 00187 – ROMA www.valoritalia.it) – and customers can report to them if there is any issue.
The region consists of 19 municipalities, and has 1158 hectares of vineyards planted over gently rolling hills. The vast majority – or 889 hectares – is dedicated to Roero Arneis, leaving only 269 hectares (2019) to plant Nebbiolo grapes for Roero DOCG reds[2]. Roero's annual production is equivalent to 6.6 million bottles (2018)[1], which is less than half of neighbouring Barolo.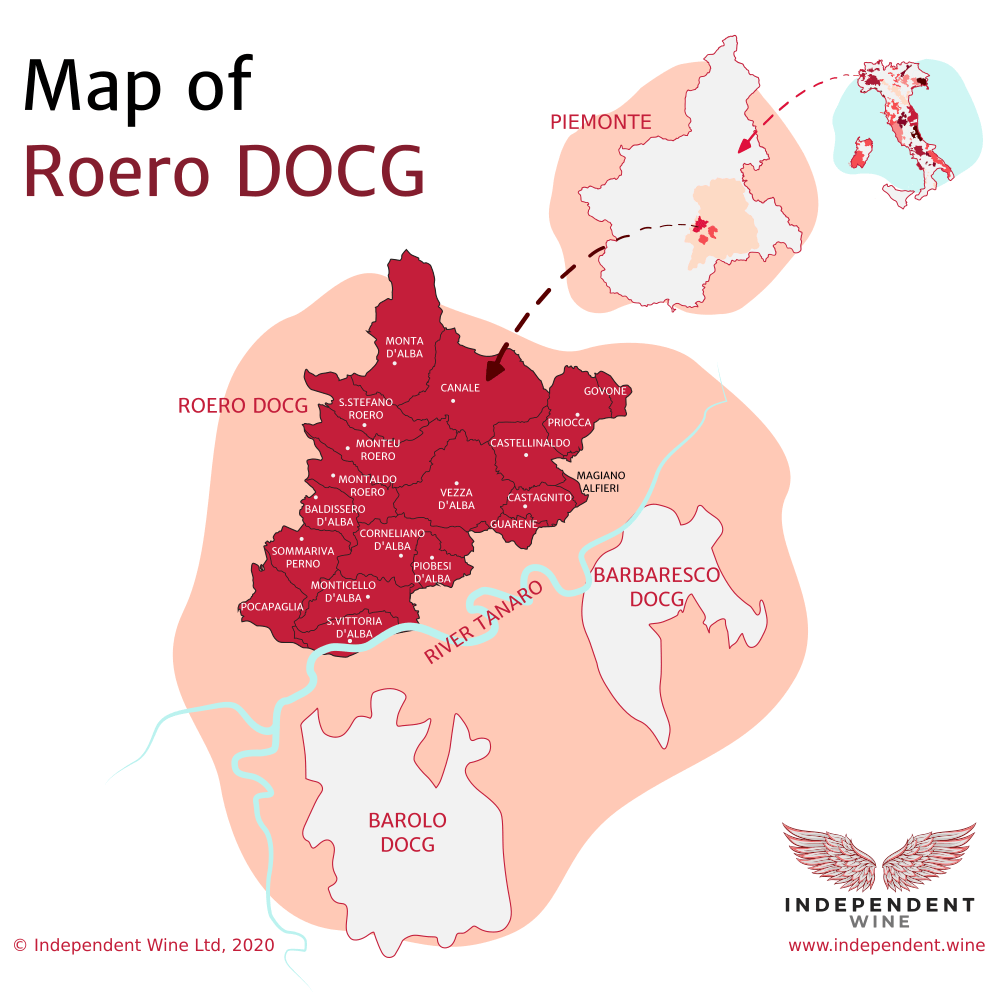 Soil of Roero
Both red and white wines made in Roero are fragrant and elegant – mainly because of the higher content of clay and sand in the soil. Marine fossils are frequently found in the vineyards (see the soil of Roero pictured below). For millions of years this land was covered by the Mediterranean Sea, until tectonic movements led to formation of the hills of Roero in the Pliocene Epoch 3 million years ago.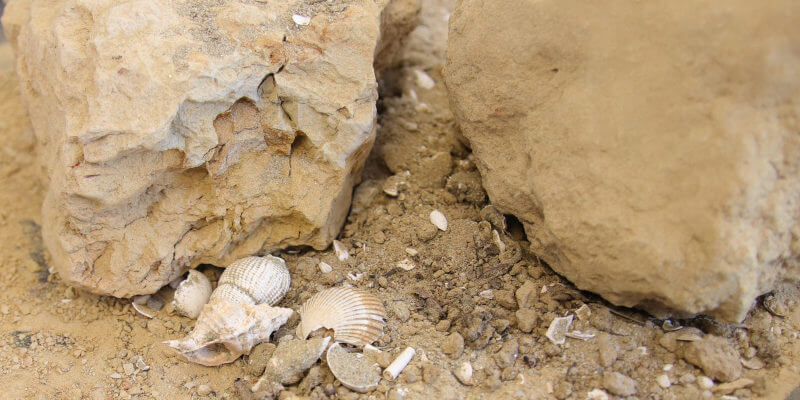 Soil with sand, clay and marine fossils from the municipality of Vezza d'Alba in Roero (credit: Paolo Demarie)
Nebbiolo needs a lot of sunshine to ripen and reach its full quality potential. Because of that, the wine laws of Roero forbid vineyard owners from planting this grape on north-facing slopes. Happily, Arneis ripens more easily and can be planted in vineyards facing any direction. Planting on the valley floor is forbidden in Roero for all grapes, because they may struggle to ripen and not produce the high quality wine that Roero aims for.
Roero DOCG Information Card
Designation of origin:

Roero DOCG (Denominazione di Origine Controllata e Garantita)
DOC since 1985, DOCG since 2004

Vineyard Area:

Total 1158 hectares, of which
– Roero Bianco (Arneis): 889 hectares
– Roero Rosso (Nebbiolo): 269 hectares

Production:

49,473 hl, approx. 6,596,400 x 75cl. bottles (2018)[1]

Location:

Piedmont (Piemonte), Italy

Climate:

Warm continental climate

Consortium:

Consorzio Tutela Roero https://www.consorziodelroero.it/en/

Maximum permitted harvest:

Starting from the 8th year after planting the vines the maximum harvest is:
– Arneis: 10 tonnes/hectare;
– Nebbiolo: 8 tonnes/hectare
Harvesting is permitted on the 3rd year after planting (Arneis: 5.4 tonnes/ha, Nebbiolo 4.3 tonnes/ha). From years 3 to 7 the harvest cap is gradually increased[3].

Styles and permitted grapes:

Red wine
"Roero": 95% Nebbiolo + 5% non-aromatic red grapes from the same vineyard only (typically Barbera or Dolcetto)
"Roero Riserva": same, conforming to ageing rules
White wine
"Roero" or "Roero Arneis": 95% Arneis + 5% non-aromatic white grapes from the same vineyard only (typically Favorita, Chardonnay or Sauvignon Blanc)
"Roero Riserva" or "Roero Arneis Riserva": same, conforming to ageing rules
Sparkling wine
"Roero" or "Roero Arneis": 95% Arneis + 5% non-aromatic white grapes (typically Favorita, Chardonnay or Sauvignon Blanc)

Minimum ageing requirements:

Minimum ageing time may be exceeded by the winemaker:
Red wine
Roero: 20 months, 6 months of which in wood
Roero Riserva: 32 months, 6 months of which in wood
White wine
"Roero" or "Roero Arneis": 4 months total ageing time (ageing in wood is optional)
"Roero Riserva" or "Roero Arneis Riserva": 16 months total ageing time (ageing in wood is optional)
Sparkling wine
Ageing not required

Soils:

Clayey, calcareous, sandy and their possible combinations. Until 3 million years ago the area was a seabed of the Mediterranean sea.
Red wines from Roero are mainly made using Piedmont's most legendary grape: Nebbiolo. It is known for its full body and aromatic flavours of rose and liquorice. It is usually aged in oak for several years, allowing the tannins to soften and the wine to develop complex flavours of pepper, cinnamon and dark chocolate.
The DOCG wine laws of Roero demand that red wine must consist of at least 95% Nebbiolo. The remaining 5% can be made up of traditional grapes from the area such as Barbera or Dolcetto, although these must come from the same vineyard. That said, most premium reds are made from 100% Nebbiolo.
Nebbiolo grapes from Vezza d'Alba in Roero (credit: Paolo Demarie)
What does Roero Nebbiolo taste like?
How does Roero Nebbiolo compare to the more famous Barolo, which is made from the same grape? A typical high-quality Roero is more fruity, elegant and fragrant, with softer tannins, whereas Barolo typically offers a deeper flavour and is more tannic. As a result, Roero Nebbiolo doesn't need to age as long as Barolo to reach its full potential, and can be enjoyed at a younger age. At a more affordable price, Roero Nebbiolo is a great casual wine, which doesn't need to wait for a special occasion. On the flip side, Barolo is able to mature and develop in the cellar for longer, making it a better choice for collectors.
Standard Roero red has to be aged for at least 20 months, with at least six in oak. Roero Riserva must be cellared for at least 32 months, including a minimum of six months in oak. In practice, premium producers age their Roero Rosso and Riserva for longer.
Roero Rosso is a wine giving magnificent emotions in every phase of the tasting, a complex wine frequently characterized by pretty long and clean final sensations.
White wines of Roero DOCG
The Renaissance of Arneis
The Arneis grape is indigenous to Roero, and has been cultivated there since the 1400s. It almost went extinct after WWII. It only remained in three vineyards, and even then it was simply used to attract insects away from the precious Nebbiolo. When consumer tastes shifted away from full-bodied oak-aged whites, fruity and fresh Arneis was re-discovered. Lately, this wine has seen a renaissance: and has become very popular with white wine drinkers.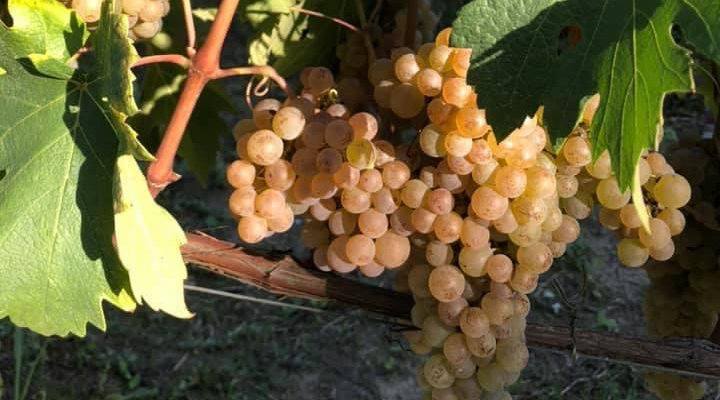 White Roero DOCG wine must be made from at least 95% Arneis. Winemakers can use up to 5% other traditional grapes, such as Favorita (the local name of a grape known as Vermentino in Sardinia) or Chardonnay. Those white grapes must come from the same vineyard as Arneis. In practice, all premium winemakers avoid blending varietals. Just like how Roero Rosso is made from 100% Nebbiolo, Roero Bianco is usually made from 100% Arneis.
Standard Roero Arneis has to spend at least four months in the cellar. It doesn't have to see oak; this is the winemaker's choice. Classically, Arneis is made in a refreshing and fruity unoaked style, intended for immediate consumption. Roero Arneis Riserva must be cellared for at least 16 months. Again, oak ageing is not required, and it's up to the winemaker whether they want to use oak for their desired style of wine.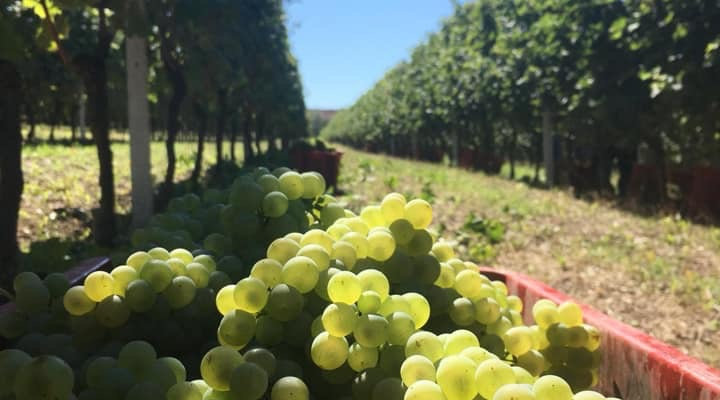 What does Arneis wine taste like?
Young Arneis has a uniquely vibrant and fresh taste of honeysuckle, elderflower, apricot stone and minerals, with elegant notes of jasmine and acacia flowers. Unlike many other white wines that have to be drunk young, Arneis ages really well in bottle. Over time it develops notes of honey, dried apricots, orange peel and baked yellow apple.
Important geographical areas and cru vineyards
The most prestigious wines from Roero will state exactly where they were produced. The labels for Roero DOCG wine may include one or two geographical names.
The first name indicates whether this wine comes from an important vine growing area. Usually it's a hill, or a group of vineyards, which have developed a long-standing reputation for producing wines of excellent quality. In Roero, these are called "additional geographical mention" – menzione geografica aggiuntiva (MGA)[3].
The second will name a specific cru-rated vineyard within the MGA, which has even higher standing and is recognised by connoisseurs for its exceptional quality.
For example, a red Roero from the Trinitá hill in Canale will be labelled "Roero DOCG Trinitá". However "Roero Riserva, Vezza D'alba, Torion" – goes into further detail, telling the buyer that this wine comes from the Torion cru in Vezza D'alba.
Another wine from one of Roero's notable MGA-vineyards is Malvirà Renesio Riserva 2012 . This 100% Nebbiolo wine comes from a south-facing vineyard on the MGA-rated Renesio hill, crafted by one of the region's most influential producers. There's also a white edition, Malvirà Roero Arneis Renesio, which is grown on the same highly regarded hill. Both have won the prestigious Three Glasses award from Gambero Rosso; something only a small amount of wines achieve each year.
Vineyard in the Trinità additional geographical unit (UGA) in Canale, Roero DOCG (credit: Malvirà)
Are you ready to discover Roero wines?
Whether you prefer fresh and fruity whites like Arneis or big bold reds like Nebbiolo, the Roero wine region is one worth exploring. Discover some of our favourite Roero wines from our collection below:
[1] 49,473 hectalitres produced in 2018 (an equivalent of 6,596,400 x 75cl bottles). Source: VQPRD d'Italia 2018, I Vini Italiani A Denominazione d'Origine, Confederazione Nazionale Dei Consorzi Volontari Per La Tutela Delle Denominazioni Dei Vini Italiani https://www.federdoc.com/en/vqprd/
[2] Consorzio Tutela Roero, https://www.consorziodelroero.it/
[3] DISCIPLINARE DI PRODUZIONE DEI VINI A DENOMINAZIONE DI ORIGINE CONTROLLATA E GARANTITA "ROERO" Modificato con DM 09.07.2014