Barolo, also known as "the king of wines", is a fine Italian red wine with complex and powerful aromas. It's produced in an area called Barolo DOCG in Piedmont, north-west Italy. The wine is made from a grape called Nebbiolo, which is famous for its flavours of dried rose and liquorice. The typical harvest time is the second half of October. According to DOCG rules, Barolo must be aged for at least 38 months, and  Barolo Riserva for at least 62 months. This is because Nebbiolo grapes are very high in tannins. A long ageing process is required to soften and mellow the tannins, and give Barolo more time to develop its fine aromas. The recommended minimum time for bottle ageing is between 5 and 10 years. 14 million bottles of Barolo are produced each year – five times fewer than Chianti. If you're wondering when the best vintages for Barolo are, 2010, 2013, 2015 and 2016 are considered the best years. As for vintages to be careful with, 2011, 2012 and 2014 were challenging.
What kind of wine is Barolo?
Barolo is a red wine with complex and powerful aromas. Dry, and very rich in tannins, this wine benefits from ageing as its distinctive taste gets even more refined and sophisticated over time. It is best to keep Barolo for at least 7-10 years after harvest before opening it.
Barolo is made from 100% Nebbiolo grapes, grown in a small area of Piedmont – or Piemonte in Italian – in North-West Italy. It is only made in and around eleven comunes (villages), which are shown on the map of the Barolo DOCG below. The most important villages, which are thought to produce the best examples of Barolo, are:
Barolo (the comune)
La Morra
Castiglione Falletto
Monforte d'Alba
Serralunga d'Alba
There are 181 vineyards in Barolo known to produce wines of superior quality. They are officially called menzioni geografiche aggiuntive (additional geographic mention) or MGA. Their names can be added to the label to show superiority. Unofficially, they're known as the cru vineyards of Barolo. We delve into key communes and crus later in this article.
Barolo measures 9km across – from Cherasco on the west to the eastern edge of Grinzane Cavour – and stretches 11km from Verduno in the north to Simone Scaletta's vineyard on the southern edge of Monforte.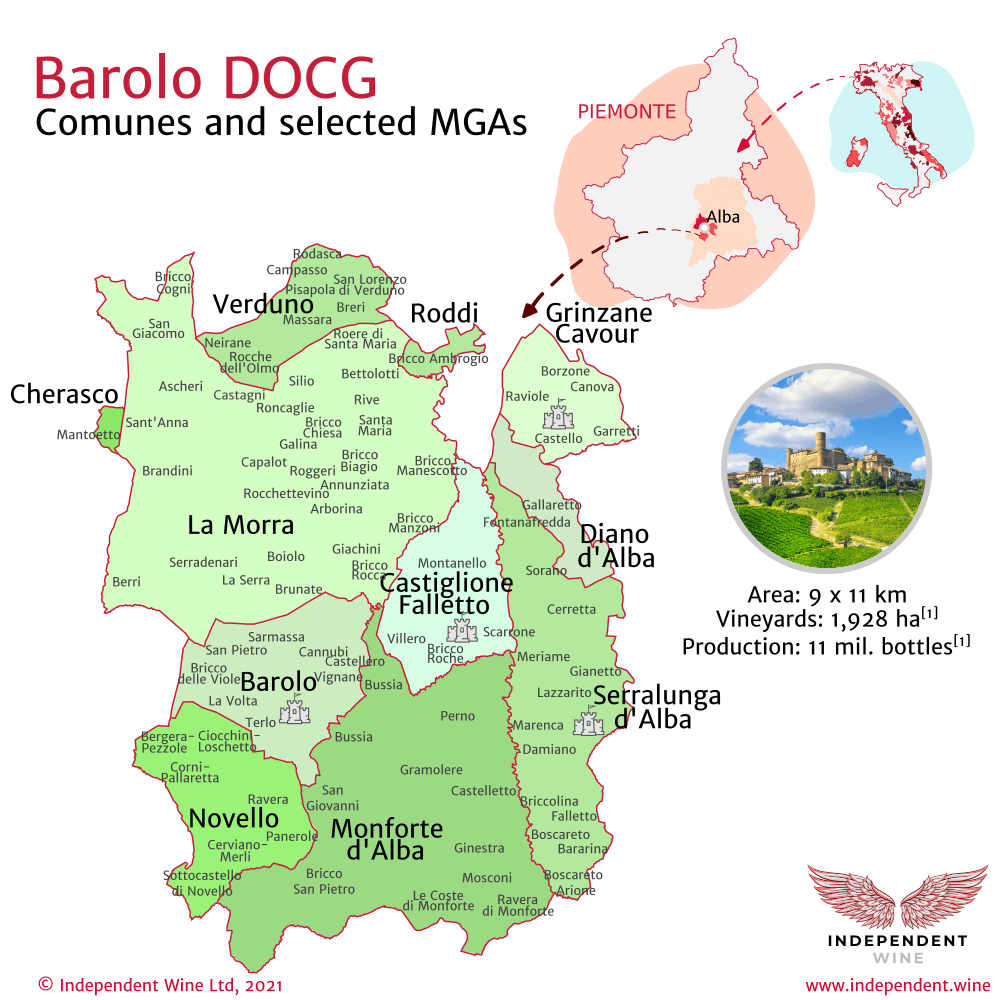 The vineyards of Barolo are protected by UNESCO as a World Heritage Site (Vineyard Landscape of Piedmont: Langhe-Roero and Monferrato).
As of 2018, there were 1,928 hectares of vineyards in Barolo. That year, winemakers produced approximately 11.67 million x 75cl bottles of Barolo wine. To put this number into context, there was eight times less Barolo produced than Chianti (91 million bottles), and slightly less than Amarone (14 million bottles)[1].
Barolo DOCG wine must be made according to the winemaking rules, or "wine laws", officially known as the Disciplinare Di Produzione[4]. They set out very strict rules: from how many grapes can be grown, to what's the permitted levels of acidity, to how the Barolo wine must be aged, and much much more. You'll find a whole section dedicated to Disciplinare later in this guide.
The aromas and flavours of Barolo
If you're wondering "what does Barolo taste like?" the best thing to do is open a bottle and take a sip. Once you've tried it, you're unlikely to forget the experience.
Barolo is a powerful wine with lots of tannins, and experts sometimes call its aroma "tar and roses". Each mouthful brings a world of flavour. It starts with notes of liquorice, rose petals, blueberries and prunes, mingling with black pepper and cinnamon spices. This is joined by rich dark chocolate, old leather and sweet tobacco.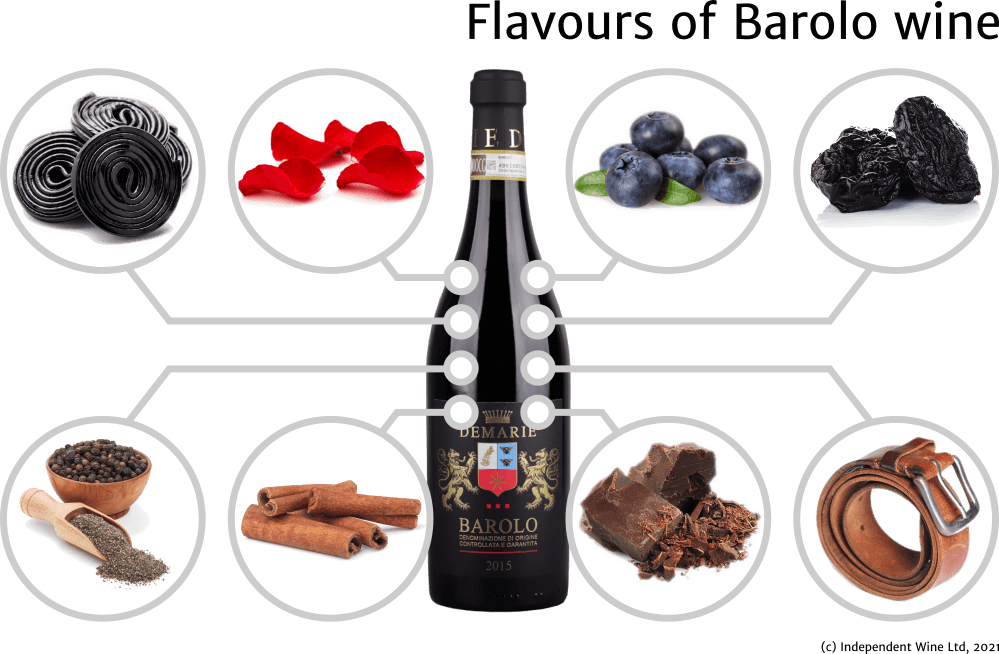 While utterly delicious, none of these flavours are subtle nor gentle. They instantly bring you into the moment, overpowering your senses like fire and ice to leave a lasting impression.
How the soils of Barolo impact the wine's flavour
Although Barolo has a distinct taste, it does differ depending on where in the region the wine was produced. You'll notice a few changes as you move from the south-east (Serralunga d'Alba) to the north-west (La Morra and Verduno). It's fascinating that, even in the very same commune, Nebbiolo grapes may be grown on different soils – resulting in different wines.
In her book "Barolo and Barbaresco", Kerin O'Keefe wrote in great detail about how geology affects the taste of the wine in your glass[2]. Among other things, she uses the findings of Moreno Soster and Andrea Cellino of the University of Turin, who studied the soils of the Barolo region[3]. They developed a geological map of Barolo, but I always found it hard to connect the soil with Barolo's cru vineyards. So, I've developed a map that overlays Barolo's cru vineyards on the soils mapped by Soster and Cellino. This can help you to predict what the character of any Barolo you buy will be.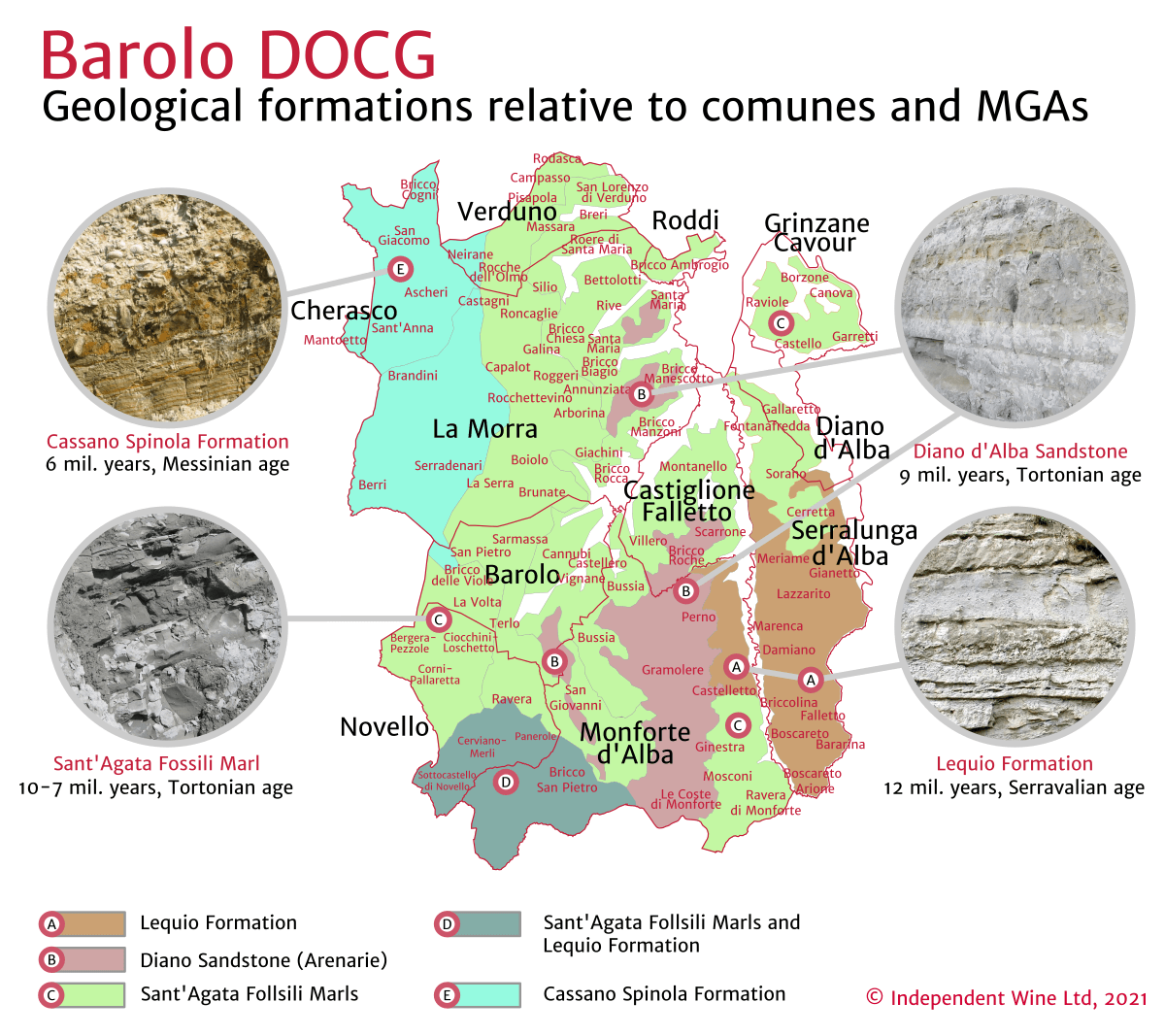 The soils of Langhe and Roero are made of marine sediments, as the valley of the Po river was a seabed millions of years ago. The soils consist of marls (clay and calcium carbonate) and sandstone, but their composition varies greatly across the landscape.
Calcium carbonate: austere, long-ageing Barolo
All of Serralunga d'Alba and the eastern side of the ridge in Monforte d'Alba (Perno and Castelletto crus) rests on the Lequio formation[3]. It's the oldest part of the Barolo area, and was formed 12 million years ago in the Serravalian age[5].
This zone is home to the most powerful, austere and long-ageing Barolos.
The soil is light in colour, ranging from yellow to white. It consists of layers of clay and sandstone, rich in sand (41%) and calcium carbonate (28.9%). It is believed that calcium carbonate is responsible for the austere and powerful taste, and this area has the highest content level in the whole DOCG region – the average level is 23%.
In contrast, Roero – which is known for more elegant and approachable Nebbiolos – has a much lower level of calcium carbonate (11.3% in Vezza d'Alba)[2].
Sandy soils: structure and elegance
The central part of the ridge in Monforte d'Alba, and the southern part of Castiglione Falletto (Roche di Castiglione, Bricco Roche, Pira and Scarrone crus) sit on Diano d'Alba sandstone (Arenarie di Diano d'Alba)[3]. This soil formed in the Tortonian age, 9 million years ago[5].
This formation has a characteristic yellow colour and the region's highest content of sand. It produces wines with both structure and elegance.
Pockets of Diano d'Alba sandstone can be found in La Morra (Bricco Manescotto, Annunziata, Santa Maria crus), and in the commune of Barolo.
Blue-grey marl: elegant, perfumed and fruitier flavours
The eastern half of La Morra, Novello, Grinzane Cavour, Diano d'Alba, Verduno and Roddi sit on Sant'Agata Fossili marls[3].
These soils are blue-grey, and consist of silt and calcareous clays. They formed 7 million years ago, in the Tortonian and Messinian ages.
These lands are known to produce the most elegant Barolos with perfumed and fruity flavours. Those wines tend to be more approachable and don't need as much time in bottle to be ready for drinking. The ratio of calcium carbonate in La Morra is only 19.9%, much lower than in Serralunga, which produces more structured wines.
Barolo wine: Information card
Designation of origin:

Barolo DOCG (Denominazione di Origine Controllata e Garantita)
DOC since 1966, DOCG since 1980

Location:

Piedmont (Piemonte), Italy

Climate:

Warm continental climate

Consortium:

Consorzio di Tutela Barolo Barbaresco Alba Langhe e Dogliani
http://www.langhevini.it/

Styles and permitted grapes:

Barolo: 100% Nebbiolo

Barolo Riserva: 100% Nebbiolo

Rules:

Barolo and Barolo Riserva, with or without additional geographic name ("menzione geografica aggiuntiva", or MGA)

– maximum yield 8 tonnes/ha

– min alcohol level 12.5%

Single-vineyard ("vigna") Barolo and Barolo Riserva, with additional geographic name(MGA) and vineyard name, followed by its toponym or traditional name:

– maximum yield 7.2 tonnes/ha

– min alcohol level 13%

Ageing, from 1 November of the year when the grapes are collected:

– Barolo: minimum 38 months, of which 18 months in oak;

– Barolo Riserva: minimum 62 months, of which 18 months in oak;

Earliest release for consumption

– Barolo: 01 January of the fourth next year after the harvest;

– Barolo Riserva: 01 January of the sixths next year after the harvest;

Vineyard area:

1,927.93 hectares (2018)1

Annual production:

11,662,053 x 75 cl bottles (87465.4 hl of wine bottled, 20181)
Barolo DOCG: the wine laws of Barolo
DOCG stands for Denominazione di Origine Controllata e Garantita. It is the highest classification of wine under Italian law, sitting above DOC (Denominazione di Origine Controllata). This means wine makers need to follow strict quality control procedures just to use the name.
The rules for growing, harvesting, ageing and bottling of Barolo are defined in a statute called "Disciplinare di produzione". It is registered with the Italian Ministry of Agricultural Policy, and is often referred to as the Barolo wine law.
Quality of DOCG wines is "guaranteed" by a government-licensed agency VALORITALIA S.r.l. (https://www.valoritalia.it/) that certifies each batch of wine. Each guaranteed bottle is labelled with a numbered governmental seal across the neck of the bottle, to prevent fraud.
Maximum harvest
For wines made from grapes grown in several vineyards, the Barolo DOCG laws cap the maximum harvest at 8,000 kg of grapes per hectare. This makes just under seven thousand 75cl bottles. For single-vineyard (labelled "Vigna") Barolo, the permitted maximum is even less: 7,200 kg per hectare. Top winemakers always plant below the maximum limit, so can each produce no more than a few thousand bottles of high quality Barolo per year.
As a result, supply of the wine is limited; and that is why there will never be enough Barolo to satisfy the market. This premium wine sells out and leaves the winemakers' cellars quickly.
Ageing requirements
Barolo has to be aged for a minimum of 38 months, spending at least 18 months in barrels made from oak or chestnut. Barolo Riserva has to be aged in the cellar for 62 months, including at least 18 months in oak, before release.
Vigna – single vineyard Barolo
If a Barolo wine is made purely from grapes grown in a specific vineyard, the vineyard's name can be added to the label. This usually applies to highly prestigious cru vineyards, and such wines command much higher prices.

Castle of Grinzane Cavour in the north-eastern corner of Barolo DOCG
Communes and cru vineyards in Barolo DOCG
The Barolo production area is subdivided into 11 villages, or "communes" (as shown on the map above): Barolo, La Morra, Monforte d'Alba, Serralunga d'Alba, Castiglione Falletto, Novello, Grinzane Cavour, Verduno, Diano d'Alba, Cherasco and Roddi.
The five communes of La Morra, Monforte d'Alba, Serralunga d'Alba, Barolo and Castiglione Falletto are thought to produce the highest quality Barolo wines.
In each commune, there is a small number of "crus". These are the most prestigious vineyards which are known to produce grapes of the highest quality. The word "cru" is used to remind buyers of the grand French wines.
Barolo from each commune has its own unique taste and character. This is because of the differences in soil type, the presence natural springs, and the altitude of the hills. For a quick comparison, we'll look at some of the Barolo wines in our collection:
Demarie Barolo is the most elegant. It comes from the cru vineyard Santa Maria in the commune of La Morra. This commune is known for wines that are elegant, less tannic, and rich in red fruit and floral flavours.
ForteMasso Barolo is the most tannic, powerful and deep. It comes from the Castelletto cru in Monforte d'Alba: a commune known for its powerful, tannic wines.
Francone Barolo is a blend of the most elegant and the most powerful styles. It's made from grapes grown in the Santa Maria cru in La Morra (elegant, rich in red fruits and flowers, less tannic), and Ravera di Monforte in Monforte d'Alba (powerful, tannic).
Now that we've compared a few communes of Barolo, let's look at the best communes of Barolo – and their cru vineyards – in more detail.
The commune of Barolo
This commune gives its name to the whole denomination, and is located in the south-western part of the Barolo DOCG area.
Typical Barolo from the Barolo commune: Rich and deep with austere tannins.
Most important crus: Bricco delle Viole, Cannubi, Castellero,Liste, Sarmassa, Terlo
Crus in the commune of Barolo: The major cru vineyards in the Barolo sub-zone are: Albarella, Bergeisa, Boschetti, Bricco delle Viole, Bricco San Giovanni, Brunate, Cannubi, Cannubi Boschis, Cannubi Muscatel, Cannubi San Lorenzo, Cannubi Valletta, Castellero, Cerequio, Coste di Rose, Coste di Vergne, Crosia Druca', Fossati, La Volta, Le Coste, Liste, Monrobiolo di Bussia, Paiagallo, Preda, Ravera, Rivassi, Rue', San Lorenzo, San Pietro, San Ponzio, Sarmassa, Terlo, Vignane, Zoccolaio, Zonchetta and Zuncai.
Castiglione Falletto
Located right in the geographical centre of the DOCG area, Castiglione Falletto has 105 hectares of Nebbiolo vines, planted on sandy soils.
Typical Barolo from Castiglione Falletto: High in fruity flavours, less tannic
Most important crus: Bricco Boschis, Bricco Rocche, Fiasco, Monprivato, Montanello, Parussi, Pernanno, Rocche di Castiglione, Villero
Crus in Castiglione Falletto: Altenasso, Garblet Sue', Garbelletto Superiore, Bricco Boschis, Bricco Rocche, Bricco Vigna Mirasole, Brunella, Codana, Fiasco, Mariondino, Monriondino or Rocche Moriondino, Monprivato, Montanello, Parussi, Pernanno, Pianta', Pira, Pugnane, Rocche di Castiglione, Scarrone, Solanotto, Valentino, Vignolo, Villero.
La Morra
La Morra is a beautiful hilltop village in the north-west of the Barolo DOCG. This commune is often believed to produce the finest examples of Barolo, and also boasts the largest plantings of Nebbiolo in the area.
Typical Barolo wine from La Morra: The most elegant of all Barolos, it has smooth and silky tannins and beautiful floral aromas.
Most important crus: Arborina, Brunate, Cerequio, Conca, Fossati, Giachini, Marcenasco, Monfalletto, Rocche, Rocche dell'Annunziata, La Serra, Tettimorra and Santa Maria.
Crus in La Morra: Annunziata, Arborina, Ascheri, Berri, Bettolotti, Boiolo, Brandini, Bricco Chiesa, Bricco Cogni, Bricco Luciani, Bricco Manescotto, Bricco Manzoni, Bricco Rocca, Bricco San Biagio, Brunate, Capalot, Case Nere, Castagni, Cerequio, Ciocchini, Conca, Fossati, Galina, Gattera, Giachini, La Serra, Rive, Rocche dell'Annunziata, Rocchettevino, Roere di Santa Maria, Roggeri, Roncaglie, San Giacomo, Santa Maria, Sant'Anna, Serra dei Turchi, Serradenari, Silio, Torriglione.
Monforte d'Alba
Monforte d'Alba is located in the south-east of the denomination area, with its surrounding production zone covering 197 hectares. Most Nebbiolo grapevines here are planted on steep slopes. Monforte is known to produce the most powerful, tannic, and long-ageing Barolos.
Typical Barolo wine from Monforte d'Alba: deep, rich, and very high in tannins. Requires the longest bottle ageing before opening. As a result, it has the best potential for ageing when compared to other Barolos.
Most important crus: Bussia, Ginestra, Castelletto, Mosconi, Le Coste di Monforte
Crus in Monforte d'Alba: Bricco San Pietro, Bussia, Castelletto, Ginestra, Gramolere, Le Coste di Monforte, Mosconi, Perno, Ravera di Monforte, Rocche di Castiglione, San Giovanni
Serralunga d'Alba
Serralunga d'Alba is in the eastern part of the Barolo area, and has over 200 hectares of Nebbiolo vineyards. The soils here are rich in limestone and marl, which means the wines from this are have depth, structure, minerality, and a great potential for long ageing. Because of that Serralunga produces some of the best – and most expensive – Barolos. Having said that, some inexpensive Barolos produced in the area too, which are very approachable in terms of price and can be drunk soon after release.
Typical Barolo wine from Serralunga d'Alba: deep and complex flavours with good structure and minerality. Ideal for long ageing.
Most important crus: Arione, Brea, Ceretta, La Delizia, Falletto, Francia, Gabutti, Lazzarito, Margheria , Ornato, Parafada, Prapò, Rionda, Sperss, Vignarionda.
Crus in Serralunga d'Alba: Arione, Badarina, Baudana, Boscareto, Brea, Bricco Voghera, Briccolina, Broglio, Cappallotto, Carpegna, Cerrati, Cerretta, Collaretto, Colombaro, Costabella, Damiano, Falletto, Fontanafredda, Francia, Gabutti, Gianetto, Lazzarito, Le Turne, Lirano, Manocino, Marenca, Margheria, Meriame, Ornato, Parafada, Prabon, Prapo', Rivette, San Bernardo, San Rocco, Serra, Teodoro, Vignarionda.
Verduno
Verduno is in the very north of the Barolo DOCG. Wines from this area offer elegant flavours of red fruits, flowers and spices. Generally speaking, they can be enjoyed at a younger age than the powerhouses from Monforte and Serralunga.
Typical Barolo wine from Verduno: Ripe, rich with elegant notes of flowers and spice.
Crus in Verduno: Boscatto, Monvigliero, Massara, San Lorenzo di Verduno, Pisapola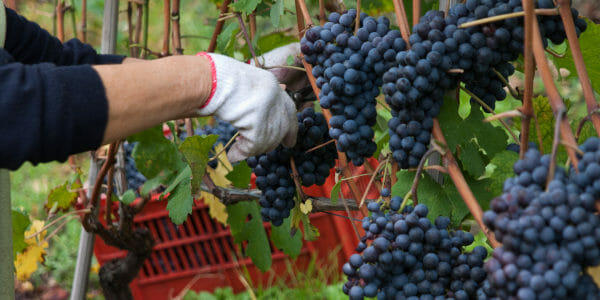 The Nebbiolo grapes for Barolo are always picked by hand
The Nebbiolo grape
Barolo must be made from 100% Nebbiolo grape cultivated in the area of Barolo DOCG. The wine takes it special character and owes its global success to this grape, which is very hard to grow. Nebbiolo thrives in a few locations in Piedmont: Barolo, Barbaresco, and Roero. In the rest of the world it grows in the Guadalupe Valley in Mexico, and in a few regions in Australia.
Nebbiolo is a historic varietal, and it has been used to make Italian wines since the 13th century.  Its name possibly comes from the Piedmontese word "nebbia", meaning the thick fog which covers the valleys in the foothills of the Alps in November, just when the harvest is over.
Fabrizio Francone, fourth-generation winemaker and producer of award-winning Barolo wine, says:
"Nebbiolo is one of the best grapes in the world because it gives incredibly sophisticated and complex wine. But it is also one of the most difficult grapes to grow in the vineyards and vinify. It need special soils and weather conditions, so only gives its best in a few small districts."
Nebbiolo is famous for creating wines that are super-charged with tannins. Tannins are natural antioxidants, and there is a body of research claiming they provide various positive health effects – if consumed in moderation, of course. Leading studies include "Contribution of Red Wine Consumption to Human Health Protection", Snopek et al., and "Polyphenols: Benefits to the Cardiovascular System in Health and in Aging" Khurana et al.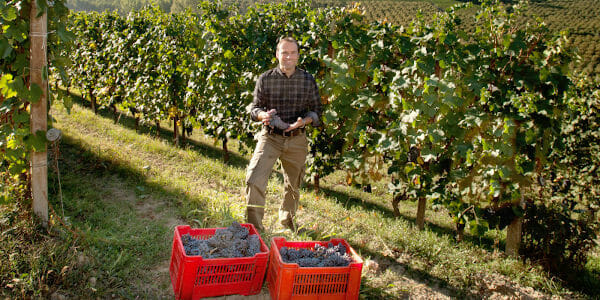 Winemaker Fabrizio Francone in his Nebbiolo vineyard
Quality is born in the vineyards
For the winemaker, the quality of the grape will define the quality of the wine. If the grape is not great, the winemaker will not be able to turn it into a high quality wine. That's why the real magic of Barolo starts in the vineyard. Fabrizio explains:
"The quality of great Barolo is born in the vineyards – we can't add quality in the cellar. With winemaking and ageing we try to preserve the characteristics given by the terroir. We have to work really hard to preserve the full quality of the grape."
Nebbiolo is very demanding, challenging and hard to cultivate. It buds in April, and takes a lot of time to ripen. Because of that, it's picked much later than most other grape varietals, typically by hand, in the second half of October. For Nebbiolo to ripen well, it's very important that the vineyard receives as much sunlight as possible. The best vineyards are located on hills facing south, south-west or south-east. Vineyards which are not so well positioned may struggle to ripen the grapes fully. That's why there are different levels of Nebbiolo grape quality in Barolo DOCG, and why some vineyards are considered "cru" while others aren't.
Winemaking
In the cellar, the grapes are crushed and fermented with the traditional method of submerged cap fermentation. Only indigenous yeasts are used – that is, the natural fungus that lives on the grape skin. After the alcoholic fermentation finishes, the wine undergoes a submerged cap maceration for as long as three to four weeks, to draw the colour and the tannins from the skins of the grapes into the wine. This long maceration process defines the flavour of Barolo.
The wine is stabilised by gravity. The particles are allowed to settle slowly, without disturbing the wine. The centrifuge or stabilisation chemicals – commonly used in mass-market wines – are not in the arsenal of the Barolo winemaker.
The wine then takes its place in oak barrels for at least 18 months. But practically, premium winemakers extend it much longer – for example, both Francone Barolo and ForteMasso Barolo Castelletto are matured in oak for 30 months. Barrel ageing allows for a slow contact with oxygen, which is why the colour of Barolo becomes less ruby, and more garnet – a characteristic hue for this wine. During that process, the natural harsh tannins of Nebbiolo soften and evolve – although the wine will need to age in bottle until it's six or seven years old to reach its full potential.
Barolo wine ageing in oak barrels in the Forte Masso winery
Piero Ballario is the winemaker at the Forte Masso winery. His Barolo Castelletto Riserva won "The Glasses" – the most prestigious national wine prize in Italy. Piero says:
"The grapes that we vinify are rich in aromas and polyphenols, therefore in the cellar we just have to extract with winemaking – and preserve and stabilize with ageing – the fruit that this outstanding vineyard is able to provide us with."
Oak ageing: why does Barolo have to age for so long?
To produce a smooth and enjoyable sensation, the harsh tannins of Nebbiolo have to evolve. Because of that, Barolo is aged for at least 38 months in oak. This allows for some oxygen to penetrate through the wood, making contact with the wine. After its time in barrel, the wine then spends a long 7 years ageing in the bottle to reach its full potential. Barolo becomes especially enjoyable after 10-15 years. For example, Hugh Johnson advises in his Pocket Wine Book that now, in 2020, bottles from 2012 can be drunk with pleasure. They will continue to get better – so keep yours in the wine-rack if you can.
Each winemaker will choose a method of oak ageing to create the distinctive character of their cantina. If the vintage was a successful one, and the quality of the Nebbiolo grapes is high, the winemaker will try to keep oak contact to a minimum.
Fabrizio, the winemaker and owner of Cantina Francone, says:
"You have to respect the grapes and the must to preserve the colour and the perfumes from oxidation, and to never overpower it with the oak flavour through ageing. Do not cover the wonderful bouquet of Nebbiolo with oaky notes."

Oak barrels in the cellar in the Francone winery
In Barolo, the winemaker will most likely use large barrels – the 500-litre tonneau – of second-use oak. In such large vessels, the surface area of oak in contact with the wine is relatively small. In contrast, small 225-litre Barriques of new oak may easily produce a strong flavour and overpower the delicate aroma of the wine.
Until the 1970's, in order to become drinkable, Barolo had to age for around 20 years or more, rather than 7-8 years as is the case now. When the harvest finishes in late October/early November, the weather in the foothills of the Alps becomes really chilly. Back then, the tanks did not have temperature control, and so fermentation took place in cold conditions. Thanks to the new equipment, the fermentation is now carried out at controlled temperatures, which helps to accelerate the process and produce wine with consistent quality.
The best and the most challenging Barolo vintages
Why vintage matters
The vintage – the year the grapes are grown – can have a huge influence on the flavour and structure of a wine. This is because weather has a massive impact on the way that grapes develop. But the key to understanding the ultimate quality of a Barolo comes from looking at a combination of weather, soil, and timing.
With Barolo, it's dangerous to jump to conclusions like "rains will result in berries becoming waterlogged", or that "dry periods cause water stress". While it may be true for other wines, for Barolo we need to consider other things as well. For example what soil is that particular vineyard planted on? How does that soil react to the weather? And was the season early, late or closer to the optimal time?
Below, I've summarised Barolo DOCG's weather patterns from the years 2000 to 2016 – as well as the overall timing of the season – based on reports from the Consorzio. When you assess the quality of a particular Barolo, do please read them together with the soil reports. Resulting wines made a few hundred yards away may show a different character, even in the same year.
Soil and weather
Although the Barolo region is quite small, the diversity of soils is remarkable. Neighbouring vineyards may be planted on different geological formations which developed millions of years apart. Because of that, each vineyard will react differently to dry or rainy weather throughout the year.
Large parts of Monforte, Castiglione Falletto and Barolo have sandy soils, thanks to the underlying Diano d'Alba sandstone formation. In general, sandy soils are very well drained, and they can better resist issues caused by rain. On the other hand, in dry sunny weather the grapes may suffer from water stress.
In La Morra, Grinzane Cavour, Barolo and Novello, the dominant type of soil is Sant' Agata Fossili marls – which are rich in clay. This type of soil retains water much better, and in dry and warm periods protects the grapes from the water stress. But it may struggle with too much water in rainy years.
So, when considering a bottle from a particular year, it's important to think about both the weather and the type of soil. When the weather is not optimal, treat this vintage with caution – but remember that some soils may cope with rain or sun better than others.
Timing of the season
Weather reports show that the start of spring varies year-on-year, and this is another important factor. Nebbiolo grapes bud early, and its berries should turn dark in August. It will then need a very long ripening season – usually until mid-October.
When spring starts early, the Nebbiolo berries may become dark too early – sometimes as early as July. The hot August sun may damage the grapes because of their dark colour, causing sunburn. Vine-growers try to prevent this by leaving extra leaves to create shade. But it's always a risk – remove too many leaves and the sun may burn the grapes, remove too few and sudden clouds will not let the grapes ripen.
On the other hand, if the season starts too late, Nebbiolo may not have enough time to ripen before the autumn rain and cold sets in. But even that isn't so straightforward. In vineyards with darker soil, the land holds the heat and the grapes will ripen earlier. In vineyards with light-coloured soil, the ground stays cool and the grapes need more sunny days.
Thus when the timing of the season is a bit off, it's not necessarily a red flag, but definitely a good reason to treat this vintage carefully.
In conclusion, one should consider not only the weather, but also the soil, and whether the season started too early, too late, or close to the normal time. However, it's also true that there are years when the weather is just too hot or too rainy for too long – and some vintages are just too challenging for vine-growers to cope.
Bearing that all in mind, let's look at the vintages since the turn of the millennium.
Weather patterns that affected vintages of Barolo from 2000 to 2016
2016 vintage: 5 stars
An outstanding year that will be remembered for Barolo wines with both richness and finesse.
The winter got enough rain to create reserves of water. The spring was cold and very rainy, delaying the development of the grapes by a couple of weeks. The summer of 2016 was excellent, and the warm and sunny weather lasted throughout the season until harvest.
The big difference from 2015 was that there were no days of scorching heat: the weather was consistently perfect for grape ripening. As a result the grapes had the perfect level of sugar. The Barolo wines of 2016 are superb, with lots of richness and structure, but more finesse and elegance than 2015.
2015 vintage: 5 stars
One of the best Barolo vintages of the decade.
The year started with a snowy winter, which helped to saturate the soil with water for the upcoming season. The spring was warm, with earlier-than-normal flowering and formation of berries. A rainy May was followed by a dry and hot summer, with daytime temperatures in July often soaring to above 40°C. But the heat caused no water stress because there was plenty of water in the soil, so the vines thrived and developed lots of healthy grapes.
In fact, the vines formed too many grapes for such an excellent vintage, so vine-growers tirelessly cut everything except the best bunches – so-called "green harvest". The summer sun helped the grapes to develop the perfect levels of sugars and acids, as well as the phenols responsible for deeper colours, complex flavours and tannins.
Thanks to the health and the balanced development of the grapes, the 2015 vintage of Barolo is considered one of the best ever.
2014 vintage: 3 stars
A difficult year that pushed the winemakers' skills to the limit.
In 2014 the spring came early, so the growing season started earlier than usual. The weather in early summer was as expected. In July, a combination of lots of rain and warm weather created the perfect conditions for mould to spread in the vineyards. Furthermore, many sites across the Barolo area were hit by hailstorms, wiping out a large number of grapes.
Overall, due to the earlier-than-normal start of the season and the problems with rain, grapes could not develop sufficient levels of sugars and phenols in many sites. As a result, wines from 2014 tend to have a paler colour, lower levels of alcohol, and sometimes sour notes.
2013 vintage: 4 stars
This was a fine vintage. The grapes were picked three weeks later than usual.
The spring was very cold and wet, with tons of rain, so the growing cycle was delayed by a few weeks. Although the weather in June and July was perfect, with lots of sun, it was not enough to compensate for the delays which happened in the spring.
Fortunately, the weather in September and October was sunny and warmer than usual, which extended the ripening season and helped the Nebbiolo reach its full maturity.
The grapes were harvested during the last days of October into early November. The resulting Barolo had excellent depth of colour, complex flavours and ripe tannins.
2012 vintage: 3 stars
The winter was harsher than usual, with bitter colds and a lot of snow. But on the other hand, it helped to create water reserves in the soil. The spring was cool and wet. Temperatures rose substantially in May, so budding happened a couple of weeks early.
Starting from June, the weather turned exceptionally hot and dry with scorching temperatures of 38°C recorded in August. But thanks to the water reserves from the wet spring, there were no major issues.
Harvesting started in early October, which was earlier than usual. Again, like in the previous year, the harvest was too early. The grapes hadn't developed enough sugars, depth of colour or tannins to qualify for a perfect vintage.
2011 vintage: 3 stars
The winter was normal, with enough snow and rain. But an unusually warm April brought the grape growing cycle back by two weeks. The cool summer concluded with a very hot and dry August, with 10-15% of grapes lost to sunburn and water stress.
A bit of rain in September brought relief, and the vines bounced back. Unfortunately, due to the early start of the season, the harvest took place earlier than normal.
The resulting vintage was okay, although the Nebbiolo could have benefited from a later harvest to complete its development of colour and tannins.
2010 vintage: 4 stars
The winter was long and hard. Lots of snow meant that there was enough water in the soil for a good start to the season. The spring and summer months were rather cool though, with more rain in July and August. Because of that, grape ripening took longer than normal.
However, the end of August and September were excellent, with lots of daytime sun and cool nights. This created perfect conditions for Nebbiolo to ripen completely and partially recover after the rainy summer.
The resulting harvest was healthy, with some wineries producing excellent wines.
2009 vintage: 3 stars
There was plenty of snow in winter, and the spring was rainy too. This helped the soil to accumulate lots of water for the coming season, but unfortunately led to the spread of parasites and fungi attacking the vines. Happily, it wasn't as bad as 2008.
The summer was cool, with lots of rain. In the end, because of the rain, the harvesting time was brought forward. This vintage will be remembered as a very tough one. With the exception of a few vineyards, the grapes did not complete their phenolic development and so the resulting wine had a pale colour and thin flavour.
2008 vintage: 4 stars
This was a very hard year. Heavy rains started in May, followed by the cold and wet summer. This led to fungi and parasites attacking vineyards between May and July. Growers worked really hard, and unfortunately had to remove lots of plants. This was followed by strong winds and hail storms, reducing the yields by about 10-15%.
Luckily, warm and dry sunny weather set in at the end of August and lasted until October. This helped the Nebbiolo to develop the desirable levels of acids, sugars and tannins.
Though this year saw a really rough summer, the quality of the resulting Barolo was solid: ranging from good to excellent depending on the winery.
2007 vintage: 4 stars
The mild winter and warm spring of 2007 meant that the vines flowered 20 days early. In June, this wonderful start was interrupted by a cool and rainy spell. It was followed by hail storms hitting large areas in Castiglione Falletto, Barolo and Monforte d'Alba, where up to 15% of the grapes were lost.
The weather during the growing season was rather unstable, with the rains and hails of June followed by hot and dry July and cold August. Despite all of the challenges, the vines produced wonderfully healthy grapes. As the season started earlier than normal, the harvest also took place 20 days earlier, which did not affect the excellent quality of the resulting wines.
Although not as perfect as the previous vintage, 2007 is still considered an excellent year.
2006 vintage: 5 stars
The season started with an extremely cold winter, with above average levels of snow and rain. The winter stayed in Langhe for long than usual, and the weather did not turn until April. But the spring was very warm, followed by a hot dry summer with temperatures reaching 35°C, with no rain.
In September, hard rains hit the area and ended the dry spell. But the good thing is, the excess water was absorbed by the dry soil and didn't cause the grapes to swell; which could otherwise dilute flavours.
The harvest of 2006 was excellent. The Nebbiolo grapes had complex flavours and healthy levels of acids and sugars, ultimately producing Barolo of excellent quality.
2005 vintage: 4 stars
This was a normal year, with a sunny summer that was slightly cooler than usual. The rainfall was patchy, with some areas receiving a lot of it and others not getting a single drop for months on end.
The season started with a mild winter, which delayed budding because the cold lasted longer than normal. But late spring and early summer were exceptionally warm. July and August were sunny and cool, with very little rain. As a result, the Nebbiolo grapes developed in excellent health, producing wines of good quality.
Rains came to Barolo at the beginning of October, so the grapes had to be harvested in bad weather.
2004 vintage: 5 stars
Winter rain and snow helped the soil to recover from the hot and dry season of 2003. The spring was quite wet too, but it was followed by a very fine summer, with a perfect balance of sunny and rainy days. This helped the grapes to develop and ripen well. In August, a few vineyards in Barolo took some damage from hailstorms.
The growing season ended with a beautiful period of warm and dry sunny weather in September and October. The grapes completed their development and had the perfect amount of sugars, polyphenols and acids. The harvest days in October were either sunny or cloudy, and grapes were picked without interruption from bad weather. This helped to produce a high-quality vintage.
2003 vintage: 3 stars
This was a very hot year, with the air temperature 10°C hotter on average than the norm for Langhe, and almost no rainfall. By the beginning of September, the area saw only 265mm of rain, down from 830mm in 2002 for the same period. A large number of grapes were damaged by sunburn. Because of the water stress, the yield was greatly reduced. But it's also true that the water stress helps to concentrate flavours and produce better wines.
A small number of vine-growers in premium locations managed to produce good wines, but overall it was a very hard year for Barolo.
2002 vintage: 2 stars
Because of the terrible weather, this was one of the worst Barolo harvests in history.
The cold spring was followed by a cold, rainy summer. Everywhere in Langhe, grapes were attacked by grey mould. Vine-growers toiled really hard to save the grapes, and in early September, the expectations weren't too bad. But it all ended later that month, when hailstorms hit the denomination of Barolo really hard – taking out up to 40-45% of the grapes.
So, in the end, most respectable producers skipped the 2002 vintage. In general, this wasn't a Barolo worth keeping. Let's forget this year and move on.
2001 vintage: 5 stars
The year had a very difficult start, but in the end produced one of the best harvests.
The winter was warmer than usual, with lots of rain, which led to early budding. In April, Langhe was hit with a devastating cold spell freezing the air to -5°C, which was followed by a hail-storm. After the weather returned to normal in summer, new challenges arose in August, which was very hot and dry. September was rainy and cold, with water swelling the grapes. But this was followed by a sequence of cool and sunny Autumn days, which helped the Nebbiolo to complete its cycle in perfect health and develop rich tannins and flavours.
In the end, the grapes needed more time to ripen, so the harvest was pushed back by a few days. The wait paid off: 2001 is considered one of the best vintages for Barolo. The wine of 2001 has deep colours, rich flavours and powerful tannins.
2000 vintage: 4 stars
This was a rather good year for Barolo. Nebbiolo is a late-ripening grape and this season turned out to be long and favourable.
The winter was mild, with intermittent snowfall. The spring was wet, which increased the risk of attacks by fungi, but it was followed by a dry and sunny summer, which helped the grapes to mature in excellent health. August and early September were very hot. The weather turned at the end of the ripening season in late September and early October: there was a good mixture of sunny and cloudy days, with a bit of rain and a gradual drop in air temperature.
The resulting Barolo wine had deep colours, complex flavours and structure, and well-developed tannins.
Frequently Asked Questions
What is the best Barolo wine?
If you want to cut to the chase and select the best Barolo to buy, I suggest you consider the following points:
Where it was made
The most highly respected examples of Barolo wine are thought to come from the "cru" vineyards – the word "cru" is used to remind buyers of the grand French wines. The five top Barolo wines come from the following villages, or communes:
The commune of Barolo
La Morra
Castiglione Falletto
Monforte d'Alba
Serralunga d'Alba
If you're holding a bottle of Barolo in your hands, find out which commune it comes from. If it's from a cru vineyard located in one of those communes, you're very likely in possession of a seriously valuable wine. Read more about communes and cru vineyards in this article.
When it was made
Barolo harvests in 2010, 2015, and 2016 were remarkably good, and the resulting wine is likely to be brilliant. Tom Hyland of Forbes wrote that the 2016 vintage would be "one of the all time great vintages for Barolo", so if you have a bottle of that you're very lucky. On the other hand, 2002 and 2003 were not as good. 2017 was also quite challenging, as it was a very hot year and growers had to start picking at the end of September – a month ahead of the usual time.
Do your research and buy a good vintage. Not only will it be a really enjoyable drinking experience, it's also likely to appreciate in value should you decide to hold onto it.
Awards
With so many options available, how can you pick the best Barolo if you aren't an expert? An international award is perhaps the most obvious indication of wine quality. Why? It's an impartial assessment. Experts compare lots of wines and aren't eager to sell you anything.
At the end of this article, I share a few recommendations of award-winning Barolo wines from wineries I personally visited. They are made by winemakers I have spoken to, and I am happy to make these recommendations. Of course, there are plenty of other excellent Barolo wines on the market.
How much should a good Barolo wine cost?
A review of a hundred Barolos
Recently I analysed over a hundred Barolos on sale in the UK, and wrote the article What is the right price for Barolo? With bottles costing anywhere from £16 to £260 and upwards, it's a really broad range. For me the main question is, at what price will you get a high-quality wine that will give you the experience that you expect from such a legendary name?
Whichever way you look at it, you're going to struggle to find a bottle for a tenner. The price of Barolo is very much based on the following: the quality of the wine, and whether the vineyard consistently produces good wine, year after year. Such vineyards will be able to command higher prices. And finally, the merchant's marketing ambition.
The three tiers of Barolo
From cheapest to most expensive, there are three tiers of Barolo wine:
High-volume "supermarket Barolo" produced by farmer cooperatives – £16-20
Solid quality, small-volume Barolo produced by family vineyards – £30-50
High-end "connoisseur Barolo" – £75-220
Having spoken to Barolo winemakers in Italy, I personally believe that the solid quality Barolo from family vineyards offers the best value for money. You can definitely find excellent wines between the £30 and £75 price point. If you want to learn more about the prices of Barolo read what is the right price for Barolo?
What food goes with Barolo wine?

Barolo is the perfect wine to enjoy with a good meal, and many Italians choose it for special occasions. If you're looking for some dinnertime inspiration, our favourite food bloggers shared their favourite Barolo-friendly recipes with us:
Want more? Check out our article on Delicious dishes to pair with Barolo, Barbaresco and Barbera.
How long should you keep Barolo wine for?
Hold your Barolo for at least 7 years before opening. Nebbiolo has a remarkably high level of tannins, and if the wine is opened too early their harshness may overwhelm you. After 7 years of softening in the bottle, the wine will give you a far more enjoyable experience. The hard tannins will have become velvety, melting into aromas of smoke, cinnamon, leather, chocolate and sweet tobacco.
Good things come to those who wait, and Barolo will reward you if you decide to hold it for longer. Its flavours will continue to develop for 15 or 20 years, and the wine will age beautifully. After that, the fresh fruitiness will start to fade and be replaced with the aroma and taste of dried black fruits.
Where can I buy high-quality Barolo?
Now that you know a little bit more about the legendary Barolo wine, why not pick up a bottle or two? We've got some truly fantastic Barolo and Barbaresco wines in stock:
References:
[1] Istituto di Servizi per il Mercato Agricolo Alimentare (ISMEA) http://www.ismea.it/
[2] Kerin O'Keefe, Barolo and Barbaresco, University of California Press, 2014
[3] M. Soster, A.Cellino, La Zonazione del Barolo, Quad. Vitic. Enol. Univ. Torino 2005-2006
[4] Disciplinare Di Produzione Dei Vini A Denominazione Di Origine Controllata E Garantita "Barolo" modified on 17.04.2015, Consorzio di Tutela Barolo Barbaresco Alba Langhe e Dogliani, http://www.langhevini.it/
[5] E. Bonelli, Geological Origins Of The Barolo Winegrowing Area https://arnaldorivera.com/en/geological-origins/