Barolo is a fine Italian red wine with complex and powerful aromas. It's produced in an area called Barolo DOCG in Piedmont in north-west Italy. Made from 100% Nebbiolo grapes, Barolo production follows a strict set of rules and guidelines. These cap the maximum harvest per hectare, and require that the wine is aged for at least three years before release. Barolo wine is very high in tannins. It develops fine aromas over time, and it needs to be aged for 7-10 years to reach its full potential. Because of its high quality and complex aromas, Barolo is often referred to as "the king of wines".
What kind of wine is Barolo?
Barolo wine: an overivew
Barolo is a highly sought-after fine red wine with complex and powerful aromas. Dry, and very rich in tannins, this wine benefits from ageing as its distinctive taste gets even more refined and sophisticated over time. It is best to keep Barolo for at least 7-10 years after harvest before opening it.
Barolo is made from 100% Nebbiolo grapes, grown in a small area of Piedmont – or Piemonte in Italian – in North-West Italy. It is only made in and around eleven villages, which are shown on the map of the Barolo DOCG below. The most important villages, which are thought to produce the best examples of Barolo, are: the village of Barolo, La Morra, Castiglione Falletto, Monforte d'Alba, and Serralunga d'Alba.
The vineyards of Barolo are one of only a few wine-growing regions protected by UNESCO as a World Heritage Site. Only Barolo wine that is grown and produced in full compliance with strict local rules can be called Barolo DOCG.
Map of Barolo DOCG in Piedmont (Piemonte) Italy
Barolo wine: Information card
Designation of origin:

Barolo DOCG (Denominazione di Origine Controllata e Garantita)

DOC since 1966, DOCG since 1980

Location:

Piedmont (Piemonte), Italy

Climate:

Warm continental climate

Consortium:

Consorzio di Tutela Barolo Barbaresco Alba Langhe e Dogliani
http://www.langhevini.it/

Styles and permitted grapes:

Barolo: 100% Nebbiolo

Barolo Riserva: 100% Nebbiolo

Rules:

Barolo and Barolo Riserva, with or without additional geographic name ("menzione geografica aggiuntiva", or MGA)

– maximum yield 8 tonnes/ha

– min alcohol level 12.5%

Single-vineyard ("vigna") Barolo and Barolo Riserva, with additional geographic name(MGA) and vineyard name, followed by its toponym or traditional name:

– maximum yield 7.2 tonnes/ha

– min alcohol level 13%

Ageing, from 1 November of the year when the grapes are collected:

– Barolo: minimum 38 months, of which 18 months in oak;

– Barolo Riserva: minimum 62 months, of which 18 months in oak;

Earliest release for consumption

– Barolo: 01 January of the fourth next year after the harvest;

– Barolo Riserva: 01 January of the sixths next year after the harvest;

Annual production:

13,961,200 bottles (2018)

Soils:

Marlstone (compressed clay, lime and silt rich in calcium carbonate), and tuff rocks (compressed volcanic ash).

Soils of Langhe formed in the Tertiary era, 70 million years ago
Barolo DOCG: the wine laws of Barolo
DOCG stands for Denominazione di Origine Controllata e Garantita. It is the highest classification of wine under Italian law, sitting above DOC (Denominazione di Origine Controllata). This means wine makers need to follow strict quality control procedures just to use the name.
Quality of DOCG wines is "guaranteed" by a government-licensed agency that analyses and tastes wine before it is bottled. Each guaranteed bottle of wine is labelled with a numbered governmental seal across the neck of the bottle, to prevent fraud.
Maximum harvest
For wines made from grapes grown in several vineyards, the Barolo DOCG laws cap the maximum harvest at 8,000 kg of grapes / ha. This makes just under 7,000 full-sized bottles per hectare. For single-vineyard (labelled "Vigna") Barolo, the permitted maximum is even less: 7,200 kg /ha. Top winemakers always plant below the maximum limit, so can each produce no more than a few thousand bottles of high quality Barolo per year.
As a result, supply of the wine is limited; and that is why there will never be enough Barolo to satisfy the market. This premium wine sells out and leaves the winemakers' cellars quickly.
Ageing requirements
Barolo has to be aged for a minimum of 38 months, spending at least 18 months in barrels made from oak or chestnut. Barolo Riserva has to be aged in the cellar for 62 months, including at least 18 months in oak, before release.
How is Barolo wine made?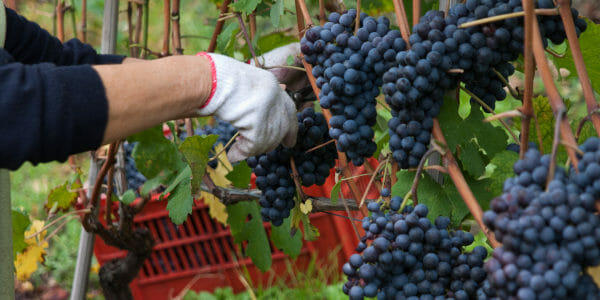 The Nebbiolo grapes for Barolo are always picked by hand
The Nebbiolo grape
Barolo must be made from 100% Nebbiolo grape cultivated in the area of Barolo DOCG. The wine takes it special character and owes its global success to this grape, which is very hard to grow. Nebbiolo thrives in a few locations in Piedmont: Barolo, Barbaresco, and Roero. In the rest of the world it grows in the Guadalupe Valley in Mexico, and in a few regions in Australia.
Nebbiolo is a historic varietal, and it has been used to make Italian wines since the 13th century.  Its name possibly comes from the Piedmontese word "nebbia", meaning the thick fog which covers the valleys in the foothills of the Alps in November, just when the harvest is over.
Fabrizio Francone, fourth-generation winemaker and producer of award-winning Barolo wine, says:
"Nebbiolo is one of the best grapes in the world because it gives incredibly sophisticated and complex wine. But it is also one of the most difficult grapes to grow in the vineyards and vinify. It need special soils and weather conditions, so only gives its best in a few small districts."
Nebbiolo is famous for creating wines that are super-charged with tannins. Tannins are natural antioxidants, and there is a body of research claiming they provide various positive health effects – if consumed in moderation, of course. Leading studies include "Contribution of Red Wine Consumption to Human Health Protection", Snopek et al., and "Polyphenols: Benefits to the Cardiovascular System in Health and in Aging" Khurana et al.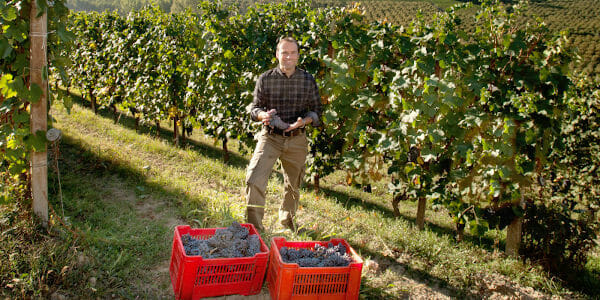 Winemaker Fabrizio Francone in his Nebbiolo vineyard
The quality is born in the vineyards
For the winemaker, the quality of the grape will define the quality of the wine. If the grape is not great, the winemaker will not be able to turn it into a high quality wine. That's why the real magic of Barolo starts in the vineyard. Fabrizio explains:
"The quality of great Barolo is born in the vineyards – we can't add quality in the cellar. With winemaking and ageing we try to preserve the characteristics given by the terroir. We have to work really hard to preserve the full quality of the grape."
Nebbiolo is very demanding, challenging and hard to cultivate. It buds in April, and takes a lot of time to ripen. Because of that, it's picked much later than most other grape varietals, typically by hand, in the second half of October. For Nebbiolo to ripen well, it's very important that the vineyard receives as much sunlight as possible. The best vineyards are located on hills facing south, south-west or south-east. Vineyards which are not so well positioned may struggle to ripen the grapes fully. That's why there are different levels of Nebbiolo grape quality in Barolo DOCG, and why some vineyards are considered "cru" while others aren't.
Winemaking
In the cellar, the grapes are crushed and fermented with the traditional method of submerged cap fermentation. Only indigenous yeasts are used – that is, the natural fungus that lives on the grape skin. After the alcoholic fermentation finishes, the wine undergoes a submerged cap maceration for as long as three to four weeks, to draw the colour and the tannins from the skins of the grapes into the wine. This long maceration process defines the flavour of Barolo.
The wine is stabilised by gravity. The particles are allowed to settle slowly, without disturbing the wine. The centrifuge or stabilisation chemicals – commonly used in mass-market wines – are not in the arsenal of the Barolo winemaker.
The wine then takes its place in oak barrels for at least 18 months. But practically, premium winemakers extend it much longer – for example, both Francone Barolo and ForteMasso Barolo Castelletto are matured in oak for 30 months. Barrel ageing allows for a slow contact with oxygen, which is why the colour of Barolo becomes less ruby, and more garnet – a characteristic hue for this wine. During that process, the natural harsh tannins of Nebbiolo soften and evolve – although the wine will need to age in bottle until it's six or seven years old to reach its full potential.
Barolo wine ageing in oak barrels in the Forte Masso winery
Piero Ballario is the winemaker at the Forte Masso winery. His Barolo Castelletto Riserva won "The Glasses" – the most prestigious national wine prize in Italy. Piero says:
"The grapes that we vinify are rich in aromas and polyphenols, therefore in the cellar we just have to extract with winemaking – and preserve and stabilize with ageing – the fruit that this outstanding vineyard is able to provide us with."
Oak ageing: why does Barolo have to age for so long?
To produce a smooth and enjoyable sensation, the harsh tannins of Nebbiolo have to evolve. Because of that, Barolo is aged for at least 38 months in oak. This allows for some oxygen to penetrate through the wood, making contact with the wine. After its time in barrel, the wine then spends a long 7 years ageing in the bottle to reach its full potential. Barolo becomes especially enjoyable after 10-15 years. For example, Hugh Johnson advises in his Pocket Wine Book that now, in 2020, bottles from 2012 can be drunk with pleasure. They will continue to get better – so keep yours in the wine-rack if you can.
Each winemaker will choose a method of oak ageing to create the distinctive character of their cantina. If the vintage was a successful one, and the quality of the Nebbiolo grapes is high, the winemaker will try to keep oak contact to a minimum.
Fabrizio, the winemaker and owner of Cantina Francone, says:
"You have to respect the grapes and the must to preserve the colour and the perfumes from oxidation, and to never overpower it with the oak flavour through ageing. Do not cover the wonderful bouquet of Nebbiolo with oaky notes."

Oak barrels in the cellar in the Francone winery
In Barolo, the winemaker will most likely use large barrels – the 500-litre tonneau – of second-use oak. In such large vessels, the surface area of oak in contact with the wine is relatively small. In contrast, small 225-litre Barriques of new oak may easily produce a strong flavour and overpower the delicate aroma of the wine.
Until the 1970's, in order to become drinkable, Barolo had to age for around 20 years or more, rather than 7-8 years as is the case now. When the harvest finishes in late October/early November, the weather in the foothills of the Alps becomes really chilly. Back then, the tanks did not have temperature control, and so fermentation took place in cold conditions. Thanks to the new equipment, the fermentation is now carried out at controlled temperatures, which helps to accelerate the process and produce wine with consistent quality.
The aromas and flavours of Barolo
If you're wondering "what does Barolo taste like?" the best thing to do is open a bottle and take a sip. Once you've tried it, you're unlikely to forget the experience.
Barolo is a powerful wine with lots of tannins, and experts sometimes call its aroma "tar and roses". Each mouthful brings a world of flavour. It starts with dried black fruit like cherry and prunes, mingling with spicy cinnamon and cloves. This is joined by smokiness and anchored by rich chocolate, meaty leather and sweet tobacco. While utterly delicious, none of these flavours are subtle nor gentle. They instantly bring you into the moment, overpowering your senses like fire and ice to leave a lasting impression.
What is the best Barolo wine?
If you want to cut to the chase and select the best Barolo to buy, I suggest you consider the following points:
Where it was made
The most highly respected examples of Barolo wine are thought to come from the "cru" vineyards – the word "cru" is used to remind buyers of the grand French wines. The five top Barolo "crus" are located in the following villages:
The village of Barolo
La Morra
Castiglione Falletto
Monforte d'Alba
Serralunga d'Alba
If you're holding a bottle of Barolo in your hands, find out which village it was produced in. If it's one of the above "crus", you're very likely in possession of a seriously valuable wine.
When it was made
Barolo harvests in 2010, 2015, and 2016 were remarkably good, and the resulting wine is likely to be brilliant. Tom Hyland of Forbes wrote that the 2016 vintage would be "one of the all time great vintages for Barolo", so if you have a bottle of that you're very lucky. On the other hand, 2002 and 2003 were not as good. 2017 was also quite challenging, as it was a very hot year and growers had to start picking at the end of September – a month ahead of the usual time.
Do your research and buy a good vintage. Not only will it be a really enjoyable drinking experience, it's also likely to appreciate in value should you decide to hold onto it.
Awards
With so many options available, how can you pick the best Barolo if you aren't an expert? An international award is perhaps the most obvious indication of wine quality. Why? It's an impartial assessment. Experts compare lots of wines and aren't eager to sell you anything.
At the end of this article, I share a few recommendations of award-winning Barolo wines from wineries I personally visited. They are made by winemakers I have spoken to, and I am happy to make these recommendations. Of course, there are plenty of other excellent Barolo wines on the market.

Castle of Grinzane Cavour, Barolo DOCG
How much should a good Barolo wine cost?
A review of a hundred Barolos
Recently I analysed over a hundred Barolos on sale in the UK, and wrote the article What is the right price for Barolo? With bottles costing anywhere from £16 to £260 and upwards, it's a really broad range. For me the main question is, at what price will you get a high-quality wine that will give you the experience that you expect from such a legendary name?
Whichever way you look at it, you're going to struggle to find a bottle for a tenner. The price of Barolo is very much based on the following: the quality of the wine, and whether the vineyard consistently produces good wine, year after year. Such vineyards will be able to command higher prices. And finally, the merchant's marketing ambition.
The three tiers of Barolo
From cheapest to most expensive, there are three tiers of Barolo wine:
High-volume "supermarket Barolo" produced by farmer cooperatives – £16-20
Solid quality, small-volume Barolo produced by family vineyards – £30-50
High-end "connoisseur Barolo" – £75-220
Having spoken to Barolo winemakers in Italy, I personally believe that the solid quality Barolo from family vineyards offers the best value for money. You can definitely find excellent wines between the £30 and £75 price point. If you want to learn more about the prices of Barolo read what is the right price for Barolo?
Why is Barolo wine so expensive?
Barolo wine is exceptionally high quality and there's only a limited supply of it. Everyone wants to get their hands on the good vintages, so the law of supply and demand pushes the prices up even further.
Barolo is a great wine to drink – if it is aged properly for at least 7-10 years in the bottle – and can give a transcendental experience to wine lovers. After all, it's called "the wine of kings" for a reason. It's rarity has turned it into a collectable and an object of investment, with prices for 15-20 year old Barolo accelerating at a rapid pace.
What food goes with Barolo wine?

Barolo is the perfect wine to enjoy with a good meal, and many Italians choose it for special occasions. If you're looking for some dinnertime inspiration, our favourite food bloggers shared their favourite Barolo-friendly recipes with us:
Want more? Check out our article on Delicious dishes to pair with Barolo, Barbaresco and Barbera.
How long should you keep Barolo wine for?
Hold your Barolo for at least 7 years before opening. Nebbiolo has a remarkably high level of tannins, and if the wine is opened too early their harshness may overwhelm you. After 7 years of softening in the bottle, the wine will give you a far more enjoyable experience. The hard tannins will have become velvety, melting into aromas of smoke, cinnamon, leather, chocolate and sweet tobacco.
Good things come to those who wait, and Barolo will reward you if you decide to hold it for longer. Its flavours will continue to develop for 15 or 20 years, and the wine will age beautifully. After that, the fresh fruitiness will start to fade and be replaced with the aroma and taste of dried black fruits.
Where can I buy high-quality Barolo?
Now that you know a little bit more about the legendary Barolo wine, why not pick up a bottle or two? We've got some truly fantastic Barolo and Barbaresco wines in stock: