The iconic red wines of Piemonte: Barolo, Barbaresco and Barbera
If you're looking for some dinnertime inspiration, we've asked our favourite food bloggers what they like to eat with Barolo, Barbaresco and Barbera, Italy's three iconic red wines. These wines all come from Piemonte – the prime grape-growing territory sandwiched between the soaring Alps to the north and rolling Apennines to the south. Full of mouth-watering freshness, notes of spice and flavours of wild cherry, these red wines were made for the dinner table. But what's the difference between the three?
The King and Queen of Italian wine
Barolo and Barbaresco are known as the King and Queen of Italian wine. Barolo is austere, with plenty of muscle to flex, while Barbaresco is more mellow. Both are made from Nebbiolo, one of Italy's most noble and impactful grapes. Each sip combines rich and complex notes of dried rose petals, sweet tobacco and leather. This is enlivened by dried cherries, figs, herbs and spices. Chocolate and liquorice add to the savoury-yet-sweet impression of these heady wines, which are high in tannin.
It's no wonder nearly one in five Italian households choose Barolo to drink with their special meals for Easter or Christmas.
Another Piemontese Nebbiolo red worth trying is Roero DOCG. While it has a very similar flavour to Barolo – and is made just ten miles away – it's less famous, and offers a great value for money.
Barbera: a refreshing partner for succulent meat dishes
Onto Barbera, Italy's third most popular grape and the star of Piemonte wines Barbera d'Asti and Barbera d'Alba. It's high in acid and low on tannin, so has a light and refreshing flavour that cuts through succulent meat dishes like pan-fried duck breast, juicy rib-eye steak and unctuous pork belly. Despite its dark colour it tastes like wild red fruits – such as strawberry and cherry – with a hint of spice and leather.
Our favourite food bloggers share their delicious recipes
Braciole di maiale alla brace (Grilled Pork Chops)
By Frank Fariello (Memorie di Angelina)
We start our collection of recipes with pork chops – one of the best dishes to pair with Barbera.
"In today's recipe for braciole di maiale alla brace, Grilled Pork Chops, I've devised a "secret" method for dealing with today's bland, ultra-lean pork…You'll be enjoying chops that taste like the ones from from back in the day, when pork actually tasted like pork."
Click here to see the full recipe
Bistecche alla Pizzaiola (Beef Filets with Tomato Sauce)
By Lisa (Italian Kiwi)
"Bistecche alla Pizzaiola are a great do-in-a-hurry meal that almost everybody in the family will like (of course, unless they're vegetarian, hate beef, or hate tomato – but you can't please all of the people all of the time!).
The word pizzaiola is used because it means steaks done like a pizza-making guy would cook them, with tomato and oregano, just like a pizza without the mozzarella. Now, does that mean that pizzaioli have nothing in their kitchens except for pizza ingredients?? Imagine: cereal with tomato and mozzarella, and ice-cream with a tomato and oregano sauce….hmmm!"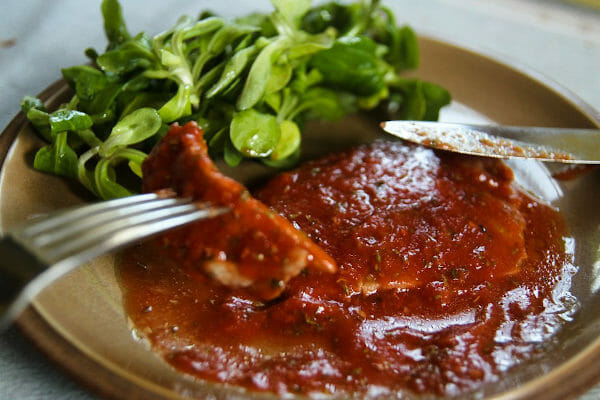 Click here to see the full recipe
Beef Roast Simmered In Red Wine (Brasato Al Barolo)
By Lisa (Italian Kiwi)
"My Italian mother-in law serves this pot-roast up for our Christmas meal every year. The meat is simmered for hours in a heady mixture of vegetables and aged Barolo wine from the Piedmont region in the North-West of Italy. If you cannot find Barolo, you can use any heavy-bodied red wine, and the results will be excellent."
Click here to see the full recipe
It's grilling time! – Braciola alla griglia (Grilled beef roll)
By Michele and Joe (Our Italian Table)
We asked Michele and Joe, our contacts in the USA, what would be their top food to go with the "bad Bs" of Piemonte – Barolo, Barbaresco and Barbera? Here is what they said: "It's summer and it's time to grill!! In Italy, grilling in the summer is just as popular as here in the U.S.A. While grilling chops and sausages are standard fare, you can create something really interesting by grilling rolled beef with different stuffings
This recipe is straight down the middle with a nod to Sicily because of the addition of golden raisins and pine nuts. Prepare it several hours in advance and grill just before eating. Slice into nice portions and serve family style with some cold summer salads."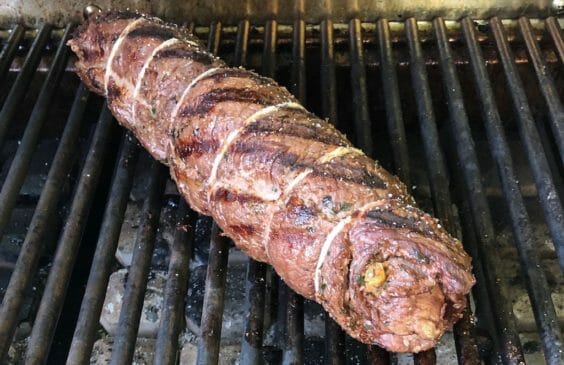 Click here to see the full recipe
The original "Ossobuco alla Milanese"
By Salvo (Authentic Italian Cuisine)
"Today I want to introduce one of the recipes that represent Milan: the original recipe of the "Ossobuco alla Milanese". Ossobuco means "Bone with a hole".
It is an ancient recipe from the gastronomic tradition of Lombardy. During the years it is widespread throughout Italy, especially in the north.
A very simple recipe to prepare and above all, very tasty."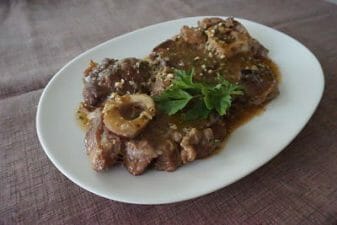 Click here to see the full recipe
Meatballs with lemon and fennel
By MangiaMangia
"Meatballs are another of those things I came late to. So of course, when I first tried the real thing, made at home, with good meat, herbs and cheese; bound together by breadcrumbs and egg rather than a patented scientific process and browned before being coated in rich velveteen tomato sauce, my prejudices and aversions were overturned.
Not least because, actually, just eat them with bread, forget the pasta, it's a fiction that got turned into a fact by mistake!"
Click here to see the full recipe
Roast Boneless Leg of Lamb stuffed with Herbs and Garlic
By Marisa Franca (All Our Way)
"Roasted Herbed Leg of Lamb (Arrosto di Agnello con Erbe) is the traditional meat for Easter in our Italian household.
When we cook a leg of lamb, we try different seasonings but always come back to thyme, rosemary, sage and garlic. It's our favorite.
Just follow the directions and we can guarantee that your meat will be delicious, flavorful, and succulent. A special meat for a special occasion. "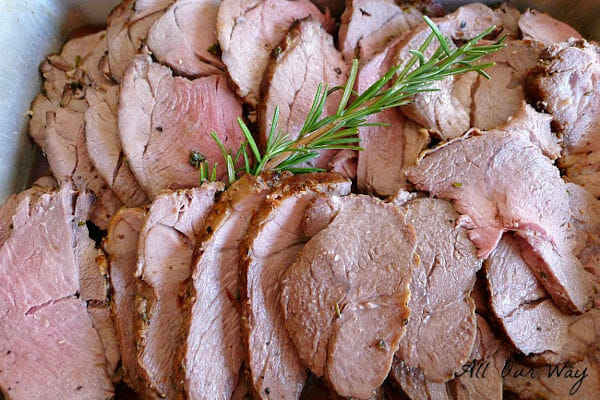 Click here to see the full recipe 
Hope you liked these delicious recipes from our favourite Italian food bloggers! Feel free to check out our collection of premium wines from Piemonte.
Order by 4pm for next day delivery to Mainland UK.