Online searches reveal that 49% of UK customers are looking for sparkling wine
Did you know that sparkling wine accounts for 49% of all online wine searches in the UK? And that Italian Prosecco is 40% more popular than French Champagne, while Italian Muscat is twice as popular as Spanish Cava? And that Bordeaux accounts for 25% of all interest in red wine?
The chart below shows search numbers for the top 10 wines in the UK – and the results may surprise you. Note: you'll find the full table with over 60 different wine searches at the end of this article.
Online searches tell us an interesting story, because those are honest numbers. When we're in front of our laptops or smartphone screens we aren't affected by point of sale marketing, "limited-time offers" or colourful labels. The number of times someone typed their favourite wine into a search engine tells us what customers in the UK really want.
Today we are happy to share our findings: what wines do UK consumers search for? We looked at all popular wines with more than 1,000 searches per month. The data shows the average monthly number of searches over the past twelve months by UK consumers online, taking both mobile phones and laptops into account. Our method is described in more detail at the end of the article.
Key findings
The data shows an interesting picture. First, that sparkling wine accounts for 49.3% of all popular wine searches, followed by red wines at 35.4%. White wines are searched for by 14.7% of people, and rosé wines by only 0.6% of potential customers.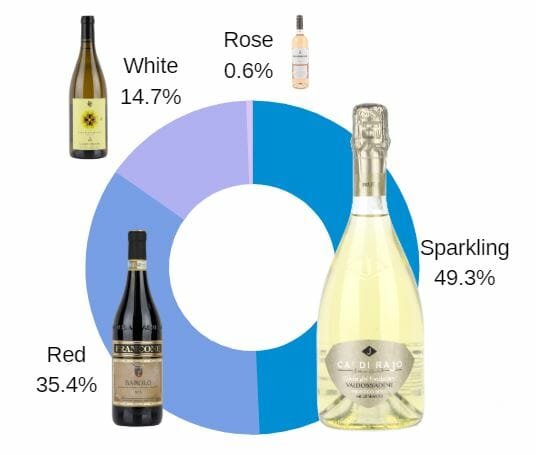 Sparkling wine: 49% searches
The sparkling wine category is dominated by Italy. There's a total of 117,700 searches for Italian sparklers – accounting for a whopping 24% of all wine search traffic in the UK. France is a close second, with 111,400 clicks (22% of all searches).
"Prosecco" is the overall winner, with an astonishing 84,300 searches per month – more than any other wine in the UK by a large margin. Generic "Champagne" is next (52,500 searches), followed by two of the most powerful Champagne houses: "Dom Perignon" (30,500 searches) and "Veuve Clicquot" (28,400 queries). Italian Muscat – a sweet and light bubbly – is next with 26,300 searches (20,900 for Muscat and 5,400 for Moscato, the same grape with Italian spelling).[/vc_column_text][vc_column_text]
Red wine: 35% searches
Red wines are the second most popular category, with an overall of 177,000 queries. This is dominated by Bordeaux, which was searched for by 43,400 people in the UK. Next comes another French legend, Châteauneuf-du-Pape, with 16,800 clicks. The single-varietal Pinot Noir comes third with 9,800 monthly searches, followed by Malbec with 9,200 and Shiraz with 8,600.
The interest in single-varietal wines is most likely driven by the New World. Malbec enjoys its success as a single-varietal wine from Argentina – far more popular than Cahors, its French appellation name (2,000 searches). Shiraz (8,600 searches), spelled in the Australian fashion, far outpaces the French spelling Syrah (1,500 searches).
The top three most popular Italian red wines are Chianti, Amarone della Valpolicella and Barolo. Chianti wine is searched for 9,000 times, or 10,800 if we include "Sangiovese" – the core grape of this wine. It is followed by "Barolo wine" – the legendary wine of Piedmont – with 8,400 queries (note: "Barolo" on its own only accounts for 4,800). 6,900 customers are looking for "Amarone" and 1,600 for "Amarone della Valpolicella".
The most famous Spanish red wine, Rioja, is a little behind Chianti with 8,200 clicks. But if we add the 3,100 people looking for "Tempranillo" (the dominant grape in red Riojas), the total of 11,300 searches bring this Spanish ahead of any Italian red.
White wine, 15% searches
It may be a surprise that white wines account for only about 15% of customer interest in Britain, or 73,800 clicks. The two whites standing strong in the top 10 are Italy's Pinot Grigio, with 13,600 searchers, followed by Sauvignon Blanc at 11,500. The latter, thanks to the single varietal spelling, is clearly a sign that customers are looking for wine from New Zealand or Australia rather than from a French appellation. But together with its most famous French appellations, Pouilly-Fume and Sancerre, Sauvignon Blanc has 18,700 hits.
As for 'anything but Chardonnay' – if we include generic Chardonnay with its appellation names Chablis, Pouilly Fuisse, and Mersault, this classic grape has a bigger than expected following in the UK with a substantial 17,400 searches.
Rosé wine: less than 1%
The most popular rosé wine is White Zinfandel. We looked at other searches like Rosé d'Anjou, Rosé de Loire, Malbec rosé, and Rioja rosé, but each of those has far fewer than 1,000 searches per month.
Conclusions
Of course, the search behaviour only shows which wines people are interested in, and not necessarily what they will end up spending their money for. For example, a person searching for Veuve Clicquot Champagne may consider prices and instead buy a Franciacorta – an Italian premium sparkling wine made from Chardonnay using methode classique.
That said, it's very helpful to see what customers are genuinely looking for – and what words they are using. For example that 6,900 customers are looking for "Amarone" and 1,600 for "Amarone della Valpolicella", which is essentially the same wine.
How can online wine shops react to that information? By promoting popular wines, of course. Independent Wine, as an independent wine merchant (no surprises!) and other Italian wine specialists should be proud to stock wines that so many people are looking for: Prosecco, Muscat, Pinot Grigio and Chianti Classico. We hope that other wine specialists will find this information helpful.
The method: how did we calculate these figures?
We counted keywords searched in main search engines, averaged across the last 12 months. We recorded counts with over 1,000 searches, and we assume that the distribution between sparkling, red, white and rosé wine is 98% correct. While there are lots of grape varietals and wine styles with a smaller number of searches, the distribution between wine styles in the "long tail" will follow the same pattern.
Single varietal wines were recorded in their predominant style (for example, Sauvignon Blanc recorded as white wine). Appellation wines were recorded based on their dominant grape as identified in the WSET guidebooks (for example, the search term "Gevrey Chambertin" was recorded as "red wine" since it is a part of Cote de Nuits best known for Pinot Noir red wines).
Supplement. Monthly online searches for wines, 2019
| Wine | Sparkling | Red | White | Rose |
| --- | --- | --- | --- | --- |
| Prosecco | 84,300 | | | |
| Champagne | 52,500 | | | |
| Bordeaux | | 43,400 | | |
| Dom Perignon (Champagne) | 30,500 | | | |
| Veuve Clicquot (Champagne) | 28,400 | | | |
| Muscat | 20,900 | | | |
| Chateauneuf du pape | | 16,800 | | |
| Pinot Grigio | | | 13,600 | |
| Sauvignon blanc | | | 11,500 | |
| Cava | 10,700 | | | |
| Pinot Noir | | 9,800 | | |
| Malbec | | 9,200 | | |
| Chianti | | 9,000 | | |
| Shiraz | | 8,600 | | |
| Chardonnay | | | 8,500 | |
| Rioja | | 8,200 | | |
| Cava | 7,100 | | | |
| Merlot | | 7,100 | | |
| Cabernet Sauvignon | | 7,000 | | |
| Amarone (della Valpolicella) | | 6,900 | | |
| Chablis | | | 5,700 | |
| Beaujolais | | 5,700 | | |
| Moscato | 5,400 | | | |
| Barolo | | 4,800 | | |
| Riesling | | | 4,700 | |
| Sancerre (Sauvignon Blanc) | | | 4,200 | |
| Montepulciano | | 5,200 | | |
| Lambrusco | 3,900 | | | |
| Zinfandel | | 3,900 | | |
| Tempranillo | | 3,100 | | |
| Pouilly-Fume (Sauvignon Blanc) | | | 3,000 | |
| White Zinfandel | | | | 3,000 |
| Primitivo | | 2,800 | | |
| Sauternes | | | 2,800 | |
| Cotes du Rhone (Syrah) | | 2,700 | | |
| Gewurztraminer | | | 2,700 | |
| Viognier | | | 2,700 | |
| Valpolicella | | 2,600 | | |
| Gewurtztraminer | | | 2,500 | |
| Ice Wine | | | 2,400 | |
| Chenin Blanc | | | 2,200 | |
| Brunello di Montalcino | | 2,100 | | |
| Cahors | | 2,000 | | |
| Pinotage | | 1,900 | | |
| Sangiovese | | 1,800 | | |
| Chianti Classico | | 1,700 | | |
| Franciacorta (Chardonnay) | 1,700 | | | |
| Pouilly Fuisse (Chardonnay) | | | 1,700 | |
| Amarone della Valpolicella | | 1,600 | | |
| Sassicaia (Cabernet Sauvignon) | | 1,600 | | |
| Meursault (Chardonnay) | | | 1,500 | |
| Muscadet | | | 1,500 | |
| Syrah | | 1,500 | | |
| Spumante | 1,500 | | | |
| Soave | | | 1,400 | |
| Grenache | | 1,300 | | |
| Barbera | | 1,300 | | |
| Gevrey Chambertin (Pinot Noir) | | 1,200 | | |
| Pomerol | | 1,200 | | |
| Puligny Montrachet (Chrdonnay) | | | 1,200 | |
| Carmenere | | 1,000 | | |
| Total | 246,900 | 177,000 | 73,800 | 3,000 |
| Total, % | 49.3% | 35.4% | 14.7% | 0.6% |