What is the right price for Barolo? With bottles costing anywhere from £10 to £260 and over, it's a really broad range. If you're not a wine expert, it can be hard to know whether you're getting great value for money, or are paying over the odds. Having a ballpark figure in mind when shopping for your Barolo wine makes it easier – as does understanding the reasons behind the price tag.
We've analysed prices of over a hundred vintages from various suppliers selling their stock in the UK to find out what's reasonable. In this article we'll discuss what you should expect to pay for different quality Barolo wines – and what you're likely to get for your money.
Whichever way you look at it, you're going to struggle to find a bottle of Barolo for a tenner. This iconic red wine is often considered to be one of Italy's best. Its fans love it for its deep and exceptionally complex flavours of black fruits, dried rose, liquorice and spice. Because of its rich character, Barolo is typically bought for Christmas or Easter dinner, or as a gift – it's not exactly an everyday tipple. Our "Essential Guide to Barolo Wine" goes into more depth about what makes it so special, but in this article we're going to talk about the factors influencing price.
The three tiers of Barolo
The price of Barolo is very much based on the quality of the wine, whether the wine belongs to an important cru (MGA), and the prominence of the winery. The Barolo disciplinare requires the wine to be aged for at least 38 months. This means that producers release the wine on the market four or five years after the year of harvesting (for example, Barolo 2018 will not be released until 2022).
In general, there are three tiers of Barolo:
High-volume "supermarket Barolo" produced by farmer cooperatives – £15-20 (newly released vintages)
Solid quality, small-volume Barolo produced by family wineries – £30-50 (newly released vintages)
Barolo Riserva, vintage wine, or wine made by famous wineries – £50-220
NB – all prices are set by retailers and may change without notice
So, what defines the wine's quality, and – as a consequence – tells us what's the right price for Barolo?
What defines the quality of Barolo?
The most important factor in winemaking is, all other things being equal, the quality of the grapes – to make good wine you need good grapes. Unripe or damaged grapes will not produce good wine. As such, the biggest consideration is the ripeness and the quality of the grapes at harvest, which is mostly determined by the location of the vineyard.
Fabrizio Francone, fourth-generation winemaker and producer of award-winning Barolo wine, says:
The quality of great Barolo is born in the vineyards – we can't add quality in the cellar. With winemaking and ageing we try to preserve the characteristics given by the terroir. We have to work really hard to preserve the full quality of the grape.
Barolo is made from pure Nebbiolo – a small, thick-skinned black grape which has a complex and delicious flavour but is very hard to grow. It buds in April, and takes a long time to ripen, which is why it's harvested in the second half of October; just before the winter cold arrives. Because these grapes need maximum sunlight to ripen fully, the best vineyards are located on hills facing South, South-West or South-East, in the middle of the slope. It's fairly safe to say that excellent Barolo can only be made by winemakers who grow, or can get hold of, grapes from such locations.
Fabrizio continues:
Nebbiolo is one of the best grapes because it produces incredibly sophisticated and complex wine. But it is also one of the most difficult grapes to grow in the vineyard and to vinify: it only flourishes on particular soils and weather conditions, and will give its best only in a few small districts.
The rules of Barolo limit the harvest to just 8,000 kg of grapes per hectare. Although this figure seems small, boutique wineries that focus on quality often use far less than this. They carefully sort their grapes by hand to remove damaged or unripe berries. As you can imagine, this manual quality control makes production volumes quite small and drives the cost up.
On the other hand, wineries that produce mass-market wine – like cooperatives Araldica Vini Piemontesi and Terre del Barolo – can't afford to be fussy about picking every grape. As they produce large volumes of wine for supermarkets, they're happy to accept grapes of differing quality.
How much should Barolo cost?
So, let's get down to the nitty-gritty. You know the type of quality you're looking for, so what is the right price you should expect to pay for a bottle of Barolo?
Supermarket Barolo: £15-20 per bottle
CBI Market Intelligence reported that supermarkets were responsible for 80% of wine sales in the UK. That said, their research focuses on cheap wine, costing less than £5 a bottle on average. It should come as no surprise that Tesco and Lidl are not the places to look for high-quality Barolo from a family-run vineyard.
There are a few massive cooperatives that produce large volumes of cheap Barolo to satisfy the bottomless appetites of our national supermarket chains. Cooperatives buy up large volumes of grapes produced in various estates across Barolo DOCG. One example of a cooperative is Terre del Barolo from Castglione Falletto. Another is Araldica Vini Piemontesi – responsible for an astonishing 900 hectares under vine.
While supermarket Barolo technically complies with the strict DOCG rules, its quality is not always what you would expect. This can be seen in the customer reviews on Waitrose's website, which really are a mixed bag:
"Remarkable wine at this price, absolute steal. 2004 was magical.",
or
"This Barolo has no nose, no legs and is thin and acidic – not at all what you expect from a Barolo, certainly not at £19.99 a bottle. Never again."
Tesco's Finest Barolo (£16.75) shows a similar picture, with reviews ranging from:
"Very low quality. Thin and acidic. Avoid."
to:
"The Finest Barolo is a decent attempt at echoing bigger label bottles without replicating the price tag."
Solid quality Barolo from family-owned wineries: £30-50 per bottle
The wine in this category is typically produced by small scale, family-run wineries – each with its own unique traditions and heritage. Usually Barolo from this category will be packed with the legendary flavour, aromas and rich depth that this fabulous wine is known for.
What influences the price within the range? To some extent, it comes down to cru and vintage.
Cru (MGA)
181 "cru" areas within the Barolo denomination are historically famous for the high quality of their wines. They are registered as additional geographic name – "menzione geografica aggiuntiva" or MGA. Typically, wines made from grapes grown in a cru (MGA) are of Barolo will command higher prices. The name of a cru is listed on the label, for example: "Barolo Castelletto", where "Castelletto" is the MGA.
We discuss the Barolo regulations, and list the most important MGA areas in our Guide to Barolo Wine. Here's a high-level map sourced from the Guide: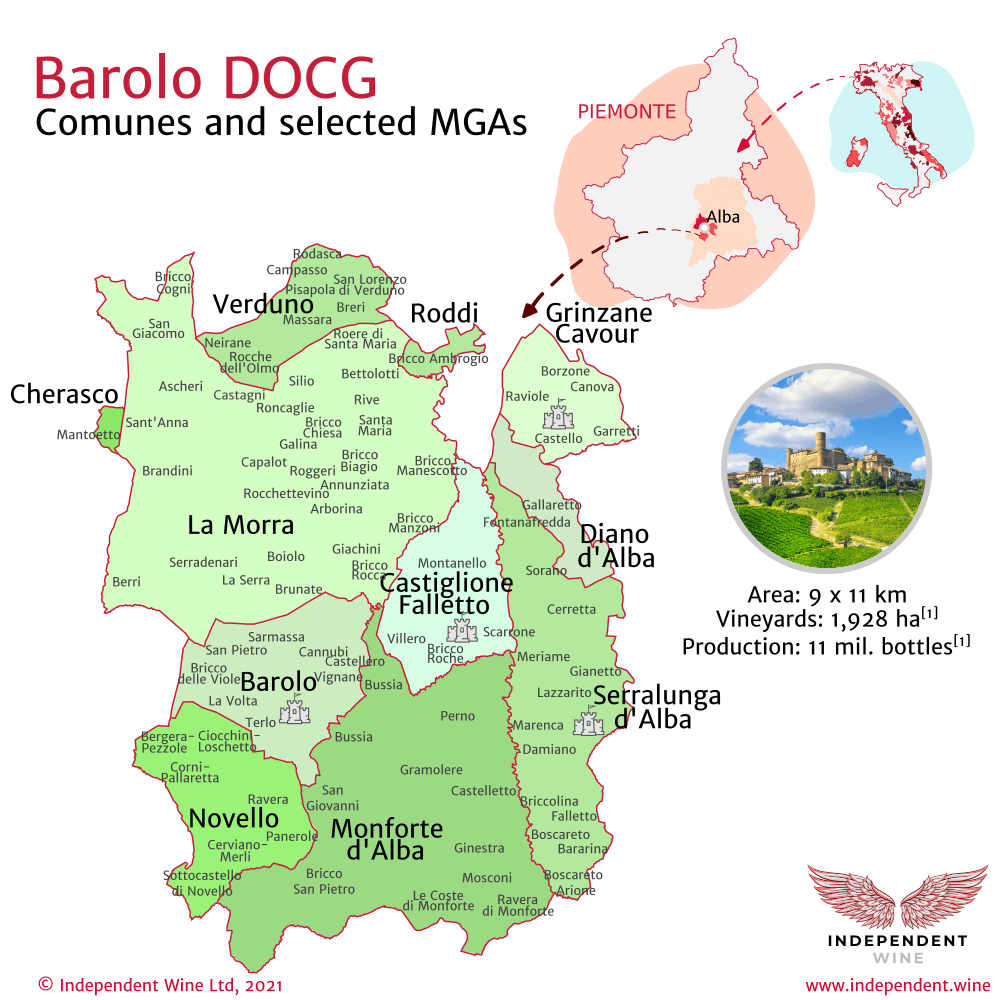 Vintage
The year that the grapes were grown – or the vintage – has an impact too. As a pro-tip, 2015 and 2016 are considered to be the best in the last decade (we discuss this in more detail in the "Essential Guide to Barolo Wine"). Some wineries raise prices for their "five-star" vintages relative to other years. But it's not always the case, as others will keep the price at the same level.
Based on our experience, the price for solid-quality Barolo wine from family wineries varies between £30-50. While It will depend on a number of factors, it is quite possible to find fine quality Barolo from a credible origin, for a reasonable price.
Here's a few examples of such wines we can recommend:
Barolo Riserva, vintage Barolo, famous wineries : £50 – £250 per bottle
Barolo Riserva
Winemakers only declare "Barolo Riserva" in the best years. Such wines are made from the first selection of the healthiest grapes of the harvest. The rest are then used to produce the year's standard house Barolo.
The disciplinare di produzione requires Barolo Riserva to be aged for at least 62 months – or over five years. It's a a big statement in terms of quality requiring a winery to commit its resources over a long period of time. This way, Barolo is quite different to Italy's other denominations: Amarone Riserva has to be aged for four years (read our Guide to Amarone and Valpolicella), while Chianti Classico Riserva matures for 24 months.
Because of such investment by the winery, Barolo Riserva will always be produced in small quantities. It also means that only the strongest wineries, growing the healthiest grapes, venture to produce it. Here's a few examples of Barolo Riserva we have selected for our portfolio:
Vintage Barolo
Nebbiolo contains a high level of tannins, and Barolo greatly benefits from cellaring. Tannins are known to break down with age, helping the wine to develop complex, nuanced aromas. Typically, Barolo reaches its maturity after about seven years. The best examples will continue to evolve for 20 years or more.
Grapes from various growing conditions have a different capacity to age. We discuss this topic at length in the Guide to Barolo. Just to give a quick example, the younger soils in the western part of La Morra or sandy soils will produce Barolo wines with lots of flavour, which can be enjoyed earlier. On the other hand, the white soils of Serralunga and Monforte will produce more "masculine" Barolos supercharged with tannins, which can age for longer.
Following the law of diminishing returns, beyond a certain level even a tiny improvement in flavour adds an increasing premium. For this reason vintage Barolos often sell for astronomical prices – which will nevertheless be the right price for those wine lovers who appreciate the esoteric nuances of the wine.
Famous wineries
You can get a bottle of Barolo La Serra by Roberto Voerzio, 2011 vintage, for around £200 per bottle. Bruno Giacosa was a legendary winemaker in Serralunga d'Alba, and you can sample his 2015 Barolo "FALLETTO" for £184, or his exceptional 2016 vintage for £206.
Barolo from a prime winery, that has also been aged in bottle, can command an even higher price. Expect to pay upwards of £260 for a bottle of Cordero di Montezemolo from La Morra made in 1971, and £220 for the 1979 vintage.
The verdict? Barolo from family-run wineries is the best value for money
To enjoy Barolo, one doesn't have to spend hundreds of pounds on high-end Barolo. On the other hand, supermarket Barolo isn't always enjoyable.
If you really want to get your money's worth, it's best to focus on the middle category – small-volume Barolo carefully crafted at family-run wineries. This category offers the right level of quality for the right price.
Table 1. Prices of Barolo DOCG wine sold in the UK, 2020
(Prices may be changed by respective sellers)
| Barolo DOCG wine | Vintage | Village/cru | Price/bottle |
| --- | --- | --- | --- |
| Roberto Voerzio, Barolo, del Comune di La Morra | 2016 | La Morra | £77.50 |
| Il Poeta Barolo | 2016 | Novello | £27.00 |
| Barolo Araldica | 2016 | Cooperative | £17.99 |
| Barolo Contea di Castiglione | 2016 | Cooperative | £17.70 |
| Pira Luigi Serralunga Barolo | 2016 | Serralunga d'Alba | £31.00 |
| Barolo Ciabot Berton | 2015 | La Morra | £30.00 |
| CIABOT BERTON BAROLO ROCCHETTEVINO | 2012 | La Morra | £36.75 |
| Barolo La Morra Corino Giovanni di Corino Giuliano | 2016 | La Morra | £37.80 |
| BAROLO LA MORRA, CRISSANTE | 2016 | La Morra | £35.00 |
| Monchiero Barolo 'Rocche di Castiglione' | 2016 | Castiglione Falletto | £30.00 |
| MANTOETTO BAROLO FRACASSI | 2015 | Cherasco | £40.00 |
| Barolo "Castiglione" DOCG | 2016 | Castiglione Falletto | £44.00 |
| BAROLO FALLETTO BRUNO GIACOSA | 2016 | Serralunga d'Alba | £180.51 |
| Barolo DOCG Monfalletto Cordero Di Montezemolo | 2016 | La Morra | £41.11 |
| Barolo "Falletto" DOCG | 2016 | Serralunga d'Alba | £206.00 |
| BAROLO FALLETTO VIGNA LE ROCCHE BRUNO GIACOSA | 2015 | Serralunga d'Alba | £184.09 |
| Falletto di Bruno Giacosa Vigna Croera Barolo DOCG | 2004 | Serralunga d'Alba | £170.00 |
| Barolo Serralunga D Alba, Winery Fontanafredda | 2015 | Serralunga d'Alba | £40.29 |
| Massolino Barolo | 2015 | Serralunga d'Alba | £52.50 |
| Barolo di Serralunga d'Alba DOCG Fontanafredda | 2014 | Serralunga d'Alba | £39.50 |
| Parusso, Barolo | 2016 | Monforte d'Alba | £39.00 |
| Fenocchio, Barolo Villero | 2015 | Monforte d'Alba | £40.00 |
| Barolo DOCG Domenico Clerico | 2015 | Monforte d'Alba | £40.52 |
| Terre del Barolo DOCG | 2015 | Castiglione Falletto | £19.99 |
| Barolo DOCG Terre da Vino | 2015 | Barolo | £18.99 |
| Massolino Parussi Barolo Red Wine | 2015 | Serralunga d'Alba | £90.00 |
| Terra da Vino Barolo Riserva DOCG | 2010 | Barolo | £24.99 |
| Vietti – Castiglione Barolo | 2015 | Castiglione Falletto | £36.95 |
| Domenico Clerico : Barolo | 2016 | Monforte d'Alba | £40.00 |
| BAROLO CASTIGLIONE VIETTI | 2015 | Castiglione Falletto | £49.15 |
| Cordero di Montezemolo : Monfalletto | 1971 | La Morra | £260.00 |
| Cordero di Montezemolo : Monfalletto | 1979 | La Morra | £220.00 |
| Barolo Monfalletto | 2014 | La Morra | £50.00 |
| Antinori – Prunotto : Barolo | 2010 | Monforte d'Alba | £48.33 |
| Antinori – Prunotto : Barolo | 2014 | Monforte d'Alba | £38.33 |
| Antinori – Prunotto : Barolo | 2015 | Monforte d'Alba | £41.67 |
| Barolo Manfredi | 2015 | Not clear | £24.00 |
| Michele Reverdito Castagni Barolo | 2014 | La Morra | £25.95 |
| Barolo DOCG, Mario Giribaldi | 2014 | Novello | £24.99 |
| Barolo Ravera | 2012 | Novello | £57.00 |
| Benevelli Piero Ravera Barolo DOCG | 2011 | Novello | £53.00 |
| Elvio Cogno Ravera Barolo DOCG | 2010 | Novello | £70.00 |
| Cascina Fontana Castiglione Falletto Barolo | 2015 | Castiglione Falletto | £57.13 |
| G.D. Vajra Barolo Ravera | 2015 | Barolo | £56.95 |
| AZELIA BAROLO | 2015 | Castiglione Falletto | £32.90 |
| Luciano Sandrone – Sandrone Barolo Aleste | 2015 | Barolo | £104.34 |
| Vietti Barolo Castiglione | 2015 | Castiglione Falletto | £44.00 |
| Michele Chiarlo Tortoniano Barolo | 2015 | La Morra | £39.60 |
| Veglio Angelo Barolo DOCG | 2015 | La Morra | £18.20 |
| G.d. Vajra Barolo Bricco Delle Viole | 2015 | Barolo | £66.06 |
| Massolino Barolo | 2015 | Serralunga d'Alba | £37.30 |
| Cavallotto Barolo Bricco Boschis | 2015 | Castiglione Falletto | £56.02 |
| Cascina Fontana Barolo | 2015 | Castiglione Falletto | £45.08 |
| Antinori Prunotto Vigna Colonnello Barolo Bussia Riserva DOCG | 2011 | Monforte d'Alba | £145.10 |
| Antinori Prunotto Barolo Bussia DOCG | 2014 | Monforte d'Alba | £71.40 |
| Antinori Prunotto Barolo DOCG | 2015 | Monforte d'Alba | £36.75 |
| G.D. Vajra Barolo Albe | 2016 | Barolo | £36.05 |
| Michele Chiarlo Cerequio Barolo DOCG | 2012 | La Morra | £67.40 |
| Cascina Adelaide Barolo 4 Vigne | 2012 | La Morra | £35.00 |
| Araldica Barolo Flori 6 Bottle Case | 2015 | Cooperative | £16.28 |
| BAROLO LA MORRA, CRISSANTE | 2016 | La Morra | £35.00 |
| Barolo La Morra Corino Giovanni di Corino Giuliano | 2015 | La Morra | £37.80 |
| Barolo Fontanafredda | 2015 | Serralunga d'Alba | £33.45 |
| Barolo Vigna La Rosa Fontanafredda | 2013 | Serralunga d'Alba | £71.30 |
| Barolo Via Nuova E Pira | 2014 | Barolo | £55.65 |
| Barolo Sori Ginestra Conterno Fantino | 2014 | Monforte d'Alba | £67.70 |
| Marcarini Barolo del Comune di La Morra | 2016 | La Morra | £30.50 |
| Roberto Voerzio Barolo La Serra | 2011 | La Morra | £200.07 |
| Monchiero Barolo 'Roere di Santa Maria' | 2014 | La Morra | £26.00 |
| BAROLO RONCAGLIE DOCG ERALDO VIBERTI | 2011 | La Morra | £53.00 |
| M. Marengo Barolo Bricco Delle Viole Docg | 2015 | La Morra | £47.59 |
| BAROLO PERNO ELIO SANDRI | 2014 | Monforte d'Alba | £59.00 |
| BAROLO DI SERRALUNGA FERNANDO PRINCIPIANO | 2015 | Serralunga d'Alba | £30.00 |
| Cappellano | 1967 | Serralunga d'Alba | £329.00 |
| Barolo D.o.c.g. Fontanazza – Giacomo Marengo | 2003 | La Morra | £60.00 |
| AURELIO SETTIMO BAROLO ROCCHE DELL'ANNUNZIATA | 2015 | La Morra | £38.50 |
| Barolo Docg Ascheri | 2016 | Serralunga d'Alba | £26.40 |
| Franco Fiorina | 1967 | | £249.00 |
| L. Bertolo – Riserva Speciale | 1967 | | £149.00 |
| Gaja Barolo Conteisa Docg | 2013 | Cerequio | £238.13 |
| Paolo Scavino Barolo Rocche Dell'Annunziata Riserva Docg | 2013 | La Morra | £227.65 |
| Barolo Dagromis Doc – Gaja | 2013 | La Morra, Serralunga d'Alba | £90.28 |
| Barone Stabilini | 1979 | | £99.00 |
| Gigi Rosso – Trecomuni | 2013 | Castiglione Falletto | £36.95 |
| Barolo Unoperuno – Elio Altare Viticoltore | 2015 | La Morra | £331.95 |
| Barolo Prapo – Ceretto | 2015 | Serralunga d'Alba | £150.39 |
| Barolo – Winery Ceretto | 2015 | Serralunga d'Alba | £87.10 |
| Barolo Serralunga DOCG by Ettore Germano | 2015 | Serralunga d'Alba | £41.95 |
| Barolo Serralunga D'Alba Giovanni Rosso | 2015 | Serralunga d'Alba | £48.00 |
| 2013 Tenuta Cucco Barolo Serralunga D'Alba Docg | 2013 | Serralunga d'Alba | £41.87 |
| Ettore Germano Barolo Serralunga | 2015 | Serralunga d'Alba | £39.95 |