Over the past year, we've been sending wine as gifts to customers all across the UK. So we've decided to share some practical tips with you. Find out which wine is best to choose as a gift, how to send a wine gift by post and – most importantly – how to package it for safe delivery.
How to choose wine for a gift?
If your special someone has been dropping hints about which wine they want, or won't stop talking about their favourite grapes and regions, it's easy to choose the best wine gift. But what if you don't know for sure? Or if you're personally not really into wine and feel overwhelmed by all the different options? Don't worry. With our tips, you'll be able to safely choose a high-quality wine that they'll adore.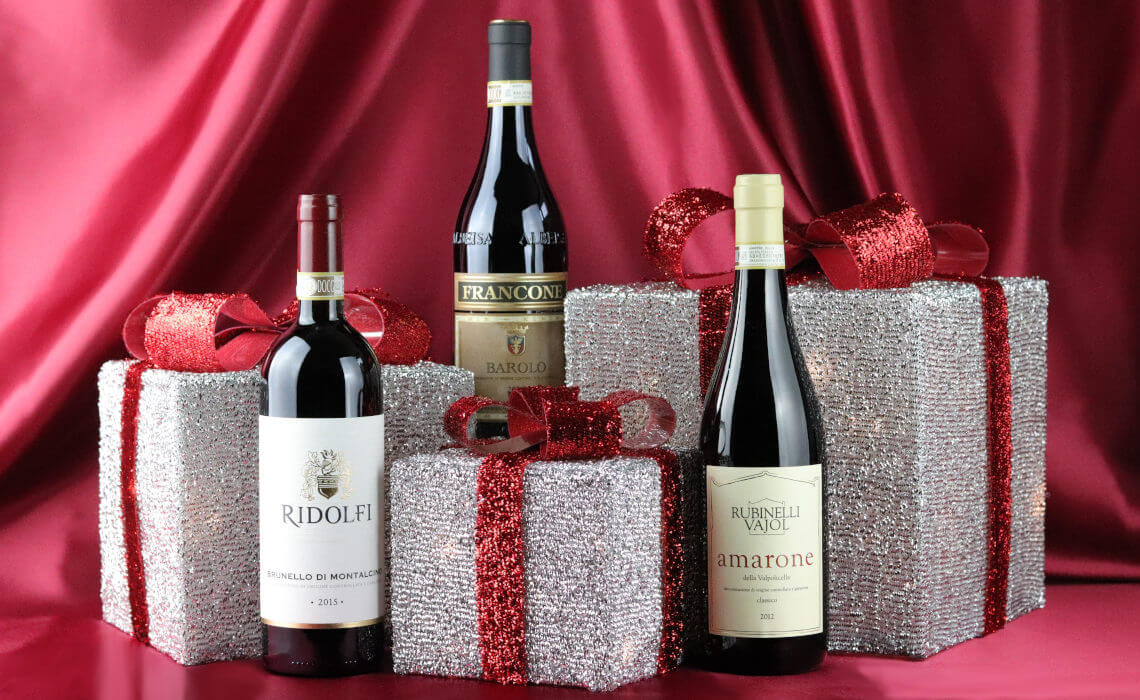 Wine gift tip: Valuable wines are the safest gifts. Their brands and names are universally known, so even if the person is not a wine lover they will recognise and appreciate the prestige. In essence, those wines can make perfect gifts.
In terms of Italian wine, the big names are Barolo, Barbaresco, Amarone, Brunello di Montalcino, and Chianti Classico Gran Selezione. If you're planning on giving wine as a gift this Christmas, we've put together a list of twelve .
There are many great French wines too, but not all appellations are created equal. So, what are the names on everyone's mind? It's always safe to pick a bottle of Hermitage, Côte-Rôtie, Médoc, Pomerol, Pessac-Léognan, St-Émillon, or an expensive Châteauneuf-du-Pape.
If you send someone any of those wines, they'll be sure to appreciate it as a great gift. Such high-end wines are pretty much guaranteed to give them an enjoyable in-glass experience.
Premium Wine Gifts for Christmas
If you're wondering how to pick a Christmas present that will stand out, our list of "Twelve Premium Italian Wines to Gift this Christmas this Christmas will give you plenty of inspiration. They include some of the best wines in our portfolio:
This range of really special wines includes deep, powerful reds like Barolo, Cannonau di Sardegna, and Brunello di Montalcino, as well as elegant Pinot Noir from the Dolomite Alps. You'll also find sweet and decadent Muscat made in the passito method, and sparkling Franciacorta – the Italian answer to Champagne. Click this link to find the full list of wines that will make their Christmas.
The Best Christmas Wine Gifts for under £25 per bottle
Is it possible to find delicious wine gifts for your loved ones and not break the bank? Luckily, the answer is "yes"! We've put together a list of Italian wines for under £25 that will make their Christmas truly special. There are rich, powerful reds and light, aromatic whites – all sourced from award-winning boutique Italian wineries. Here's another bragging point: all the wines are exclusive in the UK, so your gift will be truly one-of-a-kind.
Sound good? Click here to read our recommendations for wine gifts under £25.
How much to spend on a wine gift?
If you are buying a single bottle, you can get a decent award-winning wine that will make a memorable gift for £30-60.
The price for a bottle of good Barolo ranges from £35-50. A decent Amarone will cost £40-60, and Brunello di Montalcino starts from around £40. If you're looking for a bargain, you can find superb Barbaresco for less than £30.
Or, if you're not keen to go over £25, why not grab a bottle of rich and powerful Cannonau di Sardegna, with a deep taste of black plums, bramble fruits, blackberries, cinnamon and chocolate? Or if you're looking for an aromatic white, here's Gewurztraminer from the Dolomite Alps, that tastes like guava, lychee and passion fruit. Check our guide for wine gifts under £25, and we're sure you'll find a delicious wine to match your taste.
Wine gift tip: If you're thinking about gifting a whole case of wine, it's a good idea to mix and match. Why not order a couple of expensive bottles like Barolo or Amarone, alongside a few less expensive (but still premium-class) wines like Chianti Classico Riserva, or Valpolicella Classico Superiore?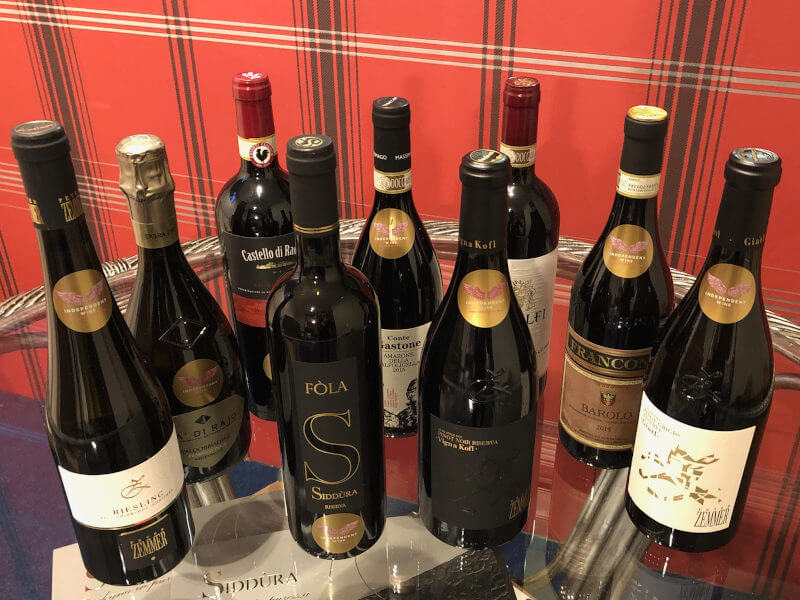 By doing this, you'll be able to impress just about anyone with a gift of six award-winning wines for about £180.
Can I send wine as a gift by post?
Yes. Royal Mail accepts packages up to 2kg, and a full bottle of wine weighs 1.25kg. With wrapping and packaging, it may come to about 1.5-1.7kg.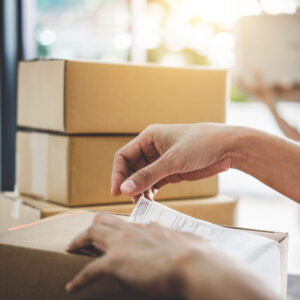 To send a whole case of wine, you'd need to use Parcel Force or a courier like FedEx or UPS.
Wine gift tip: If you buy wine as a gift from Independent Wine, you can have it delivered straight to the recipient's home (or office) address. We can also gift wrap the bottles for free – just mention that you want this in your order notes. Here's how it's going to look like: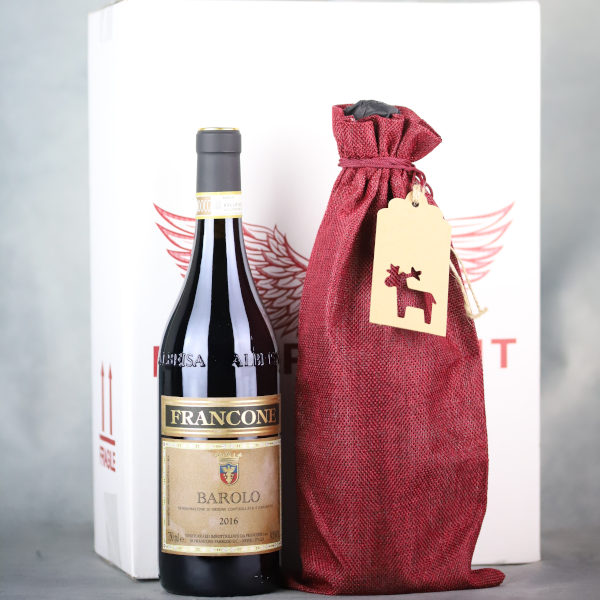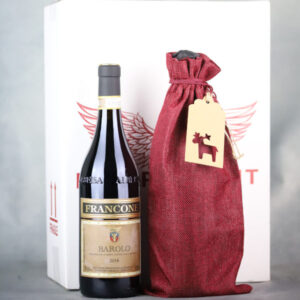 We typically use couriers like FedEx or UPS. You, as "sender", will get an email and text with a tracking number and will be notified when the gift has been delivered.
Can I send wine as a gift to another country?
Possibly – it depends on the rules in that country, and on how much wine is in the package. The recipient may have to pay customs duty, so there may be extra costs involved.
If you are thinking of buying a case of wine from us and sending it as a gift to another country, email us first. Our logistics specialists will check and advise what the cost of delivery will be, and how long it will take.
How to package a wine gift if you send it by post?
Bottles of wine are fragile, and it's best to package them well. They can easily get damaged in transit. Heavy items often get stacked one on top of the other and boxes can topple over in the back of trucks. Since a good bottle of wine may cost anywhere between £20 and £50, it makes sense to invest in good-quality packaging.
Wine gift tip: Use a triple-wall cardboard box. Such boxes are made of three-layer-think corrugated cardboard, and will provide strong protection for your gift.
Wrap the bottle (or bottles) individually in an inflatable "airsac". It's a plastic envelope which you inflate with compressed air, and which protects the bottle. You'd need an air compressor or a bicycle pump to inflate it.
You can source boxes and airsacs from Raja UK.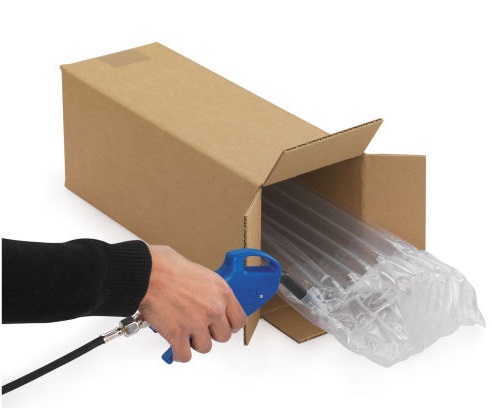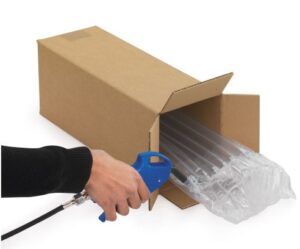 (Bottle of wine in a high-pressure airsac. Credit: Raja UK)
If you want to be eco-conscious, use geami paper or corrugated cushion paper, which you can get from Macfarlane Packaging.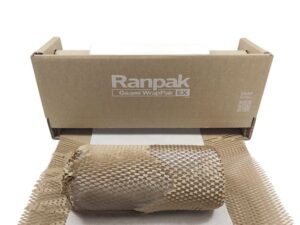 Mini-geami roll by Macfarlane Packaging
If there's lots of empty space around the bottle, fill the box with shredded paper or loose fill, or simply add more layers of wrapping. It will stop the bottle from rattling about and hitting the sides of the box.
At Independent Wine, we use specialist boxes designed for wine. They are all made from strong, triple-wall cardboard.
For smaller one or two-bottle deliveries, we use specialist Nakpack boxes with the bottle positioned safely and securely inside. Here's an example:
For three bottles or more, we use heavy-duty boxes and wrap every bottle really well.
In 2020 we stopped using bubble-wrap and airsacs to cut down on plastic pollution. We switched to paper instead, which needs a bit more wrapping but is far more sustainable.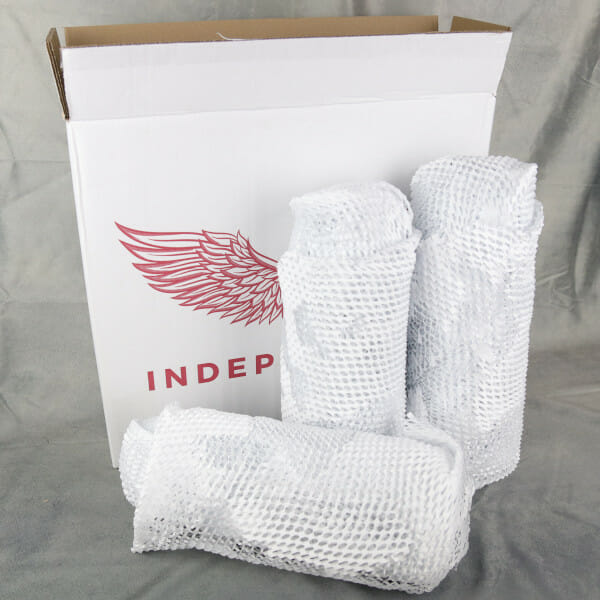 It's fair to say that all sorts of things can happen in transit – but with good-quality packaging you'll improve the chances of your wine gift reaching its destination safe, intact and ready to drink.
Get in touch with us if you have any questions – we'll be happy to help.