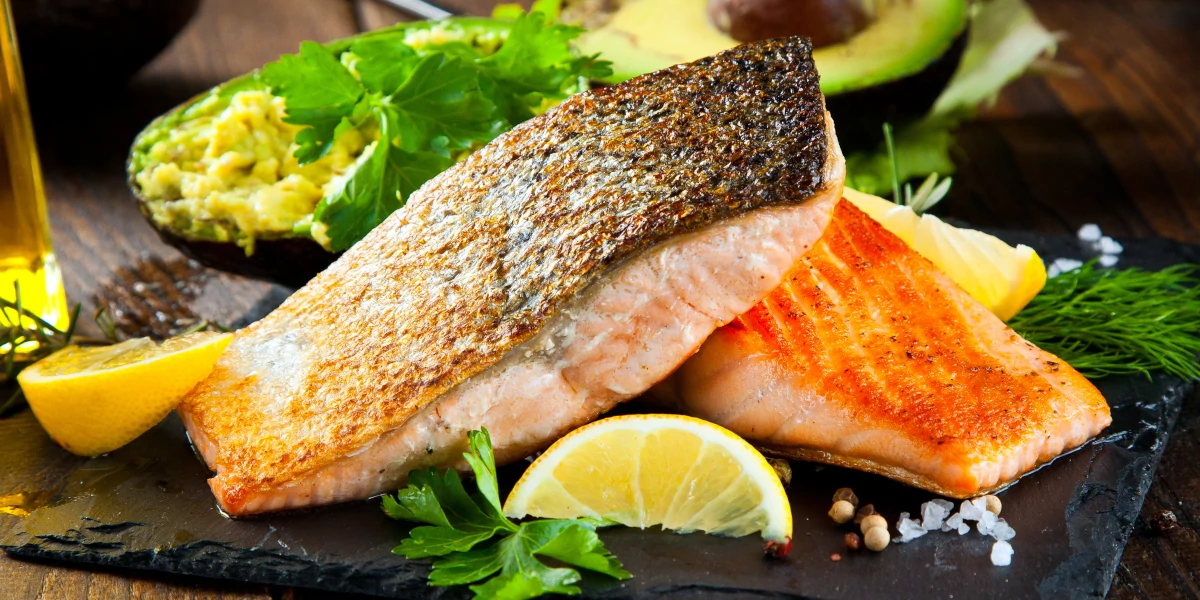 The Best Italian Wine for Fish

Italian Food and Wine Pairing / The Best Italian Wine for Fish
Finding the best wine for fish is about more than reaching for your favourite bottle of white. It's also important to consider the type of fish you're serving – for example if it's light and flaky or oily and dense – and how it's being served. After all, lightly grilled fish with a sprinkle of lemon juice will have a far simpler flavour than a spicy fish stew.
One question people often ask is, why do we drink white wine with fish? Basically, it's because the tannins in bolder red wines can trigger an unpleasant reaction with the oils in the fish – leaving a metallic taste in the mouth. Choosing white wines is the easiest way to avoid it. Those in the know understand that light, low tannin reds – such as unoaked Pinot Noir, Barbera and Valpolicella – can work just as well.
The best Italian wines for fish
Best wine for light, flaky fish: Arneis
Delicate fish such as sole and plaice are often served simply. They're usually grilled or baked, with a touch of herb butter and a squeeze of lemon juice. Happily, most Italian white wines are light and citrussy, making them some of the best wines for fish prepared this way.
You have lots of options here – Pinot Grigio, Grillo, or even Vermentino – but we think the best wine for light flaky fish is Piemonte's Arneis. Refreshing and light, it has elegant aromas of jasmine, honeysuckle and elderflower. Its high acidity joins the fresh citrus flavours from the squeeze of lemon to brighten up the flavours in the fish. Because it's such a subtle wine, it doesn't dominate the palate, so it complements the meal rather than overpowering it.
Best wine for cod and haddock: Pinot Grigio
Cod and haddock are two of the most popular fish in the UK. After all, they're the main ingredient in our beloved fish and chips. These robust fish can be prepared in more complicated ways than delicate fish fillets. The meaty texture can stand up to rich tomato sauces, fiery chillies and plenty of garlic. The wine you choose will depend on how you're preparing your cod or haddock (or pollock, sea bass and halibut) but as a rule of thumb you can go for a bolder white wine than you may choose for sole.
A fantastic all-rounder is Peter Zemmer "Giatl" Pinot Grigio Riserva. It spends 12 months in oak so is more complex than a standard Pinot Grigio. It still has plenty of zingy acidity, which we know fish loves, as well as interesting flavours of dried citrus, almond, apricots and elderflower. The complexity of the wine means it can handle a range of dishes you might use robust white fish in, for example Mexican tacos heaped with fresh chilli and coriander or an Italian-style traybake with tomatoes, green olives and capers.
Best wine for fish and chips: Franciacorta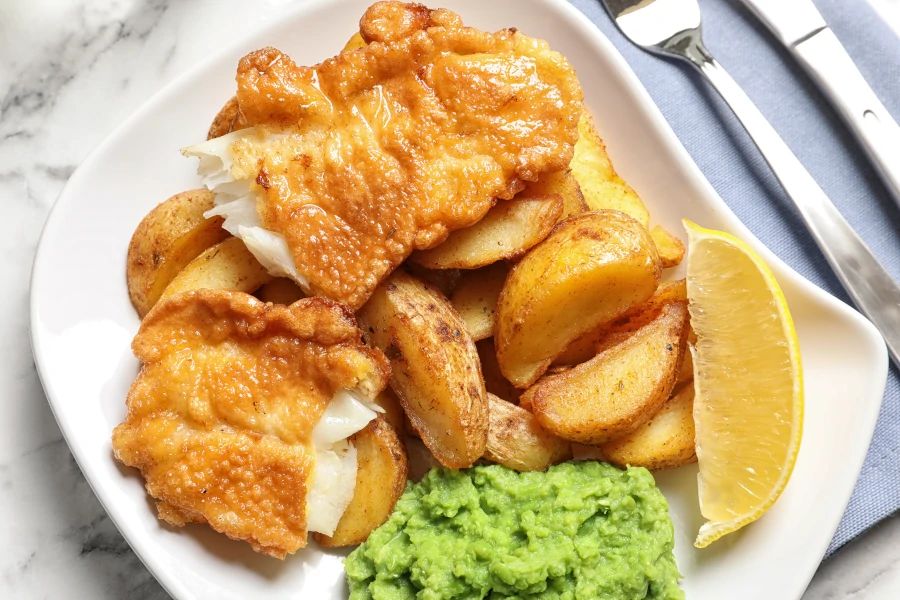 Is there anything more decadent than fish and chips with a glass of fizz? The combination of Champagne with fish and chips has become more popular in recent years. We reckon Franciacorta – Italy's answer to France's famous bubbly – is just as good (if not better).
Next time you order a fish supper, pour a glass of Lo Sparviere Franciacorta DOCG Brut Millesimato 2014. The acidity in the wine cuts through the oiliness of the batter, and plays off the saltiness of the dish beautifully. The bubbles help to make it all feel lighter, while the yeasty flavours from lees-aging complements the flavour of the batter. Because this Franciacorta is 100% Chardonnay, it has plenty of zesty lemon notes. After all, what's fish and chips without a squeeze of lemon?
Best wine for tuna: Pinot Noir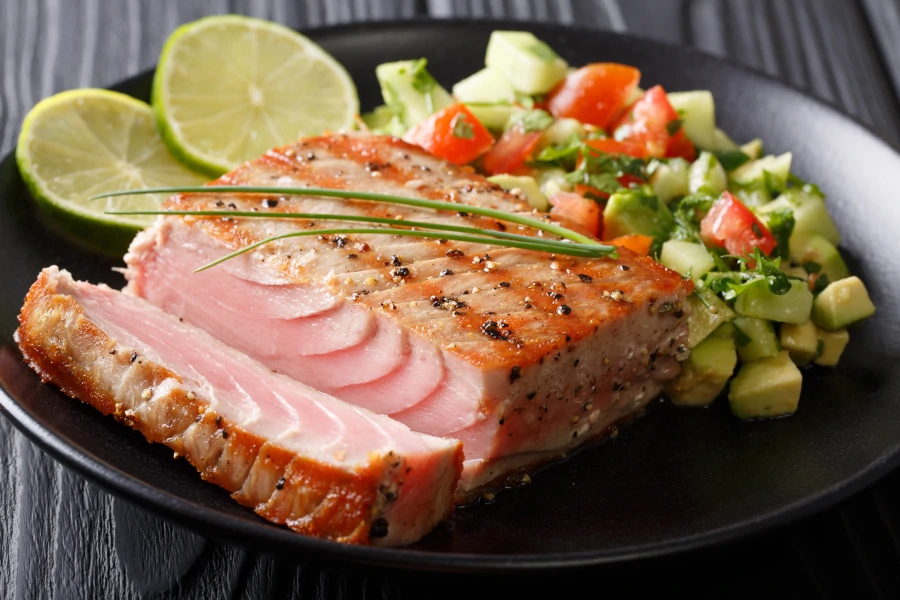 While white wine for fish is a traditional choice, sometimes it's worth thinking outside the box and reaching for a red. Especially if you're opting for a meaty fish like tuna. As it's usually seared on the outside and rare and juicy on the inside, its flavour profile has more in common with steak. A light red wine such as Pinot Noir, served slightly chilled, is ideal. In fact, The Independent newspaper recently proclaimed our Kurtatsch Mazon Pinot Noir Riserva is the best Pinot Noir for fish.
Their wine writer, Terry Kirby, said: "With gorgeous aromas of spices such as cinnamon and earthy fungal notes, hints of mint, a light to medium bodied mouthfeel, and cherry, raspberry and strawberry flavours this feels lively on the palate." He added that "It is perfect just lightly chilled with a plate of mixed charcuterie or some grilled fish, particularly seared tuna."
Best wine for salmon: Orange Arneis
You might wonder "does red or white wine pair better with salmon?" Just like tuna, this meaty fish can work with rich whites such as Chardonnay and light reds like Pinot Noir. Whether it's seared or smoked, it's one of the few fish powerful enough to stand up to oaky whites. For a left-field choice, reach for Demarie Sabbia Orange Wine – an oak-aged Arneis.
This fragrant orange wine has aromas of honeysuckle, green tea and almonds. The subtle impression of nutty, fruity sweetness works especially well with the briny notes of smoked salmon or gravadlax, and can also play against the slight char of barbecued salmon steak.
Side note: this wine also goes beautifully with scallops and oysters, so is a fabulous choice if you're serving a mixed seafood platter.
Best wine for oysters: Grillo
Bright and crisp Muscadet may be the traditional wine for oysters, but in our experience Grillo is perhaps even better. We recently brought a few bottles of Salvatore Tamburello 204N Unfiltered Organic Grillo to Loch Fyne to try it with the famous oysters, and everyone was pleasantly surprised – and super impressed – by the pairing.
Made in a clean un-oaked style, this refreshing wine is packed with flavours of elderflower, lemon zest and grapefruit which cut through the creaminess of the oysters. As it's organic and unfiltered, it has a little bit of sediment in the bottle. This adds an earthy, mineral quality which complements the briny flavour of this popular shellfish.
Best wine for sardines and mackerel: Vermentino di Gallura
Strongly flavoured oily fish such as sardines and mackerel need a high-acid wine to cut through their bold flavour. A summertime favourite, these little fish are perfect for throwing on a charcoal barbecue to crisp up the skin. They can stand up to spicy dressings but are often best served simply, with a squeeze of citrus.
Coastal white wines often have a subtle saline touch, placing them among the best wines for fish. A great option is Siddùra Maìa 2019 Vermentino di Gallura DOCG Superiore from the island of Sardinia. The winery is set in the mountains, just 30 minutes from the seaside resort of Portobello di Gallura. The wine itself is zingy and fresh. It has complex flavours of honeysuckle, lime, peach and melon which are the perfect foil for the slight gamey bitterness of sardines and mackerel.
Find your new favourite wine for fish
Whether you're planning to experiment with a low-tannin red or stick to tried-and-tested whites, you can get all of our favourite Italian wines for fish with free next day delivery to the mainland UK. As always, our recommendations are simply suggestions and it's all down to personal taste. Be prepared to experiment with flavours, and you never know what you may discover.