Since the end of August, we and our partner Ecologi have been standing up to the climate crisis by planting trees for every order of three or more bottles from Independent Wine.
So far the campaign has been a great success, with 693 trees funded across a number of ecological projects in Africa. We're super excited about this – so much so, that we've decided to extend our tree-planting campaign to cover every single order.
Check Independent Wine's little forest on the Ecologi website.
Why are we now planting trees for small orders?
Every order we send out – whether that's one bottle or twelve – is packed in cardboard. While we stopped using plastic packaging in 2020, and use 100% recyclable materials, trees are still being used to make our packaging.
Also, although larger orders do mean less vans on the road, sending packages of wine still generates CO2 emissions. We therefore feel that it's our moral duty to fund trees for every order. This way we can fight deforestation and preserve the planet for future generations.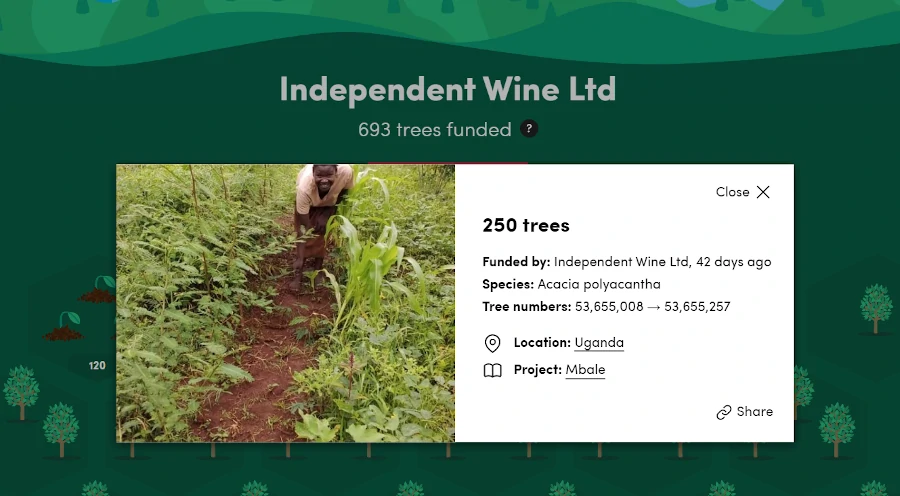 It's great to plant trees, but it's important to be mindful
Although each order placed funds a tree in Africa, we'd still like to encourage our customers to try to place larger orders, if possible, rather than multiple small ones. It's much better for the environment if we can send you six bottles all at once, rather than spreading deliveries across multiple days. This way there are less vans on the road, and less cardboard packaging to throw in your recycling bin.
We've funded 693 trees, but our wine prices stay the same
When you place an order with Independent Wine, you get all the satisfaction of knowing your order is contributing towards worthy reforestation causes – with no added cost. We pay for every tree out of our own profits.
All you need to do to join us in the fight against the climate crisis is to continue ordering your favourite fine Italian wine.
693 trees planted to fight deforestation: help us reach our next milestone!
Whether you're ordering one bottle as a special birthday present, or are restocking your wine cellar, you can rest-assured that every order has an impact.
So far our trees have been pledged to establish forest gardens in Eastern Uganda, restore terrestrial forest in Mozambique, and to maintain the coastal mangroves in Madagascar. We know this because our partner, Ecologi, is completely transparent. They include details about all this and more on their website (see "Reforestation and Carbon Offsetting Projects".
Our next target is to fund 1000 trees. We're delighted when like-minded customers buy fine Italian wine – while supporting reforestation!
Learn more about the projects your orders are helping to fund, and track our tree-planting progress in real-time.