It's common knowledge that the best Italian wines are made from hand-picked grapes, but have you ever wondered why? Hand picking is a feature that winemakers often shout about. Usually, grapes for inexpensive mass-produced wines are picked by machines. Prestigious vineyards – producing grapes for wines like Brunello or Barolo – often choose to pick their grapes by hand.
During my WSET training, I was taught the official story. Modern harvesting machines are very high-tech and can harvest quality grapes. This question kept bothering me: why would someone refuse to use a machine that can pick 80 tonnes of grapes per day, and pick by hand instead? At most you can harvest about one tonne per day using human labour.
I decided to get to the bottom of it. So, when Elvira and I were visiting our winemakers in Italy this August, I asked them. It turns out that there are a few technical reasons why grapes for premium wines need to be hand-picked. Here's what they said.
Reason 1: picking by hand protects the vines
The tiny village of Radda, nestled in the mountains of the prestigious Chianti Classico area, has played an important role in the history of winemaking. In 1384, the Republic of Florence set up a military and political alliance called League of Chianti (Lega del Chianti), which included Radda, Castellina and Gaiole. Today, the names of these villages are still closely associated with some of Italy's best wines. Radda was the capital of the League, and has been allowed to call its wine Chianti since 1398.
The high elevation of the surrounding vineyards help the grapes to retain zingy acidity, creating a fresh character in the resulting wine. Radda has kept its reputation for elegant wines throughout the modern era.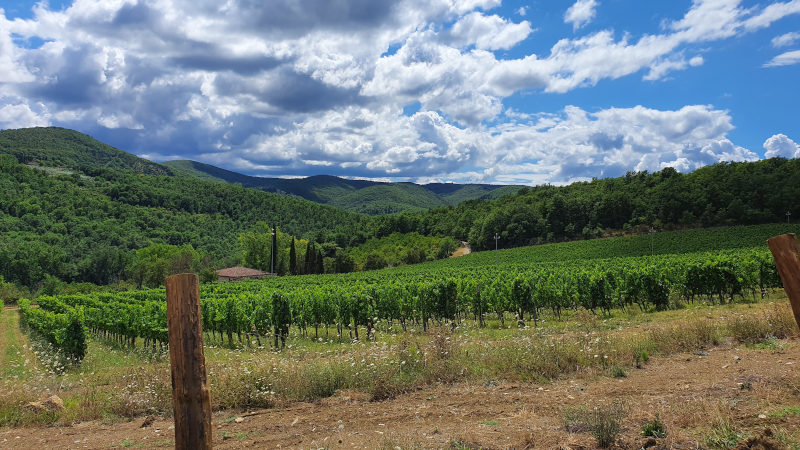 The winemakers in Radda have been making Chianti for many, many years. We spoke to Eleonora Maoddi at Castello di Radda: a new winery built by the famous Beretta family. They purchased several plots with old vines and planted new vineyards on the mountains around Radda.
Eleonora holds a post-graduate degree in viticulture and oenology science from University of Turin, and works alongside winemaker Marco Mascarello during harvest, which is usually the busiest time in Radda. She explained me why they always pick grapes by hand. The mechanical harvester collects grapes by shaking the branches so the grapes fall into a bin. This process is efficient, but it also batters the vines. She says that, to achieve the premium quality of Radda, the vines have to be dealt with very delicately. They should not be stressed by machines.
Reason 2: it's more economical to harvest by hand in tiny vineyards
Our next stop was Castellina – a busy village in the centre of Chianti Classico. Castellina, together with Radda, was one of the three original villages allowed to call their wine "Chianti". Its main artery is the medieval high street, capped by an ancient castle built by the Squarcialupi family. Nowadays if you step into the dungeons, you'll find the wine cellar of La Castellina – an award-winning Chianti Classico winery.
I spoke to Dr Tommaso Bojola, the owner and winemaker at La Castellina. We chatted behind his vinification workshop, looking down across the vineyards. They're planted on the slopes of the mountain behind the village at an altitude of 550-570 metres.
Tommaso explained that the grapes are planted in a mountainous area, so each vineyard is its own tiny plot of land. If they want to use a mechanical harvester, it would need to start and stop after every row. The machine wouldn't be able to harvest much, and would be too expensive to run. Harvesting by hand, it turns out, works out cheaper in mountainous vineyards.
So we've heard two different perspectives on why grapes should be picked by hand. Our next stop is the renowned denomination of Brunello di Montalcino.
Reason 3: machines don't distinguish how ripe the grapes are
For this part of our trip, we stayed at the Ridolfi vineyard in Brunello di Montalcino DOCG.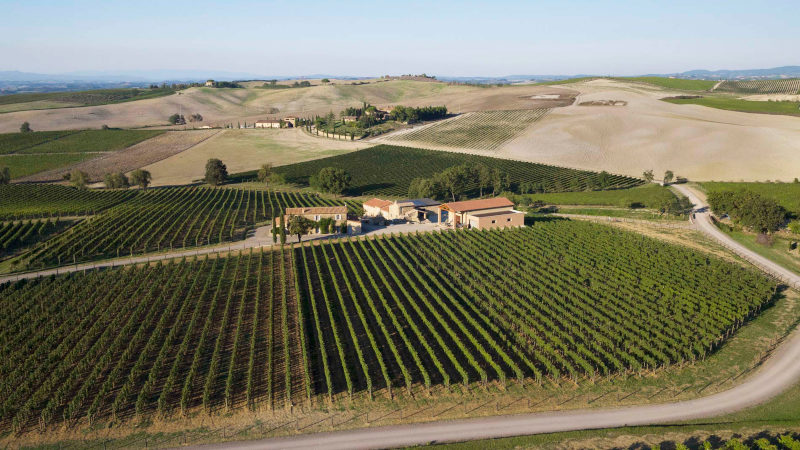 Started by the very experienced winemaker, Gianni Maccari, Ridolfi has gained lots of international recognition. They recently won the Gold award from The WineHunter in Merano, and a Platinum medal from Decanter Magazine.
We arrived just after the grapes started changing colour, when Gianni was busy with the green harvest. That is, cutting off half of the good grapes so that the remaining ones get extra nutrients to produce a more powerful wine.
I asked Gianni why they only harvest grapes by hand at Ridolfi. He explained to me that Sangiovese grapes don't all ripen at once. Pickers need to go through the vineyard a number of times, picking only the grapes which are most ripe. This process is called "the first selection."
During harvest, pickers make anywhere from three to five passes to collect grapes when they've reached the right level of ripeness. Mechanical harvesters can't distinguish between ripe and unripe grapes, and pick them all at once. As a result, the quality of the wine made from machine-picked Sangiovese will never come close to the high standard of premium Brunello.
Reason 4: hand-picking is the best way to choose quality grapes
Gianni told us that it's important that the skins of the grapes aren't damaged during harvest. Sangiovese has a thin, delicate skin. If it is pierced, the grape juice will be damaged by oxygen before it's even reached the fermentation tanks. Unfortunately, these grapes won't have a good enough flavour to produce Gold medal-winning Brunello.
In contrast, the human pickers at Rodolfi can be delicate. They work very carefully to make sure the skins are intact. For idealists like Gianni, who aims for the very top quality, harvesting machines will never provide the needed level of precision.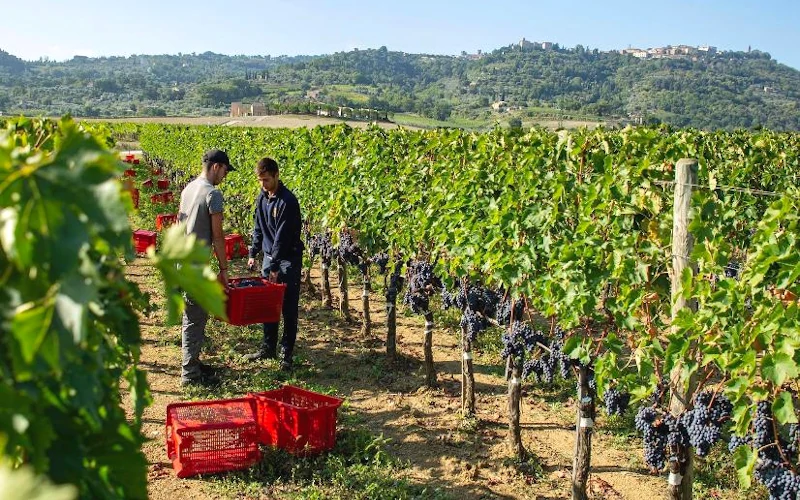 Gianni took us to his cellar, where we sampled his Brunello di Montalcino. All his words about high quality finally made sense to me, because the quality of his wine was surreal. But all good things come to an end. We shook hands with Gianni and his team, and drove off to Alto Adige, where we were lucky enough to discover incredible Pinot Noir and Gewurztraminer. But that's another story – which you can read here.
Conclusion
Winemakers are honest and straightforward people. They spend all their time in the vineyard and in the cellar, making sure their produce is the best it can be. Learning why they toil to pick grapes and pay a lot of money to seasonal pickers was interesting to me. Especially when they could use a machine. In the end, our winemakers are proud of what they make, and would never settle for second-best grapes.
Of course, some other winemakers are happy to use machine-harvested grapes. But having spoken to those who produce award-winning wines, I know there's a reason why picking grapes by hand often results in the best Italian wine.