If you need a great bottle of authentic Sardinian wine for your Scotland Meet Sardinia supper club reservation, we can help. This popular pop-up has been running in Edinburgh since 2020 and is the perfect place to try authentic dishes from the sun-soaked Italian island of Sardinia.
As it's BYOB (bring your own bottle), you have free reign to choose any wine you want. Thankfully, we have a range of Sardinian wines that can easily rise to the occasion. And the best part is, if you order by 4pm they will be delivered same day right to the venue!
What is Scotland Meets Sardinia?
Scotland Meets Sardinia is an Edinburgh-based supper club, hosted by Sardinian chef Luisa Dore from her very own dining table. She's got a long history in the restaurant industry, and has worked in hospitality for 18 years. She moved to Scotland two years ago after a stint managing Michelin Star restaurants in England – lucky for Edinburgh! As well as serving eight course tasting menus of Sardinian specialties – plus canapés – she also offers a number of dishes and set menus for takeaway.
Elvira and I were lucky enough to attend one of her supper club evenings, and of course we all got chatting about Sardinian wine. Because Luisa's supper club doesn't have an alcohol license, guests are asked to bring their own. As soon as we heard this, we realised we could help. After all, we have a huge selection of award-winning wines – many of which come from Sardinia.
Which wines are best for Scotland Meets Sardinia?
People often say "what grows together goes together", and we think that's a good rule of thumb when choosing wine for dinner. Since all of Luisa's dishes offer a taste of Sardinia, why not immerse yourself in the experience even further by bringing a bottle – or two – of our Sardinian wine along?
White Sardinian wine
Siddùra Maìa 2019 Vermentino di Gallura DOCG Superiore – This refreshing Vermentino practically pops with fruit and floral aromas. Expect a medley of lime, peach, melon, yellow apple, honeysuckle and jasmine.
Siddùra Bèru 2015 Vermentino di Gallura Superiore DOCG – An excellent example of barrel-fermented Vermentino, this enchanting white wine is redolent of tropical fruits with a distinct smoky finish.
Siddùra Spèra 2019 | Vermentino di Gallura DOCG – Fresh and fragrant, this critically-acclaimed white wine offers bright flavours of lemon and pear with an alluring mineral touch.
Red Sardinian wine
I Garagisti di Sorgono, Uras 2017 Cannonau di Sardegna – A powerful and bold wine from one of Italy's top 100 wineries. It has strong flavours of blackberry, cinnamon and cherry liqueur chocolates.
I Garagisti di Sorgono, Manca 2016 Cannonau – This rich and dense wine is made in the remote heart of Sardinia, and boasts flavours of black fruit and spice.
Siddùra Erema 2018 Cannonau di Sardegna DOC – Another powerful wine made from Sardinia's signature red grape, Cannonau, Siddùra Erema tastes strongly of wild berries, cherries and cracked black pepper.
Siddùra Fòla Riserva 2018 Cannonau di Sardegna DOC – Rich, intense, and made from the very best grapes of the vineyard, this Cannonau has an herbal edge with hints of sage and thyme meeting the typical black plum and cherry flavours.
Siddùra Tìros 2015 Limited Edition Sangiovese and Cabernet Sauvignon blend – this full-bodied red is made in the Super Tuscan style (that is, blending local Italian grapes with international varieties). Intense aromas of dried cherry, smoke and Sardinian herbs make it a truly special bottle.
Sardinian dessert wine
Siddùra Nùali Passito 2016 Moscato di Sardegna DOC – round off your meal in style with this lush late-harvest dessert wine. It has concentrated aromas of mango, pineapple, honey and caramel with well-balanced acidity for a fresh, zippy flavour.
Scotland Meets Sardinia – Luisa's wine recommendations
We spoke to the Sardinian Chef – and woman behind Scotland Meets Sardinia – Louisa Dore to get her opinions on which wines are best for pairing with some of her most popular dishes. She selected two bottles of Vermentino di Gallura white wine from the Siddùra winery, located in the northeast of the island.
With its subtle flavours of sliced lemons, Luisa believes that this light and refreshing wine is a particularly good match for the following two dishes:
Cozze primavera (spring mussels)
This tantalising appetiser involves steamed mussels topped with a fresh mix of chopped tomatoes, celery, white onion, basil and a drizzle of extra virgin olive oil. It's a little like bruschetta, but with shellfish instead of toast. Leave the mussels in their shells and serve as a handheld pre-dinner canapé. Or, if you're dining at the table, place the mussels in a bowl, top with the tomato mix, and serve with a slice of pane carasau (Sardinian crispbread) on the side.
Parmigiana di tonno (tuna parmesan)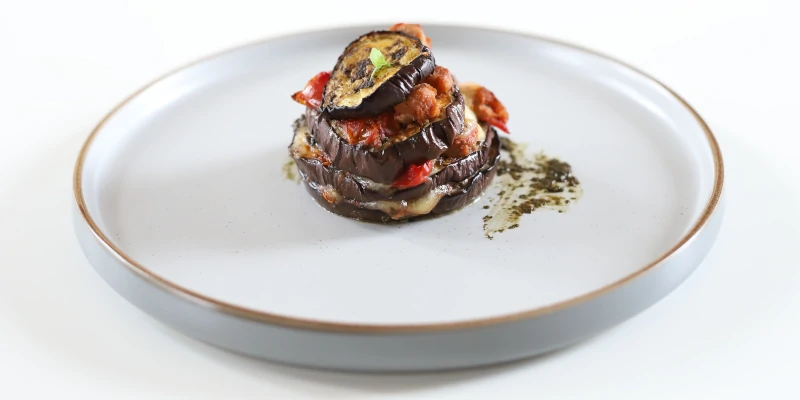 This beautiful dish includes layers of meltingly soft aubergine slices and fresh tuna cooked in a tomato sauce. It's all topped with gooey melted mozzarella and umami parmesan. This can be prepared in a large dish and plonked in the centre of the table for a family-style meal, where everyone helps themselves. Or, it can be served individually, with stacks of aubergine and the unctuous tuna,tomato and cheese sauce carefully layered on each plate.
This barrel-fermented Vermentino has a powerful, smoky finish and flavours of tropical fruits. Luisa recommends it with her bolder seafood dishes.
Rana pescatrice all'algherese (Monkfish Alghero Style)
It's best to prepare this fish dish a few hours in advance to let the flavours mingle and mix. While monkfish is the traditional ingredient, it can really be made with any white fish or – if you're feeling fancy – lobster. The monkfish is gently poached, and added to a salad of quick-pickled onions and ripe cherry tomatoes. A drizzle of extra virgin olive oil is the finishing touch. Perfect for lunch on a balmy afternoon.
Polpo alla diavola (spicy octopus)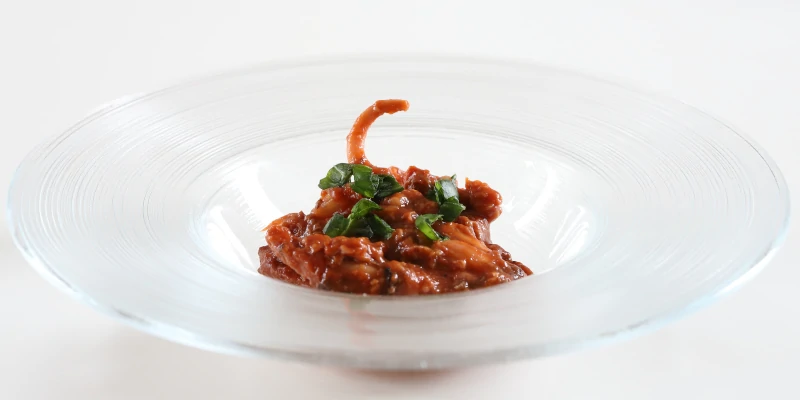 If you're finding it hard to get your hands on some octopus, you can substitute it for squid or white fish. Octopus has a very subtle flavour, and really it's the sauce that's important here, so you could even use chicken breast if you're not keen on seafood. Every chef has their own version of the diavola sauce (and sometimes it's a closely guarded secret) but most involve ripe tomatoes, good olive oil, red chilli and plenty of garlic. The trick is cooking the octopus slowly in the sauce, so it absorbs the rich and spicy flavours.
Obviously you can try your hand at cooking these traditional Sardinian dishes at home, but if you're in Edinburgh we recommend trying the real thing at Luisa's Scotland Meets Sardinia pop-up.
Get your Independent Wine delivered direct to table
While you can't buy wine direct from Luisa, you can purchase it from us. We'll deliver it to her house so that it's ready and waiting for your arrival. We do offer same-day delivery in Edinburgh, as long as you order before 4pm. To be on the safe side, we recommend ordering your wine for Scotland Meets Sardinia at least one day before you plan to dine. Check out our full range of Sardinian wines.
As always, Elvira and I are happy to offer suggestions on which wine to choose. Just reach out using our contact page.