This summer, we're excited to be involved in a co-promotion with Decanter Magazine: offering an exclusive deal just for their readers. The fact that such a prestigious publication has chosen to not only partner with us, but to shout about our impressive collection of Decanter World Wine Award-winning Italian wines makes us very happy indeed.
After all, we're extremely proud to have the most impressive collection of award-winning Italian wine in the UK. We hope this offer encourages even more wine lovers to delve into the world of exceptional Italian wine.
Quick links
Complementary Extra Virgin Olive Oil for Decanter readers
We're sure that many of our wine-appreciating customers already subscribe to Decanter Magazine. With this exclusive offer, magazine readers will receive a bottle of premium Extra Virgin Olive Oil (worth £16.95) when they purchase six bottles of Decanter World Wine Award-winning wine from us. This enchanting emerald green oil is produced by the Gagliole winery in Chianti Classico, Tuscany, and has herbal aromas of rosemary, basil leaf and pine needles. It's absolutely unbeatable drizzled over a salad, or as an accompaniment to bread, charcuterie and wine.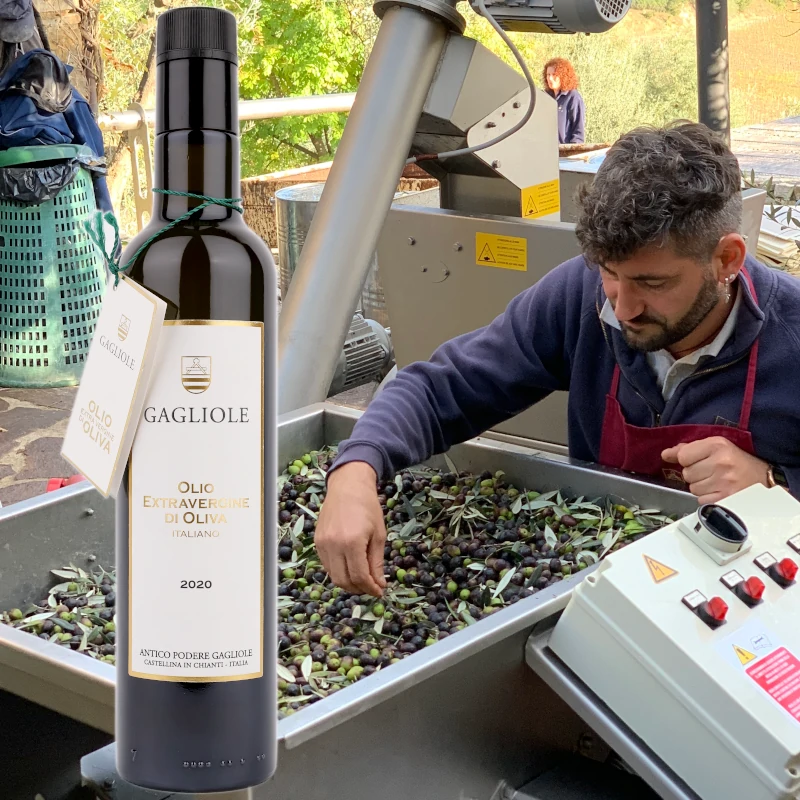 How to take part in this exclusive Decanter offer
To get your hands on this delicious olive oil for free, you need to be a Decanter Magazine reader. Simply choose your wines, and use their exclusive code when you check out. The offer applies to any purchase of six or more bottles of Decanter World Wine Award-winning wines. You can pick and mix to try a selection of different bottles, or simply stock up on your all-time favourite. Remember we're still offering 10% off when you buy any six (or more) bottles. So with this deal you get a free bottle of Extra Virgin Olive Oil, and save money on your wine purchase.
Which wines are part of the Decanter olive oil offer?
We're very proud of our massive collection of Decanter World Wine Award-winning wines (more than 80 as of July 2022) so there's lots to choose from. Any wine with the image of a Decanter Award beside it – be that Bronze, Gold, Silver or Platinum – is eligible for the deal. Type "Decanter" into the search bar to see the full collection.
We have 82 Decanter World Wine Award-winning Italian wines to choose from, but if you need a little inspiration, these five are some of our current best sellers:
Squarcialupi "Cosimo Bojola" Amphora-aged Wine Chianti Classico DOCG 2018
This experimental wine took home a silver medal in the 2022 Decanter World Wine Awards. Aged in terracotta amphorae, rather than traditional oak barrels, it expresses the true essence of Sangiovese. Expect juicy notes of fresh raspberry, strawberry and red cherry.
Mirizzi "Ergo Sum" Castelli di Jesi Verdicchio Riserva Classico DOCG 2016
This serious white wine is aged for five years, crafted from grapes plucked from the smallest grapes for a more concentrated flavour. To us, it's the pinnacle of Castelli di Jesi Verdicchio Riserva, with notes of white lily, yellow apple, apricot stone and almond.
ForteMasso Barolo Castelletto Riserva DOCG 2015, Castelletto MGA
This powerful Barolo Riserva hails from the Castelletto cru vineyard in Monforte d'Alba. It's a good one to squirrel away in your cellar, as it will age comfortably for many years. However, it's already delicious now with encapsulating flavours of rose, liquorice and cedar wood.
Demarie Barolo Riserva DOCG 2010, Limited Edition
Only 1,026 bottles were made of this exceptional, velvety Barolo – which took home Silver at this year's Decanter World Wine Awards. Rich flavours of blackberry jam, white pepper, leather and balsamic vinegar lead into a lingering finish of dried berry and pipe tobacco.
Francone Metodo Classico Valsellera Sparkling Nebbiolo Rosé Brut NV
As we head into the last few weeks of summer, we have to highlight this exceptional sparkling rosé crafted from Nebbiolo – a grape usually reserved for Barolo and Barbaresco. It's made in the same way as Champagne. Expect notes of raspberry, wild strawberry, toast and vanilla.
And this is just a handful of the many Decanter World Wine Award-winning wines eligible for this offer. Whether you're interested in red, white or rosé, need a sparkling wine as an aperitif or a dessert wine to round out dinner, browse our online wine shop and discover the UK's most impressive selection of award-winning Italian wine.
Enjoy Decanter award-winning wines every month
If, after indulging in this exclusive co-promotion, you want to try more Decanter World Wine Award-winning Italian wines – but don't know where to start – we recommend joining our wine club. Each month, we'll deliver six red wines that won medals at recent Decanter World Wine Awards. It's the easy way to keep your cellar stocked with high-end Italian wine.
Find out more about our wine club's Decanter Medal Winners – Italian red case.