One of Italy's best-known red wines, Chianti is also one of its most misunderstood. The main confusion comes from the difference between basic Chianti and the more prestigious Chianti Classico. We are proud to work with one of the most respected winemakers from Chianti Classico DOCG, and we are happy to share with you the story behind those legendary Italian wines.
Author: Oleg Dmitriev (Wine Geek), MBA, Co-founder of Independent Wine, WSET Level 2. 
Awards: Inventor of the Year 2017, Innovator of the Year 2018  
Lives in: Edinburgh, Scotland
What is Chianti and Chianti Classico, and how they are different?
Both Chianti and Chianti Classico red wines are made in Tuscany, mostly from the same grape, Sangiovese, but the similarities end there. The two wines have different DOCG (Denominazione di Origine Controllata) laws – the set of rules governing how wines are made. DOCG also covers region, so Chianti and Chianti Classico come from different parts of Tuscany. You can't make Chianti Classico in Chianti, and can't make Chianti in Chianti Classico. This means that the resulting wines will always be different from each other.
Chianti
The Chianti denomination covers a patchwork of wine-growing areas across Tuscany, and the resulting red wine is typically simple and inexpensive. Karen MacNeil in her "The Wine Bible" writes that basic Chianti is a savoury wine with a characteristic bitterness and flavours of earth, dried leaves and wet rocks.
The Chianti DOCG law dictates that the blend should contain 75-100% Sangiovese, and up to 10% of another red grape, Canaiolo. Other authorised reds, such as Merlot and Cabernet Sauvignon, will make up the remaining 15%. Interestingly, the winemaker is also free to add up to 10% of the white grapes Malvasia and Trebbiano into their Chianti blend.
Sadly, over-production in the years following WWII has led to the quality of basic Chianti dropping and the brand taking a big hit. These days, although some basic Chiantis can be extremely tasty – Chianti Ruffina is an outstanding example – the vast majority is pretty unremarkable.
A breathtaking view of Sangiovese vineyards near Castellina in Chianti (our latest visit in January 2020)
Chianti Classico DOCG
In contrast, Chianti Classico DOCG produces very concentrated red wines which are highly sought after and command premium prices. The Classico area is very small, and it is located in Tuscany's central mountains around the villages (or "communes") of Castellina, Gaiole, Radda, and Panzano. 
To differentiate itself from basic Chianti, producers of Classico mark their bottles with a special insignia of a Black Rooster. This symbol comes from an ancient legend, which we'll talk about at the end of the article. While most winemakers proudly put the logo of the rooster right on the neck of the bottle, a few print it on the back label.
Black Rooster, insignia of Chianti Classico DOCG
How to select the "perfect Chianti Classico"? Look for Independent checks!
Sangiovese, the core grape in Chianti Classico, is high in both acidity and tannin. This combination can be very hard for winemakers to work with. Skilful winemakers, working with high-quality grapes, can achieve remarkable results, but at a lower quality it can be a disaster.
That's why I always rely on a second opinion when I buy my Chianti. For example, I know that if James Suckling – a highly-respected independent wine expert – gave a wine a rating of over 90 points, it's likely to be a fantastic vintage. The same is true is a wine won a Decanter Gold, Silver or Bronze medal, or was included by Gambero Rosso into their Bible of Italian Wines.
Choosing good wines isn't black magic. If you follow my method, you'll consistently choose high-quality wines that match your personal tastes.
You can find out how to do this, as well as more information about independent proofs of quality, in my article "A complete guide to finding your favourite Italian red wine".

What makes Chianti Classico red wine special?
Chianti Classico DOCG is made in three styles: Rosso, Riserva and Gran Selezione.
Chianti Classico DOCG: Rosso, Riserva and Gran Selezione by Castello di Radda
How is good Chianti Classico made?
This winter, the Independent Wines team visited Castellina in Chianti, to see it for ourselves and really immerse ourselves in this incredible wine. We met with producers "La Castellina" from Castellina, "Castello di Rada" from Radda, and "Gagilole" from Gaiole. We spoke to winemakers, looked at the fermentation tanks and oak barrels, and walked through the vineyards. We saw how the vines were planted, and spoke to farmers working the land.
Growing the grapes
We stayed in a farmhouse in Castellina. One sunny day, I took my backpack and walked across the countryside to see first-hand how the Sangiovese grapes for Chianti Classico are grown.
Vines for Sangiovese are planted at high density. Vittoria, who makes wonderful wine at Castello di Radda, later explained to me that they do it to stress the vines. When plants compete for the water and the nutrients in the soil, the resulting grapes have more concentrated flavours. The vines are cordon-trained, and shoots are tied to the trellis.
Grapes at premium vineyards are always picked by hand. This is done to collect whole bunches, and separate grapes that are damaged or not ripe – this is an essential step in premium winemaking. Machine harvesting is not used because machines harvest grapes of all levels of ripeness, leaves, and insects.
Sangiovese grapes planted near Castellina, in Chianti Classico DOCG
Winemaking
That week we visited several vineyards, and the winemakers told us a great deal about their work.
After the grapes are harvested, they are sorted again by hand before fermentation to makes sure the wine is high quality. Such labour-intensive attention to quality is true for boutique wineries, whereas at mass-production vineyards, hand-sorting isn't always possible due to the volumes of grapes.
Stainless tanks for fermentation at Castello di Radda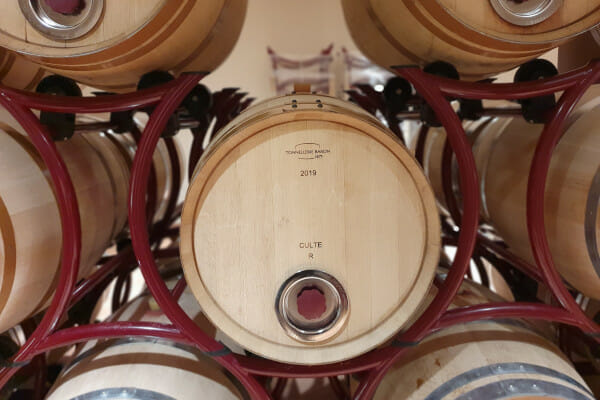 Sangiovese fermenting in rotary oak barrels in Gagliole
Fermentation
At Castello di Radda, La Castellina and Gagliole, they ferment grapes in stainless steel vats and also in large oak barrels, creating different styles of wine.
Gagliole has high-end equipment for rotary fermentation. This means the tank is positioned horizontally rather than vertically, and slowly rotates around its axis. This method has a few benefits. First, it allows for a more even mixing of the fermenting juice and grape skins. This helps to extract deeper colour from the grape skins. It also helps to complete the alcoholic fermentation quicker, and to extract soft tannins.
Maturation
After fermentation, Chianti Classico is matured in oak. The amount of time depends on the wine laws of the chosen style: Rosso, Riserva, or Gran Selezione.
The Legend of Chianti Classico's Black Rooster
The Black Rooster symbol on three bottles of Chianti Classico DOCG wines
You always find a Black rooster label on the bottles of Chianti Classico. But why?
An ancient rivalry
A curious legend from the medieval times lies behind the history of this symbol. Back then, the Republics of Florence and Siena were fighting for dominance in the region and Chianti – which is right between the two cities – was constantly fought over.
The competition
To end the dispute, and establish the borders once and forever, both cities agreed that the boundary would be established at the point where two knights met after departing from their respective cities at dawn. The signal to ride would be given by a rooster crowing. The citizens of Siena chose a white rooster, and the Florentines chose a black one – which they kept in a small, dark chicken coop and starved for several days until the poor bird was desperate and disorientated.
The unexpected result
On the day of the challenge, the black rooster began to crow as soon as it was freed from the coop – although dawn was still far away. His loud crowing allowed the Florentine knight to set off much earlier than his Sienese counterpart, so the two knights met 12km closer to Siena. As a result, nearly all of Chianti was brought under the power of the Republic of Florence.
Since then some Florentines still think of the Sienese as simpletons, while some Sienese say that Florentines are cheaters.
We hope that this article has removed some of the confusion around the differences between basic Chianti and Chianti Classico, and that you'll join me in appreciating this exceptional red wine. If reading this has got you in the mood for a delicious glass of Chianti Classico DOCG, click here to check our collection. With next day delivery in Mainland UK, you could be sipping your way through this delicious wine as early as tomorrow.